Splinterlands Asset Flywheel v1 - April 2022 Edition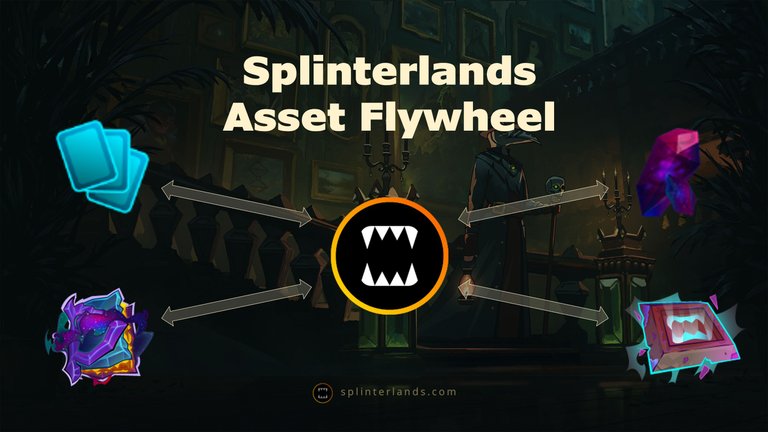 After the post introducing initial details of SPS Validator Nodes, I started thinking about all the interactions between different assets in Splinterlands and wanted to draw it up, so I decided to put together what I'm calling the "Splinterlands Asset Flywheel". This is version 1 and I need your help to improve it. Please comment below if you have anything to add or if you disagree with any of the assessments I've presented here. Thank you!
---
List of effects captured in this version:
As SPS price goes up, it creates demand for DEC and Cards to generate airdrop points (effect ends late July 2022)
As SPS price goes up, demand for cards increases due to increased rewards potential in ranked battles (w/ new ranked rewards) and tournaments
Validator Nodes create demand for SPS to purchase licenses
Validator Nodes create demand for vouchers to purchase Nodes (in Presale phase) and to obtain discounts (in Tranches 1-7)
Validator Node sale Tranches 1-7 drive up price of vouchers through discount mechanism
Validator Nodes introduce new supply of Vouchers (20k/day) driving up supply of Vouchers
As Validator Nodes are purchased, supply of SPS is burned, making SPS more scarce
As Voucher prices go up, it increases the APR% of SPS, driving up the price of SPS
As additional utility is brought to vouchers (e.g. promo cards, Riftwatchers) it drives up the price of Vouchers
As SPS price goes up, the amount of SPS required to buy Nodes decreases (not the $ amount, but the SPS amount), making Nodes more accessible to SPS holders and driving up demand for Nodes
As card prices go up, demand for Chaos Legion packs increases as expected pack value increases
Effects not yet captured:
As more Nodes are sold, rewards / node decrease
As overall asset prices (and crypto prices in general) increase, demand for CL packs increase as the sale price ($4) is fixed and becomes cheaper (doesn't inflate with other assets)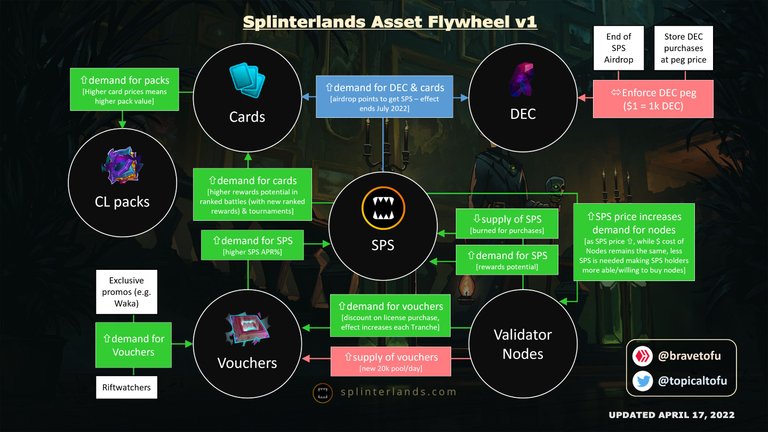 Again this is v1 and I put it together in somewhat of a silo, so I'm sure there are lots of improvements to be made. Please let me know below what you'd change so I can improve it.
---
---