Splinterlands Chaos Legion Legendary Summoner Concepts 👼👹🐳🌲😈💥🐉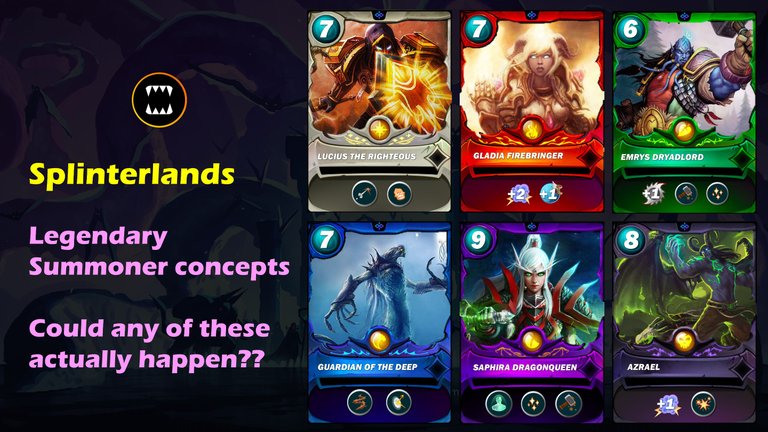 Now that the Chaos Legion Legendary Summoner airdrops are just around the corner, I was thinking about what abilities I would love to see in each one. In this post I'll explore what abilities and skills I would look for, and what synergies they would provide. It's all fun and games (until one of them becomes real!!). 🤣
DISCLAIMERS🤦‍♂
These are just daydreams and I have absolutely no idea what the Splinterlands team will be releasing with the Chaos Legion Legendary Summoners. So don't go looking at these thinking any of it will actually happen!
I do not have experience in game design and was prioritizing FUN over BALANCE when brainstorming these, so it's likely several of these cards would be balance-breaking additions to the game!
Unlike @casimirio, I'm not an artist. I took existing cards and used PowerPoint (yep, you read that right) to remove the image in the center and replace it with another one. I know, it's sacriledge. But you do what you gotta do...
With that out of the way, let's dig in! 🤡
---
1. LIFE: LUCIUS THE RIGHTEOUS 👼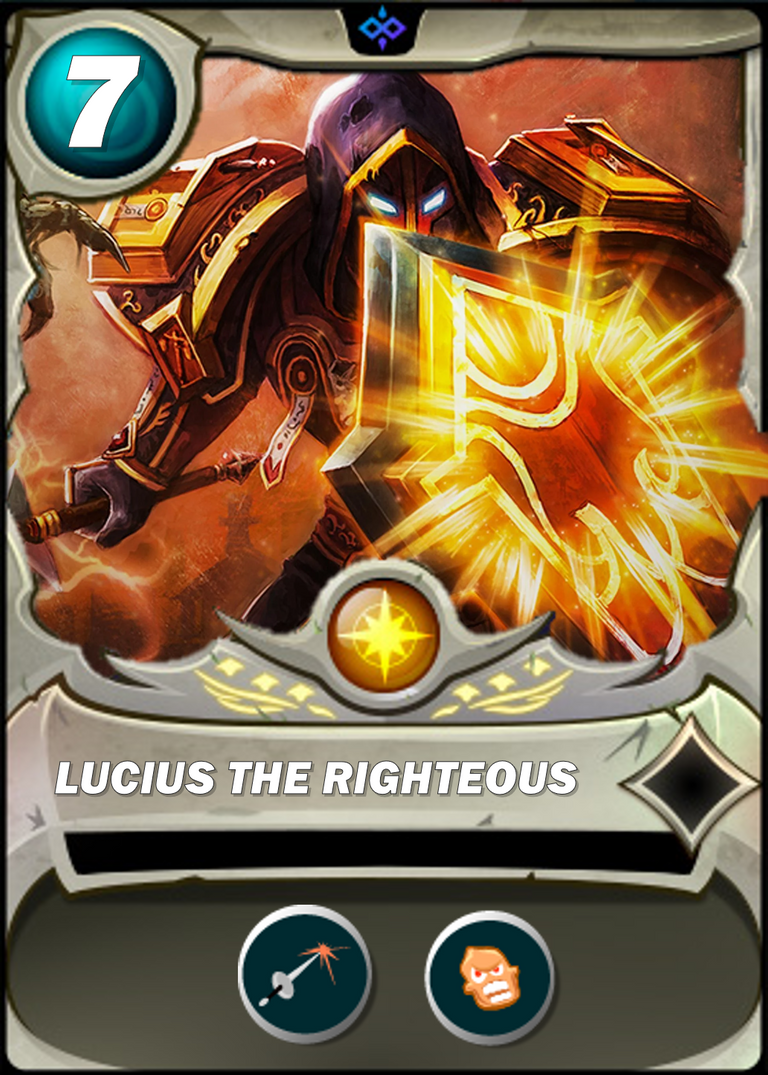 For the Legendary Life Summoner, meet Lucius the Righteous who, and I quote, helps his armies "strike down upon thee with great vengeance and furious anger".
Lucious brings skills that synergize particularly well with strong, beefy cards like Uriel. Piercing in particular is clutch when paired with Recharge, as it means Uriel won't get blocked by 1 shield when it's his turn to smack. The addition of Enrage, which would make this summoner the first with this ability, would synergize to make strong melee creatures in the Life splinter extremely dangerous. Players could also bring in some neutral monsters with Trample (such as Disintegrator) to take advantage of these skills.
Image courtesy of www.wallpaperaccess.com (artist: MR_ROSH)
---
2. FIRE: GLADIA FIREBRINGER 👹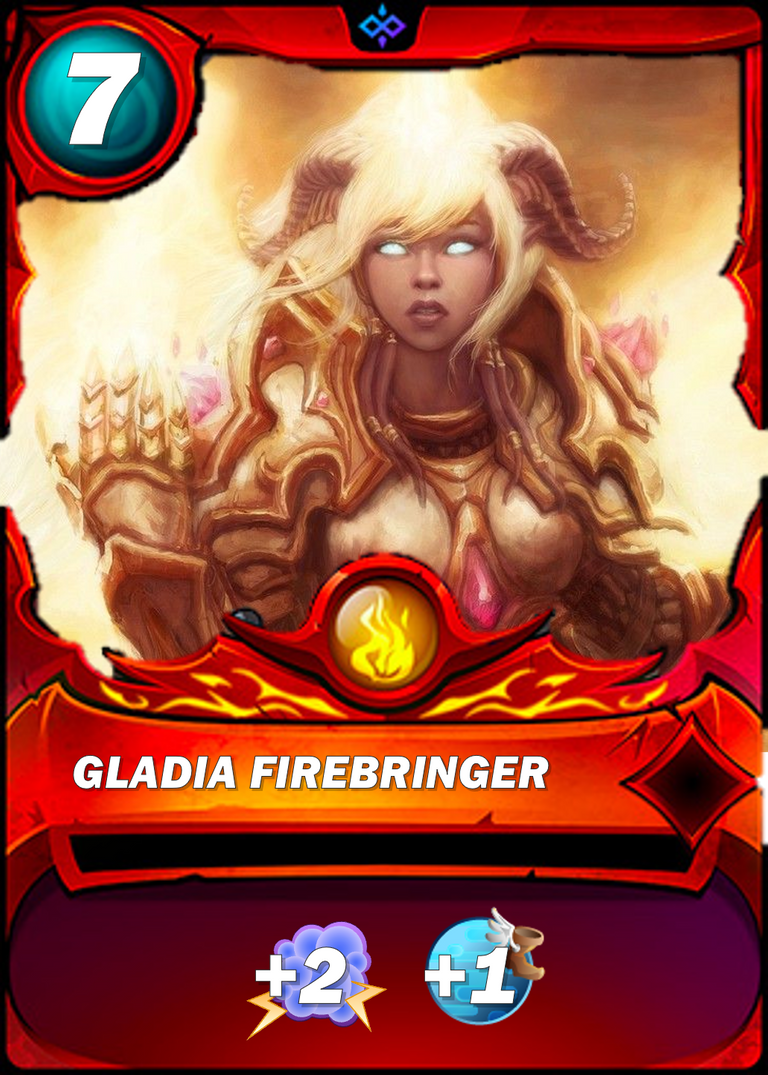 Next, allow me to introduce Gladia Firebringer, who brings the...fire.
It's widely suspected that the Fire splinter will receive a boost to magic monsters, so here I doubled down on that and suggest a magic powerhouse in the veign of Valnamor, but with an extra punch. Magic monsters like Ifrit Rising, Djinn Inferni, and Djinn Apprentice would become extremely deadly, though they would also become very susceptible to Magic Reflect.
Image courtesy of www.wallpaperaccess.com
---
3. WATER: GUARDIAN OF THE DEEP 🐳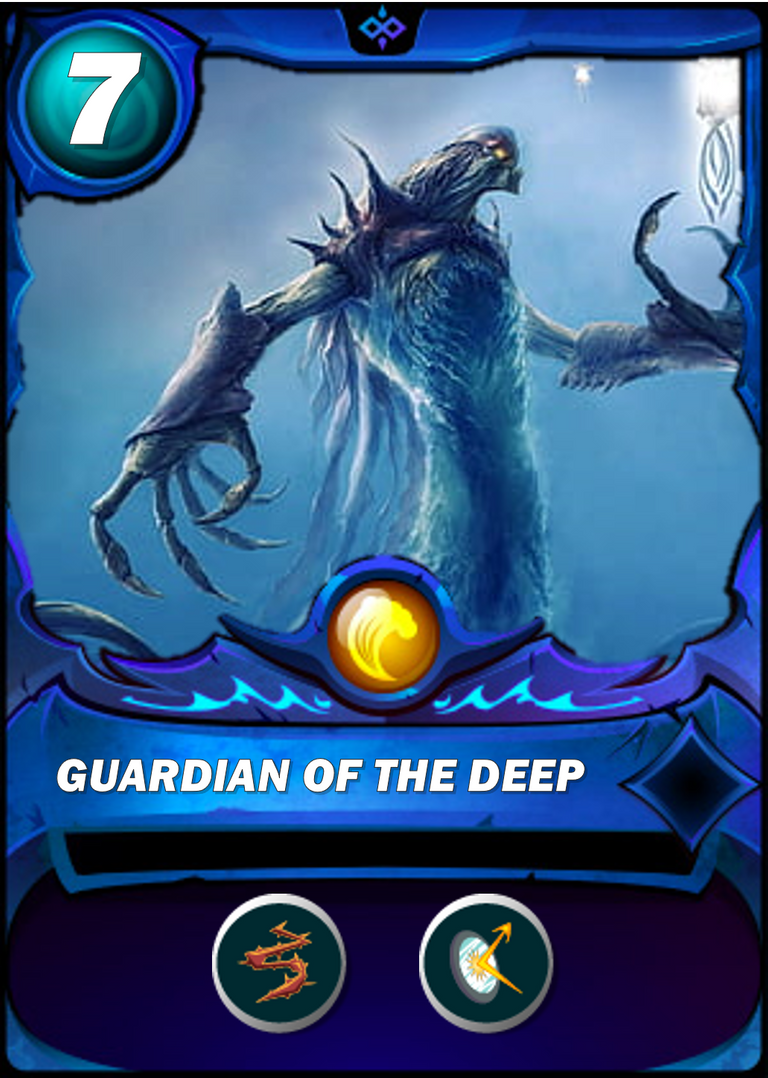 For the Water splinter, meet Guardian of the Deep.
This summoner is all about reflecting damage back to the opponent. He would pair extremely well with Wave Brood who has Taunt and already does Return Fire, as well as Angelic Mandarin to help heal the Wave Brood. Baakjira would also benefit, becoming a meat shield that can smack back at his opponents.
Image courtesy of www.wallpaperbetter.com
---
4. EARTH: EMRYS DRYARDLORD 🌲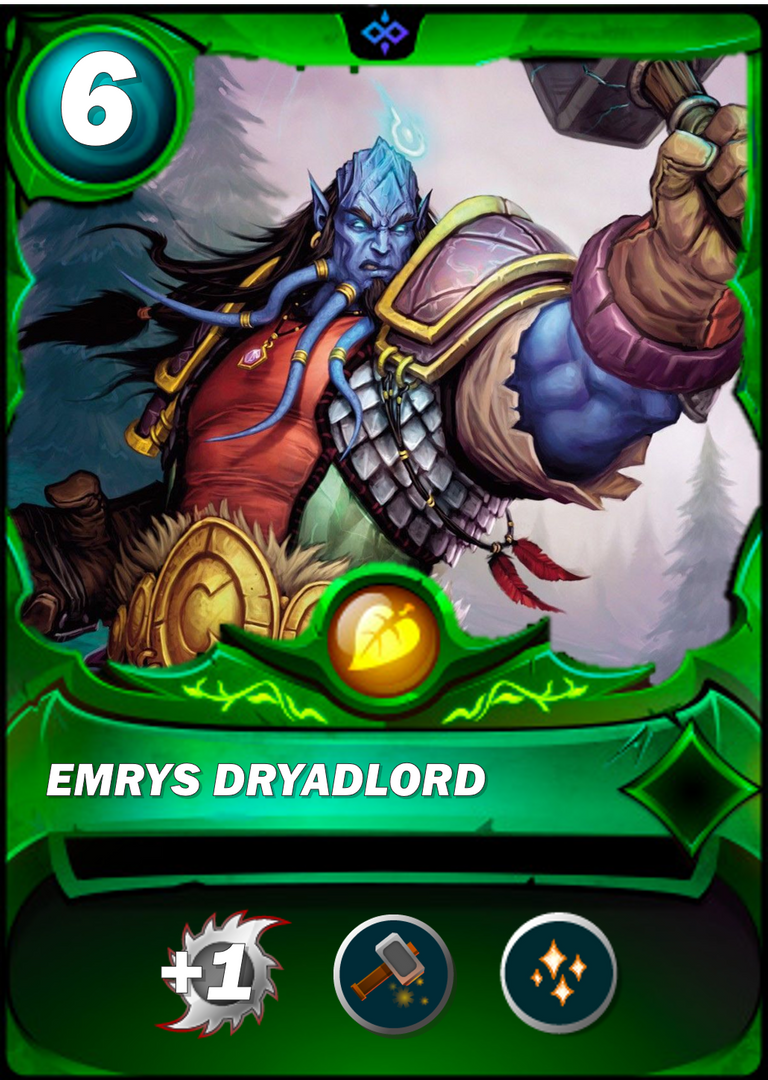 Emrys (which mean "Immortal" in Welsh) Dryadlord ("Dryads" are nature spirits in Greek mytholody) is my suggestion for the Earth splinter's Chaos Legion Legendary Summoner.
Emrys brings melee attack and survivability to the Earth splinter, both novel additions that would enable new strategies with this splinter. Queen Mycelia would pair well by adding armor to the entire team that could be repaired, and Grund, Venari Knifer, Mycelic Infantry, and other Melee monsters would benefit from the added damage and survivability.
Image courtesy of www.wallpaperaccess.com (artist: SUWALLS)
---
5. DEATH: AZRAEL 😈💥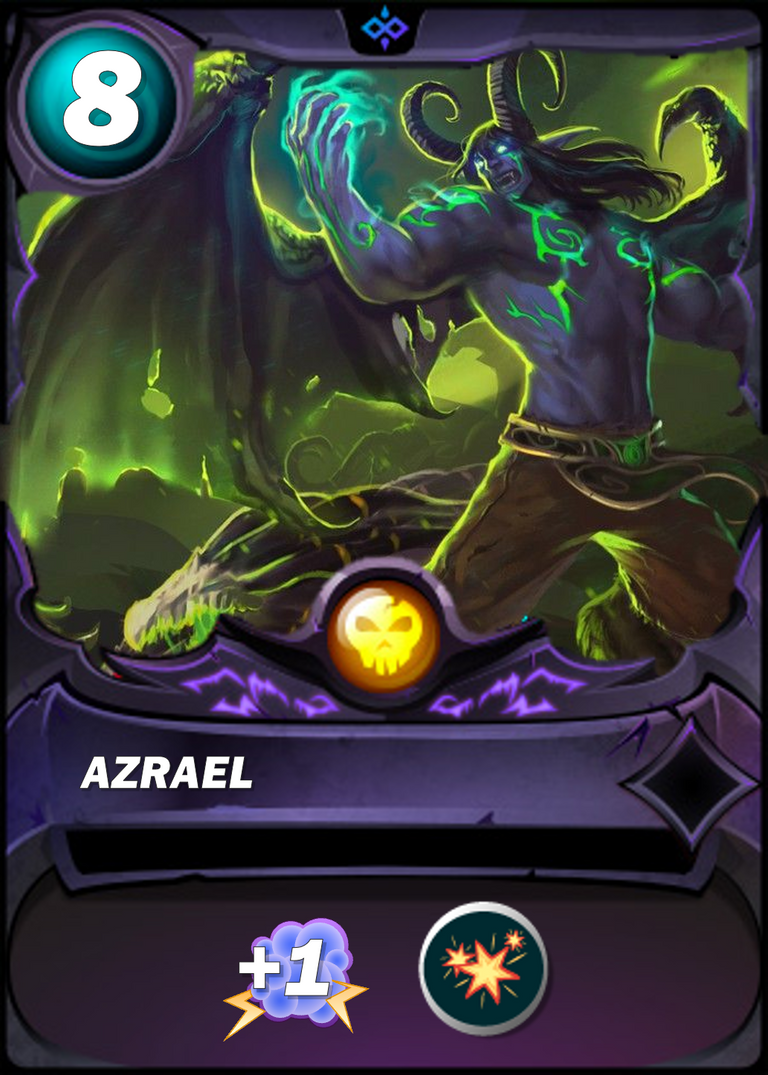 Azrael (the angel of death who separates souls from their bodies) is my suggestion for the Legendary Summoner of the death splinter.
Ok maybe this one's a bit crazy. Magic AND blast damage you say? Yes, let's bring offense to the death splinter. As an 8-mana summoner, he'd be used only in very high mana battles (maybe 8 is too low?). He would rival Yodin as offensive coordinator of the year.
Image courtesy of www.wallpaperaccess.com (artist: MR_ROSH)
---
6. DRAGON: SAPHIRA DRAGONQUEEN 🐉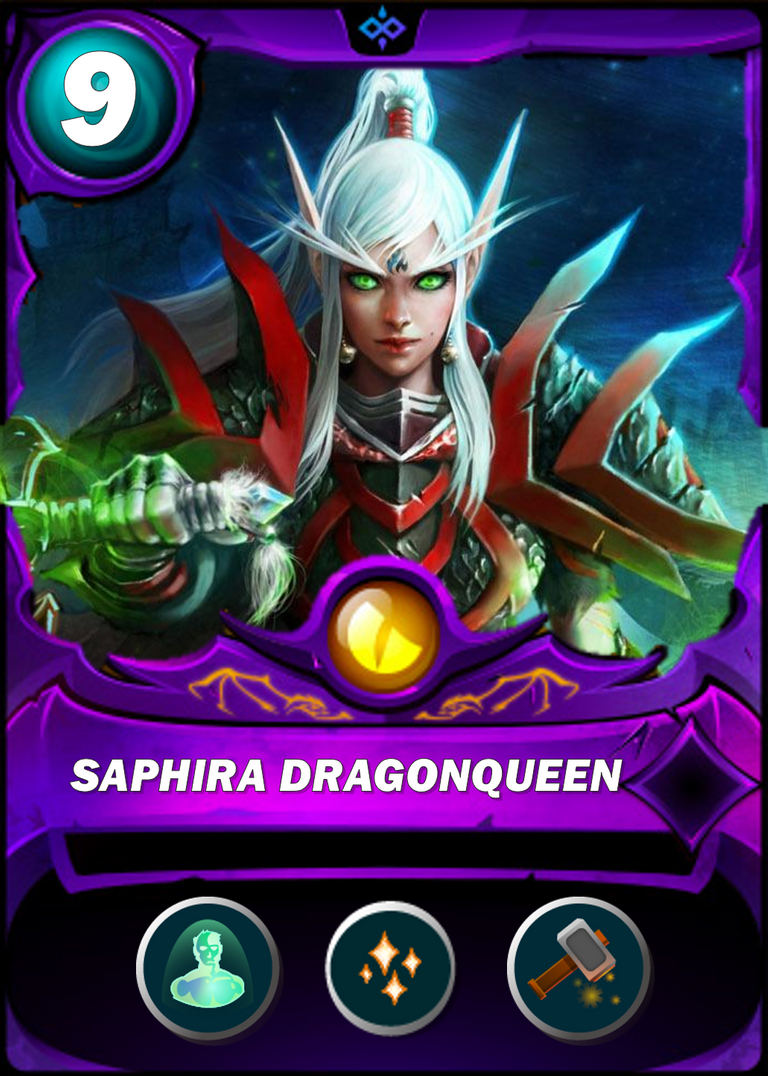 Saphira Dragonqueen is a 9 mana Legendary Summoner I propose for the Dragon splinter. (Saphira is the name of the dragon in the book "Eragon").
Saphira would bring resilience, constitution, and survivability to the Dragon splinter. Her goal is to make all her dragons survive, and she does so by keeping them from getting poisoned, healing them, and repairing them. The only way through would be sheer brute force.
Image courtesy of www.wallpaperaccess.com (artist: MR_ROSH)
---
That's it for my wish list of abilities and skills in the upcoming Legendary Summoners. As I said, these are daydreams and I'm by no means a game designer, so I'm sure some of these would absolutely wreck the game balance 🤣. Let me know what you guys think - would this indeed be game-breaking? What abilities would you like to see in the upcoming summoners?
---
---