Splinterlands rental ROIs > 50% possible? Why I maxed out a gold foil Scavo Chemist
Besides being a REALLY fun, interesting, intellectual, and complex game, there's another game inside the game that I love in Splinterlands and that's the economy game. There are multiple ways to earn, and one that I've been exploring more and more is the rental economy.
Let's first take a look at what the rental market looks like today. To generate this chart, all you need to do is go to the sm-voters_hut in the Splinterlands Discord, then type the command $rental (thanks to one of @mawit07's recent articles for teaching me this!).
Splinterlands rental market stats: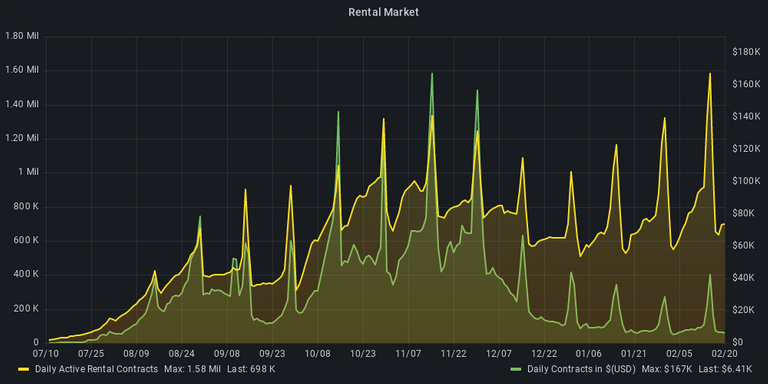 We can see that while overall transaction volumes have been slowly increasing (around 700k daily active contracts mid-season, and spiking to 1.6M during the last day of the last season), the volume in USD has been decreasing (around $6-7k / day), which is not surprising given the overall downtrend of the crypto market.
---
Ok so is it worth investing in cards today with the primary purpose of generating rental income?
PeakMonsters has a nifty little feature in the rental tab that show "yROA-B%", which stand for "Yearly Return on Asset using Splinterlands low_bcx_price", and is calculated as (365 * daily price) / (card level bcx * low_bcx_price). In other words, this looks at the current lowest rental price, multiplies by 365 assuming you're able to rent it all year long, and then divides that by the lowest priced (per bcx) card available for sale, essentially giving you your annual yield against the cost of buying the card. Note that in this article I use ROA (return on asset) and ROI (return on investment) interchangeably.
Estimated rental yearly ROA on PeakMonsters:


At the moment, it's not possible to sort or filter by this metric, so I just added this feature request to the Peakmonsters feature request website (@peakmonsters @jarvie @asgarth please take a look!).

In the meantime I'm filtering by other dimensions and seeing if there are some general patterns around what has the highest ROIs. I checked across the following dimensions:
Splinter
Base level vs. Max level
Gold vs Regular foil
Editions
Rarity
First we can eliminate Splinter as a determining criteria here, as if you simply check by Splinter there's too much other variance and outliers determining prices.
Next I looked at Base vs. Max level. Here I find the numbers a little bit deceptive, as the ROIs on 1 BCX cards can be extremely high - but are you really going to be able to rent those out consistently? Unfortunately, from my experience, it's not. There are definitely accounts out there with bids who are finding the best deals in terms of CP/DEC, however there are already so many lvl 1 Venari Heatsmiths on the rental market that you're unlikely to get yours rented for 0.1 DEC to generate that 400% ROA shown on PeakMonsters.

Which brings us to the point of rentability. If there are MANY copies of what you're planning on buying already for rent, the likelihood is that one of two things may happen:
Your card may not get rented out due to the competition
A price way will occur driving rental prices down
Conversely however, if there are NO rentable cards of the one you're looking to rent, that can also be potentially problematic as it might be because there are no renters for that card. Personally I like to see some, but not too many, of the cards I want to rent on the market.
When looking at levels, the ROIs are more reliable as the rentability tends to increase (people are renting for both CP and utility at those levels). Note that this applies for any level a card reaches where it gets new utility (new abilities for example).
When you look at Regular vs. Gold, things get quite interesting as well. To make it easier to compare, and to take into account Base and Max level at the same time, let's take all the Venaris as a comparison set and look across those two dimensions: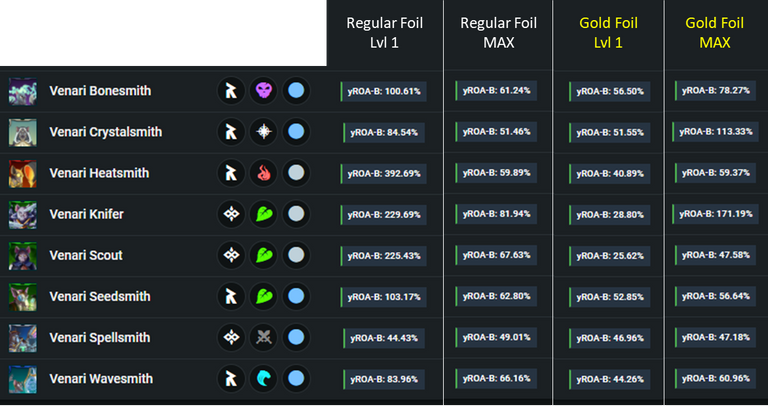 For the Regular foil lvl 1 you see a few ROIs in the 3 digits (100-300%). Those are what I would consider unrealistic based on rentability. These are happening because 1 BCX of the card is SUPER low (a few cents) and the cards are placed in the market at 0.1 DEC, however they are not easily rentable (I speak from experience). Meanwhile you can see all the Venaris have pretty impressive ROIs above 50% for MAX regular foil. Is this achievable based on rentability? Sort of, though I think it does require you to regularly go to the store and adjust the price of your card to be near the lowest to maximize rental time (and sometimes you'll be changing the price up to improve yield if no other cards are set as low as yours). Personally (and this is an estimate) I would put a 20% haircut on the ROI assuming some downtime (no rental).
For the Gold Foils you can see more reasonable ROIs at Base Lvl, as those cards do get rented more easily (Golds are good for the usual CP and utility, and also to boost battle rewards). Then when you compare GF base vs. MAX level, you can see they are quite a bit better. I removed the two outliers (Crystalsmith and Knifer) who have 100%+ ROI at GF Max and compared the rest and there's an improvement of 35% on the ROI for Gold Foil.
Looking at editions, I found that typically the worse ROIs are on the rarest editions (Alpha, Beta) and that's likely because the purchase prices of those cards are so high. You can find good ROIs on Rewards cards and a few Untamed cards, but by and large the best rental ROIs are on Chaos Legion cards due to the low sale prices of those cards.
Finally I looked across rarity, taking Chaos Legion as my sample set, and although there is a lot of variance I was able to find cards of each rarity with very attractive ROIs, for example (in MAX level Gold):
Common: Blinding Reflector (53%), Flying Squid (73%), Supply Runner (130%)
Rare: Angelic Mandarin (136%), Molten Ash Golem (54%), Soul Strangler (51%)
Epic: Igor Darkspear (43%), Weirding Warrior (52%)
Legendary: Chaos Dragon (61%), Scorch Fiend (50%), Soul Fiend (45%)
As mentioned above, I don't completely trust ROIs above 100% as I'm worried about rentability, however the 30-50% range feels quite reasonable from my experience.
The other thing to note of course is utility - when people are renting out a gold card for utility, it's because it's a card they plan to use a lot. For that reason, I prioritize buying Gold Foil cards that are low in mana, making them more frequently usable, such as the Fiends, Weirding Warrior, Chaos Agent, Carrion Shade, Radiated Scorcher, etc.
And this is what brings me to my friend Scavo Chemist, who I just maxed out in Gold Foil. I put him on the market at a reasonable price that gives me about 47% ROI assuming full-year rental. I'm assuming that 20% haircut I mentioned so the ROI will likely be closer to 40%. When I'm not renting him, I'll be making good use of him in battles with his 2 mana cost, cleanse, slow, and headwinds to boot. Love having this little guy in my collection!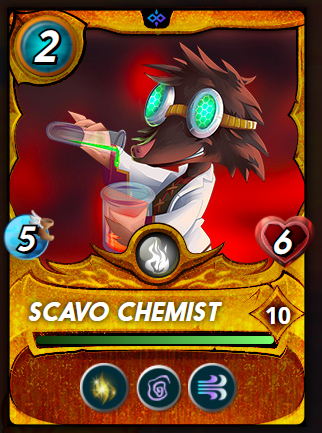 Hope this was useful. If so, please like & follow for more content like this in your feed in the future! Thanks and see you in the arena!
---
---