NEWSPAPER BROFUND | ISSUE 3 | 2023
NEWSPAPER BROFUND | ISSUE 3 | 2023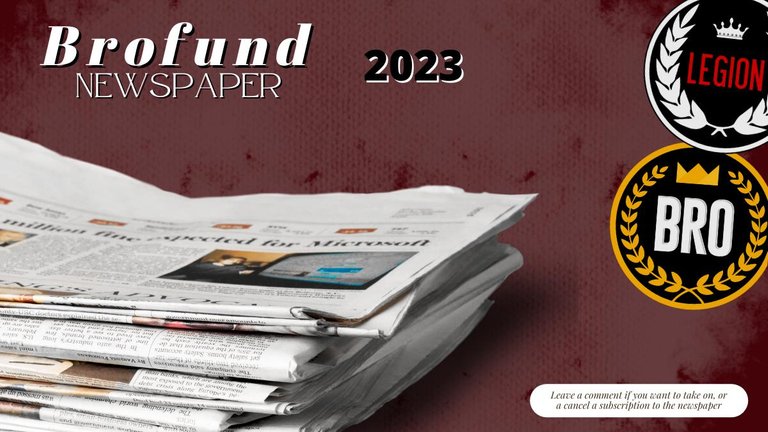 Image created with Canva Pro


BRO & LEGION NEWS
Good day on this cold Sunday, dear people. Another week has passed, and it's time for another Bro Newspaper. This week brings a little news for you! But unfortunately, I can't be too specific yet. It is more about preparing you that "something" is about to happen soon.
If you are active in our Discord, then you probably already got that. @raymondspeaks has already made an announcement that something very exciting is coming. What exactly could that be? If you think you know, let us know in the comments. We can then look back in a few weeks and see if you were thinking in the right direction. And who knows, we might even get new ideas. Finally, we also try to pay attention to what you want.
Being active in our Discord is not a bad thing, there will soon also be roles in our Discord for Legion holders. And we are exploring how to organize weekly events in our Discord. I can't tell you anything concrete yet, but I can tell you that work is in full swing and that exciting things will certainly be rolled out in the not too distant future.
Meanwhile, the BROs are also having fun in the Rising Star game, and doing a great job there. We're in the top 100 of best players there. And our Splinterlands player is still crushing it for us too. Whenever the market will turn around for the better times, we're going to have a significant amount waiting for us to turn into huge profits.
Stay tuned is the only advice I can give!


HIVE RELATED NEWS
This week's Hive-related news comes from a project that Brofund also happens to be heavily invested in. We're talking @splinterlands here.
Splinterlands is going on a new course with the new reward cards for the Chaos Legion set that are expected to be released on January 31st. Contrary to what everyone is used to, these cards will NOT be able to be sold. At least, not until the maximum number of cards that will be printed will be reached.
These new reward cards will immediately replace the old reward cards as soon as they come out, so the only way to get them is by… playing the game!
An interesting twist, and I'm curious how this will play out for Splinterlands. We'll know soon!
HIVE FUN QUESTION
Ready to move on to the next part of our short newspaper this week? We're going to check our Hive Fun Question from last week.
Alright! Here we go!
Let's take a look at something many of us do every day. Which way doesn't really matter. But have you ever asked yourself WHY and WHAT you actually work for? And following that... HOW do you think you can achieve financial freedom?
We had an excellent answer to our question this week! @wrestlingdesires gave a great explanation, and we can only agree with this answer. And that makes that we congratulate @wrestlingdesires this week with winning the 20 Hive! We had more great answers, and we appreciate everyone for taking part in our little fun hive question! Hopefully this week will be just as great. Are you ready for the new question?
The question I'm asking you this week is as follows:


What do you want to achieve and what are your dreams? And what do you need to achieve that?
Since you guys seem more interested in financial related questions, I keep it at that for now, it's up to you if that will be changed again. If you're reading this for the first time, by just answering the question in the comments below, you have a chance to win 20 Hive. If you're reading this every week ... well, you know the drill!
The answer that attracts us most wins the 20 Hive.
Go get'm!
GOSSIP
CRYPTO NEWS
Of course, there is a lot more news regarding the crypto world. Every week I will highlight some interesting news for you.
I hope you enjoyed this issue of the Brofund Newspaper.
Don't forget that you can subscribe by simply letting us know in a comment. If you want to cancel the subscription, you can do so in the same simple way.
If you feel there's something in this newspaper you'd like to chat about with us?
You can find us here;
Make sure to also give our TWITTER a follow
As always, I wish everyone a great week and see you again next week.
---
---