PeakMonsters Guide - Most Useful Tools Everyone Should Use!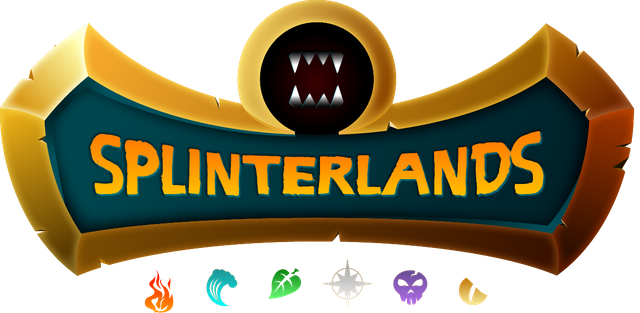 What Is PeakMonsters?
PeakMonsters is a browser-based, third-party, toolset built around Splinterlands. Their main tools include viewing your card collection, renting/buying/selling cards in bulk, viewing your card rentals, and viewing transactions on the Hive blockchain.
In this article, I'll be focusing on the most important tools that I believe everyone should be aware of:
Collection
Bulk View
Explorer

Collection

The Collection page is pretty similar to the Cards page in Splinterlands. It allows you to view all the cards that you own, or rent, in one view. In addition, it displays a bunch of extra information that you can't get in the Splinterlands Cards view.
---
Collection Value

At the very top of the page, you will see your collection's value. The value is displayed in three different pieces:
List Prices - The total value of your collection based on the current listing prices for each card in your collection.

Market Prices - This is a more accurate estimation of what your collection is actually worth as it reflects closer to the last sold price for all of your cards.

DEC - This is your collection power. It shows up as DEC since the collection power per card is the same as the DEC burn value.
---
Filters
In the PeakMonsters collection view, you can filter your collection by Edition, General Card Type, Rarity, Element, and Others (On Market, For Rent, Delegated).
In addition to these filters, one of the biggest perks on this view is the Search functionality. Unlike in Splinterlands, you can search by either a card name, card ID, or by ability.
Lastly, when applying any filter, you will notice that your collection value will change. The value displayed reflects the value from the filter you applied, instead of your total collection value. An example is shown below with the alpha filter selected for my collection.
My Alpha Collection Value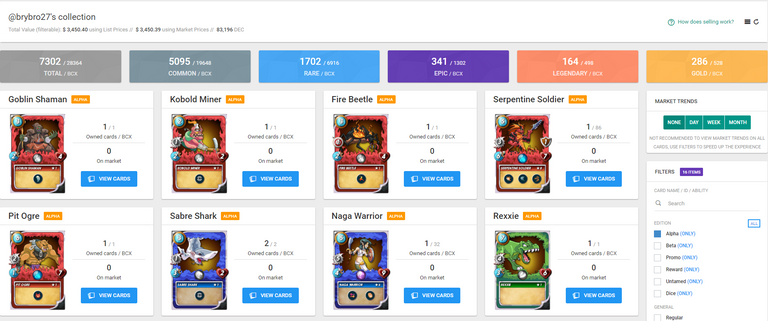 Bulk View

The bulk view is a great tool to not only view your collection, but to also view market and status information for each card.
---
Rental Value

As you can see, the Bulk View shows your collection's value just like the Collection view does. However, you may notice that there are two additional stats in this view:
Revenue From Rentals (Rented) - The first number represents the total amount of DEC that you receive from players that have actually rented your cards on a per day basis.

Revenue From Rentals (Listed) - The second number represents the total amount of DEC that includes the listed prices of all your listed rentals.
---
Market Status/Information

Any market information related to your cards will be displayed in this view. This information consists of the Status, Delegated To, Yearly Return, and Listed Price.
Status (Or Last Played) - The amount of time since the last battle the card was played.

If your card has an alarm clock icon under the Status column, that means that card is in cooldown. You can hover over the alarm clock and it will display how many more days that card is left in cooldown.

Delegated To (Rent Remaining) - Displays the player's name who currently has the card delegated to them, or is renting the card.

If the card is being rented, this column will include the amount of time, either in hours or days, that is left in the rental contract.
yROA-B% - Yearly Return On Asset

Formula: (365 days * Daily Price) / (Card Level BCX * Lowest BCX Price)
Listed (Market/Rental) - The listed price for the card on either the sales or rental market


Explorer
> https://peakmonsters.com/@brybro27/explorer <
In order to access the explorer for your account, you need to copy the URL above and replace my username (brybro27) with your Splinterlands username. You also need to make sure you are logged in to use this tool (See the How To Login below).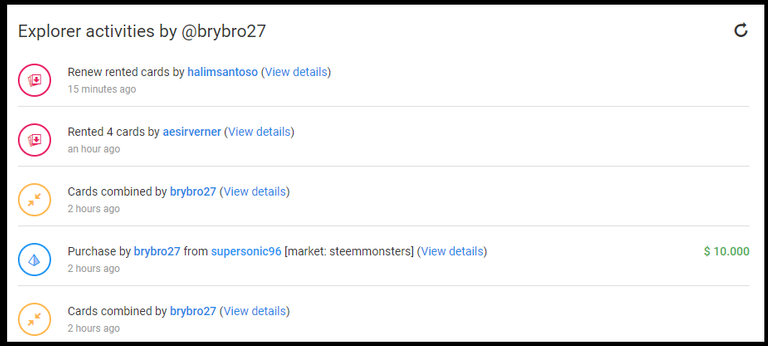 The explorer displays almost every single transaction related to your account. This includes the following:
Results From Opening Daily/Season Rewards
Results From Opening Card Packs
Combining Cards
Listing Cards On Both The Sales And Rental Markets
Removing Cards From Market
Making Purchases On Market (Sales/Rental)
Delegating Cards
Gifting Cards
---
Viewing Rewards/Card Pack Openings
One of the biggest use cases for the explorer is viewing the results from a daily/season rewards opening, or from a card pack opening.
For any reason, if you ever want to view the results from any of these situations, just navigate to the explorer linked above with your username, and find the activity that says "Rewards claimed by [USERNAME]". If you click on the "View Details", it will display your rewards for that day.
My Daily Rewards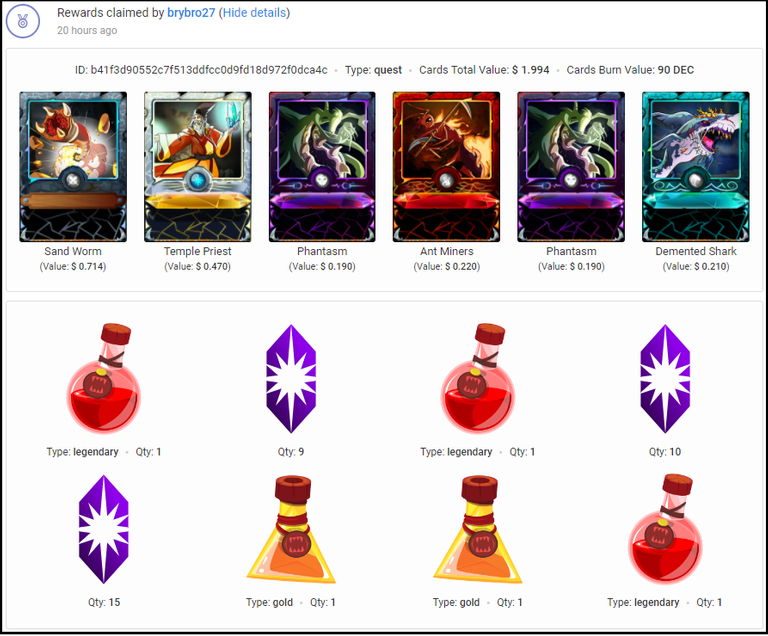 ---
Other Explorer Tools
The other two explorer tools that I highly recommend exploring are the Market History and Rental History pages.
Market History - Lists all your sales and purchases

Can filter by market sales and purchases



Retnal History - Lists all your rentals

Can filter by active and ended rental contracts

How To Login
In order to fully use PeakMonsters, some tools require you to login to your Hive account (Splinterlands account is a Hive account). You have two options to do this:
1) Hive Keychain
Hive Keychain is a browser extension that makes logging into Hive dApps seamless. Once you add the extension to your browser and add your Hive account to the extension, you are one click away from logging in into any dApp. This extension will save you a tremendous amount of time as it doesn't require you to import your private/master key every time you try using a different dApp.
Quick Link: Hive Keychain Chrome Extension
2) Hivesigner
If you don't want to use Hive Keychain, then your only other option is Hivesigner. Hivesigner requires you to enter your username and private key upon your initial login. Once you login the first time, you can check the checkbox to save your login information with a password. If you do this, then you don't need to enter your private every time you login again. Instead, you can just use your username and password.
---
---