Not Doing Much Carry-in' - Using Carrion Shade in Battle!
This week's Share Your Battle challenge features Carrion Shade! Carrion Shade is one of the cards in the starter set, albeit one that I don't use very often because I very rarely use the Death splinter in battle. It does seem to have a niche and it was fun getting to try it out a bit this week for the challenge!
This week's battle occurs in the Silver league - it is currently midseason and I'm sitting at a Gold rating with Silver Collection power, as is usual for this point of the season. My Death splinter deck isn't levelled up at all, but I'll make it work - there are plenty of other players that are in a similar situation so the playing field isn't terribly uneven.
Carrion Shade at level 1 works just fine as a filler card. The stats are fairly basic - a single melee attack, and 2 mana and speed. Its main benefit is the cost - at just a single mana, Carrion Shade will be able to fit into most low mana cap lineups and is the cheapest card you can find this side of the Fiends and infamous Furious Chicken.
If you wanted to jump right to the action, the Battle Link is right here. Want to hear some more about the lineup? Read on further!
---

This is our ruleset for this match. This ruleset works well for using Carrion Shade for a couple of reasons. First, it is a relatively low mana cap and the Death splinter is allowed. And second, the Equal Opportunity ruleset will give Carrion Shade th Opportunity ability and maybe even allow it to get a few hits in!
---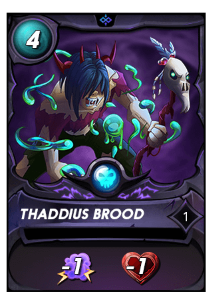 We want to use a Death splinter summoner in order to use Carrion Shade. I chose Thaddius because my other option was Contessa, and I would rather have the guaranteed -1 health instead of a ranged debuff that may or may not actually help me at all. The -1 health is a big deal because all of the monsters will have Opportunity, and lowering the opposing team's health will mean everything can get picked off more quickly.
---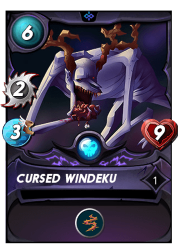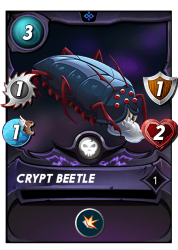 I started my team with my tank and secondary tank. Utilizing tanks is a little difficult with Equal Opportunity because everything will just hit whatever is the lowest health, and not necessarily what is at the front. I went with Cursed Windeku up front because I know that the front 2 monsters will have to hit each other, and brought Crypt Beetle as a secondary tank - its health is low enough that it should get hit before the rest of my lineup, and its Shield ability may allow it to live a little longer.
---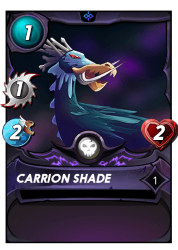 Next up came our guest star of the week - Carrion Shade! It was protected by Crypt Beetle, and thanks to Equal Opportunity it'll be able to attack even out of the third spot.
---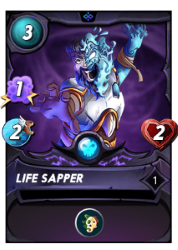 I rounded out my team with some magic damage. Life Sapper and Venari Bonesmith would both hit with magic damage, and thanks to Equal Opportunity they should hit the softest possible targets on the opposing team. If they mange to survive for a few turns then they'll both get a lot more durable too since they can gain health from Life Leach.

With the lineup set, it's off into battle! When I see the selected teams I am pretty happy about it - my opponent has brought a lineup heavy on melee attacks. Although the 2 attack stat on Chwalla and Disintegrator mean that I won't get any sort of cheesy auto-win with Crypt Beetle's Shield, it still means that the Beetle will do a great job of stalling for extra time while my magic attackers do their job.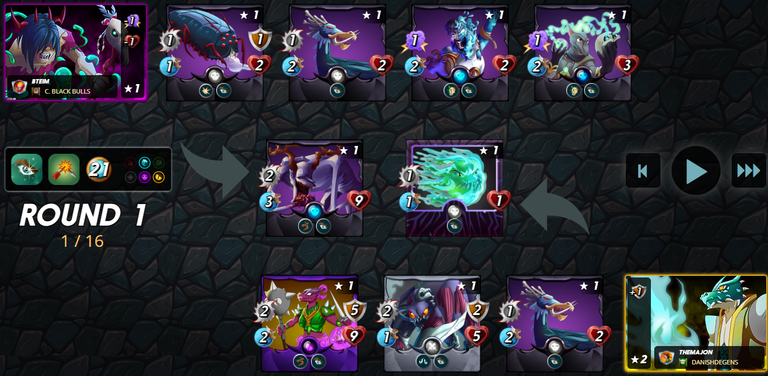 ---
In the first round of battle my magic damage is able to bypass my opponents shields and score quick knockouts on their Cursed Slimeball and Carrion Shade. My magic damage monsters in the back plus my Windeku's thorns ability can now start to work on the real threats in my opponent's lineup - Disintegrator and Djinn Chwalla.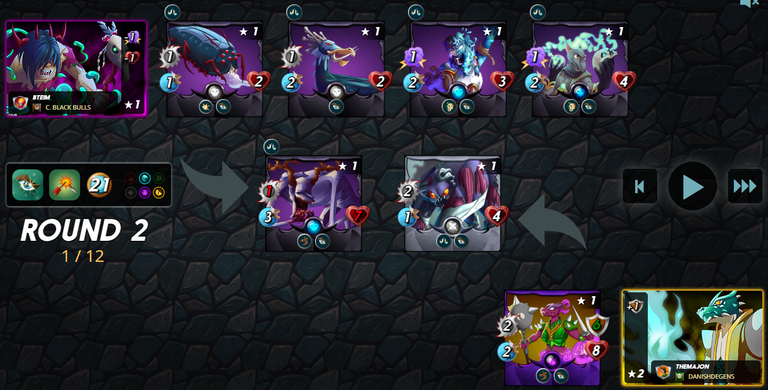 ---
One more round and the battle is nearly won - by now, all that is left on my opponent's side is Djinn Chwalla. Unfortunately he has thorns, which means that my Carrion Shade isn't long for this world. But my Windeku's own Thorns, plus my magic damage means it is only a matter of time. And I should note here that my magic monsters are starting to look pretty tanky themselves, with all of the Life Leach adding up!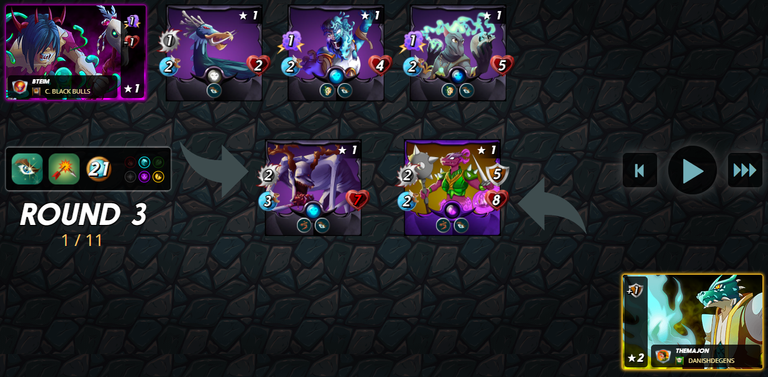 ---
It actually ended in the very next round, and you can see the final situation here: 2 damage from Thorns, 2 damage from Windeku's attack, and 1 each chipped in from the magic monsters equals one dead Djinn Chwalla. And again, if you wanted to see the whole battle for yourself, you can see it right here.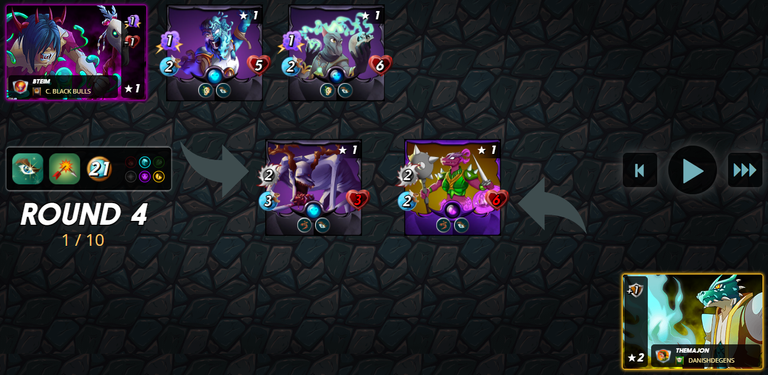 ---
My plan in this battle worked out perfectly -my front line help up for just long enough while the magic and Thorns damage did the job. I wouldn't say that Carrion Shade was the MVP in this battle, but it did do solid work by serving as a buffer and chipping in a bit of damage. In fact, it even managed to get the last hit on Disintegrator! And really this is above and beyond what I expect to get out of a 1 mana cost card so good job, Carrion Shade!
While I wouldn't consider myself the biggest fan of Carrion Shade, I most certainly recognize it as a solid utility card. A 1 mana cost monster can find its way into most lineups, and for anyone building a Death splinter deck, it is a high priority to get a gold foil version since you'll be able to fit it in and get that 10% bonus DEC more often than not. After this week's challenge I'll be keeping an eye on the markets and looking to grab one up for myself, just in case I decide to build out my Death deck!

Thank you so much for reading all the way to the end. Interested in seeing some more of my writing in the future? Be sure to give me a follow! In the meantime, if you'd like to see some of my recent posts:
---
Thinking about giving Splinterlands a try but haven't signed up yet? Feel free to use my referral link: https://splinterlands.com?ref=bteim, and be sure to reach out to me if you have any questions!
---
---