Splinterlands Economics: Prospect Theory
Hello everyone! We are back again today with another edition of Splinterland Economics - a series in which we introduce a basic economic concept and then apply it to Splinterlands. If this is your first time reading, just to tell you a little bit about myself: my day job is in an unrelated area but I consider myself a little bit of economics nerd - I read a little (or maybe way, way) more news than I should, double majored in econ, and am obsessed with optimization. I love the way Splinterlands is equal parts card game and resource allocation game. My goal with these articles is to share a little bit of what I know with you all.
Our subject today deals with the ways in which people make decisions in the real world, and particularly looks to explain why we sometimes make choices which appear to be inefficient. I haven't touched on behavioral economics for a while now, so it's about time that we take a look at that again now. This week, we will be talking about Prospect Theory!
---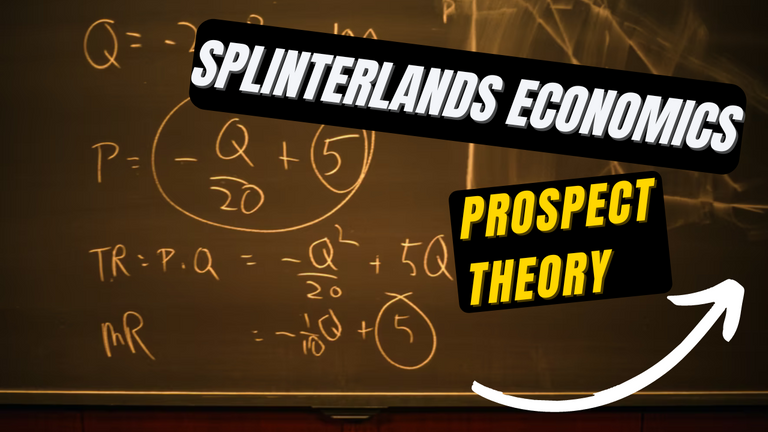 ---
What is prospect theory?
Prospect Theory is a theory explaining the psychology behind why people make the decisions that they do when faced with situations where there is a degree of uncertainty. You may recall from our discussion of loss aversion a while back that people will tend to to place a value on losses which is greater than a value assigned to equivalent gains. This means that people making decisions may choose an option with a lower expected value if they are exposed to less risk by doing so.
---
If you have ever wondered how insurance companies make their money, then this is why - everyone who purchases insurance (willingly or unwillingly) is accepting a slightly lower average value in order to be protected from high risk, low probability events. And this is not to say that insurance is a bad deal - insurance companies provide a real service because they are willing to take greater risks where their customers are not and therefore give their customers better peace of mind, not to mention a softer landing should the worst actually occur.
Speaking of probabilities, prospect theory also deals with the way that human beings tend to interpret probabilities. Specifically, we (in general) tend to be bad at evaluating very high probabilities or very low probabilities - we tend to act as though low probability events are more likely to occur than they actually are, and make decisions as though high probability events are less likely to occur than reality.
---
For example, someone buying a lottery ticket has a miniscule change of winning the jackpot. And while they certainly know that the odds of it are low, they will tend to overvalue the chances of winning relative to the true value - for instance, perhaps unconsciously acting as though the odds are 1 in 1,000, instead of 1 in 150,000,000. Similarly, you may be concerned about the risks of getting struck by lightning, while your chances of getting hit in a year are around 1 in a million (though as a reminder that RNG is RNG, this poor fellow managed to get struck SEVEN times).
---
How do we apply it to Splinterlands?
Splinterlands has a large number of events involving random probabilities, and you can certainly observe prospect theory at work here. For example, many people open packs in hopes of pulling an elusive gold foil legendary, or play on the ladder and hope to find a rewards chest with an enormous amount of SPS. These are both example of low probability events, and many people are attracted to these activities because of the high value, relatively low odds payoffs.
In addition to containing events governed purely by a random number generator, Splinterlands is also a game involving investments and resource allocations. Players are distributing their capital in whichever way they feel the most comfortable about. The future is uncertain, and this means that there is a degree of estimation of the odds of future events. For example, on the chances of a card going up in price in the future, or the amount of time it will take for an upcoming feature to be added into the game. Estimates such as these are natural places where biases due to prospect theory could occur.
I would like to mention that I am not bringing up these activities because I think that participating in them is a bad idea. Playing games in Splinterlands and participating in the economy can often be highly lucrative, and that fact is a large part of the appeal of Play to Earn games. However, this is an example of "good" game design from the developers, in that players can be incentivized to perform activities to a greater degree than may otherwise be achieved with the same amount of rewards in a payout system less dependent on probabilities.
---
Why should we care?
Prospect theory is interesting to me personally because typically we assume the people will act in their own best interests. When I see a situation where it appears as though someone is NOT maximizing their expected value then I want to know why. And it turns out that prospect theory explains how people can still be acting rationally, while also not maximizing expected value. Of course, whenever a situation occurs like this then there are potential market inefficiencies and profits to be made!
Whether we are talking about investing or playing games, it is important to remember that we are human beings. We will often make decisions based on the way we feel about things rather than the cold hard math of the situation, even if we are trying our best to do otherwise. Depending on the case, that can be perfectly fine, or it may be something that you will want to correct for. Being aware of our potential biases is the first step to making better choices, but in Splinterlands and in our outside lives.
---
Thank you so much for reading all the way to the end. Interested in seeing some more of my writing in the future? Be sure to give me a follow! In the meantime, if you'd like to see some of my recent posts:
---
Thinking about giving Splinterlands a try but haven't signed up yet? Feel free to use my referral link: https://splinterlands.com?ref=bteim, and be sure to reach out to me if you have any questions!
All images used in this article are open source and obtained from Pixabay or Unsplash. Thumbnails borrowed with permission from the Splinterlands team or made in Canva.
---
---