Crazy Giveaway Stream! $1,400 Sent Out On Stream!
Earlier today we finished up one of the craziest giveaway streams I've ever seen! It was supposed to be a giveaway stream from the start, but this got crazy super fast! By the end of the 3 hours stream (extended due to it's epicness!), $1400 worth of cards and currency was given away!
The deal coming in was that I would giveaway 1 Untamed pack for every 50 concurrent viewers we hit, and upgrade that to a Beta pack for every 100 viewers. We ended up hitting 210 viewers on stream at once, a new Twitch high for me. The Beta packs were opened up and raffled off 1 card at a time, and with the help of Darth Squirrel, we pulled a gold Clay Golem worth over $300 in the first pack! But that was just the beginning!
On the very first battle of the stream we got a chicken kill! Those familiar with my stream know that chicken kills always trigger Untamed pack giveaways! But not only did we get one chicken kill, but two, resulting in 2 extra Untamed packs given away!
But it wasn't just my own giveaways! Apparently giving is contagious, and viewers sent in a total of 35 different cards during the stream, most of which were sent in to be raffled off as giveaways! There were so many people participating in the donations, but the player who stole the show was @acidhookerdrip, who was quickly nicknamed Santa Acid. He sent in hundreds of dollars worth of cards, including 2 gold epics!
You can check out the stream below:

https://www.twitch.tv/videos/1170114721
Here is everything sent out during the stream, and their current market value as of this post:
5 Untamed Packs - $275
Gold Clay Golem - $315
Gold Pyromaniac - $250
War Chaang - $319
Lyanna Natura - $20.84
Gold Magma Troll - $17.69
Elven Cutthroat - $3.47
Haunted Spider - $3.24
Spineback Turtle - $5.72
2x Peaceful Giant - $4.60
Kobold Miner - $6.80
Silvershield Warrior - $0.83
Rexxie - $2.85
Hero of the Beyond - $11.39
Gold Gorlodon - $2.68
Pelacor conjurer - $0.15
Lava launcher - $2.81
Chwala - $3.43
Kretch - $9.10
Owster - $16.00
Gloridax Soldier - $1.95
Fire Elemental (bcx 9) - $23.83
3x Sand Worm - $5.40
Golbin Firemage - $12.17
Truthspeaker (BCX 6) - $10.28
Goblin Thief (BCZ 13) - $11.02
Alpha Spineback Wolf - $10.00
Ferexia General - $19.98
Pelicor Deceiver - $0.15
2x Venari Heatsmith - $0.28
9x Barking Spider - $3.96
3,000 DEC - $31.12
I can't promised future streams will get quite so crazy, but this definitely won't be the last giveaway stream. I've still got more Untamed and Beta packs earmarked for giveaways! Be sure to follow me on Twitch and Youtube, and join my Discord server (all links below) to see my combined schedule and get notified when I go live!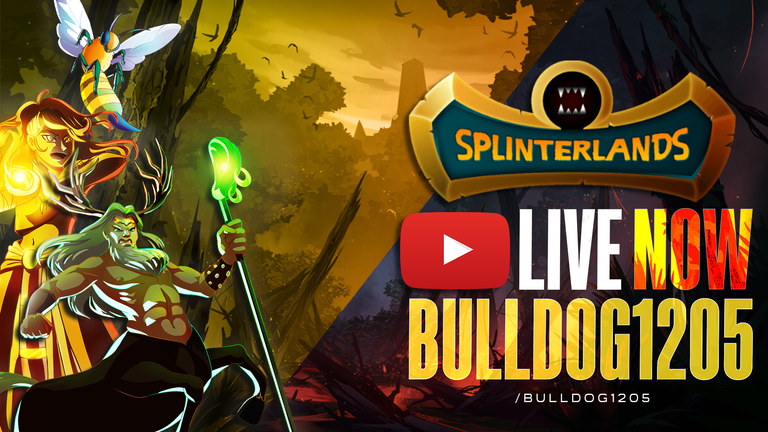 Join Splinterlands | Youtube | Discord Server | Twitter
---
---