Let's Make Darth Squirrel A Playable Character (And Get Yourself Some Discounted Packs!)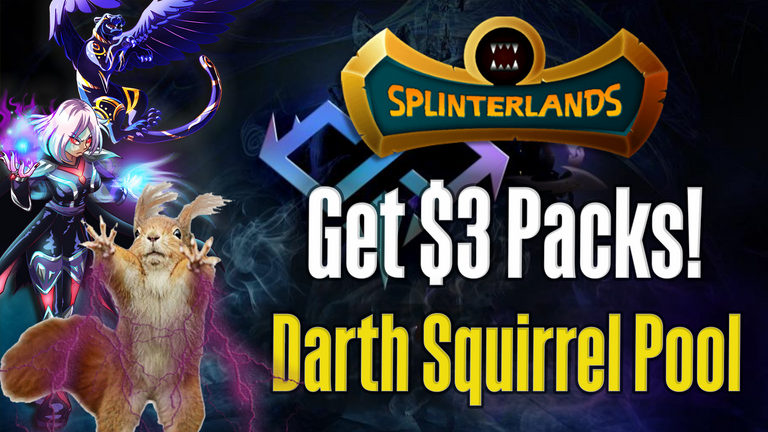 It's time to turn Darth Squirrel into a playable Splinterlands summoner! According to the Chaos Legion whitepaper, "the top 6 accounts with the most Chaos Legion packs purchased during the presale will be able to work with the Splinterlands team to design their own Legendary Summoner card which will be added into the Chaos Legion set as one of the 13 airdrops to be released over the life of the set."
I personally will not be able to provide enough of my own funds to be one of the top 6 accounts. So I'm creating the Darth Squirrel Chaos Pool! I will be working with all of you to pool together our resources to help get Darth Squirrel into the game!
By participating in the pool, you will get access to cheaper packs! Since I will be purchasing packs with SPS in batches of more than 2,000 at a time, the cost of a pack will only be $3 instead of $4, and you will only need 0.84 vouchers (or the funds to cover the voucher)! You will also retain all rights to GUARANTEED airdrops. This means you will receive 1 copy of each airdropped promo card for every 50 packs purchased, with 1 of those being a gold foil copy for every 1000 packs. Keep in mind that this will apply to all airdropped chaos cards, but future airdropped requirements are not known yet. The threshold for guaranteed drops typically increases for each airdrop.
To participate in the pool, all you have to do is send SPS or other funds to "darthsquirrel" in game. Message me to let me know you are sending the funds. My preferred method of contact is via Discord (Bulldog1205#3050). There is a minimum contribution of $50 ($100 if using fiat). Payment options outside of the game can be accepted.
Funds will be stored as SPS, so the value of your contribution is subject to changes in the market, and could go up or down by the time packs are actually purchased. The SPS will be staked initially. It will be unstaked approximately 4 weeks and 3 days before the end of the presale in order to maximize the amount of vouchers received while still making the SPS funds available to actually purchase packs.
As a fee for all the time and effort that will go into managing this pool, I will be keeping all the SPS staking rewards that are generated (not including the voucher rewards, which will go into the pool) and all of the partial airdrops. For example, if someone buys 75 packs, it could possibly generate more than 1 airdropped promo card, but they will only receive the 1 guaranteed airdrop. This also means that anyone who buys less than 50 packs will not receive airdrop rewards. Overall, the value I will be keeping will add up to only a very small percentage of the overall pool, and anyone who isn't planning on purchasing more than 2000 packs will still save money by using the pool to take advantage of the bulk purchasing discount.
Feel free to reach out to me with any questions regarding the pool. Let's go get Darth Squirrel into the game!

Join Splinterlands | Youtube | Discord Server | Twitter
---
---