Burl: The legionnaire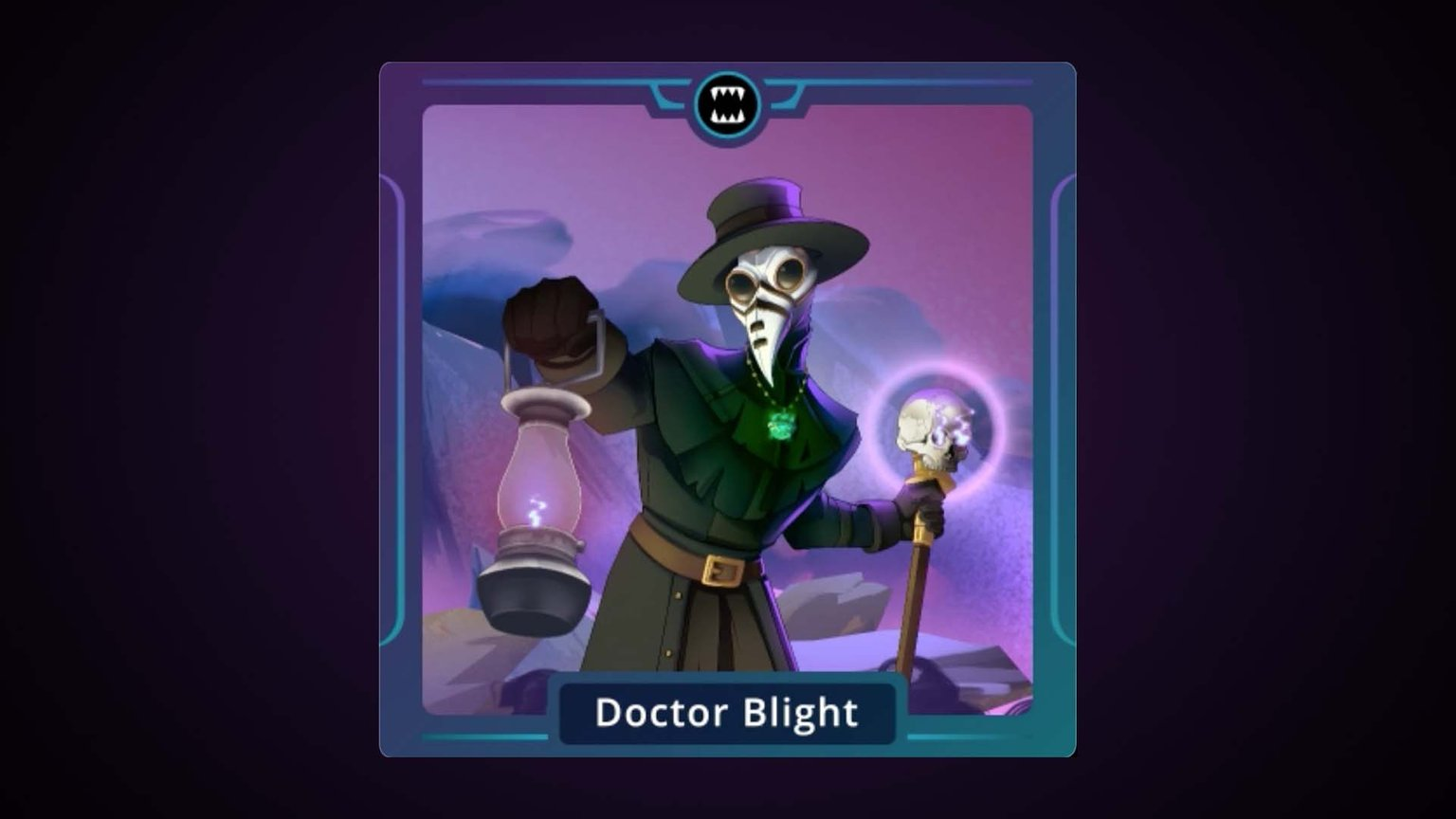 There is a saying that the first step is always the hardest to take, for a baby that just want to start walking, he will find it difficult to stand up and tried to walk until he is pushed to do so but once he try it once, he will keep on pushing till he perfect it...
At the beginning of the pre sale, i was not sure of what i wanted to do, either to just sell the vouchers i get or keep them or use them to buy packs it can afford but everything changed when i started to hear about the perks that comes with partaking in the pre sale, on top of this the higher you purchase the more perks you get..
The one that intrigued me is the 1000 packs, one get a gold foil legendary and also a guaranteed 19 normal foil of this promo card and most importantly the legionnaire title, honestly this is appetizing to the heart but it comes with a cost, calculating what one would need to purchase 1000 packs, you will need atleast 870 vouchers which cost 15 600 dollars as at the time i purchased it and an additional 4 000 dollars for the packs, so like almost 20 000 dollars to partake in this pre sale, that is huge!
I didn't let the price to be paid dissuade me from taking the first step, i am someone that act atimes before thinking about the consequence because sometimes thinking before acting would make you so scared and you will end up not doing what you are supposed to do...
Oh well, i did my maths to see if it will be possible to achieve this goal, plans were flowing in my head and i had like ten plans right in front of me, if plan A doesn't work then B will and if B doesn't then i will move to Plan C till i achieve my target but luckily for me, i didn't even make use of all the plans before i was able to get my 1000 packs!
It cost me my energy too as the vouchers price keeps pamping and i need to monitor it in order to re set my bidding price, glad as i was able to get all yesterday at around 17 usd as at now it is now trading above 20 usd!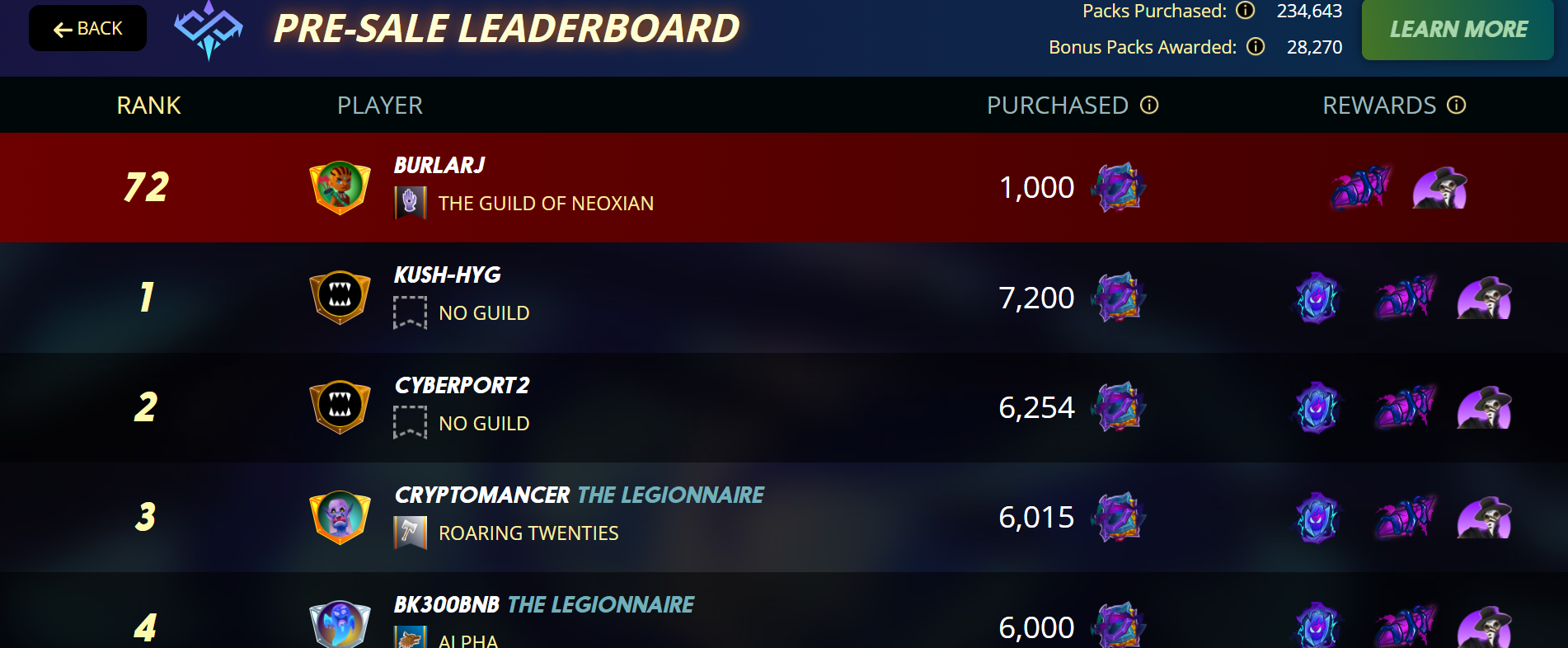 I was in number 50th as at yesterday and now 72, looks like many more are buying too and before the end of the presale i wonder which position i will fall but who cares as long as my legionnaire title remains intact eh..
For those wondering which promo card i am talking about, it is no other than Doctor blight!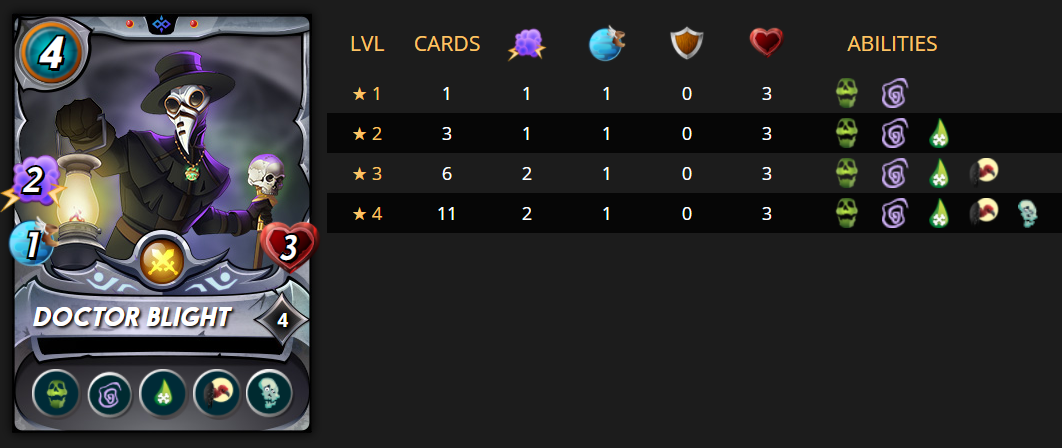 It is such a cool monster with unique abilities..
Affliction: It is a threat to healing monsters as it can stop them from healing..
slow: it slows down all opponent monsters in a battle
poison: The poison used to be my favorite ability in battles as i love to see my opponent monsters die slowly from poisons
scavenger: Its life increase if any monsters die either from its team or opponent team.
weaken: The reduce the life of the opponent monsters...
Dang, this monster is just too cool and it will be the first ever monster with five unique abilities and to make it super cool, it is a neutral card and can be used along in any splinter ,dang! dang! it is a must have card and since it is a promo card, it will be very rare to come by after presale as only those who got it will list their own in market and who would wanna part with something as amazing as doctor blight? hmmmm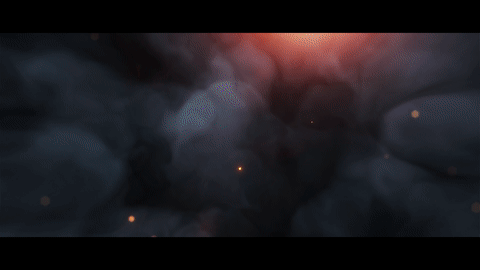 )

if you want to be a part of this week steemmonsters challenge, you can join from here
All pictures are gotten from splinterlands lore and gif credit goes to splinterlands.
---
---