Splinterlands - My Ultimate Winning Team
It is so fascinating, to myself, especially how much I have grown on Splinterlands, in terms of gameplay and my choice of Monsters in such a short period of time playing the game. (Tired of telling y'all I started in July)
In this short period of time, the highest I have reached on the leaderboard is Silver III(couldn't go higher because of Power) and along the line, I have combined some of the deadliest and lethal Monsters for someone still stuck at Bronze levels.
I like sticking to the same lineup for every battle because whether you believe it or not, I have kinda grown a fondness for some of the Monsters(imagine that). But you know sometimes, the opponent and Manna cap play big roles in your team selection. I hate when I have prepared to battle it out against Melee monsters and my opponent surprises me with a magic lineup with Phantom Of The Abyss leading the charge or I get the unpleasant surprise of battling against Kron. Shit!!
In my ransacking, trying to get some of the best Monsters within my renting budget, I encountered some of the coolest and deadliest Monsters on the arena and I make sure they are part of my cards every time, no matter what they cost in rent.
Currently, if the Mana cap is at least 22, I am using my preferred lineup, regardless of who I am facing.
Drake Of Arnak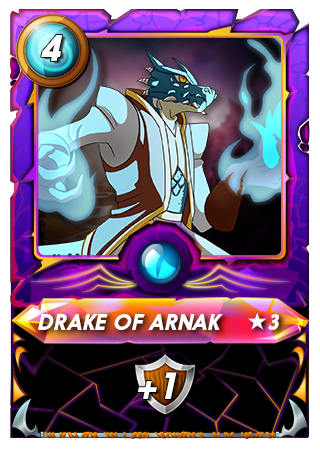 I am using Drake because some of my preferred Monsters are of the Dragon Splinter but that is not the only reason though. Drake gives my team that one extra layer of shield so even when I come up against the same monsters with the same speed and they attack first, my Monsters still get to be alive for a comeback. I will show you what I mean below.
Robo-Dragon Knight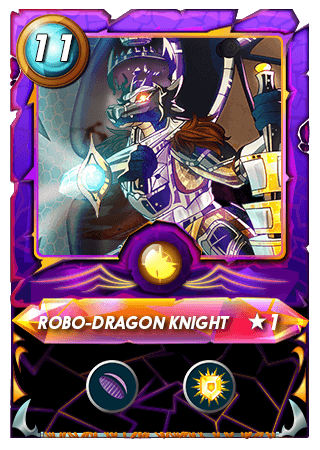 Shiii!! The Dragon Knight. I call him the Boss because he just exudes "bad ass" and "kickass" at the same time.
The Boss is fully equipped for all kinds of opponents which is one of the reasons I use it regardless of whom I am battling. It has both defense and offense abundantly. With 3 Speed and 3 Melee attack, the Boss can attack both fast and hard. Then his defense is his biggest flex which also gives those at the back enough time to do some serious damage to the opposition backline.
The Boss has the Divine shield, Void (against magic), 9 Health, and 8 Shield. That is a pretty damn tank if you ask me.
Dragon Jumper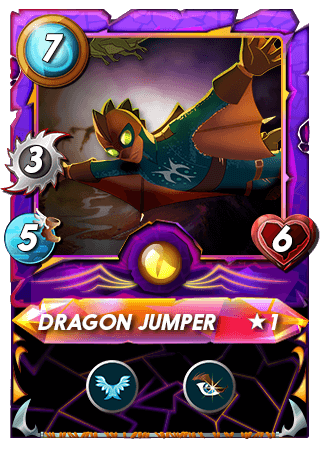 I love me some opportunistic Monsters and this guy and Serpentine Spy are my favorites. They are both aesthetically pleasing, fast and ruthless in battle. I think I fell in love with it mostly because it reminds me of the movie "how to train your dragon".
With 5 speed and 3 Melee attack, the Jumper rarely misses any attack, so when he attacks he either takes out the other monsters or half their health.
Sometimes I just go into battle with The Dragon Knight and The Jumper and I am sure of victory, that's how much confidence they give me. Also my longest winning streak has come while using them.
Serpentine Spy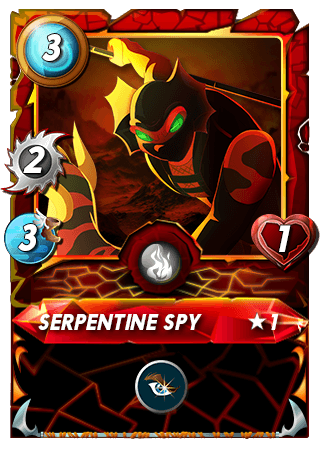 One of the sneaky bastards I hated encountering in battle when I first started out but I absolutely love having on my team.
When I use Drake, I usually choose the Fire Splinter when prompted, just because of this beautiful Monster. This allows me to have two very fast opportunistic Monsters on my team. And because his health is just 1 and the chances of it being killed after one attack is high, I use Drake to protect it. This guarantees at least two to three attacks from it before it is ultimately taken out.
When I come with this lineup, I come prepared, unless I am battling against Mylor Crowling, then it becomes a bit complicated, but I still fancy my chances.
In case you have encountered and been whooped by this lineup severally, know now that it is me, and I am not sorry. LOL
If I have more Manna though I add some more range attack behind for variety, but this is very much it though.
---
---