Get Some Mojo Back Giveaway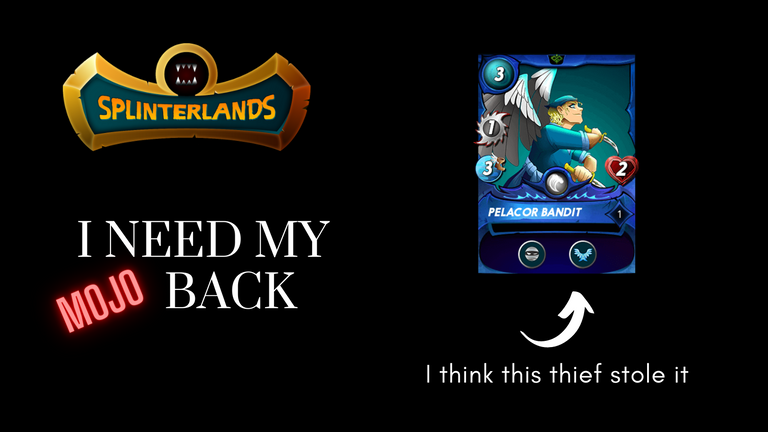 I think Pelacor Bandit has stolen my Splinterlands Mojo. In an effort to gain back some good vibes I'm going to post my first giveaway. Please take this lovely gentleman, who has stolen my Mojo, off my hands.

𝚆𝙷𝚈
I
posted yesterday
about my poor quest rewards. My day was brightened by a giveaway win, but I think I bad mouthed my rewards too much and Pelcaor Bandit stole my Mojo in spite. Today's rewards were even worse. And to top it off Splinterlands spit in my eye and only gave me two chests for a Silver II Daily Quest 🤣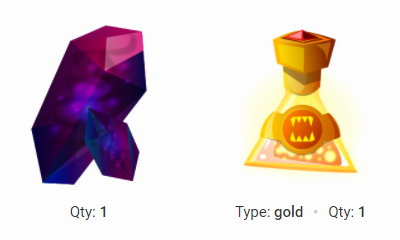 Today's Awesome Rewards
I have received the message loud and clear, my luck was running hot, I had received too much, and Pelacor Bandit and Splinterlands decided to tell me it was time to give some back to the community. I've been wanting to run a giveaway of my own for some time and this was the world telling me it was time.

𝚆𝙷𝙰𝚃
Since the Bandit decided to steal my Mojo, I've decided he is the lucky guy that gets to be given away. In fact I want him gone so badly that I am giving away five Pelacor Bandits to one lucky winner. That is enough, should you choose, to combine him for a level 2, or at the very least 25 extra CP. Don't tell him, but if you decide to burn them for the DEC, I wouldn't mind 😀

𝙷𝙾𝚆
This is my first giveaway so I don't want to make this overly complicated. Post any comment below with your in game name, if different from your user name, and you will be entered. An upvote would be appreciated, but not necessary.
@cynano led me to this tool to choose a winner in his most recent giveaway so I will give that method of choosing the winner a shot.

---
𝚆𝙷𝙴𝙽
I need my Mojo back ASAP, so I will be choosing a winner in the next day or two. I'll write a follow up post presenting the winner but also letting you know how my first experience with a giveaway went. I'm not sure on the etiquette or proper procedure, but I'll make sure to edit this post when the giveaway is complete and add a link to the follow up post..

Thanks for reading and helping me get my Mojo Back. Good Luck!
Credits:
Reward screenshot from PeakMonsters
Card images from Splinterlands
Banner created by me using Canva
If you would like to use my affiliate link to experience the fun Splinterlands has to offer, here you go. Thanks in advance!
---
---