Reading Minds and Winning Battles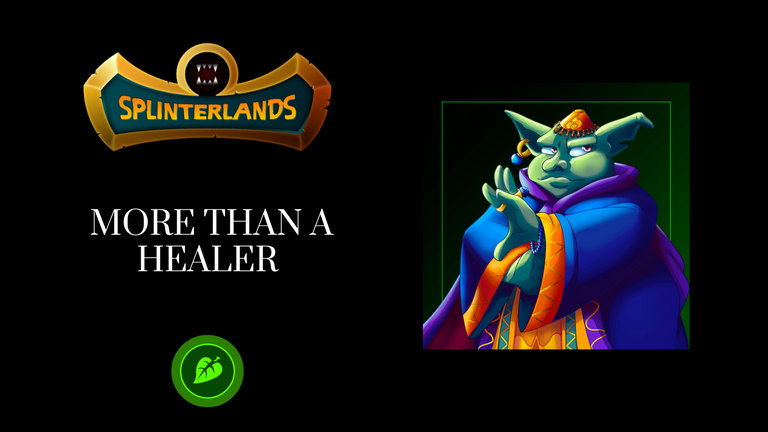 Sharing a few Splinterlands battles involving Goblin Psychic
---

Out of the Ocean, Onto the Land
We move to the Earth Splinter after last weeks Deeplurker Battle Challenge. My choice of teams from last week's challenge featured a pounding of melee attacks, highly susceptible to magic attacks. It is fitting then that this week's challenge features a healing mage and a supporting cast of range, melee and magic attackers.

GOBLIN PSYCHIC
🍃 Level 1
🔮 2 Magic Attack
🏃 1 Speed
❤️ Tank Heal
🅛🅞🅡🅔
The Magi Tower is where Goblins go to learn how to use psychic abilities. It isn't just a gift Goblins can learn, but due to the proximity of Gobson, Goblins tend to show up more frequently. The Magi who calls the tower home, enjoys teaching the art of using one's mind to move objects and read thoughts...

FEARLESS LEADER
I enjoy playing the Earth splinter. I find them powerful enough at level one, with a couple of complimentary rentals, to give me a fighting chance in the Silver league. Because of this I have not yet built up an Earth deck and battle with them at level 1. I'm still working on
building up my Water splinter deck
, so this will likely be the case for some time. This doesn't leave me a ton of options at summoner to lead Goblin into battle. Below are my three summoner options, two free to play and one rental.
| | | |
| --- | --- | --- |
| Free to Play | 2.8 DEC/DAY to Rent | Free to Play |

BATTLE EXAMPLE
Follow the full battle here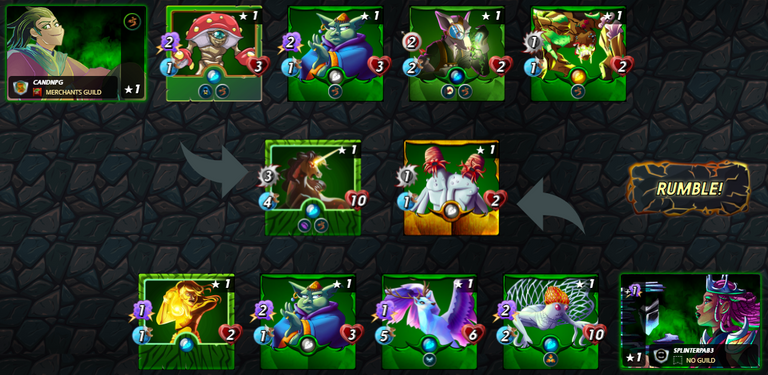 ---
MY LINEUP

ⓈⓊⓂⓂⓄⓃⒺⓇ - MYLOR CROWLING
Level One
🌹 Thorns
🤔 Strategy: I had a strong hunch, but wasn't positive, my opponent would go magic heavy. (Call it the Goblin Psychic inside me reading minds) I wanted to give my team the Thorns ability in the event there were some melee monsters coming my way. Knowing I would be able to also deploy Silence and Void made me feel a little safer going this direction.
---

①ⓈⓉ - UNICORN MUSTANG
Void
❤️ Ten Health
⚔️ Three Melee Attack
🤔 Strategy - High health and the ability to absorb some magic attacks. A perfect tank for a battle that magic will likely play a key role.
---

②ⓃⒹ - MUSHROOM SEER
Silence
❤️ Three Health
🔮 Two Magic Damage
🤔 Strategy - I knew there was a high probability that I would be squaring off against a heavy dose of magic as the Earth and Dragon splinter were the only available options. The Silence ability, paired with my tanks Void, was my method of protecting the back line.
---

③ⓇⒹ - GOBLIN PSYCHIC
Tank Heal - Negated by the Rule Set
🔮 Two Magic Attack
❤️ Three Health
🤔 Strategy - It may seem like an interesting choice to select Goblin when the Healed Out rule set was in place. My thought process in this selection was purely for the two magic damage. My opponent clearly was thinking the same, especially in his case to pair with Obsidian's buff.
---

④ⓉⒽ - VENARI SEEDSMITH
Scavenger
🎯Two Range Damage
❤️ Two Health
🤔 Strategy - The two range damage is nice but this selection was an additional insurance policy for a few extra health using the Scavenger ability.
---

⑤ⓉⒽ - FUNGUS FIEND
Zero Mana Cost


⚔️ One Melee Attack
❤️ Two Health
🤔 Strategy - An extra insurance policy in the back in case my opponent uses any Sneak monsters.

PRE-BATTLE STATS
🔮 My opponent went all in on Magic attacks to take advantage of Obsidian's +1 magic buff. Having Void and Silence is looking like a game changer. My Psychic powers were strong this time around.
🌹 Thorns should take care of my opponents mini tank as neither of us bothered to use any armor.
---
RESULTS

I came out looking like a genius in this case. Splintertools shows this as a 100% win rate. Looks like my Psychic powers were stronger than my opponents this time around. It was a completely lopsided battle so not much to talk about. I was prepared to discuss the importance of Tank Heal this week, but it was Goblin's magic and his teammates Silence that were the star of the show.
Just so you don't think I have this game all figured out and that Earth splinter is unstoppable, here are a few more battles involving Goblin, some of which I am the one getting smashed.

WRAP UP
When I first saw Goblin Psychic was this week's Battle Challenge I was fairly certain there would be a lot of discussion about Tank Heal. Interestingly enough the battle I choose to share negated that ability and it was Goblin's two magic damage that helped secure the victory. If paired with Obsidian, this becomes three magic damage and is a formidable foe even at level one. I can only imagine that after level seven when he gains Affliction and Silence that this is a must have card. I look forward to a time in the future when that is a strategy I can consider.
At this point, me and my Krill budget will enjoy pairing it with Mushroom Seer, to give the team the Silence ability, and enjoy the Tank Heal and magic damage Goblin provides.

SELF PROMOTION ZONE
My Recent Posts:
📷 Don't Let the Editor Format Your Images - A quick tutorial for resizing images for your posts
🌧️ It's Raining Pelacors: Presenting Giveaway #1 Winner - Announcing Giveaway #2 - Giving away a choice of Pelacor
🌊 Further Into the Deep - My Plans to Build Up My Water Deck - My thoughts on the Water splinter as I get closer to upgrading my deck
🎁 My Day is Saved By Another Generous Hiver - How a giveaway win turned my sour day around
---
Credits:
Thumbnail created by me using Canva
Battle studies conducted at Splintertools
Thanks for reading!
If you are not yet playing Splinterlands, give it a go here!
---
---