SplinterCards Data Mining - Is Renting to a Higher League Worth it?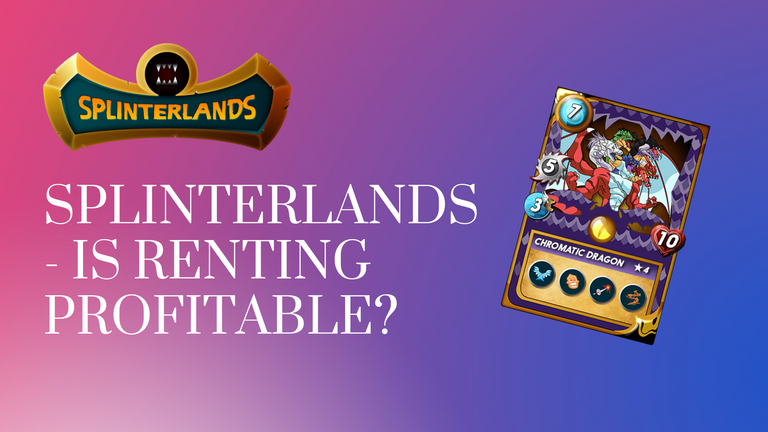 Is it Time to Pull the Trigger?
I've been comfortably moving along in Silver III for the past seven days and realized that I was sitting at a rating of roughly 1900. I looked and realized I would need to rent approximately 22,000 CP to move into Silver II. I've been in this position the past two seasons and opted not to rent to a higher league as the rental costs didn't seem worth it. To be fair, the only time I seriously checked prices it was within the last couple days of the season when rental prices were sky high. So is it time I make the leap to Silver II?

Considerations
I decided to hop over to
PeakMonsters
and see what was available on the rental market. Without having to do much digging, I quickly found a level four Chromatic Dragon, with 25,200 CP available for 35.750 DEC a day. It was then that I realized I wasn't entirely sure what I would gain by moving into Silver II. I knew that moving into Silver II granted three extra chests at season's end, but I wasn't sure what the extra quest rewards benefits amounted to.
There is one other detail to consider. I love the rental system in Splinterlands, however I realize that by renting my way to Silver II, I will be at the mercy of the card holder not canceling the rental. With that question mark hanging over my decision I wanted to make sure that any additional reward returns would be expected to compensate for the additional 35 DEC rental fee. Any extra end of season rewards that happen to come along would be a bonus.

Where to Turn?
Thankfully, I found all the information I needed to make an informed decision at
SplinterCards
. The two main questions I wanted answers for to make an informed decision.
 How many extra chests would I receive in Silver II over Silver III?


 What is the expected return value of the additional rewards


Answers

Finding the answers was quite simple thanks to SplinterCards. I selected the 'Gameplay' drop down menu and choose the 'Leagues' option. On the resulting table, the sixth column, 'Daily quest loot chests', showed me that I would be increasing from two daily quest chests a day to three. Great, but what is an extra chest worth?
Scrolling down the page further I found a link to the 'Loot chest value tool'. Selecting the Silver II bar at the top revealed that the average expected chest value is $0.134 or 41.9 DEC. Wow, that would equate to a net positive of 6.15 DEC, not including the estimated 171 DEC if I end up holding onto the rental through the end of season.
If I choose to take the math further to Silver I, I would need to find an additional 30,000 CP to rent at 44 DEC per day to make the additional reward chest profitable. If I wanted to take a huge leap to Gold III I would need to find an additional 60,000 CP to rent for less than 132 DEC a day to make the move profitable. I did find cards that would get me into both of these leagues under that cap, however, like the rest of my Splinterlands journey, I'm choosing to take it slow and see how the move to Silver II works out.



Credits: Card image from Splinterlands
Screen Shots from SplinterCards
---
Thanks for reading!
If you would like to use my affiliate link to experience the fun Splinterlands has to offer, here you go. Thanks in advance!
---
---
---