Splinterlands — PIZZA Brawl Report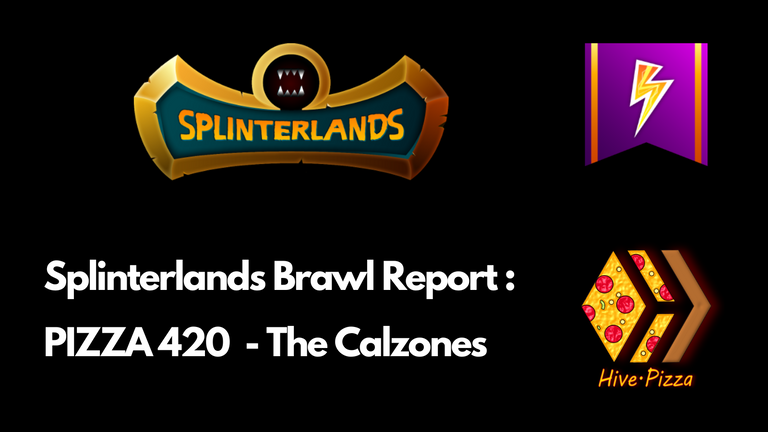 Splinterlands — Keep the rewards coming!



🐲 Brawl Report 🐲
The Calzones are coming off a disappointing seventh place finish, and I was looking to bounce back after a .500 Brawl myself. SPS rewards seems to be bringing out the competition, so we had our work cut out for us to better our finishing place.

Play the best team to win the coin tosses
Last week I shared a battle I had no chance of winning and dug deeper to see what changes I could have made to get the win. This week I'm sharing a battle that I had the odds in my favor, but still managed to lose thanks to some unfavorable RNG rolls. Were there any changes I could have made to even further increase my odds of winning so that a couple of extra misses wouldn't sink my hopes?

Mana wasn't an issue this battle with a cap of 60. Life splinter was off the table which was interesting with the Close Range ruleset it would have been nice to have the option to use Sloan. Well, at least I didn't have to plan for my opponent to use Sloan 🤷‍♂
I opted to choose Tarsa as I could use my favorite combo of Grum and Chimney and also take advantage of the many range choices the Fire splinter offers.
| | ME | OPPONENT |
| --- | --- | --- |
| | 15 | 12 |
| | 8 | 4 |
| | 0 | 0 |
| | 0 | 0 |
| | 3 | 13 |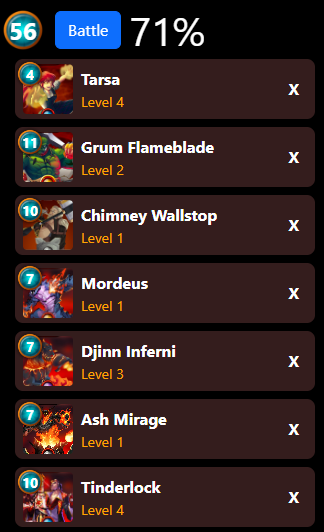 It's tough to lose a battle when the odds say you should win 71% of the time, but it highlights how important it is to get every bit of fire power on the battlefield to minimize the RNG effect. The Grum-Chimney combo weakness sis the low speed, particularly against Kelya's speed buff, but usually they hit hard enough when they do connect to make up for a few misses. The misses hurt, but what hurt mire was not being able to take out Scavo a second time and I wasn't able to break through the opponent's armor with the additional misses. Once Mordeus wsa taken out I didn't have another card that could strike back line opponents and Scavo was able to use Repair from the safety of the back line.
My opponent used Scavo perfectly. When it works it is great, the downside is its low health and if it gets taken out quickly you lose a spot for another card that could have been attacking.
What would have been better?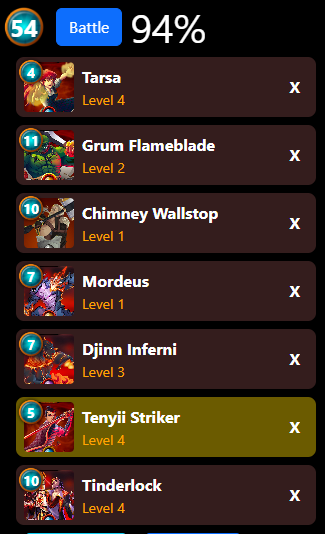 I needed one more card that could attack the back line. I choose to use Ash Mirage for the Headwinds ability, expecting my opponent to use a few range attacks to take advantage of the ruleset. With Sloan off the table, I should have focused more on a back line striker. using Tenyii Stryker instead would have bumped my odds up to 91% and likely changed this loss to a win. If it were available another play would have been Countess Sinash for the Swiftness to minimize the misses and the opportunity to strike at the back row. I really wish the newer reward cards were available in the Chaos and Rift frays.

👎👎 2—3. I failed to hit a winning record again 👎👎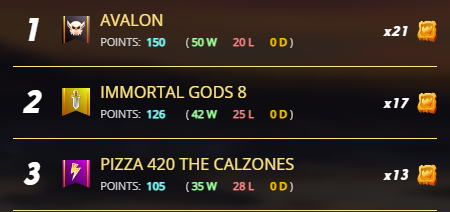 I didn't perform as well as last Brawl, but the Guild came through and brought us back to third place 🎉🎉🎉 The competition has certainly stepped up with SPS rewards now on the table. THis makes it even more important to maximize your odds of winning. RNG can play havoc with a winning team so make sure you think about each card and it's placement.

Other Pizza Guild Brawl Reports
@theacks — Pizza Guild Report #5
@vaynard86 — Brawl report and social media challenge
🍕🍕🍕 What is PIZZA? 🍕🍕🍕
As with most activities connected to Hive, and the crypto world in general, I discovered PIZZA because of Splinterlands. Also like most Hive connected activities I discovered a world of possibilities beyond what I expected. So what exactly is PIZZA?
1️⃣ PIZZA is a trade-able token that can be staked for rewards and tipping, used to purchase games or traded for other tokens.
2️⃣ PIZZA is also an active Discord community for gamers and creatives. (I personally frequent the foodies-lounge, splinterlands and rising-star channels)
What are you waiting for, come check out the PIZZA Discord and join in the fun 🎉

---
---