Splinterlands Share Your Battle - Dragons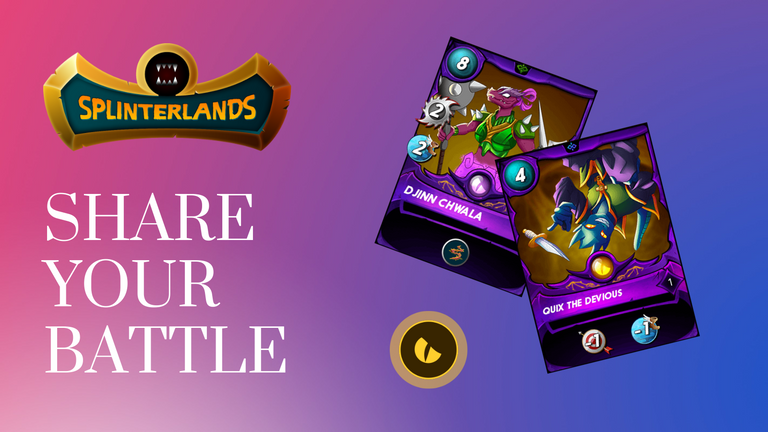 ---
Dragon Splinter
I was excited to see ths week's share your battle challenge is Dragons. I've been eyeing the summoner Quix the Devious for a few days I used this as an opportunity to rent him for a fee days and see how it worked out.
I love the art, with Quix hanging upside down from the top right of the card. As a legendary summoner he is also able to summoner level three commons, and level two rare and epic cards as a level one card himself. I still don't own a large collection of leveled cards, but I was intrigued about being able to use Quix with varying splinter leveled up cards.
---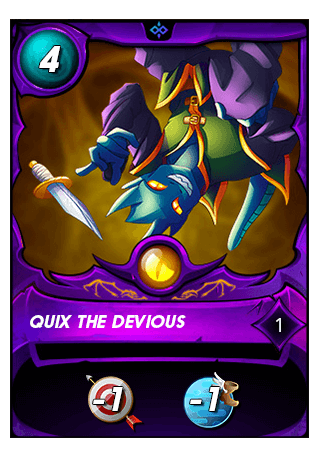 Quix the Devious
Dragon
Level 1
-1 Range Attack
-1 Speed
Rental Cost - 1.035 DEC per day
Lore
...Of course when the Chaos Rift was established and a doorway to the new world opened, Quix was eager to visit the Splinterlands and find new dragon trophies to add to his collection, expanding upon his already lethal repertoire of monsters...

The Battle
You can follow the entire battle
HERE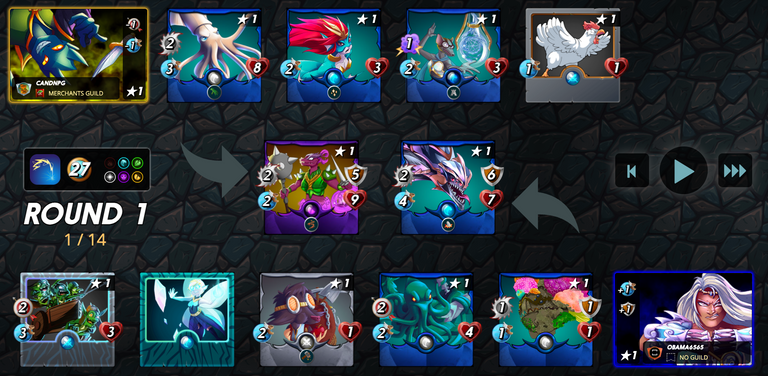 ---

First Position - Djinn Chwalla
Thorns
Nine Health
Two Melee Damage
Five Armor
Strategy - A large shield, decent melee attack and the ability to deal damage with thorns makes Djinn a formidable tank
---

Second Position - Flying Squid
Reach
Eight Health
Two Melee Damage
Strategy - Reach allows Flying Squid to attack from the second position and the high health allows him to take a few hits and stills tay in the game
---

Third Position - Merdaali Guardian
Tank Heal
Three Health
Strategy - Merdaali is charged with keeping Djinn alive as long as possible. I placed her in the middle of the pack to protect her the best I could as she has no defense of her own
---

Fourth Position - Venari Wavesmith
Protect
Three Health
One Magic Attack
Strategy - Venari's protect ability should help keep Djinn alive longer by boosting his armor to seven. It also will help protect the entore lineup from and extra hit or two. An added bonus is his magic attack can slip under enemy armor.
---

Fifth Position - Furious Chicken
Zero Mana Cost
One Health
Strategy - At zero cost she is some insurance against a backline attack. With Vanari's protect boost she should be able to take two hits

Results
My opponents choice of Keyla meant that Quix's speed debuff was of benefit. Furhter, my opponent choose two monsters with a range attack of two that Quix also helped to neutralize. Djinn's thorns and the back line abilities were more than enough to keep my lineup completely safe. The Chicken ended up being an after thought in this battle, but for zero mana she was a great insurance play.
I have enjoyed using Quix the past few days, but I have found it to be a very situational card at this point. Perhaps as I start to gain more leveled up cards across various splinters his ability to summon higher level cards would be a greater benefit to my play.
---
---