Time to Open the Presents - A Splinterlands End of Season Report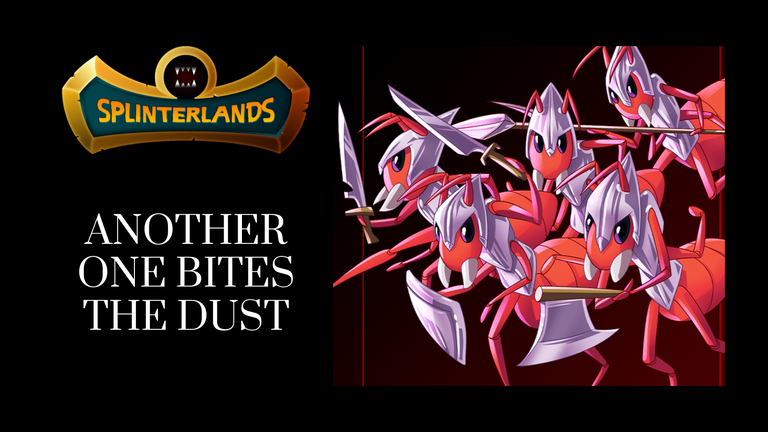 Season Data
| SEASON TOTALS | THIS SEASON | LAST SEASON |
| --- | --- | --- |
| TOTAL BATTLES | 394 | 387 |
| TOTAL WINS | 222 | 218 |
| WIN % | 56.35% | 56.33% |
| SPS REWARDS | 15.589 | 11.784 |
| DEC REWARDS | 1294 | 1666 |
| TOTAL CARDS WON | 22 | 11 |
| REWARD CARDS $ VALUE | $1.44 | $2.32 |
| REWARD CARDS CP VALUE | 200 | 335 |
| DEC SPENT ON RENTALS | 1166 | 761 |
| OTHER REWARDS | 7 ALCHEMY POTIONS | 3 ALCHEMY POTIONS |
| | 9 LEGENDARY POTIONS | 7 LEGENDARY POTIONS |

Was it a Rewarding Season?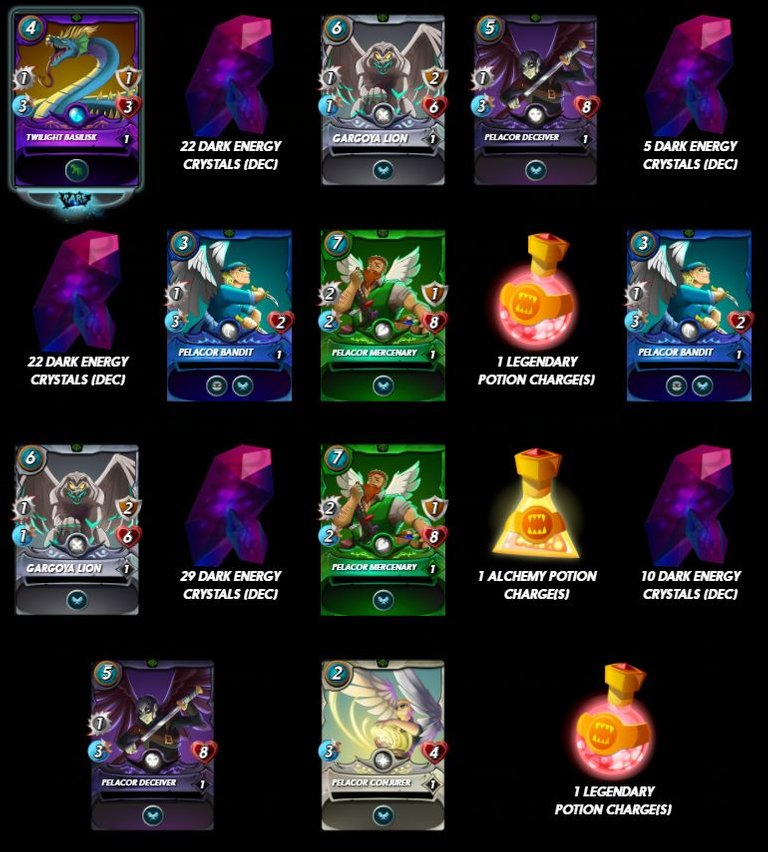 The screen shot of my season end rewards sums up the whole season. A rare card, an army of commons, a few potions and less than 100 DEC. It is nice to add a good sum of cards to my collection, but the additions are less than stellar.
However, over the whole season I made 128 more DEC than I spent, I'm now being rewarded more than 1 SPS per day, I have 22 more cards in my collection and I played a fun game for two weeks and came out with a net positive to show for it. Economically it is a win.
I'm still waiting for that first Legendary reward card, but I know it will come with time. I'd love to see a pack show up in one of my chests these days too. 😀

Silver League Experiment
I ended the season with a rating of 2361, my highest ever, and finished with a rank of 3346 in the Silver League. After finishing the prior two seasons in Silver III, I made a big leap this time around.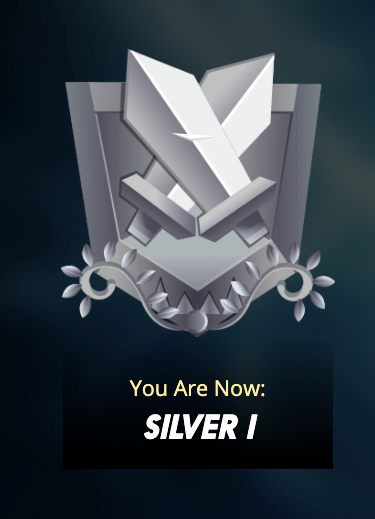 On day nine I found myself with a rating approaching 2000 and decided to rent up into Silver II for the first time. I documented my thought process starting HERE.
Five days into the experiment I pulled a Daily Quest chest with 556 DEC, paying off the extra rental costs, but unfortunately the rentals I made to take the leap were cancelled the next day and it was back to Silver III for me.
So how did I end up in Silver I? My guild came to the rescue and delegated an additional 30K of CP to boost me to Silver II. The gambler in me couldn't resist how close I was to Silver I and I added a last minute rental, costing me 350 DEC, to reach Silver I for the first time. The gamble didn't pay off, but it is nice to be starting this season at a rating of 900 and hopefully not have to slug it out in Bronze for many battles.
Thanks @hiveabbyftp for the delegations and making the start of this next season a bit easier. I was hoping for some bigger rewards that I could share with the guild, but I'll find another way to give back.

Other Season Gains and Thoughts
I didn't go into this season thinking I would put more time and effort into my Hive posts, but a few days into the season I realized that I had been posting almost everyday. I was picking up tips and tricks, making it faster and easier to post, and having a great time doing it. The more I posted, the more I learned. The more I learned. the more polished my posts became. The more polished my posts became the more notice and payouts I received.
HERE is an example I posted the other day detailing some of the tricks I have learned.
With the increased payouts I now had to learn more about what to do with the residual income. So far I have ended up converting all the HBD I earned on posts into DEC. All told I converted over 3500 in DEC to my account this season solely from post payouts. The increased DEC in my account now rewards me over 1 SPS per day. The secondary bonus is that the increased HP has made my worries of RC a thing of the past!
The multitude of ways to earn in this ecosystem is astounding!

🤑
I'm on the fence how to use the DEC now because I enjoy seeing my SPS balance increase each day, but I also have a growing list of cards that I want to purchase. I guess I will just have to keep posting and earning so that I can do both 😀

Next Season Goals
What I haven't even touched on yet is the other coins that are starting to accumulate as I create more posts. I'm staking my SPT coins and delegating to
@monster-curator
. (Bonus, this also increases my daily airdrop total for more SPS) But beyond that I still have so much to learn and I'm getting a bit overwhelmed.
I want to learn more about the @oneup-cartel and how to use my oneup coins. I've just discovered the 1UP.Zone and have a lot of learning to do.
Same as above, I want to dive deeper into @leofinance. I've just recently discovered Leofinance.io and there are not enough hours in the day to read up on everything that catches my eye.
Expand my Level Two/Three options. At this point I've built a decent deck around a level two Tarsa. I would like to build up a level two Water, Death or Earth deck next and start working on building Tarsa to level three.
Expanding on the above. I tried out my first tournament this season. (Thank you @z3ll for hosting a great beginners tournament series.) With my limited deck options I tend to be at the mercy of the rule sets and get thrashed when they don't fall my way. I want to keep building my deck to be more balanced.
I cannot call myself a new play anymore, even though I feel like it. I've been playing for nearly three months now and never thought that this simple looking card game would have so many layers. Hopefully I can pull some more layers back this coming season and continue to enjoy it as much as I have up to this point.


Credits:
Card images and screen shots from Splinterlands
Banner created by me using Canva
Thanks for reading!
If you would like to use my affiliate link to experience the fun Splinterlands has to offer, here you go. Thanks in advance!
---
---