Quest for Non-Splinterlands Income: How Does $PIZZA taste? What's happening with PsyberX?
Lately I've been spending some time looking into 2nd layer tokens on the hive blockchain, and truthfully I find myself a bit overwhelmed by the new stuff I'm getting to know every day!
In response to the comment on my most successful and liked post (Thanks again for the upvotes :D) mentionning PIZZA token so I decided to take a look at it and find what lies beneath.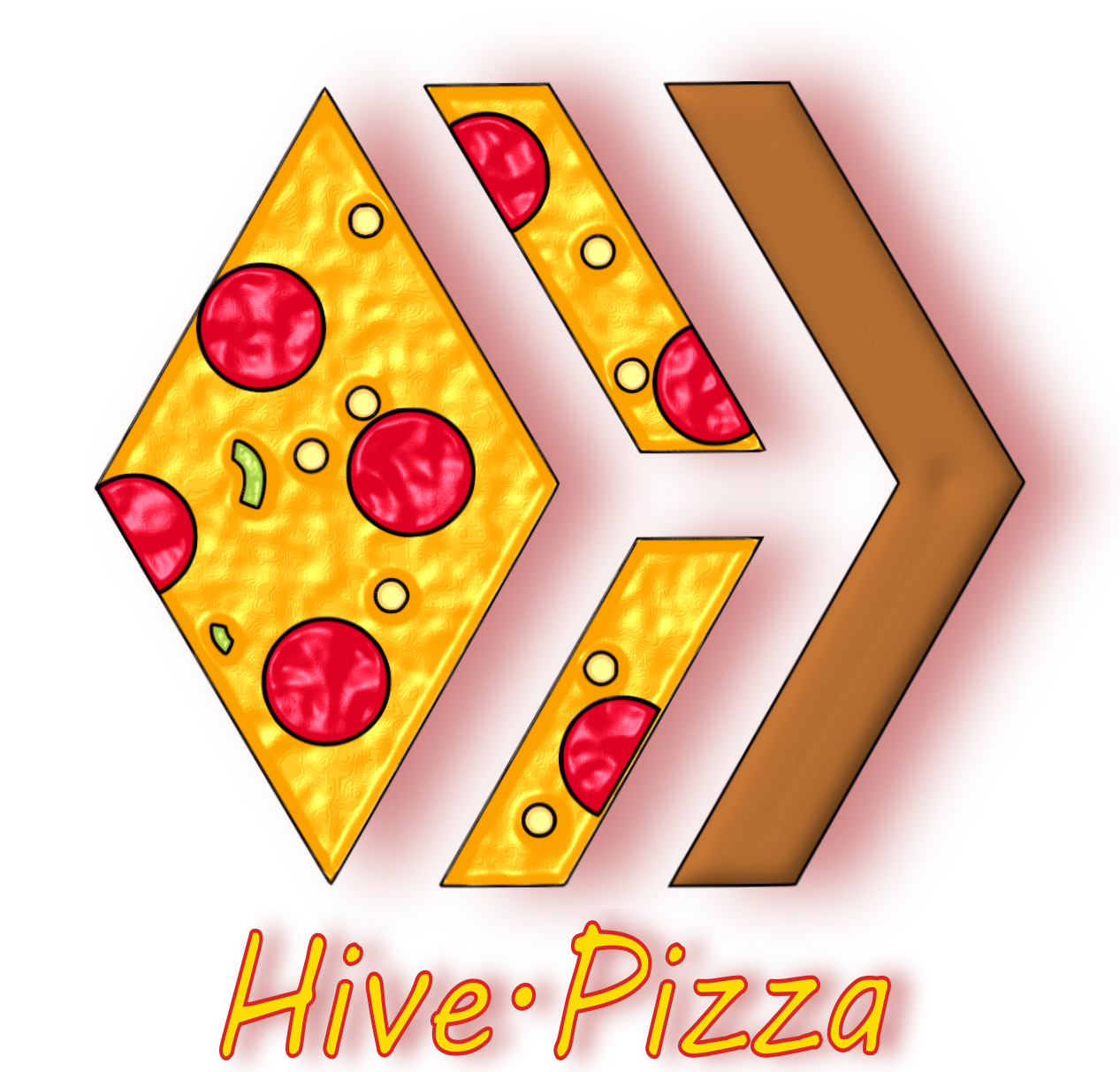 Community
The first thing that caught my attention when joining their discord is, how active and lively their chat is! Almost 750 members and active 100 members around the clock makes a really solid community and maybe one of the most popular on the hive ecosystem.
Did I mention that they run some giveaways on the discord channel: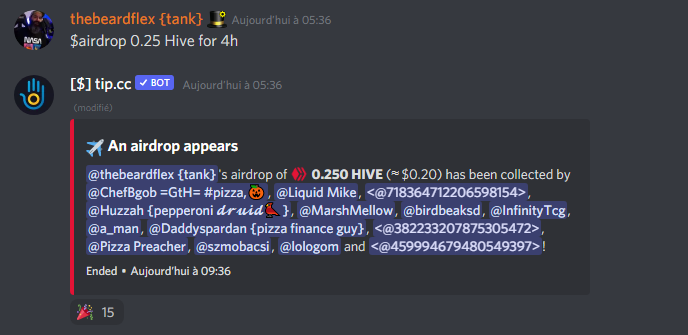 Another thing to mention, as know in the crypto world, is chilling for a coin. Althought many are spamming like it's done with Shiba and Safemoon (just check youtube or twitter), PIZZA members @dibblers.dabs, hive.pizza and @shauner are doing it the right way and this what got me interested in checking this token out!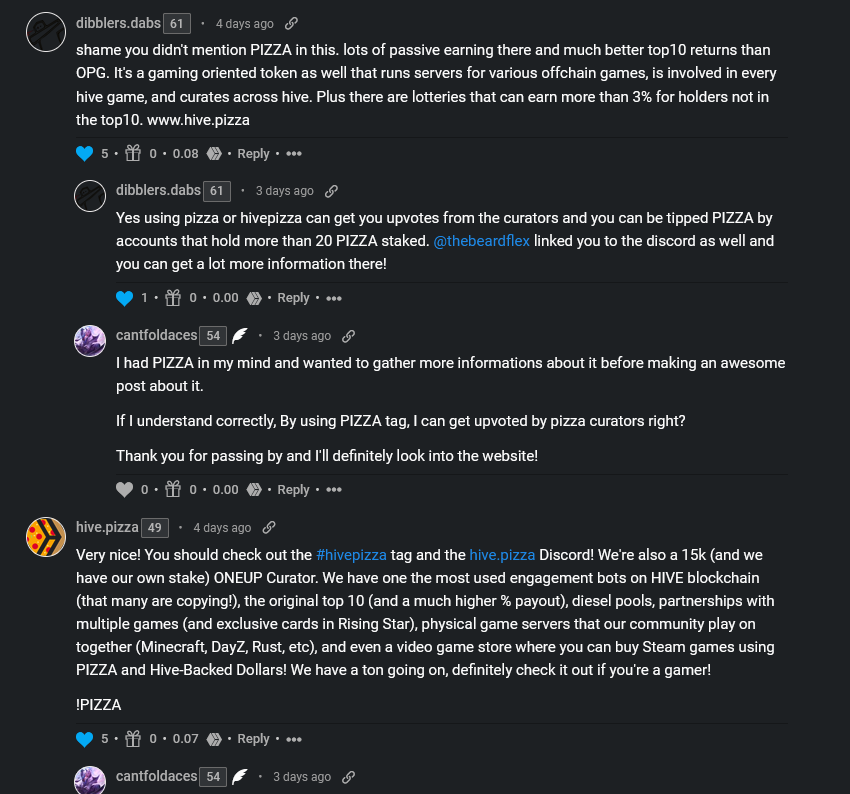 How I earn PIZZA
HivePizza Tag
If you're writing about gaming, music, movies or even your homemade pizza, use #hivepizza tag and there is a high chance to get upvotes from Hive.Pizza account (it's a 1UP curator too!) followed up by its curation trail.
HP Delegation
If you got extra Hive Power, delegation to @hive.pizza is possible and earns you a share from the $PIZZA reward pool daily.
Expected APR: 20% (latest number a month ago)
Contests & Giveaways
Take a pic of your Pizza for a chance to win up to 10 PIZZA


Or Giveaways The more staked PIZZA the better the prize

Image source
Daily and Weekly Rewards
By holding and staking $PIZZA, you can take part in a multi-tier reward system for up to 10% bonus reward:

Daily: 1 random winner rewarded for 4% of PIZZA holding
Weekly: TOP 10 $PIZZA Holders rewarded for up to 10%
Weekly: Lucky 5 Weekly $PIZZA Holders rewarded for 3%
Weekly: BONUS 5 Weekly 500+ $PIZZA Holders rewarded for 3%

Special NFTs incoming for $PIZZA stakers, especially big Holders!
NFTs are coming to PIZZA stakers! We have a metric ton of ideas around how these will be used and we have a few series that will be released with various limited prints and rarities.
Diesel Pool
Currently there are 3 $PIZZA pairs:






PIZZA:STARBITS is the only pool where you get $PIZZA for providing liquidity (as well as STARBITS)

SWAP.HIVE:PIZZA and PIZZA:DEC doesn't reward PIZZA but you get a share of UTOPIS, CTP, SIM, APE, ALIVE and LVL at a huge APR.

BEWARE OF IMPERMANENT LOSS, you must learn about it before entering any DEFI/diesel pool!!
Bonus: TipBot
Hodl 20 $PIZZA and you'll be eligible for the !PIZZA command to reward awesome contents

I didn't went on other details regarding PIZZA roadmap and other upcoming news, for more informations you can check their discord. That's it for PIZZA!
---
PsyberX
Honestly I wish I had some spare USDT to take advantage of this recent little price drop, why?:
Moreover, you have up to 10 November to be eligible for the Founder Edition NFT:
Tier 2: Holding 1 Million LVL (1570 Hive a current price)
Tier 3: Holding 300,000 LVL (471 Hive at current price)

I took the SWAP.HIVE that I've got from some drips to get a tiny bit of LVL:


LVL price is currently at 0.00098$ and some members are accumulating while it still cheap, my goal is to get at least 10,000 LVL and long term reach 100,000 LVL!
If you've been a plankton like me swimming in the ocean of whales, we got a couple of chances to get some LVL:
Psyber-X Social Media Challenge run by the awesome dynamicrypto: Write about PsyberX or LVL token for a chance to qualify for the top 3 prize while getting upvoted by 1Up curators!


If you're part of these liquidity pools or considering joining one of them, you're promised to get LVL tokens as a rewards (some of them include 1UP and PIZZA):
Swap.Hive:DEC
Swap.Hive:SPS
SPS:SPT
BEE:Swap.Wax
BEE:Swap.BUS
BEE:SWAP.HBD
Pizza:DEC
CENT:LEO
Swap.Hive:ONEUP
Swap.HBD:CENT
CENT:POB
ONEUP:SPT
Take a small part of your earning or drips to get some while they're cheap!
On a side note, LVL will most probably be available for trading on BSC via pancakeswap (BLVL) in the near future. This is huge as it will attract users from the Binance smart chain! (more details will come in an in-depth post from psyberX)
---
---