SoulBound Cards: The ability to make the impossible Possible!
Hello dear Splinterlands and Hive community!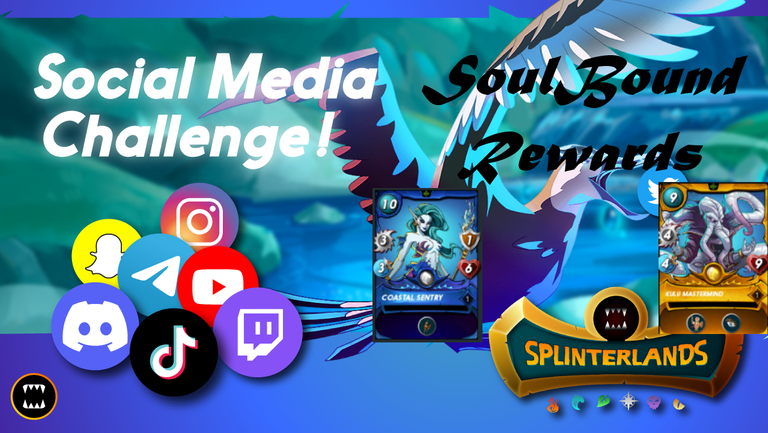 While many were skeptical about the release of the Soulbound rewards cards and the unability to trade/sell these NFTs. However,i it was a great opportunity to start building a deck from scratch. To my surprise, I've had some amazing battles and unexpected wins that amplifies the desire to get even more of the Soulbound Cards!
Without further ado, let's get right into these battles:
---
1st Battle: Coastal Sentry Blasting away the Entire Team
---
| Rulesets | Description |
| --- | --- |
| Explosive Weaponry | All monsters have the Blast ability. |
| Unprotected | All monsters does Not have Armor and doesn't get Armor from Abilities. |
| Silver League | Fire, Water, Dragon, Death Available |
This battle wasn't about picking up the best suited lineup but most like limit-testing a card that I got recently: Coastal Sentry and I'll be going for further details about my picks:
Card
Commentary
Making my sick win Possibilus: +2 for more tankiness, Trample and Reach will synergize extremely well with Coastal Sentry
That would be my smiling face when pulling an unexpected win! Your sacrifice shall never be forgotten and Martyr will grant Coastal Sentry a much needed Melee, Speed and Health buff!
The Main Monster of this battle:
Double strike + 3 Melee Damage + Blast will promise A LOT of damage = Up to 10 Damage per round !
Martyr will buff even higher these stats
Trample applies even if enemy is killed by Blast damage
I got 2 Mana to fill so why not put Ice Pixie and possibily evade some sneak attacks while its magic damage can go throught Armor... oups we're in Unprotected Ruleset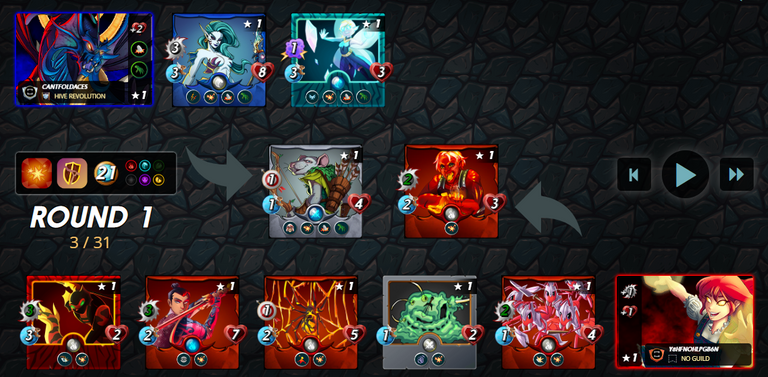 After of series of buffs, this is the battle's standing. Unfortunately, Creeping Ooze made the situation worst by slowing my team and made all my enemies attack first (almost) until it came down to this situation (I'm glad the +2 Health buff came really in handy!):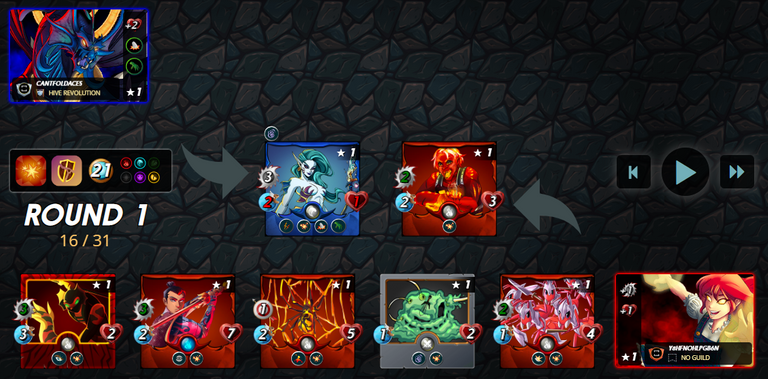 How can Coastal Sentry Survive with only 1 Health (before Martyr) and goes from this
To This! Pretty Insane Right !?
So I'll be explaning how it went as watching it for the first time will be confusing: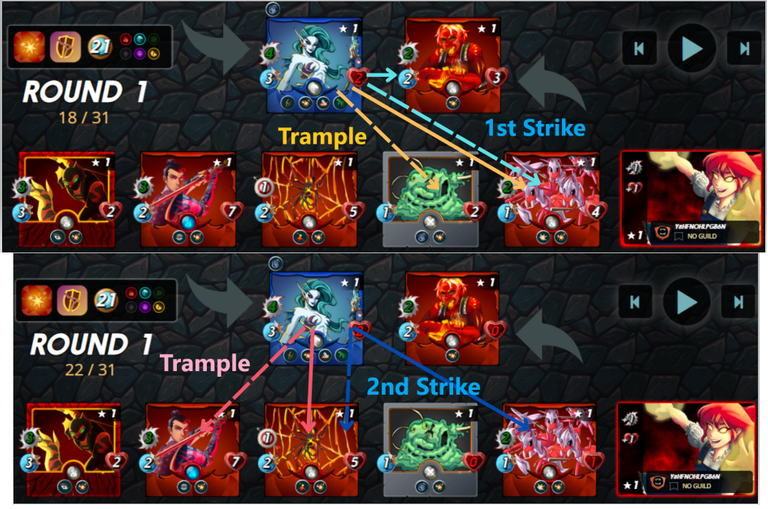 The straight line is the Attack
The discontinued line is the Blast Damage
Using the colors on the image to highlight the Attacks:

The 1st Strike killed Radiated Scorcher which triggered Trample
The 1st Trample killed Creeping Ooze (with blast) and left Antoin Platoon with 1 Heath
The 2nd Strike killed Antoin Platoon and triggred Trample
the 2nd Trample killed Lava Spider and left Tenyll Striker with 5 Health
The 2nd Round was pretty straightforward as Coastal had a higher Speed Thanks to Martyr to perform a double strike and eliminate both Serpentine Spy ans Tenyll Striker before they attack!

---
2nd Battle: Kulu Mastermind Rampage on Back to Basics Ruleset
---
Rulesets

Description


Back to Basics

Monsters lose ALL abilities
Abilities granted from Summoners still applies to monsters


Tis but Scratches

All monsters have the Cripple ability.


Silver League

16 Mana & Water, Dragon, Death Available
Back to basics is one of the most annoying and boring rulesets, besides I probably have the worst winrate in Back to Basics since Bots know how to abuse this kind of Rules
This battle once again isn't about picking a go-to strategy (Oshannus) but rather an experimental one by playing the ruleset to my advantage using one of the most anticipated Soulbound Cards: KULU MASTERMIND!
Card
Commentary
Again with Possibilus: +2 base stats are extremely important in this ruleset, Trample and Reach will are the abilities that will be given to my Monsters!
Got 1 Mana to fill and went for this card to potentially absorb 2 attacks
Except his Ablities, Kulu's base stats are amazing:
4 Melee Damage
4 Speed
9 Health
Adding to that: Reach Ability to attack from the 2nd Position
Trample performing an additional attack after a kill!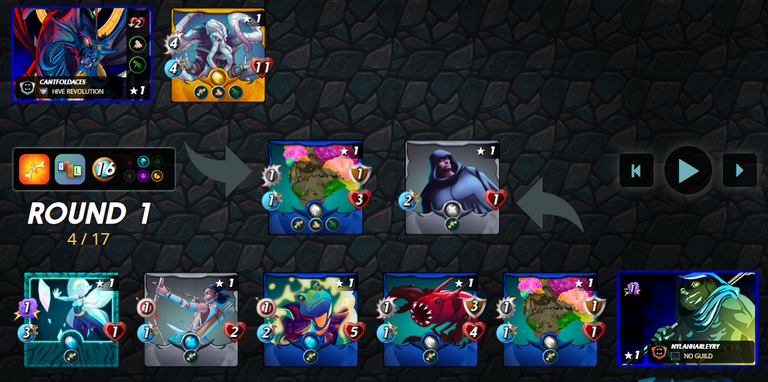 This kind of stacked team is the reason I lose every Back to basics battle but it seems it'll go in favor of Kulu in this situation;
The first attack was enough to get rid of Chaos Agent and Trample to break Enemy Hardy Stonefish Armor
Ally Hardy Stonefish couldn't survive the multitude of attacks in addition to the Cripple Damage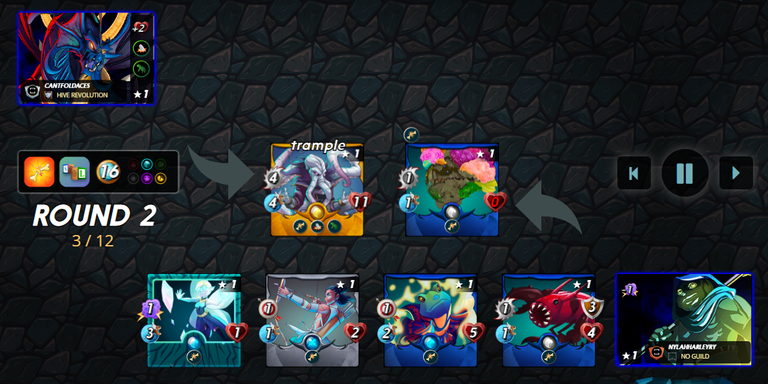 This is where it gets interesting:
Enemy Hardy Stonefish miss the attack because of Speed Difference
Kulu Trample after slaying Enemy Hardy Stonefish on Cruel Stethropod and applies Cripple
Kulu still standing strong after receiving many attacks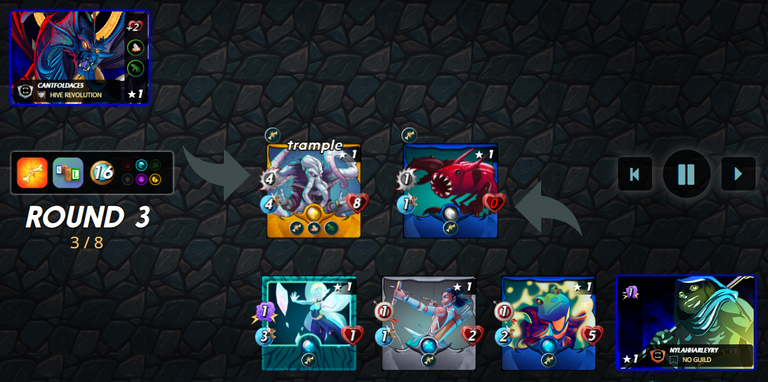 Same thing on the 3rd round:
After taking down Cruel sethropod, Trample on Angelic Mandarin and still Healthy to take on more damage!
The same tragic fate still awaits the frail enemy till I secure the win at the 5th Round!
---

Conclusion
I still have one more battle to go but I didn't want to make this post too long, as for this moment I'll try to level up my Soulbound Reward cards for even more exciting battles and why not get myself ready to fight on the Gold League!
Moreover, if you didn't know, kudos to the Splinterlands dev that made accessing to the owned Soulbound much easier:


Good luck Have Fun on your Splinterlands Battles!
Make sure to take part in the Weekly battle Mage Secret here
Wanna take part in these exciting Splinterlands battles: Join me here

---
---