Lets get Wild! | Maximize your SPS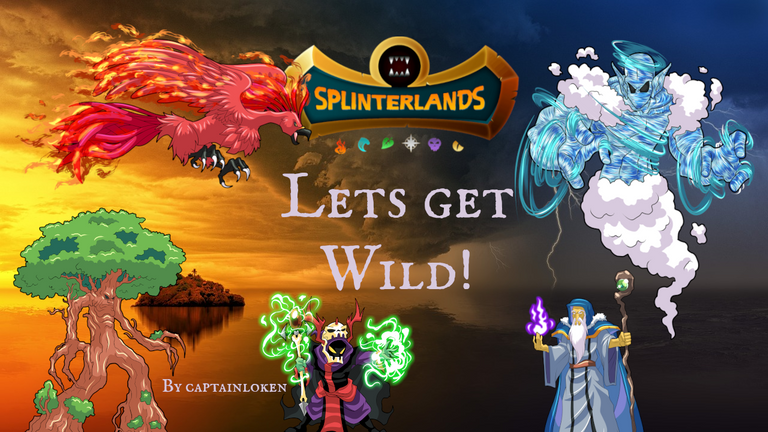 Hello Splinterlanders,
Recently, there have been some important news updates in the Splinterlands universe. Firstly, there's the announcement that Staked SPS will play a crucial role in calculating rewards, replacing Collection Power. Secondly, the introduction of new guild buildings and Guild Power. As if that wasn't enough, we also have the Burning Festival to celebrate Splinterlands' 5th anniversary.
As of the time of writing this post, a total of 290 million DEC and 149 million DEC-B have been burned in this event. That's a significant amount, and it certainly helps the economy. I myself have burned a little as well, especially since I'll need some Guild Power anyway. So why not get a lottery ticket along with it?
As you can see, things are happening, and that's definitely welcome, considering we are still in a rather challenging market environment.
With all these new developments, it's easy to lose track. However, one thing is abundantly clear: everyone who stays with Splinterlands will need more SPS. Those of us who joined after the release of Chaos Legion didn't receive a large airdrop of SPS. Now, you can, of course, buy SPS directly from the market, especially since the price is near its all-time low, but there are other options as well.

Get SPS without buying
Thank you, let's continue with the following section:
What are the possibilities to obtain SPS other than direct purchase?
Battle Rewards
Focus Chests
Staking Rewards
Airdrops
Liquidity Pools
Brawls
....
There are probably other possibilities that I have forgotten to mention. Many of the options mentioned above require more or less significant investments. Battle Rewards and Focus Chests only yield significant results in the higher leagues, which in turn require a leveled deck. SPS Staking offers around 20%, which is decent, but it's not worth much without a substantial stake. Airdrops are obtained by holding specific assets such as licenses, but they also come with costs.
This leaves Brawls as a good opportunity to expand one's SPS position. Depending on the tier in which your guild is competing, you can regularly receive decent portions of SPS. As you know, I am a big fan of Brawls and the associated Gladius cards. the cards You can check out my six-part overview of here. My guild, the Legendary Dragon Babies, averages 27.5 SPS per Brawl in Tier 3. It's not a huge amount, but it's something.
There is another option to maximize your SPS income: Tournaments!

Hidden gems
Tournaments are a fantastic way to expand your SPS position. With tournaments, increases of 500% or more are possible! Many of you may be thinking, wait a minute, did he just say 500%? Yes, that's correct, 500%!
But let's take it step by step. There are, of course, a few hurdles. To participate in tournaments, you need cards. There are also requirements in terms of Staked SPS and Collection Power. Therefore, not all tournaments are accessible to everyone, and not all tournaments offer significant rewards.
So, which tournaments are we looking for? We are talking about the Wild Tournaments in the Bronze/Silver/Gold range, depending on the league you play in.
Why Wild? It's simple: the prize pools are larger, and the tournaments are slightly less competitive.
"But I only play Modern and don't have the cards for Wild tournaments..." I'm in the same situation.
However, I take advantage of a nice little synergy effect. I play the Alpha/Beta Fray in Brawls and rent the cards for it 100%. It usually costs me around 500 DEC for 2 days.
You need to have a sense of which cards are important, but let's take a quick look at the Summoners.
[Note: At this point, the translation refers to specific cards or strategies, but since the model is unable to view or access external content, I cannot provide a translation for the specific card details mentioned. The translation will continue below.]
If you want to read more about the Summoners and the card strategies, you can check out my blog post [link to the blog post].
By participating in these Wild Tournaments, you have the chance to earn significant amounts of SPS and rapidly increase your position. It requires some planning and investment, but the potential rewards make it worthwhile.
Remember, the key is to focus on the Wild Tournaments in the Bronze/Silver/Gold range, where the prize pools are larger and the competition is slightly less intense. With dedication and strategy, you can make significant progress in your SPS holdings through tournaments.

24 DEC, or 48 DEC for 2 days, allows us to rent all the Rare Summoners from the Alpha/Beta sets at the Silver level. Additionally, we can add a Delwyn Dragonscale for around 20 DEC. If desired, you can also rent a Selenia or one of the other Legendary Summoners, but it's not necessary.

With the combination of the Alpha/Beta cards and my CL-only deck, I regularly manage to rank in the middle of the tournament leaderboards. At first glance, this may not sound impressive, but let's take a look at the rewards first...
In the Wild Bronze Tournaments, the rewards are as follows: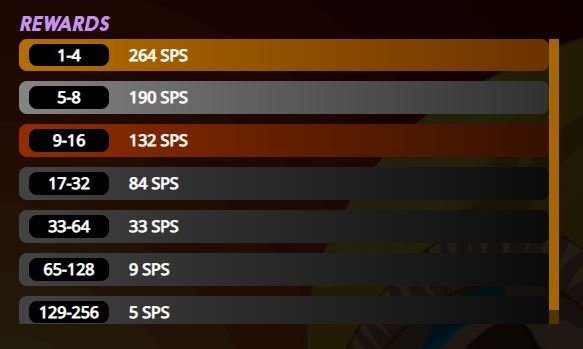 The entryfee here is 5 SPS. In the Wild Silver Tournaments, the rewards are as follows: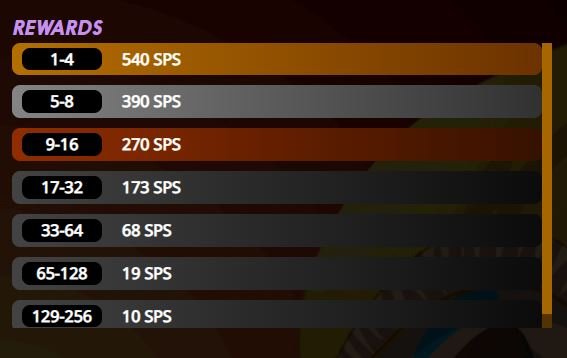 Here, the ticket costs 10 SPS. In the worst-case scenario, we would simply get our fee back and have no loss.
Okay, if we only rent for the tournaments, those are the costs that arise. However, since I rent for the Brawls, the costs are covered by the Brawl rewards. Remember, we receive around 27 SPS per Brawl, which is roughly equivalent to my renting costs for the Fray.
Even at ranks 65-128, the investment can almost double, and so on. It's unlikely that my strategy will allow me to reach the very top, as the decks there become too strong, and one would have to invest large sums in rentals. However, if you're already renting for the Wild format or the Brawl Wild cards, why not extract some additional profit from it?
By participating in tournaments, you have the opportunity to earn additional SPS and potentially increase your overall returns. It's a smart way to leverage the resources you're already investing in and optimize your Splinterlands experience.

Summary
Wild tournaments are a great way to earn additional SPS. When these SPS are staked, it automatically increases the staking rewards. And for the future, remember: Every SPS counts!
Oh yes, there was still my claim about the 500%...
Exhibit A:



Silver tournament with a fee of 10 SPS. I won 68 SPS, resulting in a difference of 58 SPS.
(58 SPS / 10 SPS) * 100 = 580 %
---
Exhibit B:



Silver tournament with a fee of 10 SPS. I won 68 SPS, resulting in a difference of 58 SPS.
(58 SPS / 10 SPS) * 100 = 580 %
---
Of course, a little luck is necessary. In the first round of the tournaments, there are often a few fleds. But even without those, it is possible to qualify for the final round. Although I often don't have great chances there, I still manage to secure a win here and there, which leads to enticing rewards. Who knows, maybe one day I'll make it into the top 32 of such an event, and then the prize... calculate it yourself 😂
I hope you enjoyed the post.
See you soon on the battlefield!

New to Splinterlands? Register with my affiliate link!

Pictures
Splinterlands.com
Splintercards.com
pixabay.com
Translation
@captainloken
---
---