Weekly Challenge (SHARE YOUR BATTLE) - GRUND [ENG/PT]

---ENGLISH VERSION---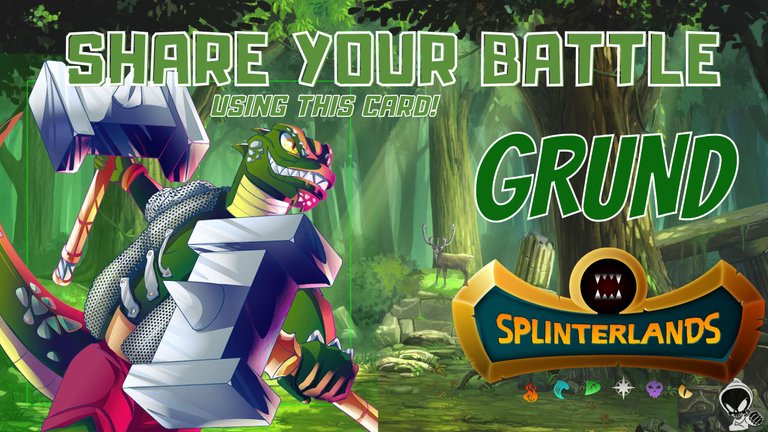 hOhooooo guys,
Will share with you a battle that I used GRUND to enter the
Weekly Challenge - SHARE YOUR BATTLE

CARD THEME: GRUND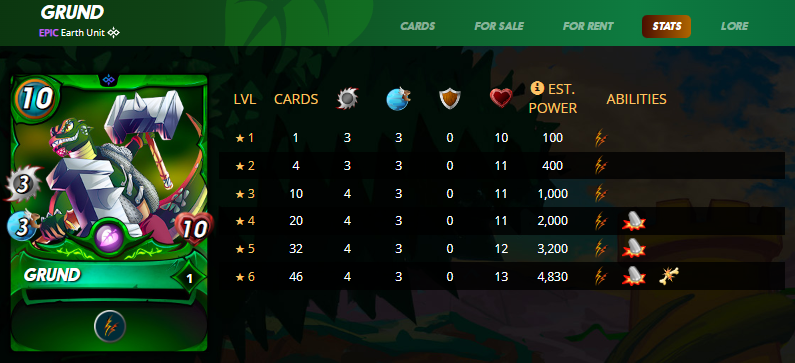 My opinion about GRUND
GRUND is a tank of many qualities. It has high life value, good speed and an attack that added to the skills it gains at its highest levels makes it very powerful.
Do I have card GRUND?
Yes, I have GRUND at level 1. I really like using it and I'm very interested in evolving it.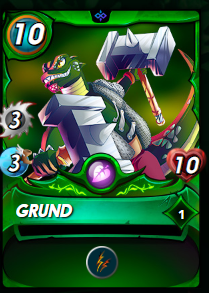 ------ RULES BATTLE------
MANA CAP
Tis but Scratches: All Monsters have the Cripple ability.
What Doesn't Kill You: All Monsters have the Enrage ability.

------ CHOSEN ELEMENT ------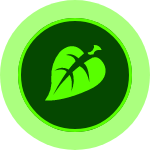 ------ SUMMONER ------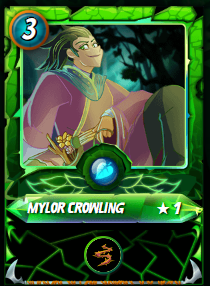 RENTED summoner with cost of 11,284 DEC/day

------ MONSTERS AND POSITION ------
| | | | | | |
| --- | --- | --- | --- | --- | --- |
| 1ª POSITION | 2ª POSITION | 3ª POSITION | 4ª POSITION | 5ª POSITION | 6ª POSITION |

------- STRATEGY DETAILS ------
1º POSITION: GRUND is the weekly challenge monster that will be very useful in this match with its two attacks and its high life to protect the other monsters.
2º POSITION: MAGI OF THE FOREST magic attacker that even without skill has low mana and a good attack.
3º POSITION: WOOD NYMPH will be my support healing GRUND.
4º POSITION: MUSHROOM SEER has great magic attack and will lower the enemy team's magic attack.
5º POSITION: QUEEN MYCELIA will give armor to my entire team, further protecting melee and ranged attacks.
6º POSITION: HALFLING ALCHEMIST will try to halve the enemy tank's attack.

------ BATTLE ------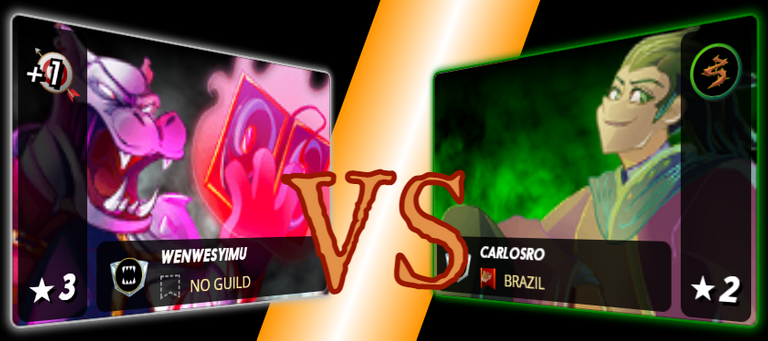 👆CLICK ON THE IMAGE TO SEE THE BATTLE 👆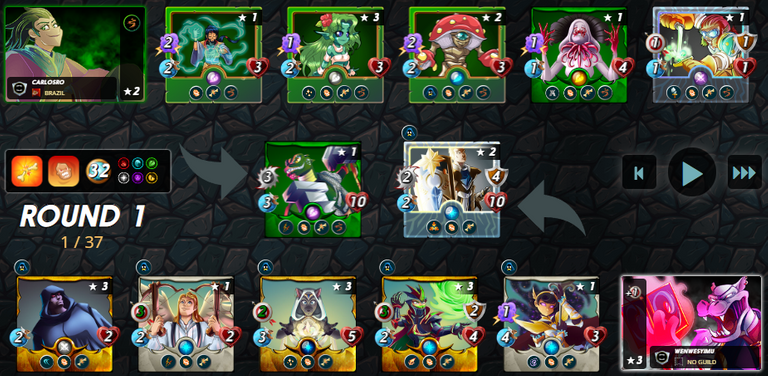 👆 My opponent chose the life team, with great ranged attackers. This is a bold bet, as if the tank dies it will be vulnerable as it will not be able to attack in the first position.
👆1º Round: Grund was a true giant at the beginning of the battle, as he received numerous violent attacks and held many with mastery, even managing to unleash his fury on the enemy tank, but he could not stand it and died, but the enemy had more losses with my magic attackers that destroyed the line opposing front, leaving now only ranged attack monsters.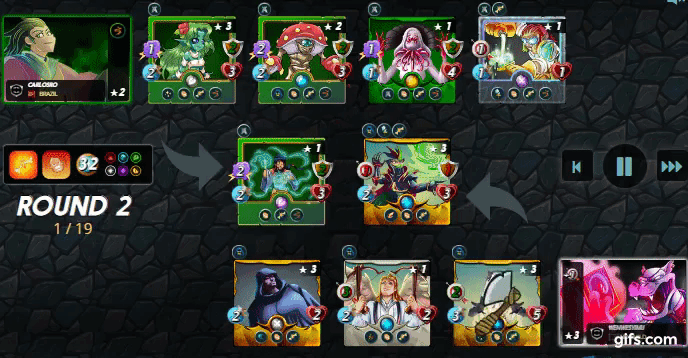 👆2º Round: As expected, the enemies were vulnerable without less attack power and my magic monsters did a great job killing one more enemy and leaving one more on the front line to nullify their attack.
👆3º e 4º Round: Wasting no time, my monsters finished off what was left of the enemy team without giving any chance of reaction.


------ FINAL CONSIDERATIONS ------
My team was very precise in its objectives. At the beginning of the battle, we managed to stop the violent attacks that the enemy team made, and we counterattacked with the same strength but with better efficiency, managing to finish off more monsters, leaving them vulnerable throughout the entire battle, which determined my victory.
GRUND showed how important he is to a team, managing to stand out with his high health and an overwhelming double attack.
It's a monster that everyone should definitely have, and at its highest level unlocking all abilities should be even more useful.
♥️ Thanks for reading ♥️


---VERSÃO PORTUGUÊS BRASIL---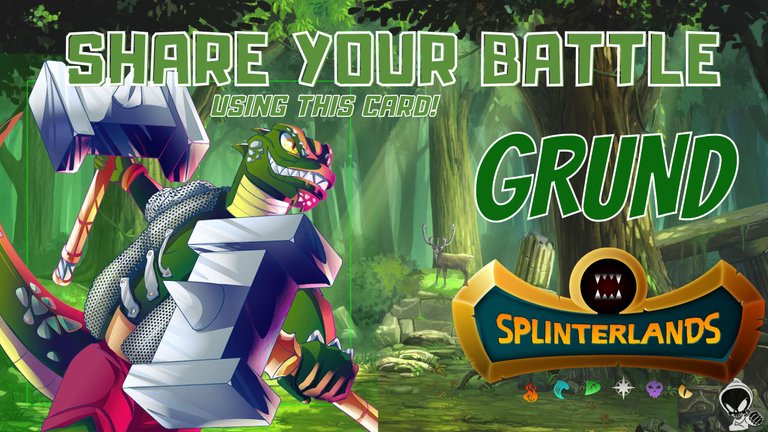 OHHHHH galera,
Vou compartilhar com vocês uma batalha que usei GRUND para entrar no
Weekly Challenge - SHARE YOUR BATTLE

CARD TEMA: GRUND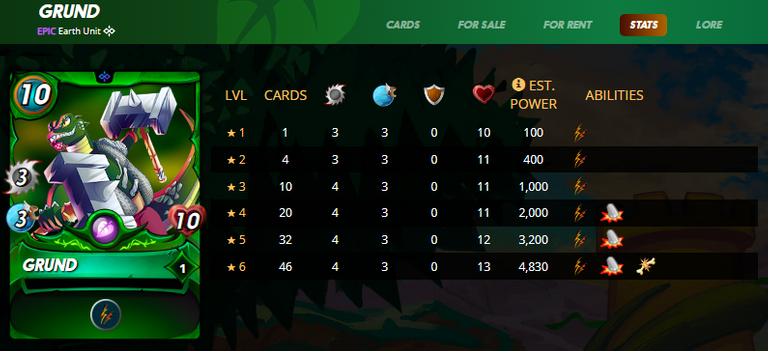 Minha opinião sobre GRUND
GRUND é um tanque de muitas qualidades. Tem alto valor de vida, velocidade boa e um ataque que somado com as habilidades que ganha em seus maiores niveis o torna muito poderoso.
Eu tenho a carta GRUND?
Sim, eu tenho GRUND no nível 1. Eu gosto muito de usá-lo e tenho muito interesse em evoluir.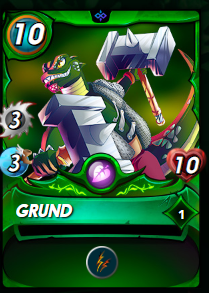 ------ REGRAS DA BATALHA ------
MANA CAP
Tis but Scratches: Todos os monstros têm a habilidade Cripple.
What Doesn't Kill You: Todos os monstros têm a habilidade Enrage.

------ ELEMENTO ESCOLHIDO ------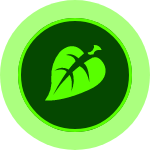 ------ INVOCADOR ------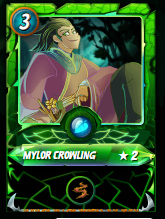 Invocador ALUGADO com custo de 11.284 DEC/day

------ MONSTROS E POSIÇÃO ------
| | | | | | |
| --- | --- | --- | --- | --- | --- |
| 1ª POSIÇÃO | 2ª POSIÇÃO | 3ª POSIÇÃO | 4ª POSIÇÃO | 5ª POSIÇÃO | 6ª POSIÇÃO |

------- DETALHES DA ESTRATÉGIA ------
1ª POSIÇÃO: GRUND é o monstro do desafio semanal que nesta partida será muito útil com seus dois ataques e sua vida alta para proteger os outros monstros.
2ª POSIÇÃO: MAGI OF THE FOREST atacante mágico que mesmo não tendo habilidade tem baixa mana e um bom ataque.
3ª POSIÇÃO: WOOD NYMPH vai ser meu suporte curando GRUND.
4ª POSIÇÃO: MUSHROOM SEER tem ótimo ataque mágico e diminuirá o ataque mágico do time inimigo.
5ª POSIÇÃO: QUEEN MYCELIA vai dar armadura a todo meu time, protegendo ainda mais de ataques corpo a corpo e a distancia.
6ª POSIÇÃO: HALFLING ALCHEMIST vai tentar quebrar pela metade o ataque do tanque inimigo.

------ BATALHA ------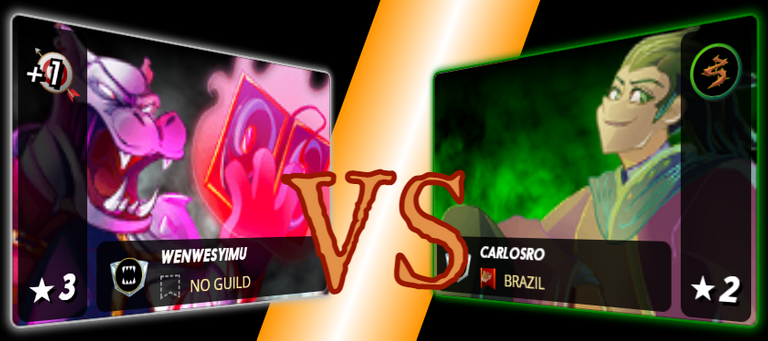 👆 CLIQUE NA IMAGEM PARA VER A BATALHA 👆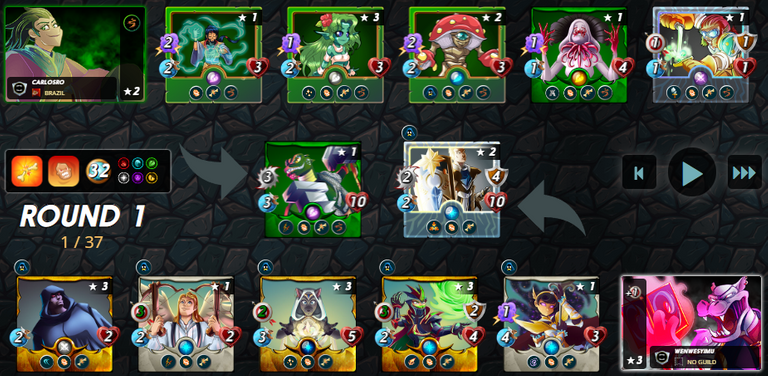 👆 Meu oponente escolheu o time de vida, com ótimos atacantes a distancia. Isso é uma aposta ousada, já que se o tanque morrer ficará vulnerável pois não coneguirá atacar na primeira posição.
👆1º Rodada: Grund foi um verdadeiro gigante nesse começo de batalha, pois recebeu inumeros ataques violentos e segurou muitos com maestria, conseguindo até soltar sua furia no tanque inimigo, mas não aguentou e morreu, mas o inimigo teve mais perdas com meus atacantes mágicos que destruiram a linha de frente adversária, deixando agora apenas monstros de ataque a distancia.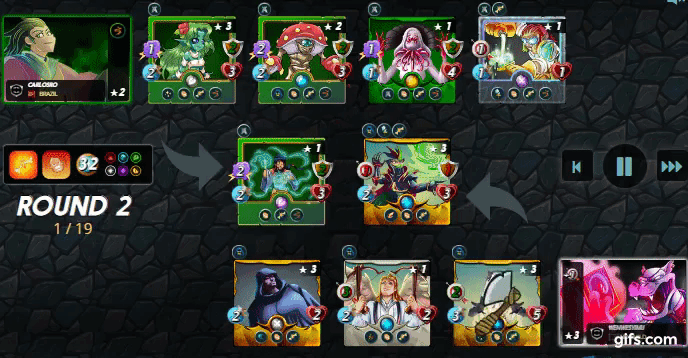 👆2º Rodada: Com previsto os inimigos estavam vulneraveis sem menos poder de ataque e meus monstros mágicos fizeram ótimo trabalho matando mais um inimigo e deixando mais um na linha de frente anulado seu ataque.
👆3º e 4º Rodada: Sem perder tempo meus monstros finalizaram o que restou do time inimigo sem dar chances a qualquer reação.


------ CONSIDERAÇÕES FINAIS ------
Meu time foi muito preciso em seus objetivos. Conseguimos segurar no inicio da batalha violentos ataques que o time inimigo fez, e contra atacamos na mesma força mas com melhor eficiencia, conseguindo finalizar mais monstros o deixando vulneravel para o decorrer de toda batalha, que determinou minha vitória.
GRUND se mostrou o quanto é importante para um time, conseguindo se destacar com sua alta vida e um ataque duplo avassalador.
É um monstro que com certeza todos devem ter, e em seus niveil mais alto desbloqueando todas as habilidade deve ser ainda mais útil.
♥️ Obrigado por ler ♥️

Let's go on this adventure together?
Enter the Game Here: Splinterlands
Follow me on Social Media
Twiter
Instagram
Facebook

---
---