CIB: Crypto I Bought #7 - Flow, Shirtum, Aave, Staking Hive, LEO, Polycub, Polycub-WETH, Larynx Airdrop
Up weeks for Bitcon are quiet weeks for altcoins. Did bag a few trades. Backing off the Polycub and CUB staking and getting back to staking Hive and LEO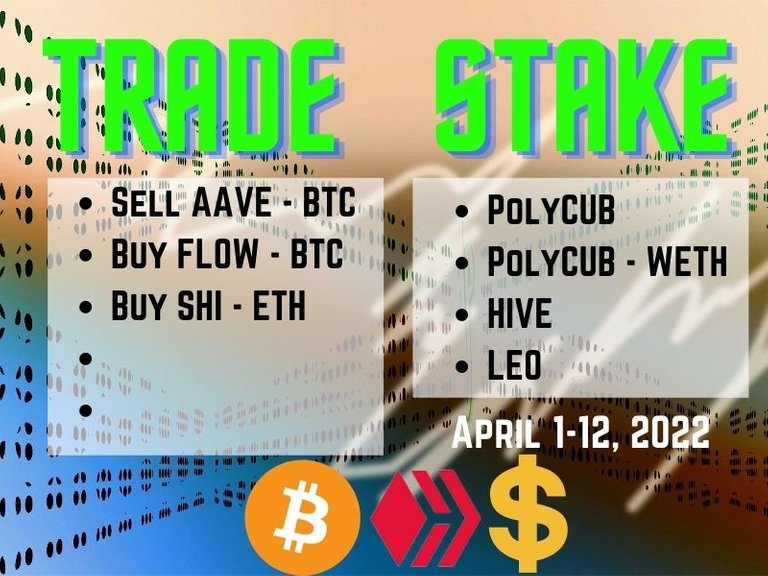 Portfolio News
Not sure I understand this but my staked CUB balance went up - I made no changes. I did expect the pending airdrop balance to go up. Too bad the price of CUB keeps falling. I am here for the long haul. There is a lot of scared money bailing out at the whiff of the smallest profits.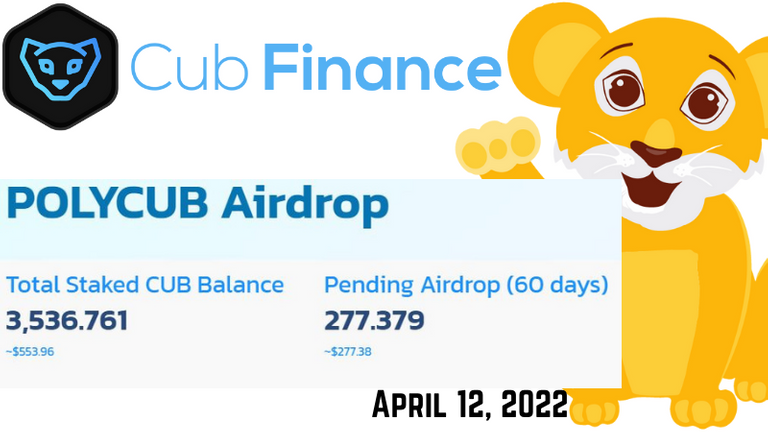 Bought
Flow (FLOWBTC). Averaged down entry price as price makes a break off the lows and retests - 22% lower than my initial entry.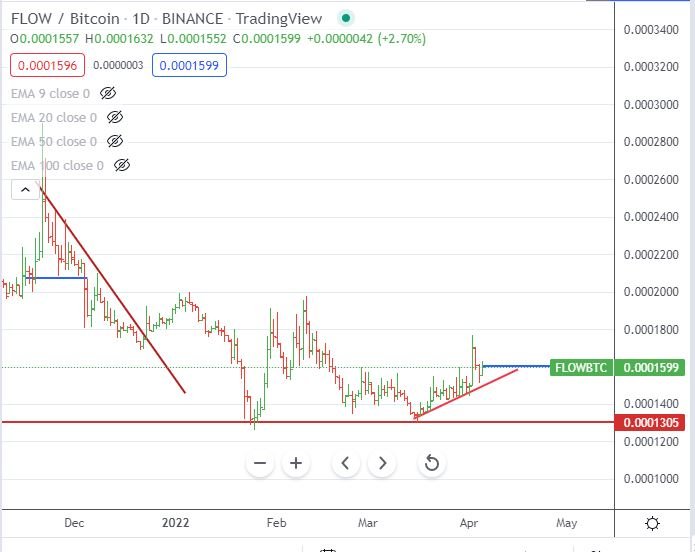 Chart shows my entry was a little more patient than my initial entry. I waited for the higher low to be confirmed.
Shirtum (SHIETH). A Twitter friend has been talking about SHI for a while. His technical analysis is solid. He posted a tweet commenting on the big wallet hack and showed the recovery from that.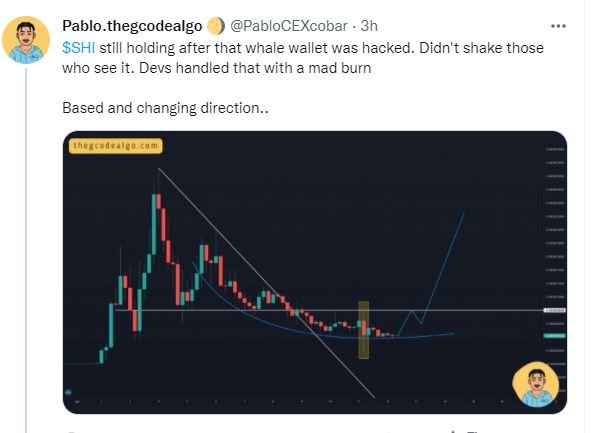 My view of the chart is the downtrend has not been broken but there is divergence on MACD.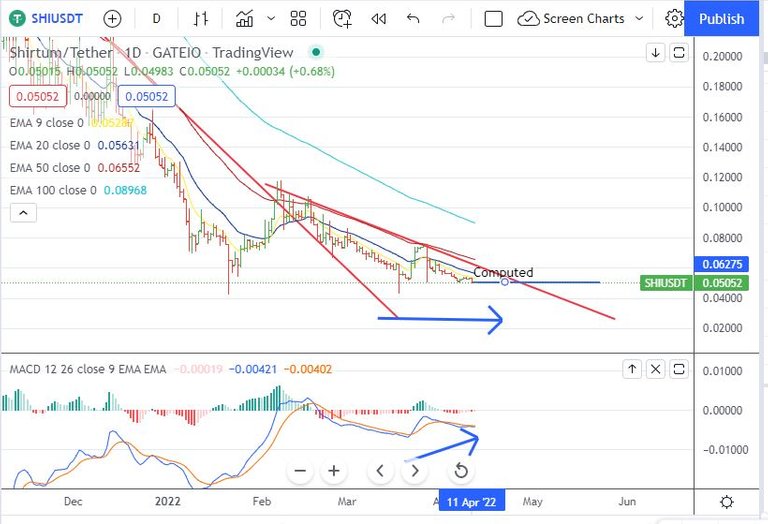 I decided to plunk down $100 worth and see how it goes. Shirtum is listed on Gate.io but can be swapped on PancakeSwap. I did not have enough USDT to do the trade on Gate.io so I went the swap route.
Process steps:
Check on Paraswap what was the best route. They suggested PancakeSwap and showed a direct route from ETH to SHI. The snapshot picture also shows that SHI price has been improving relative to ETH for the last week or so.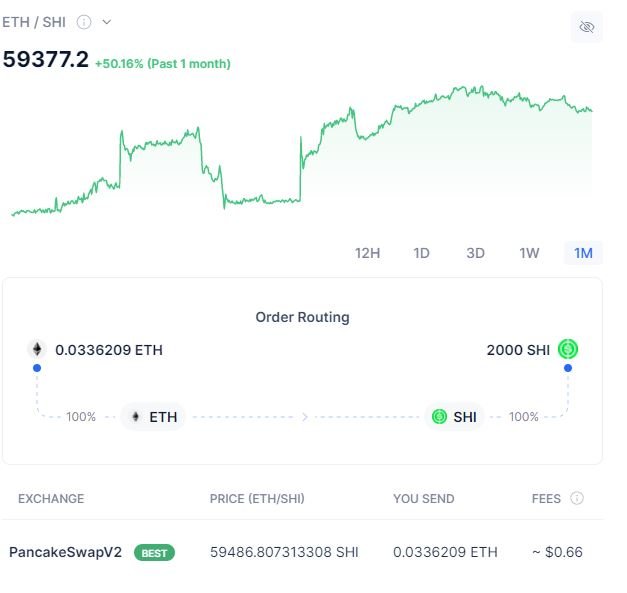 Switch to Binance Smart Chain on Metamask and open Pancakeswap.
Import the SHI token using contract data from CoinGecko 0x7269d98af4aa705e0b1a5d8512fadb4d45817d5a
Set up the swap - I computed I needed 2,000 SHI to make a round $100 trade - confirm on Metamask. I executed the trade on Pancakeswap on the Binance Smart Chain - the actual route turned out to be ETH to Pegged ETH to Wrapped BNB to SHI. Transaction costs were only $0.42 in BNB. SHI is also on Ethereum Mainnet - transaction costs would have been higher and confirmation a lot longer.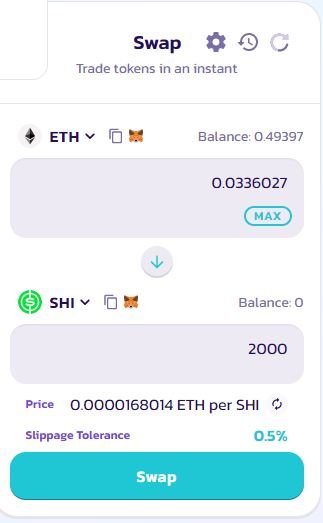 There is a twist in the story. I have the wrong token. I hate people who share charts that do not show the full name of the token/stock/pair. I just got caught out. What is Shirtum - it is a global ecosystem of experiences designed for fans to dive into the history of sports and interact directly with their favourite athletes, clubs and sports brands. Their website talks about Ronaldinho NFT's but he does not appear on the roster of stars, which is empty.
Good thing I only put down $100 out of my stash of ETH mined when ETH was under $200. This is not the only sports related coin I am invested in. Remember Chiliz. Still waiting on that too.
Sold
Aave (AAVEBTC): Closed out a portion of portfolio holding as price headed toward prior highs locking in 40% profit in two weeks. Happy to take exit as price had passed my initial entry in this account.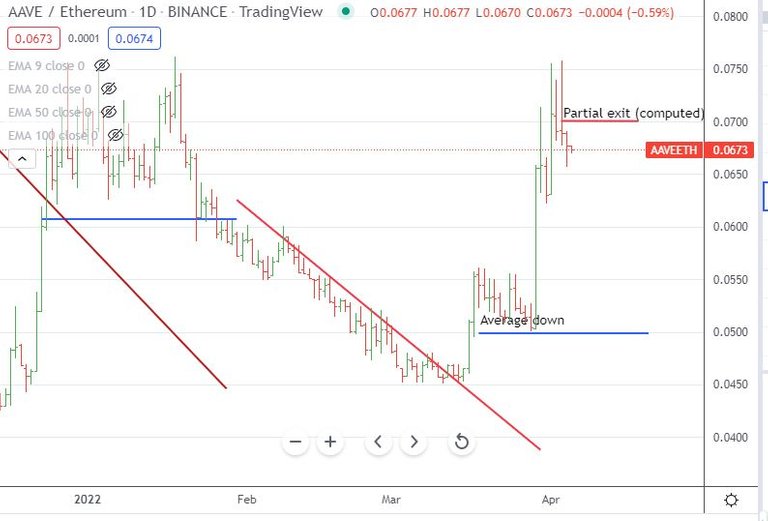 I sold for BTC but am showing computed price on ETH chart as the initial purchase was made selling ETH.
Airdrops
SPK Network Claimed my LARYNX tokens for April. The website is not totally intuitive - see the gift wrapped amount of tokens on the left - press that to claim - then watch the counter count down. Next job - see if I can start up an SPK node maybe on AWS or the VPN I just paid for.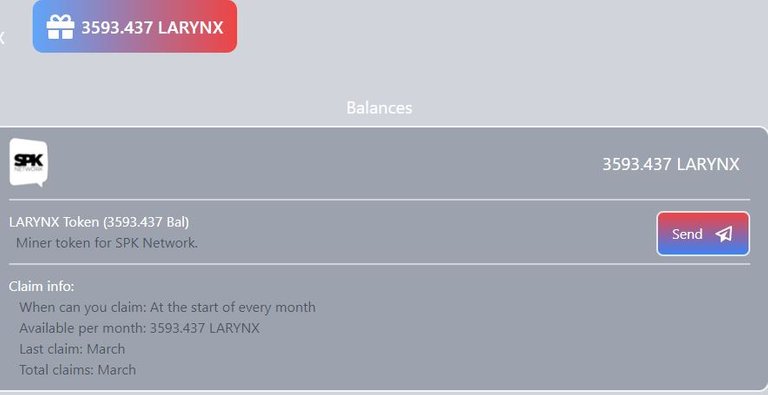 Staking
Hive I have been holding a pile of HIVE back to buy LEO. With the evolution of the Polycub airdrop I have a way to build a base that should track LEO. I decided to stake (called power up) 6000 HIVE. This put me into the top stakers for the week. I have left some HIVE not powered up as it is a convenient way to buy stuff for Splinterlands.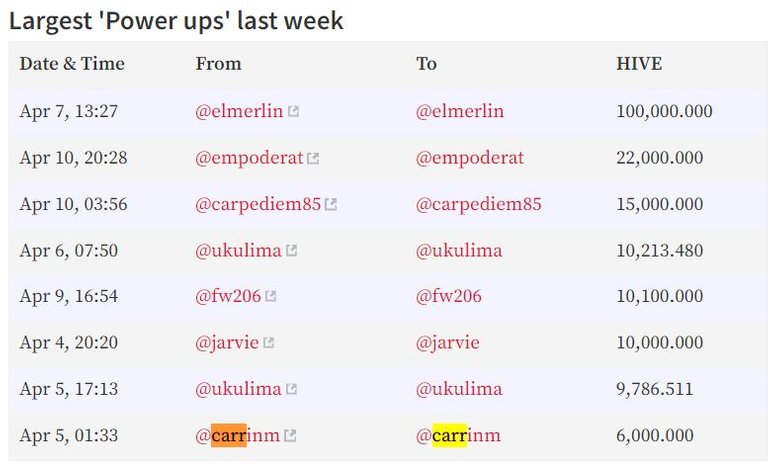 Leo I decided to go back to powering up LEO tokens - I aim to do that each time they go over 50 - or when I remember. I will scale up my delegation to leo-voter periodically to ramp up my returns. I am not spending enough time to earn from my own curating. Just hit those two up arrows ad confirm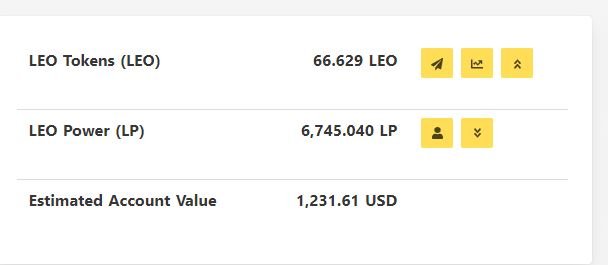 Polycub I claimed my Polycub airdrop on April 6. I tried to stake on Polycub-WETH farm. Quoted rate was 1 WETH for 9524 Polycub. Transaction would not confirm and reverted. Either gas fees were too high or there was not enough liquidity on SushiSwap - one never knows why these things fail. With that struggle I settled on staking Polycub for 114% APR the next day.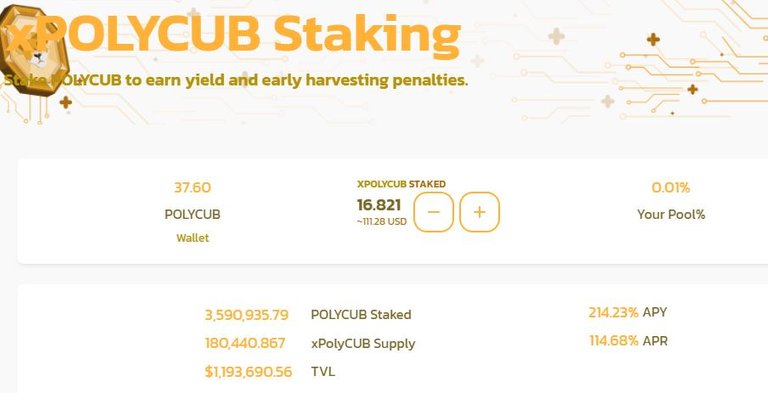 Polycub-WETH I claimed my next Polycub airdrop on April 12.

I tried again to stake as APR was sitting at 120% vs 57% for Polycub. Set up Polycub-WETH LP on SushiSwap worked. This is a simple step as I already have WETH sitting in the Metamask wallet. Quoted rate was 1 WETH for 10460 Polycub - a 10% drop in Polycub in a week.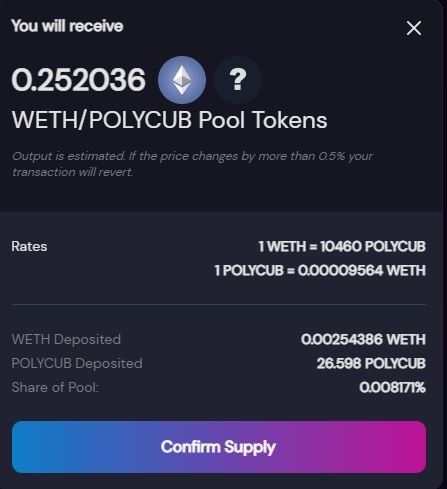 Stake the LP and confirm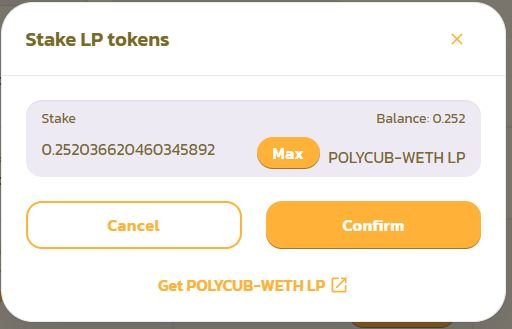 Staked

Key Links
Claim Polycub Airdrop https://polycub.com/airdrop
Polycub Farms For staking PLEO-WMATIC https://polycub.com/farms
Stake Polycub https://polycub.com/staking
Paraswap Check best swap routes https://www.paraswap.io/#/?network=bsc. Choose the right mainnet in Metamask to find the tokens. SHI as on BSC Mainnet.
Buy SHI I used Pancakeswap on BSC mainnet. I could have done it on Paraswap but chose to go to source as there was only one option. https://pancakeswap.finance/swap?outputCurrency=0x50d809c74e0b8e49e7b4c65bb3109abe3ff4c1c1
Claim Larynx https://spk.dlux.io/
Cautions: This is not financial advice. You need to consider your own financial position and take your own advice before you follow any of my ideas
Images: Trade/Stake image is based on royalty free photo under CCO public domain licence from piqsels.com. CubFinance logos come from CubDefi media kit. All other images are created using my various trading and charting platforms. They are all my own work
Tickers: Crypto tickers come from TradingView
Charts: http://mymark.mx/TradingView - this is a free charting package. I have a Pro subscription to get access to real time forex prices
Trading: Binance offers a wide range of coins to trade, tight spreads and low fees if you use BNB to pay https://mymark.mx/Binance
Kucoin offers a wider range of altcoins than many of the other exchanges. I do like to diversify my holdings in case an exchange gets knocked over. Grab 15% discount on your trades whn you open an account on this link https://mclnks.com/kucoin15
Tracking: Keeping track of your crypto trades is a whole lot easier with CoinTracking.info. Get 10% off all your account upgrades https://mymark.mx/CoinTracking
April 1-12, 2022
Posted Using LeoFinance Beta
---
---