SplinterLands NFT Prototype Project
~ Re-Animated Corpse ~
---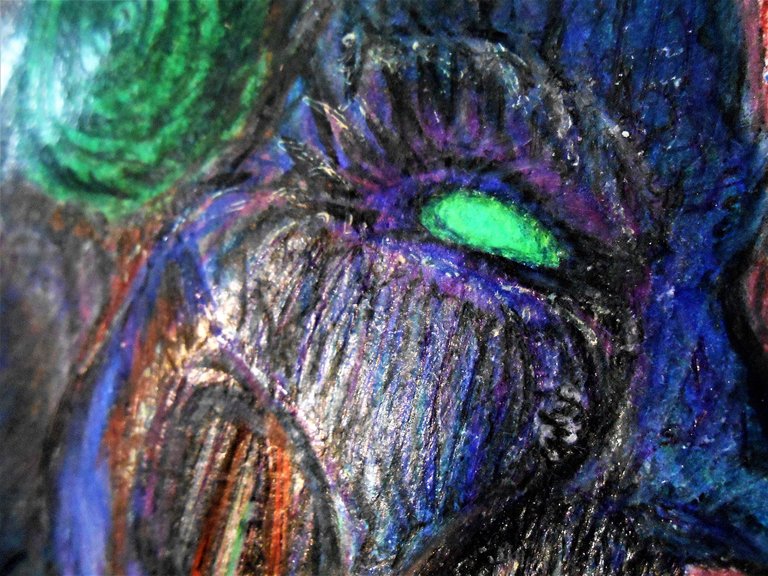 I had mentioned in my previous post Many Irons In The Fire an original idea that i had was to make my own version of the SteemMonsters Splinterlands cards inspired by some cards that were very artistically inspirational to me as a kid. The Marvel Masterpieces cards were my favorites growing up. They were essentially paintings of the heroes and villains from Marvel Comics. The artwork was exceptional and a bit more realistic than the typical comic-style art.
Well, i started working on sketching up some prototypes. These are just sketches at the moment i was doing to get the artistic juices flowing. I figured one of the first and basic characters i could start on would be the Animated Corpse card you see below.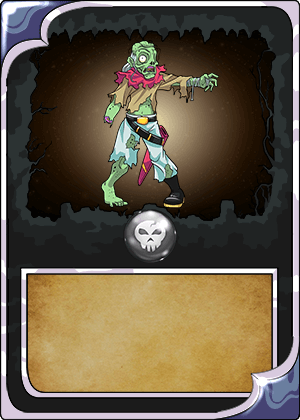 Animated Corpse
For these sketches, i used pencil, Crayola Crayons, Prismacolor colored pencils, a blue ink pen, a pink highlighter, some gel pens, and a few micron pens with black ink. Oh, and a bit of black Sharpie marker on the last artwork... but that thing died on me.
These aren't the best but they are a start. I thought doing zombies would be easy to get things kicked off... but apparently, i am rustier than i thought! hahahaha
I tested some dead skin color options in the image below. I figured the cool colors would be a better fit since there are so many Splinterlands characters that have yellow and green color palettes.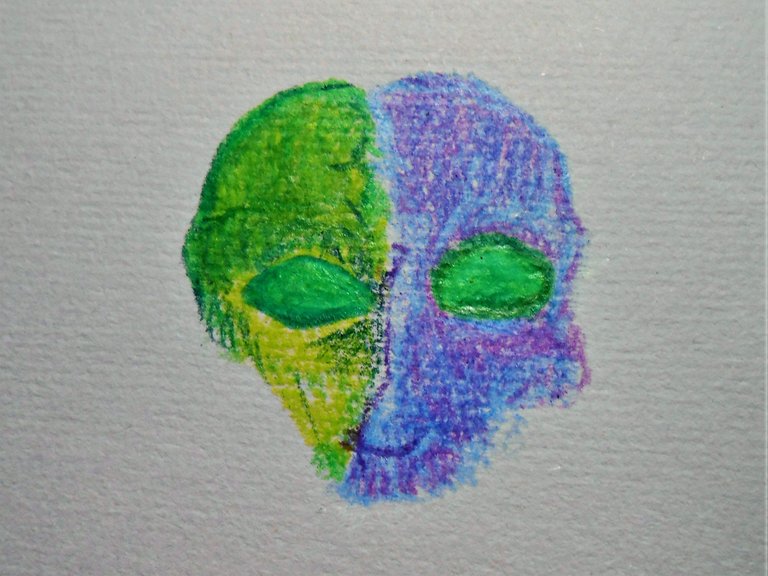 I started trying out shapes for the head and seeing how i wanted to make the mouth, teeth, and jawline. Usually, when i am in sketch mode if there is something i don't like... i stop and move on so that i don't waste time. As soon as i liked the blue and purplish dead skin look i moved on to the image below. It didn't take long before i wasn't happy with the teeth and jaw... so i moved on from there too.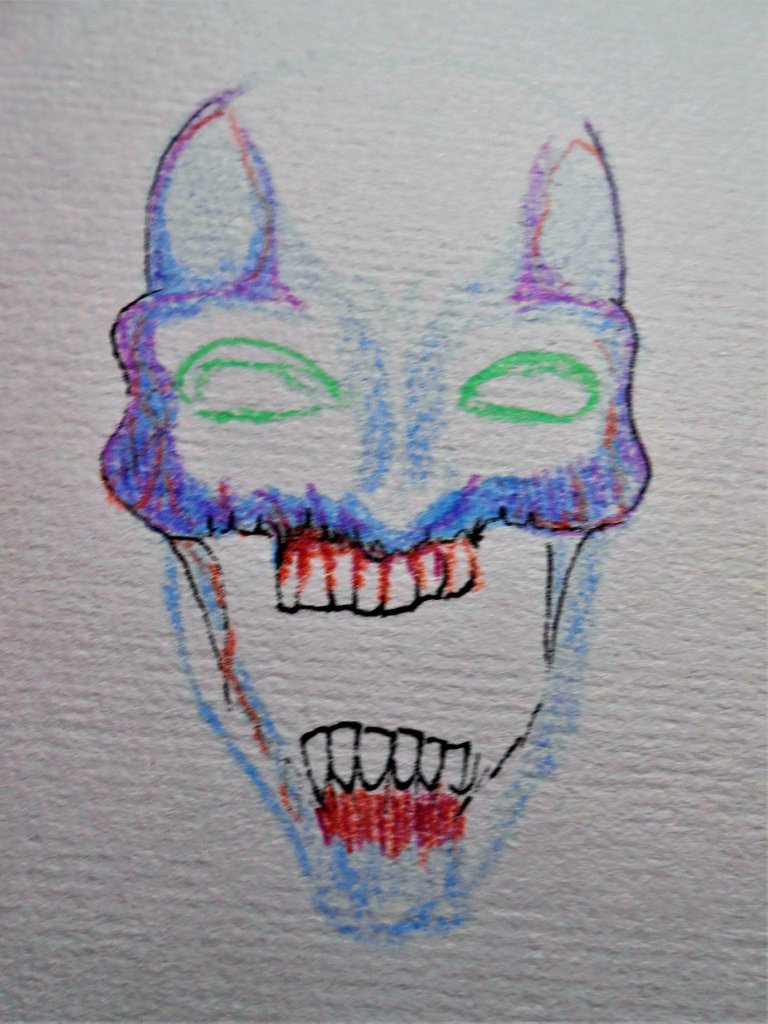 Each progressive sketch teaches me something to improve on or change. It also helps be develop a bit more each time something i want to keep. I wanted to keep the eyes green to represent the force that is animating these corpses. The Dark Summoner Zintar Mortalis seems to have green glowing magic flowing around him and i thought to stick to that theme.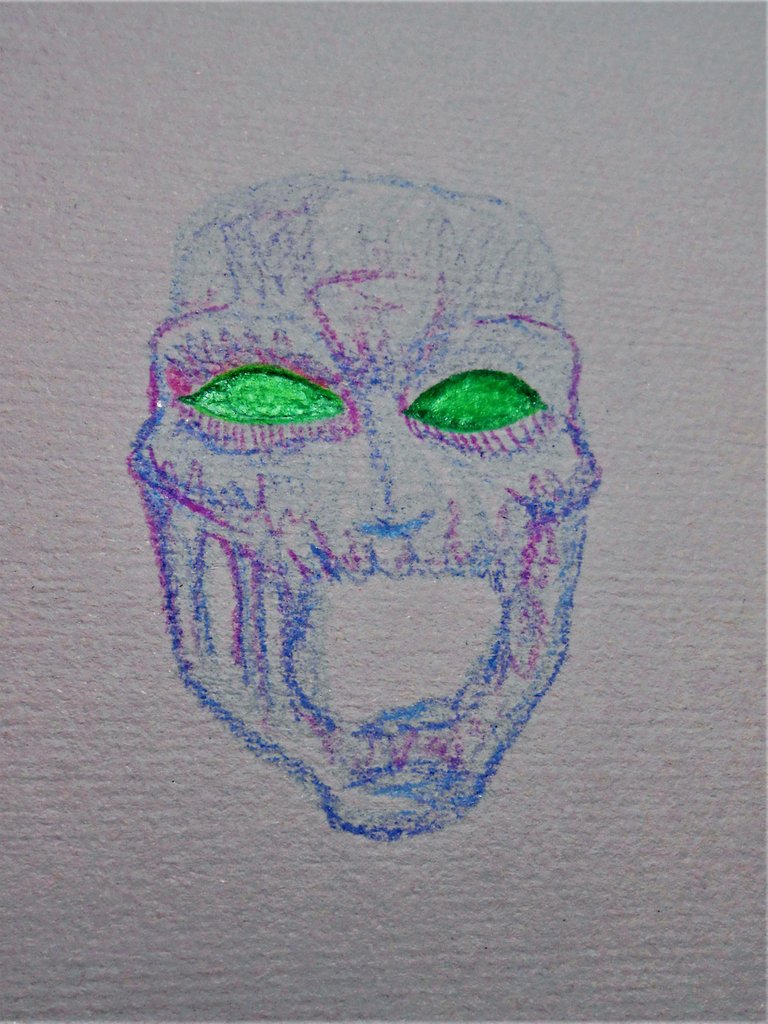 I did a few other sketches with full body and rotting limbs and whatnot. I didn't like them and of course, didn't finish them enough to even want to share them here. I wasn't really feeling the face forward approach and wasn't sure if a full-body pose was the right direction to go. I'm not opposed to any of those options but for now, during the prototype sketch sessions, i thought to just go with the flow and trust my instincts.
~ The Dead Shall Arise ~
---
I didn't take a lot of progress photos along the way but i came up with one that seemed to be more in line with the direction i wanted to go with artistically. Not for a final prototype NFT but just to get some preliminary sketches out of the way.
I did take some shots from different angles to kind of show the technique and layering i used. Some of the mediums that i use have a sheen and it makes it hard to capture the true nature of the traditional artwork. This one below is the earliest in the process i have but you can only tell because of where the face is in the layering development and the background being a bit less built up.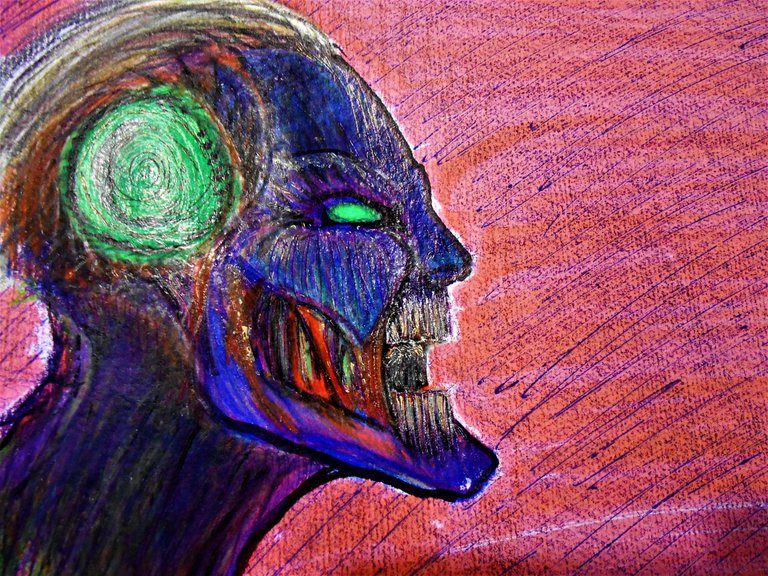 I liked having the green swirl within the head exposed to kind of show the source of the glowing green eyes. I think my favorite part is the jaw. I didn't like how far that i made the chin jut out... but with receding lips and gums it would look similar. I still think it turned out a bit too exaggerated.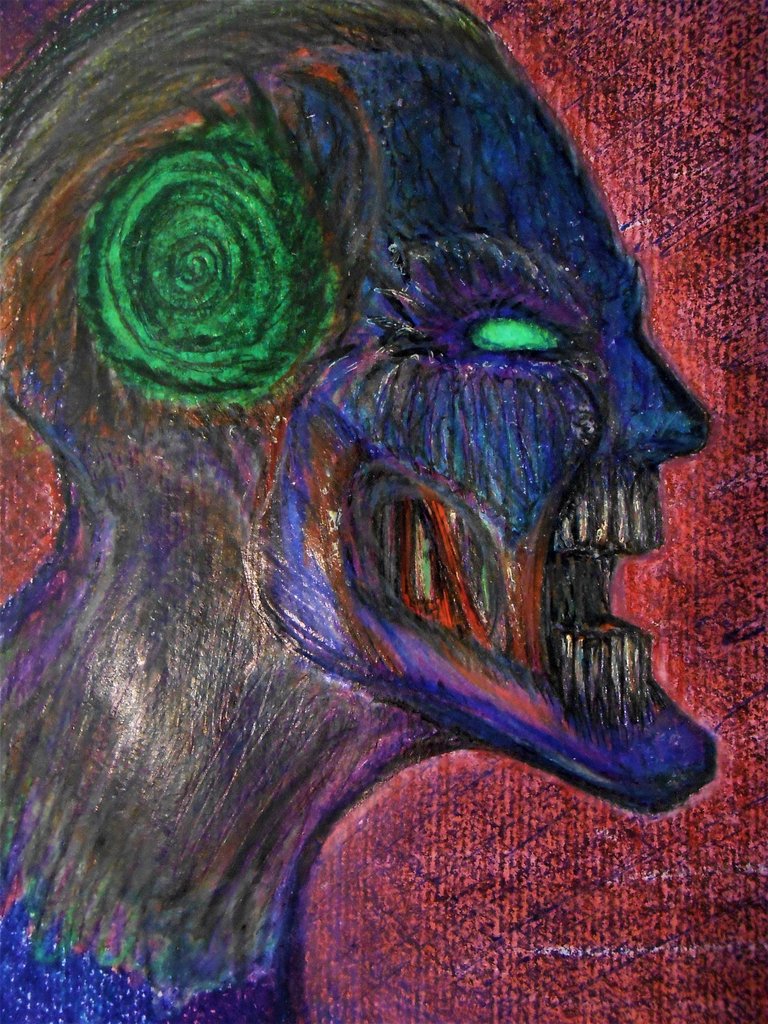 I did change some of the settings in editing a few of the photos to show where some of the details were that get lost in the layering unless you look very closely.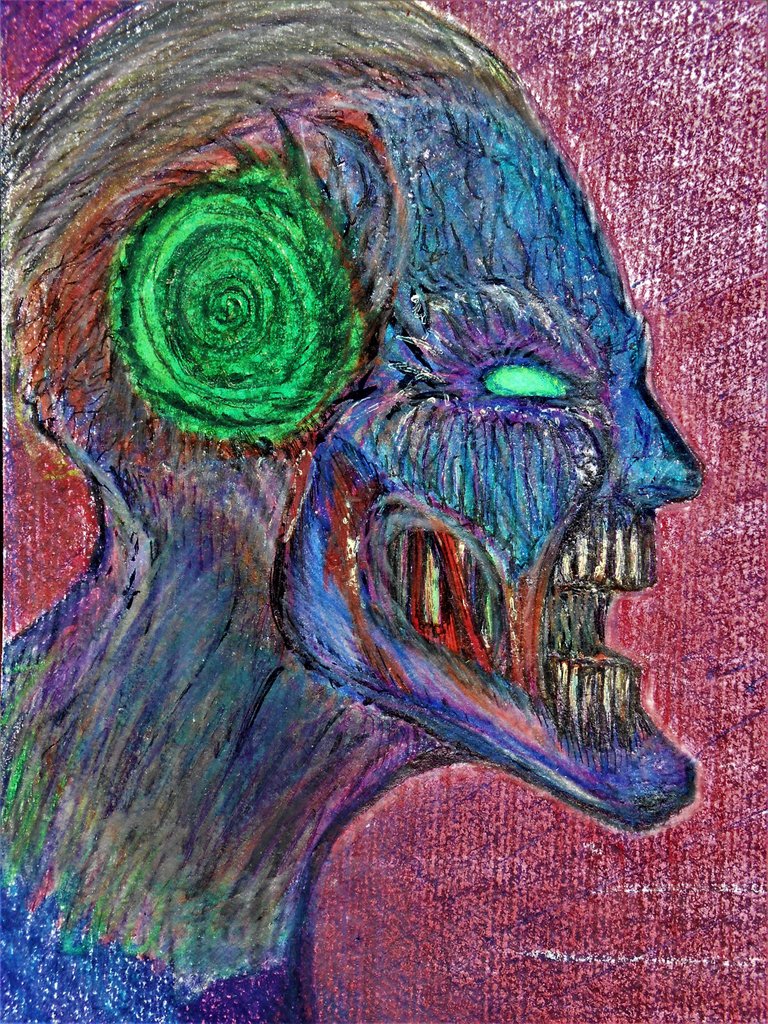 The paper had a crosshatched textured pattern to it. That is something that i am not used to working with so it took some time to adjust to that. Some of the paper got overworked and started to tear through so i had to keep an eye on that as well.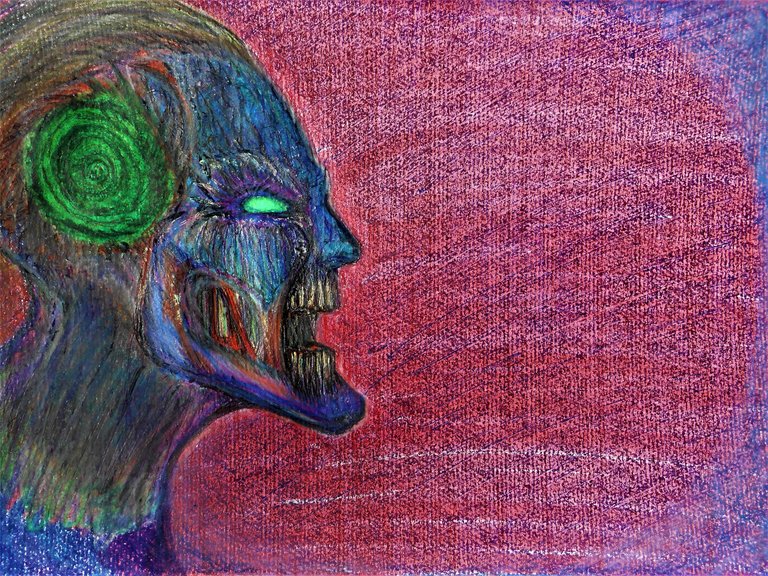 I did sporadically use a little bit of some metallic gel pens in a few areas for accents. It's hard to see overall but in a few photos, it appears a little. The teeth had a metallic mixed with them and around the eyebrow area.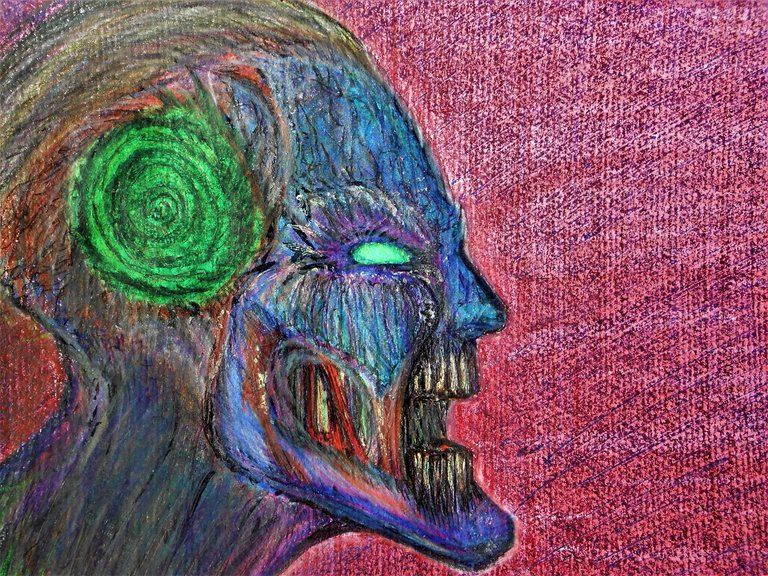 I really enjoyed the veiny rotted withering flesh look this dude took on after a while. It felt to me like looking through layers of decaying derma.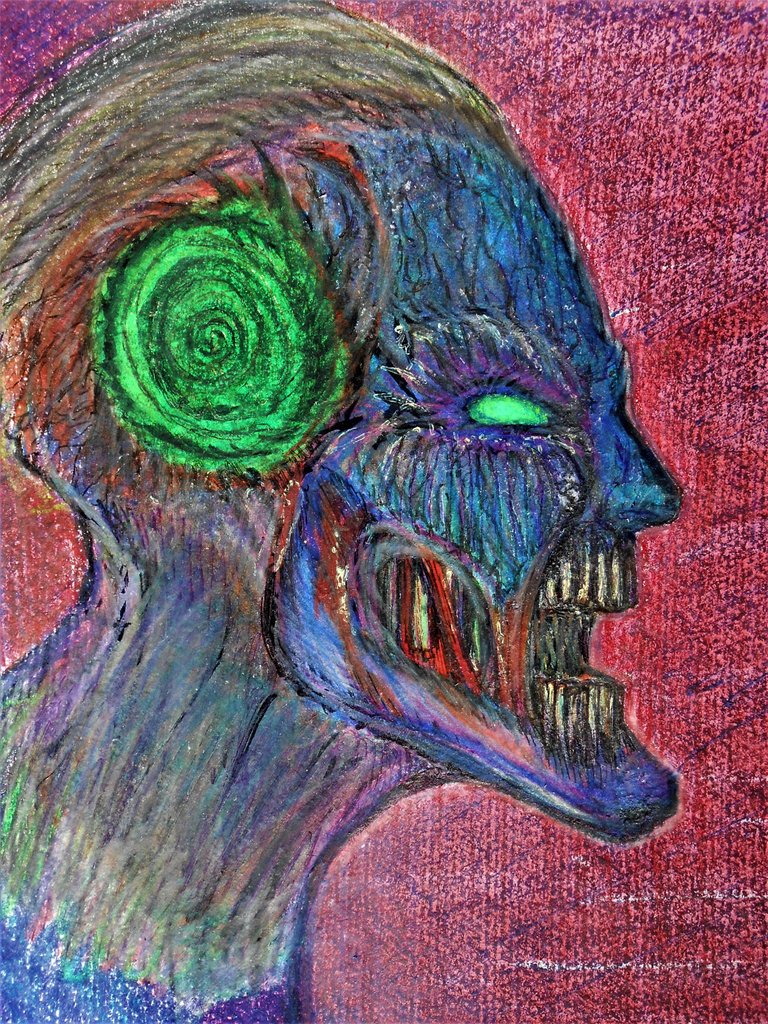 I don't think corpses bruise... but i kind of felt like it got that kind of a look around the eye area and on the neck.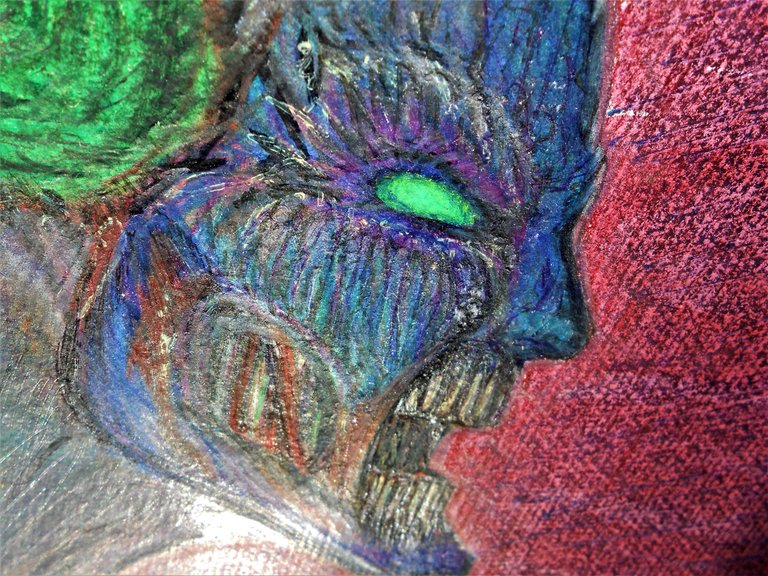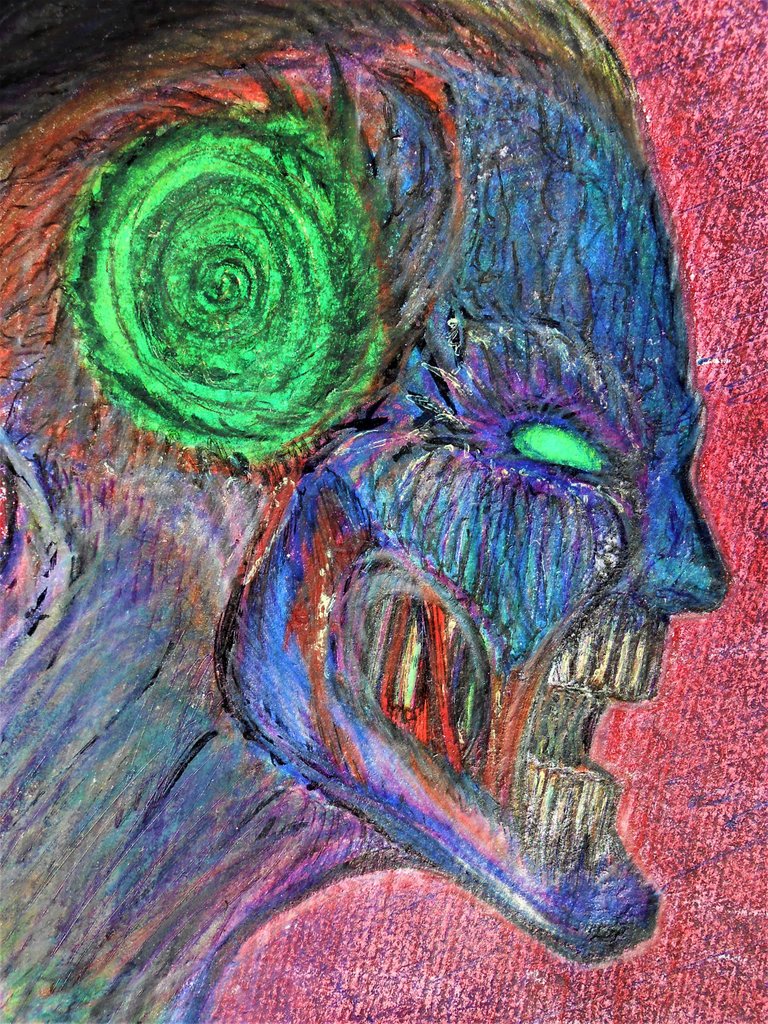 ~ Corpse Bride ~
---
I ended up totally changing gears and directions with this next sketch. I took much of what i gained in experience from the dude above to create this lovely lady below.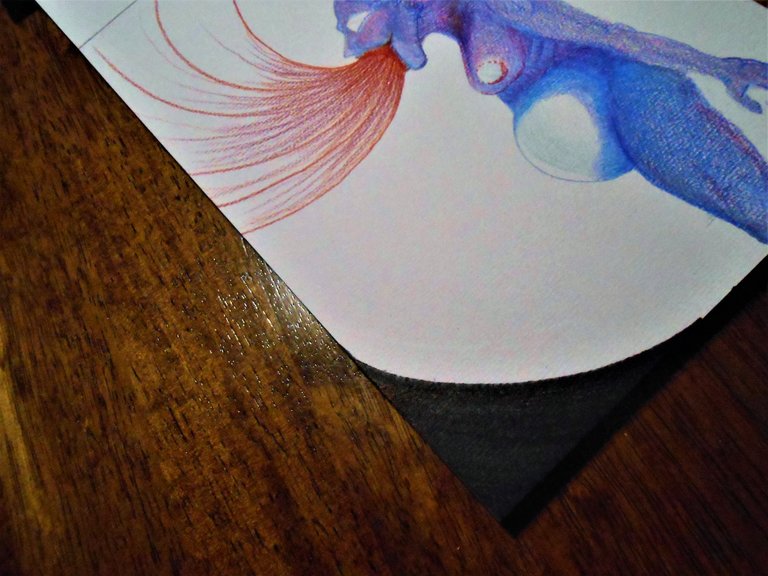 The sketchbook is much smaller than these photos and images may make it seem. I didn't take many progress shots with her either but there are a couple.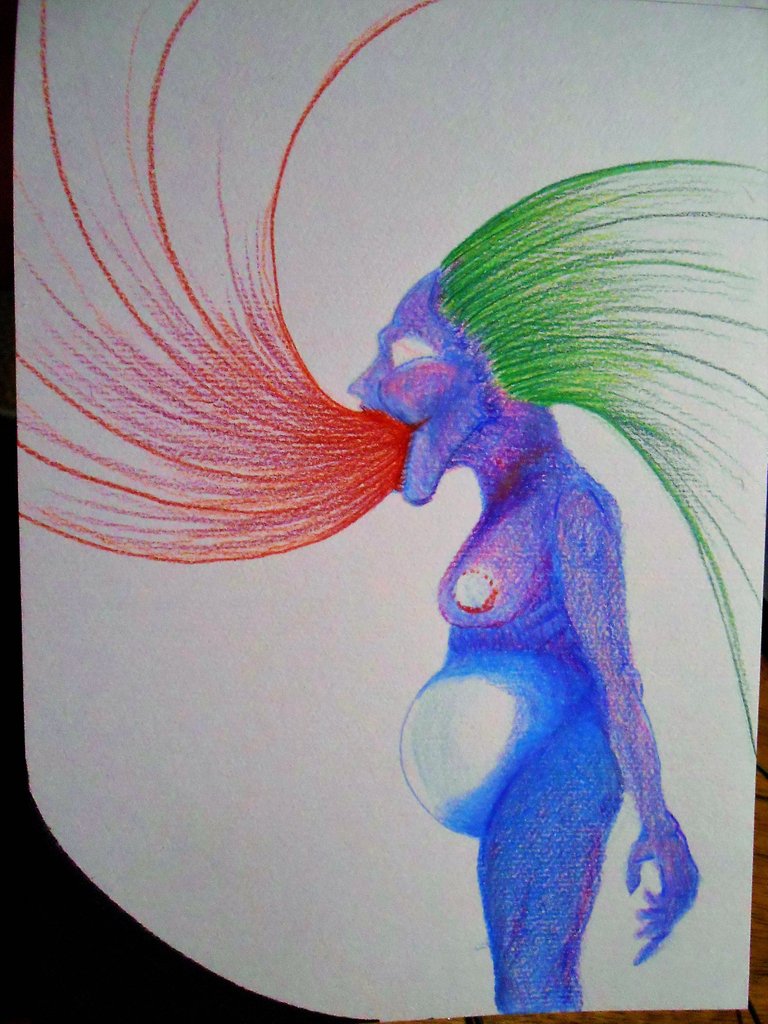 To be honest, i am not even really sure where i was going with this one or where it was coming from. However, i did enjoy the process and had fun experimenting with a few techniques.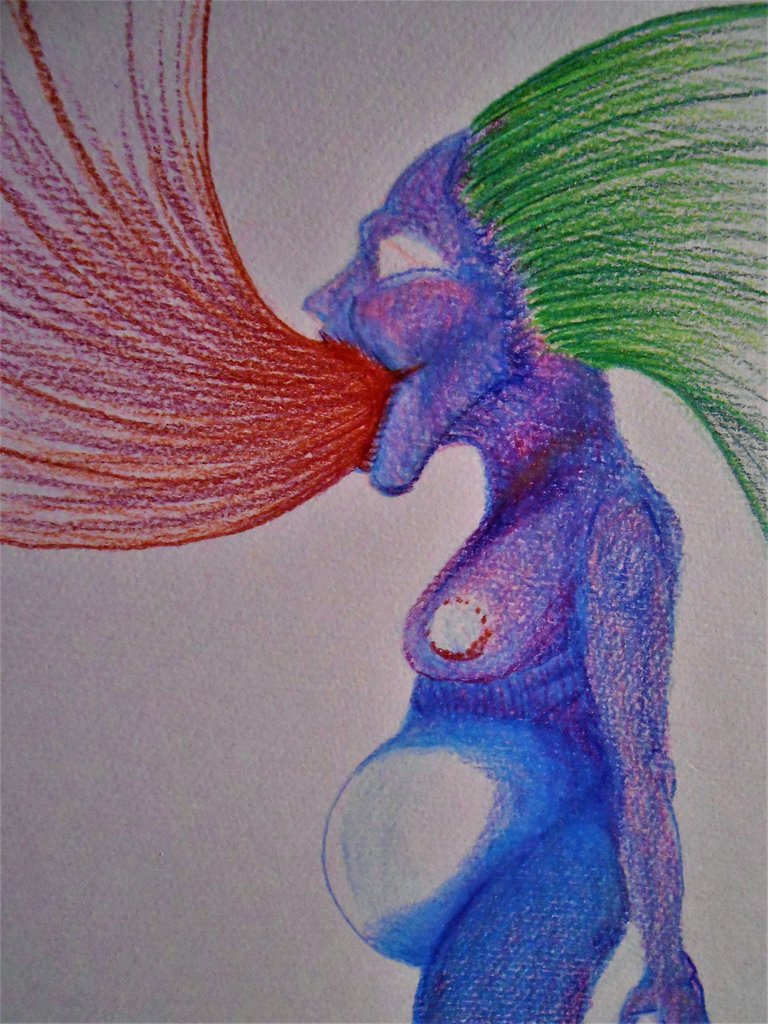 I felt like she had more of a witch vibe going than a zombie feel. My original intent wasn't to have the green be hair but it definitely looks like hair.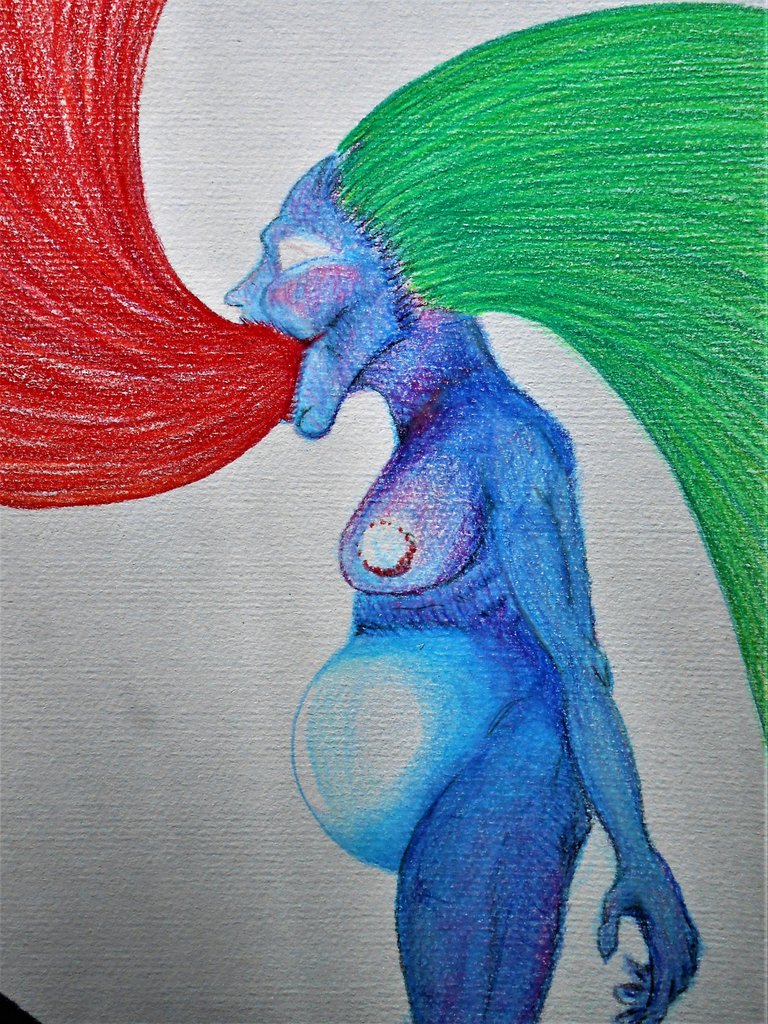 I kind of imagined it as blood pouring up and out of her mouth and the green magic blowing out and down the back of her head. Definitely a bit on the weird side but that's what makes it fun.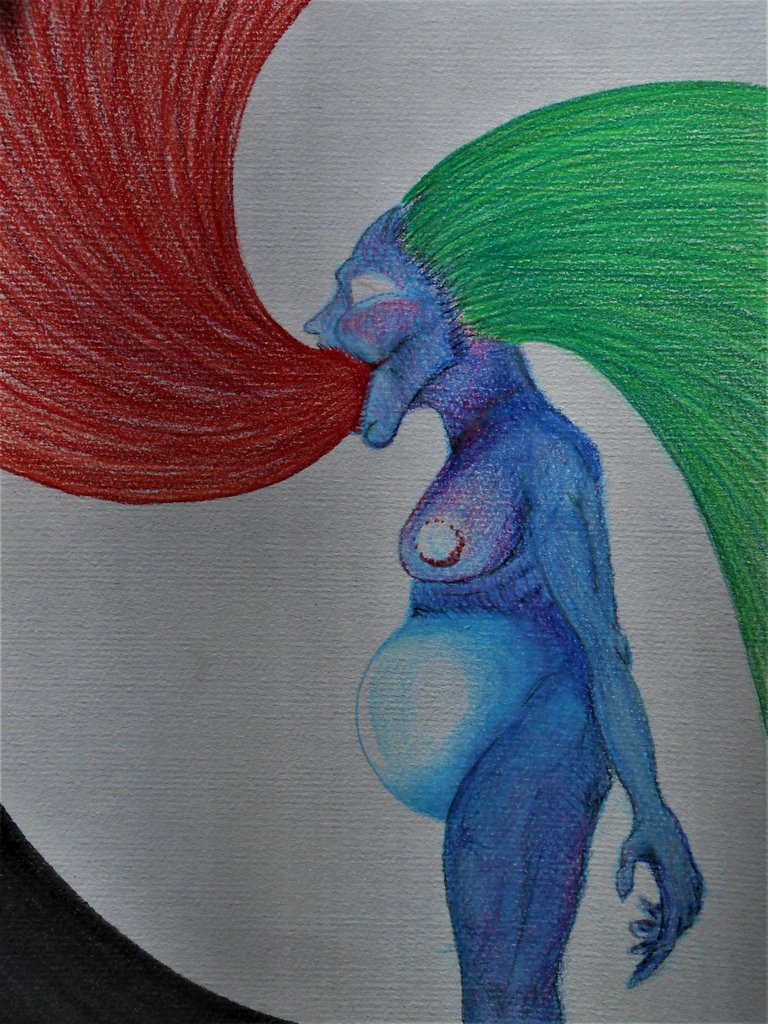 I really loved the skin tones for both the Animated Corpse dude and this chick too. I have experimented with blue and purple people before but this paper ended up helping that blend work well together.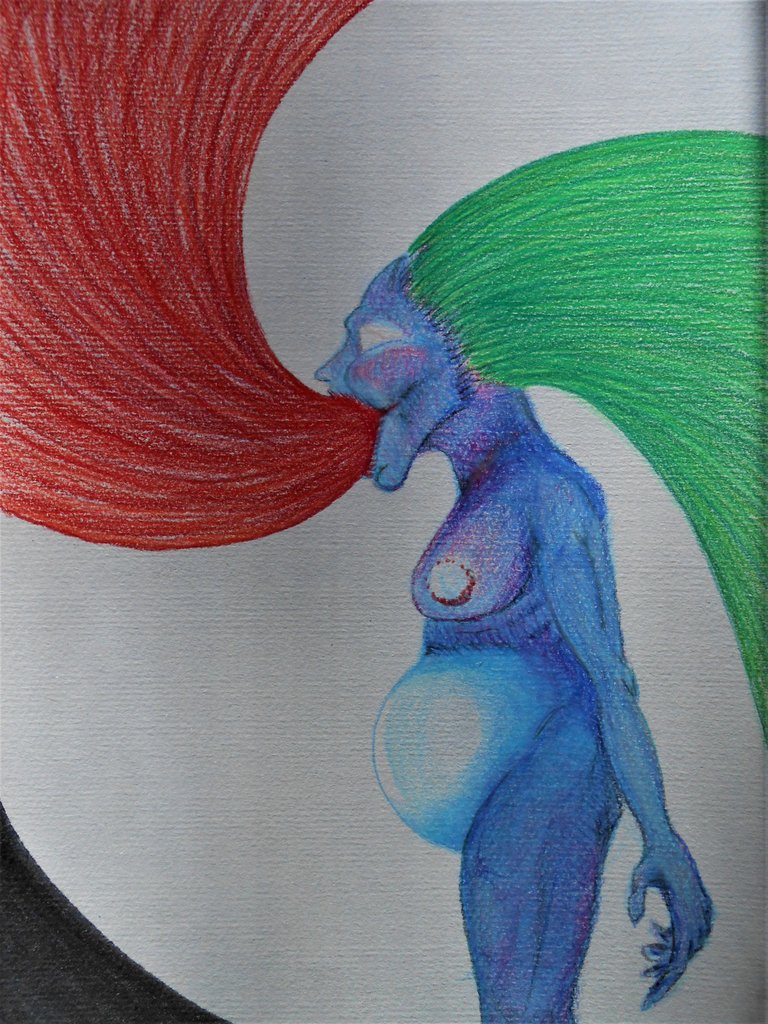 This is about where i left off on this particular sketch. I wasn't sure the direction to go with her womanly parts so i figured best not to push to far and mess things up. I am still debating on where i want to take this one.
Sometimes, rather than carrying on i like to stop and give myself the flexibility to still have options open and available. I don't like painting myself into a corner. I find it best to stop when progress has been made and the flow starts to diminish a bit.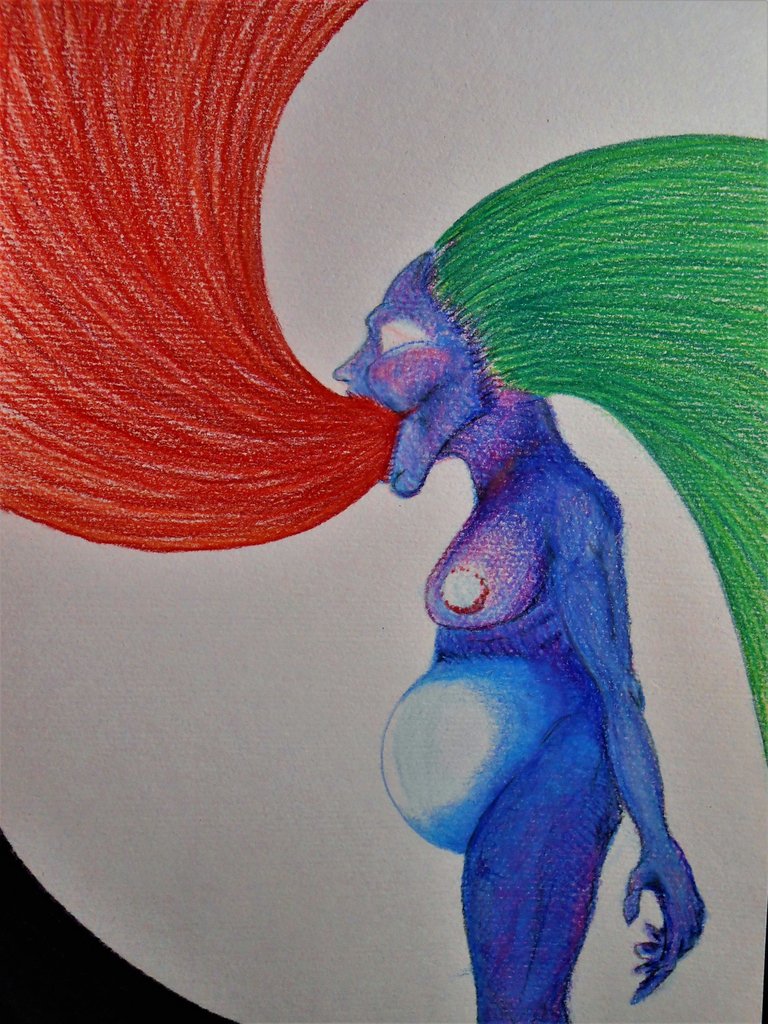 ~ Controlled Chaos ~
---
To wrap this post up i wanted to share the scans i was able to make of these two sketches. I don't think she will end up being tied in to the NFT Splinterlands project. More than likely he won't either. But either way these were small steps in that project's direction. I mostly just wanted to get in the mood for zombies since they aren't my favorite thing to draw. I did feel like Animated Corpse was a great card with little to no consequence in getting started with this project.
I am looking forward to getting some more finished peices to use as my final runs on the prototypes. I plan on doing three cards so this is just the first sketch faze of the first prototype card. There is still a lot of work and a long way to go. But, every journey starts with the first step.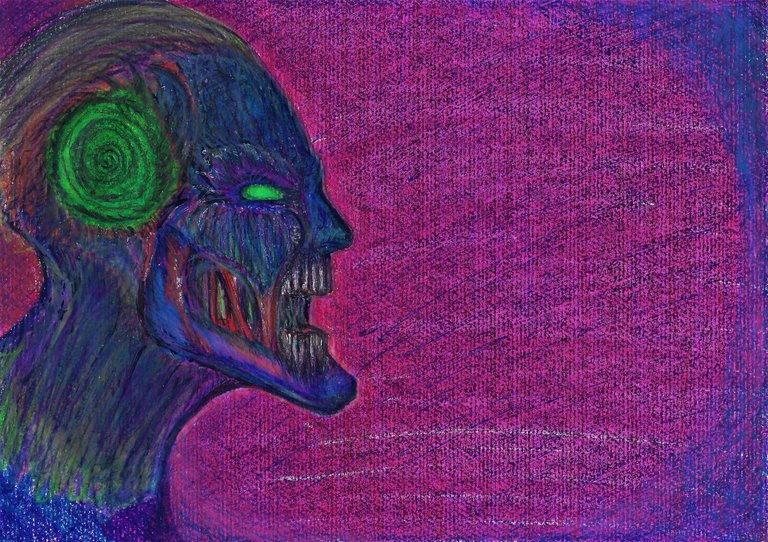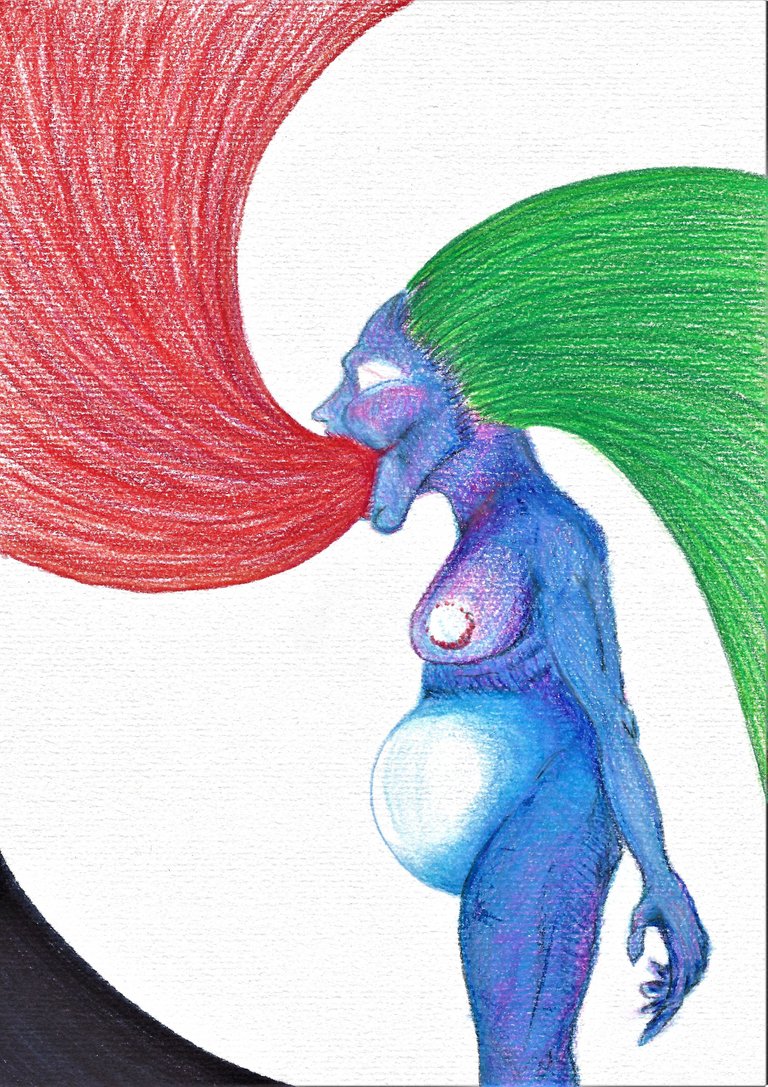 Thanks for taking time to check out the art and read my post. I hope this one wasn't too repetitive and that you got something out of it. If you have any suggestions for the next two cards after Animated Corpse, please feel free to leave a comment below. If you have any criticism that i didn't already offer of the art already, please feel free to comment that down below as well. All ideas and suggestions are always welcome.
It oftentimes feels chaotic to get a game plan in place and i feel like the ideas are starting to move in a more cohesive and coordinated direction. I guess a little control over my chaos is better than none. Just in time for the Chaos Legions to descend. See y'all next time! Thanks again for stopping by.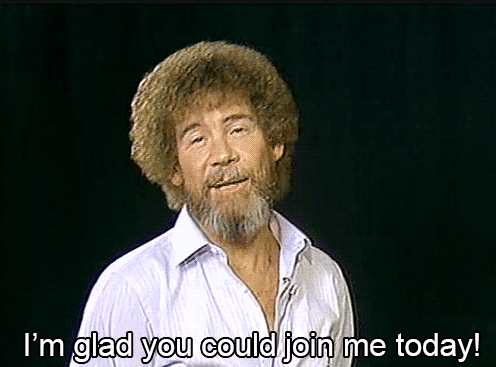 ---
---