#introduceyourself Hi I'm Catnipjunky. I'm a noob.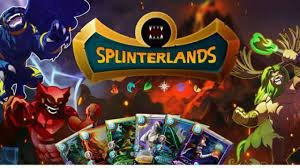 Hello all, I am Catnipjunky and I am brand new to the world of blockchain NFT games.
I have known about cryptocurrency for only a couple of years and have very small amounts invested. I have read enough to get the basic idea down of cryptocurrency and NFT's, but I had no idea there was such a thing as NFT games and play-to-earn. Until about a month ago that is.
In the short amount of time I have learned about these games, I have divested most of my time to learning about this brand new amazing way to invest. I have been an avid gamer since I was a toddler in the 80's, and never did I think I could play a game that I enjoy and actually earn real money from it.
Splinterlands was the obvious choice of which NFT game to start with after doing my research for two reason. One, you can start playing the game for free and even start earning for very little investment to start. Two, it has an iphone app. To be honest, I really don't use the iphone app much anymore because it has so many limitations. But just the fact that it is on the iphone tells me there is more potential to reach the mainstream marketplaces.
Once I began playing the game I was so confused. I had never played a card game before so I didn't understand how it worked. I watched so many videos and read articles (such a great community, and with incentives like SPT earning for every player to put this information out there). Once I got the hang of the game I couldn't get enough. Ended my first season at Silver 1 after a week and a half of playing.
I have just began making posts to earn SPT today, so we will see where this journey goes. I usually am not a social person and sharing feels icky. But if it means I can grind and earn even more to invest in Splinterlands, then I will give it a shot.
If you have any suggestions, please don't hesitate to let me know.
Cheers
---
---