HAUNTED SPIRIT🔮 Splinterlands Art Contest SPT W-226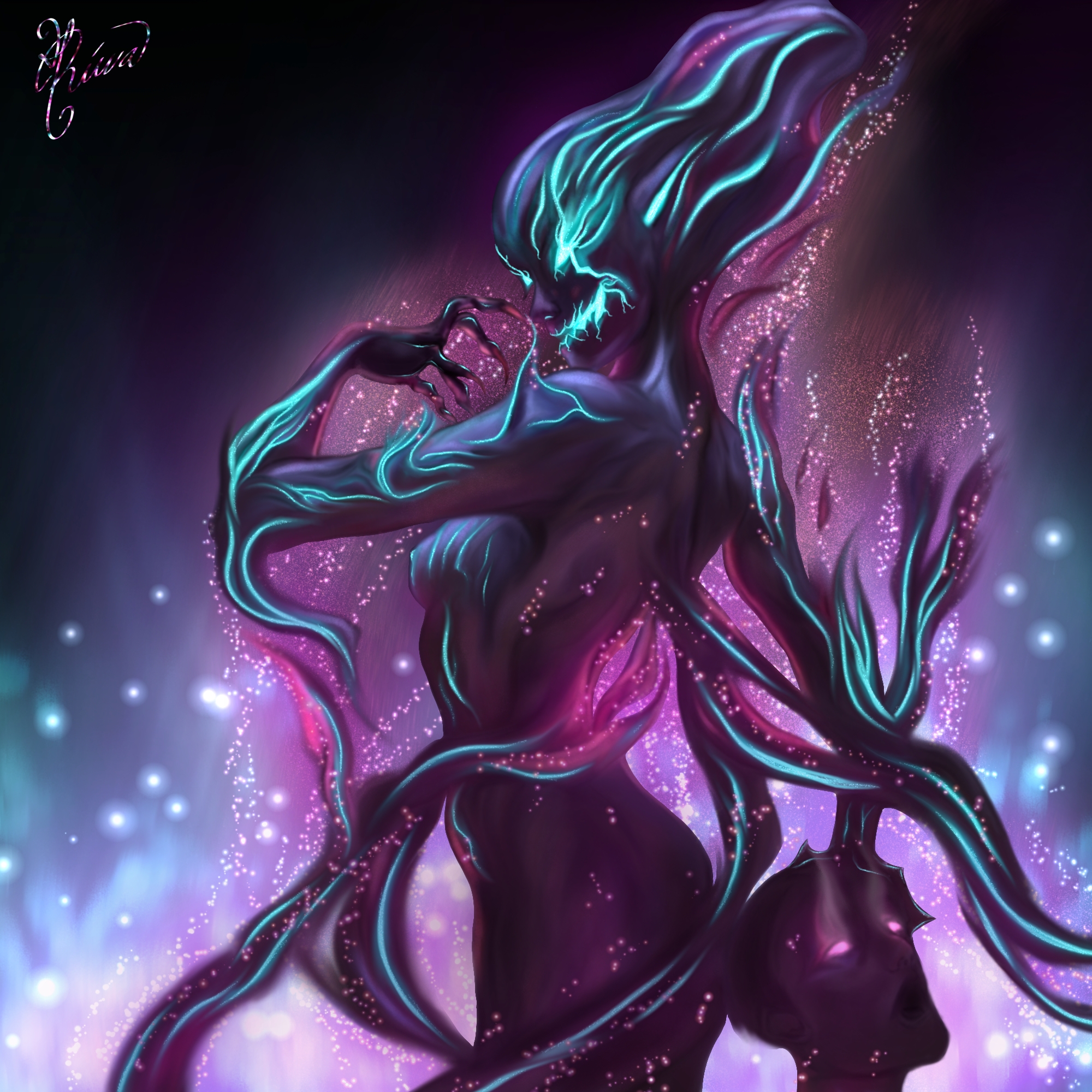 Hola mi estimada comunidad! 😊 Mis saludos para todos y cada uno de ustedes, esperando que se encuentren como siempre bien y deseándoles lo mejor cada dia. Aquí nuevamente con ustedes estoy compartiendo mi participación para la entrada a el concurso de arte de Splinterlands de esta semana, y en esta ocasión quise representar a la carta HAUNTED SPIRIT, la cual me llevo unas 6 horas realizarlo, de manera que me contenta el tiempo que he ido reduciendo en los dibujo que he elaborado y compartido junto a todos ustedes. Para esta carta tome como fuente de inspiración a Evelyn del juego Legends of Runeterra ya que me gustó su diseño y quise adaptarlo a esta carta de Splinterlands, creando un personaje nuevo que comparte características similares, tomando como referencia la paleta de colores de Haunted Spirit. Éste quise ilustrarlo a modo femenino, con un cuerpo más definido y un carácter algo agresivo, utilizando esta técnica del surrealismo en el que estoy practicando y aprendiendo. Este fue el resultado que logré con esta carta, espero les guste y disfruten de este proceso de elaboración!😁
Hello my dear community! 😊 My greetings to each and every one of you, hoping you are as always well and wishing you the best every day. Here again with you I am sharing my participation for the entry to the Splinterlands art contest this week, and this time I wanted to represent the HAUNTED SPIRIT card, which took me about 6 hours to make it, so I am happy with the time that I have been reducing in the drawings that I have made and shared with you all. For this card I took Evelyn from Legends of Runeterra as a source of inspiration because I liked her design and I wanted to adapt it to this Splinterlands card, creating a new character that shares similar characteristics, taking as a reference the color palette of Haunted Spirit. I wanted to illustrate him in a feminine way, with a more defined body and a somewhat aggressive character, using this technique of surrealism in which I am practicing and learning. This was the result I achieved with this card, I hope you like it and enjoy this process of elaboration !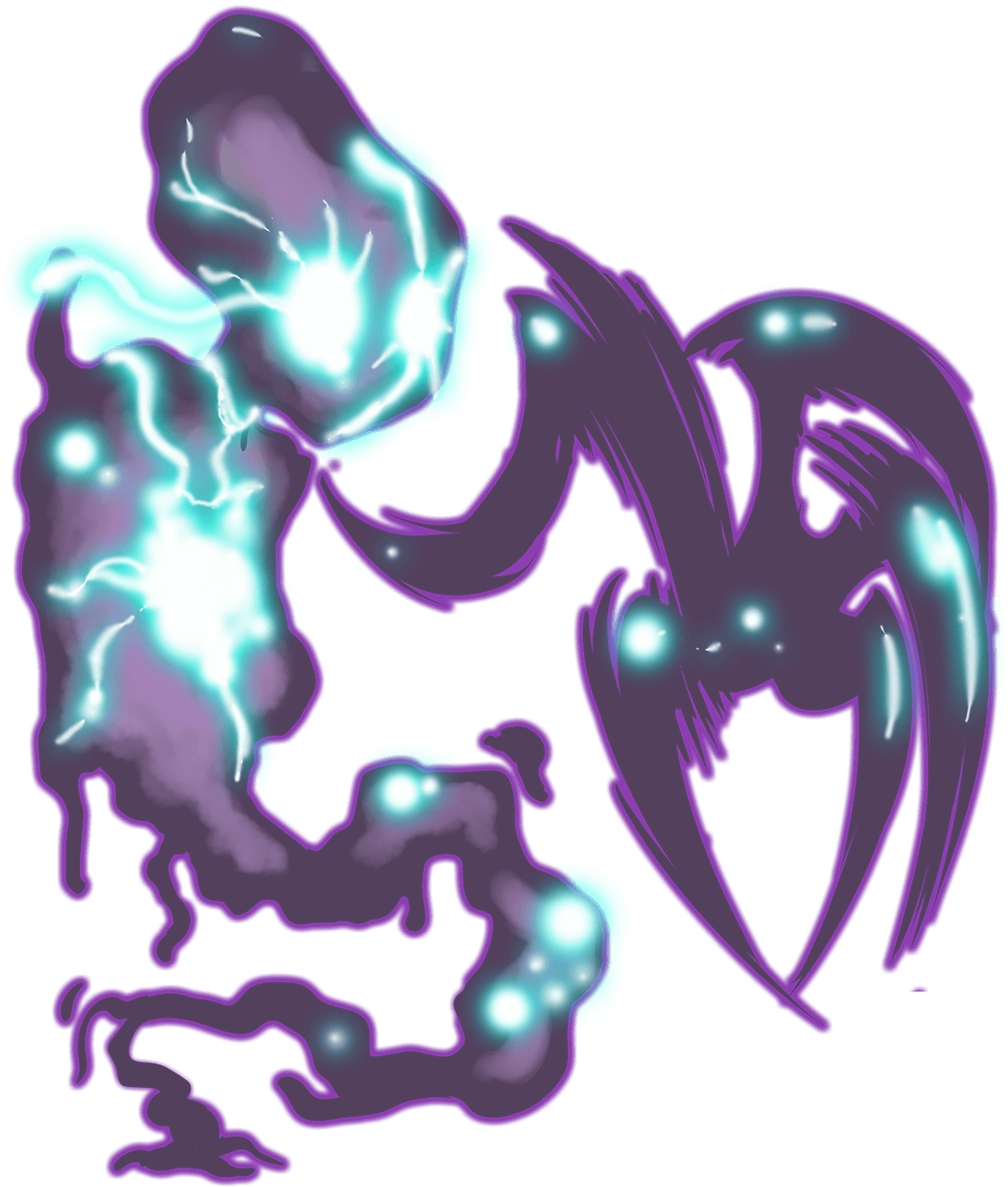 Etapas del dibujo/Drawing stages
Inicie con una capa para el boceto inicial definiendo el cuerpo del espectro, de seguido en una nueva capa fui haciendo el delineado utilizando una brocha tipo pluma suave para definir un poco más y con más detalles. Después, aplique en una nueva capa debajo de la capa de delineado el color base, el cual fue un morado utilizando un método de mezcla Normal, seguidamente fui aplicando varias tonalidades de morados, rosas y azules entre claros y oscuros para ir creando las sombras y parte luminosas del espíritu. Agregue también para los ojos y ciertas grietas de este ser, azul turquesa utilizando en la misma capa el método de mezcla Normal. Comencé agregando desde los colores más oscuros a los más claros, para esto use una brocha tipo Aerógrafo Pulverizado. Luego, pase a difuminar y unir los colores utilizando un aerógrafo normal con una intensidad media para el difuminado. Después, pase a unir el delineado con la capa de color y empecé a difuminar el delineado junto con la capa de color para fusionar todo. Pase a borrar el color que sobrepasaba el borde definido del delineado.
Start with a layer for the initial sketch defining the body of the spectrum, then in a new layer I was doing the outline using a soft pen brush to define a little more and with more details. Then, apply the base color in a new layer below the outlined layer, which was purple using a Normal blend method, then I applied various shades of purple, pink and blue between light and dark to create the shadows and luminous part of the spirit. Also add for the eyes and some cracks of this being, turquoise blue using the Normal blend method on the same layer. I started by adding from the darkest colors to the lightest ones, for this I used a Spray Airbrush type brush. Then move on to blending and blending the colors using a normal airbrush with a medium intensity for blending. Then I moved on to blending the liner with the color layer and started to blend the liner along with the color layer to blend everything together. I went on to erase the color that exceeded the defined border of the outline.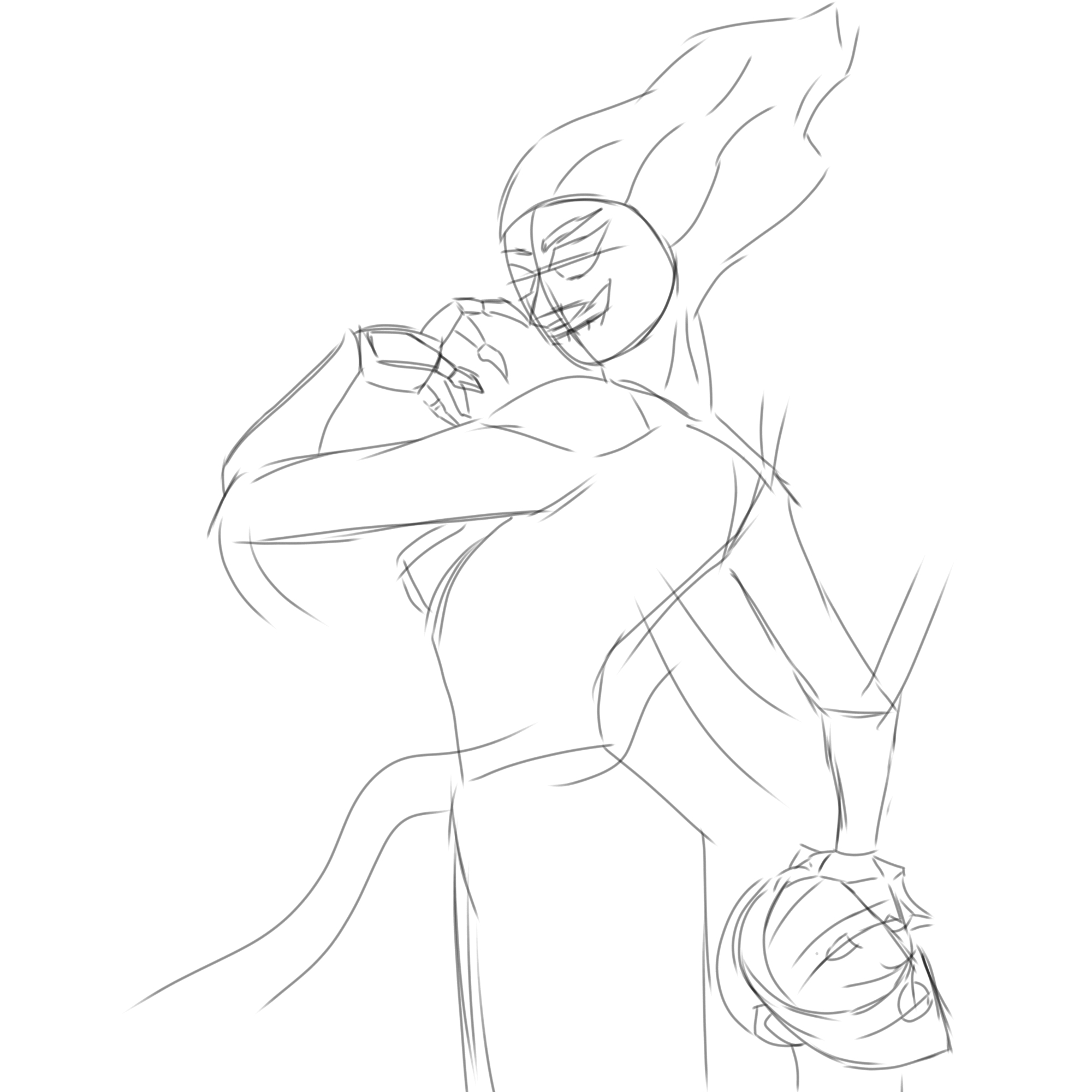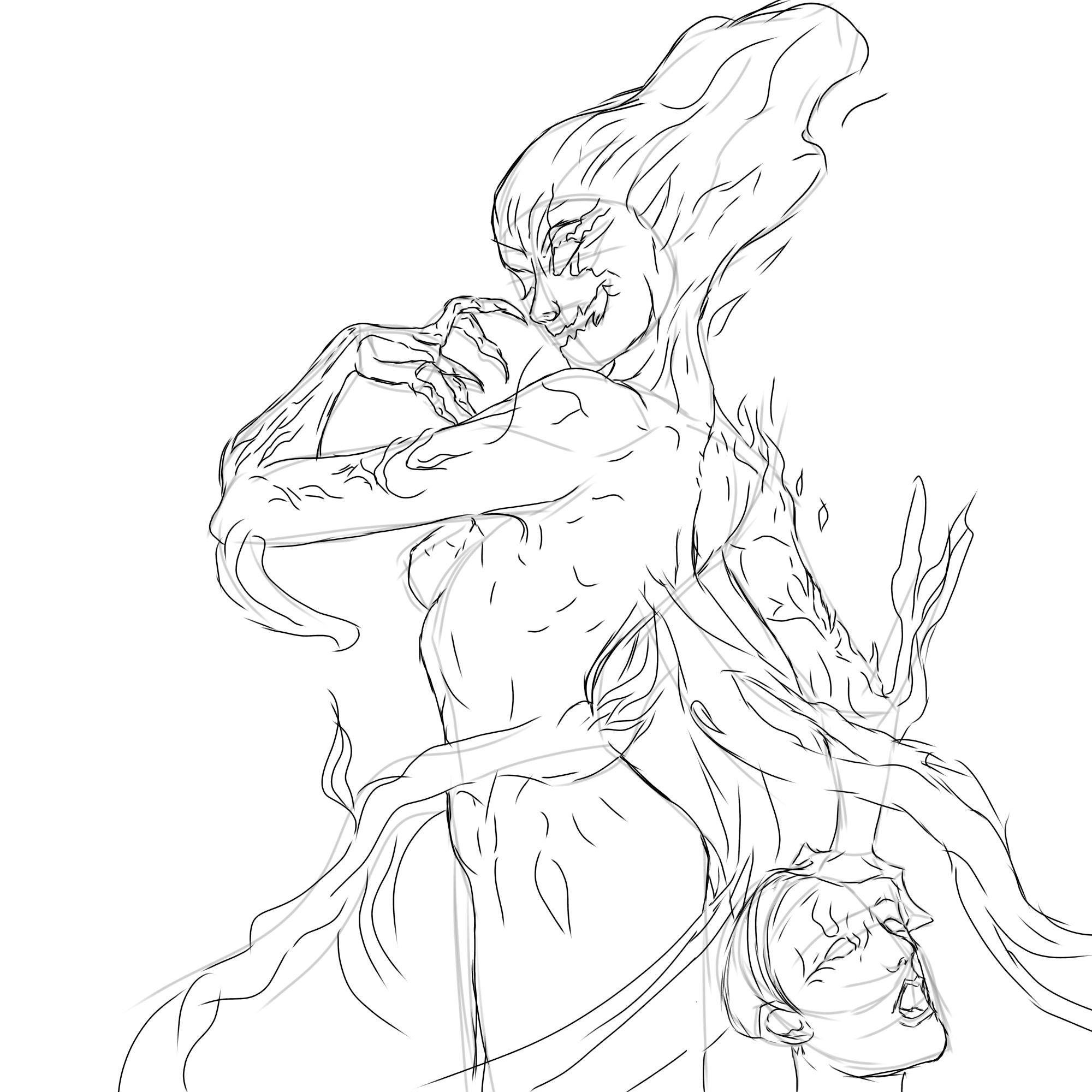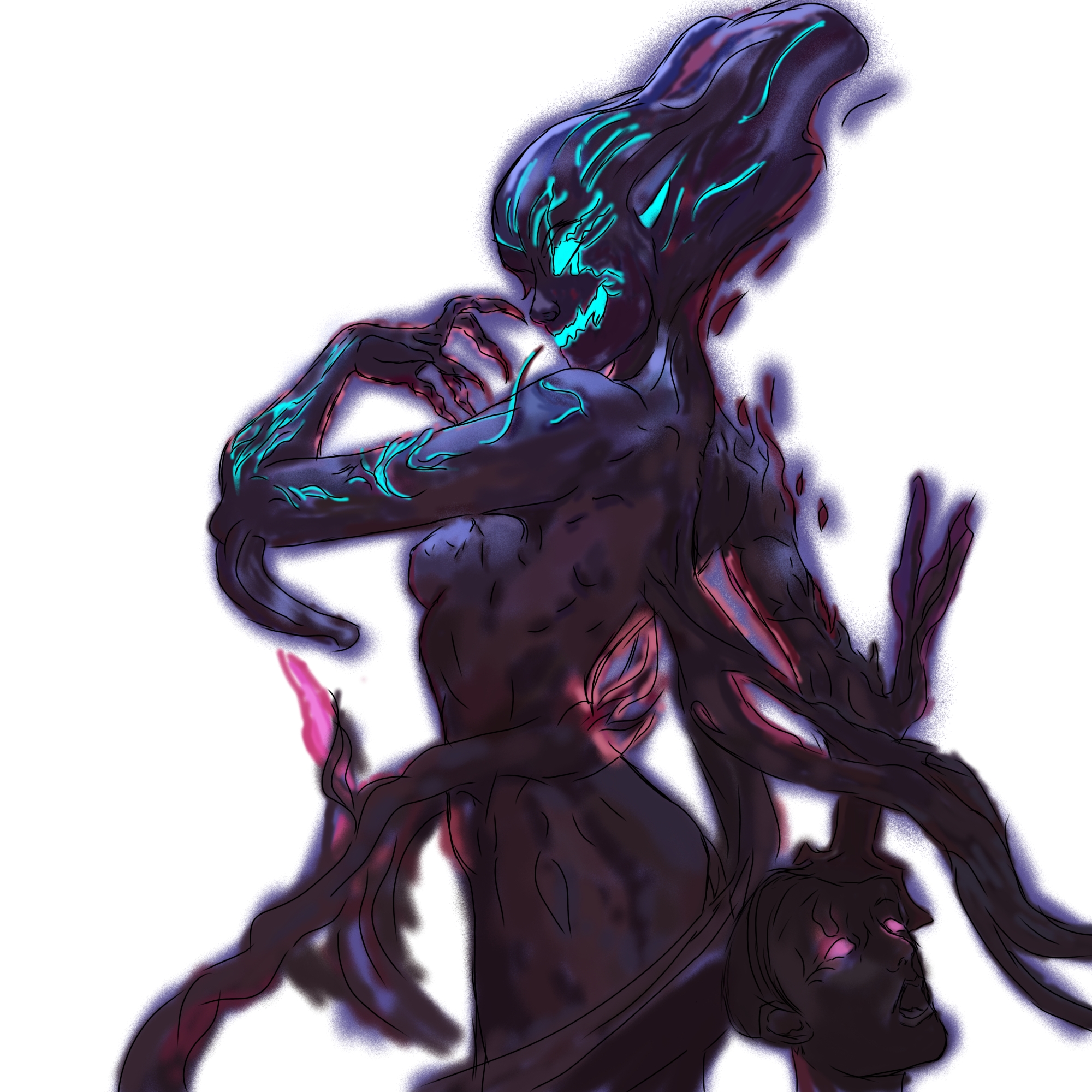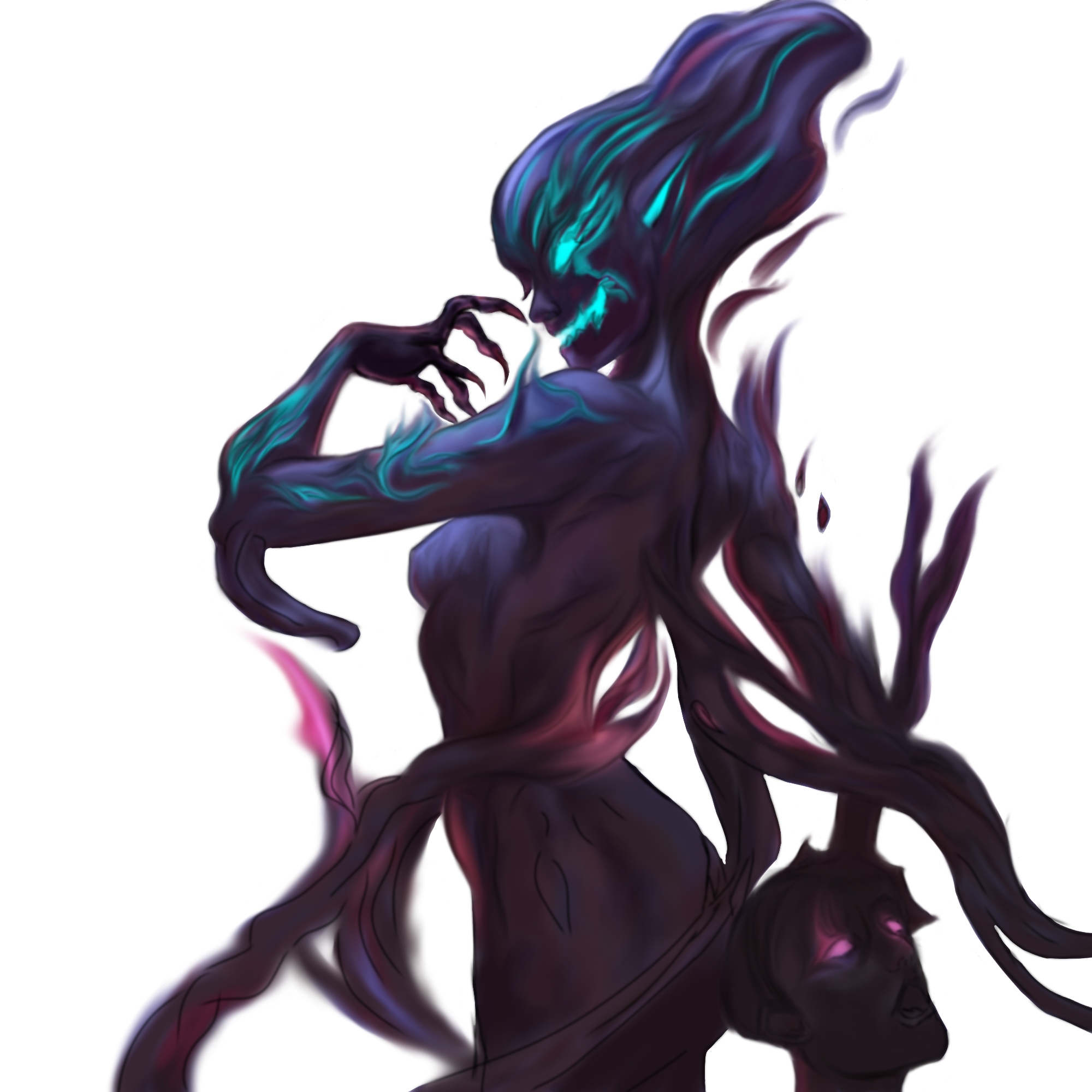 En esta etapa coloque un fondo gris para seguir con el difuminado del delineado, ya que el fondo blanco me creaba cierta luminosidad intensa a la vista del dibujo que no me permitía ver ciertos detalles, por lo que me llevo a parar y descansar la vista por un buen rato. Al retomar, fui aplicando en la misma capa de color con el método de mezcla Normal, el azul turquesa para ir recreando las grietas en algunas partes del espectro espiritual, y fui difuminando. Luego, borre nuevamente los bordes para definir un poco más la figura del espíritu, ya que el difuminado hizo que los bordes se vieran bastantes indefinidos. De seguido, con el color turquesa un poco más brillante fui reforzando el color de las grietas y ojos, los cuales pase a difuminar un poco en el inicio y final de los trazos. Trabaje en la misma capa con método de mezcla Normal, y para colocar las grietas use una brocha tipo Aerógrafo Normal.
At this stage, I placed a gray background to continue blurring the outline, since the white background created a certain intense luminosity in view of the drawing that did not allow me to see certain details, so it led me to stop and rest my eyes for a good time. When I resumed, I was applying in the same layer of color with the Normal mixing method, the turquoise blue to recreate the cracks in some parts of the spiritual spectrum, and I was blurring. Then, erase the edges again to define the figure of the spirit a bit more, since the blur made the edges look quite undefined. Then, with the slightly brighter turquoise color, I reinforced the color of the cracks and eyes, which I started to blur a little at the beginning and end of the lines. Work on the same layer with the Normal blend method, and to fill in the cracks use a Normal Airbrush type brush.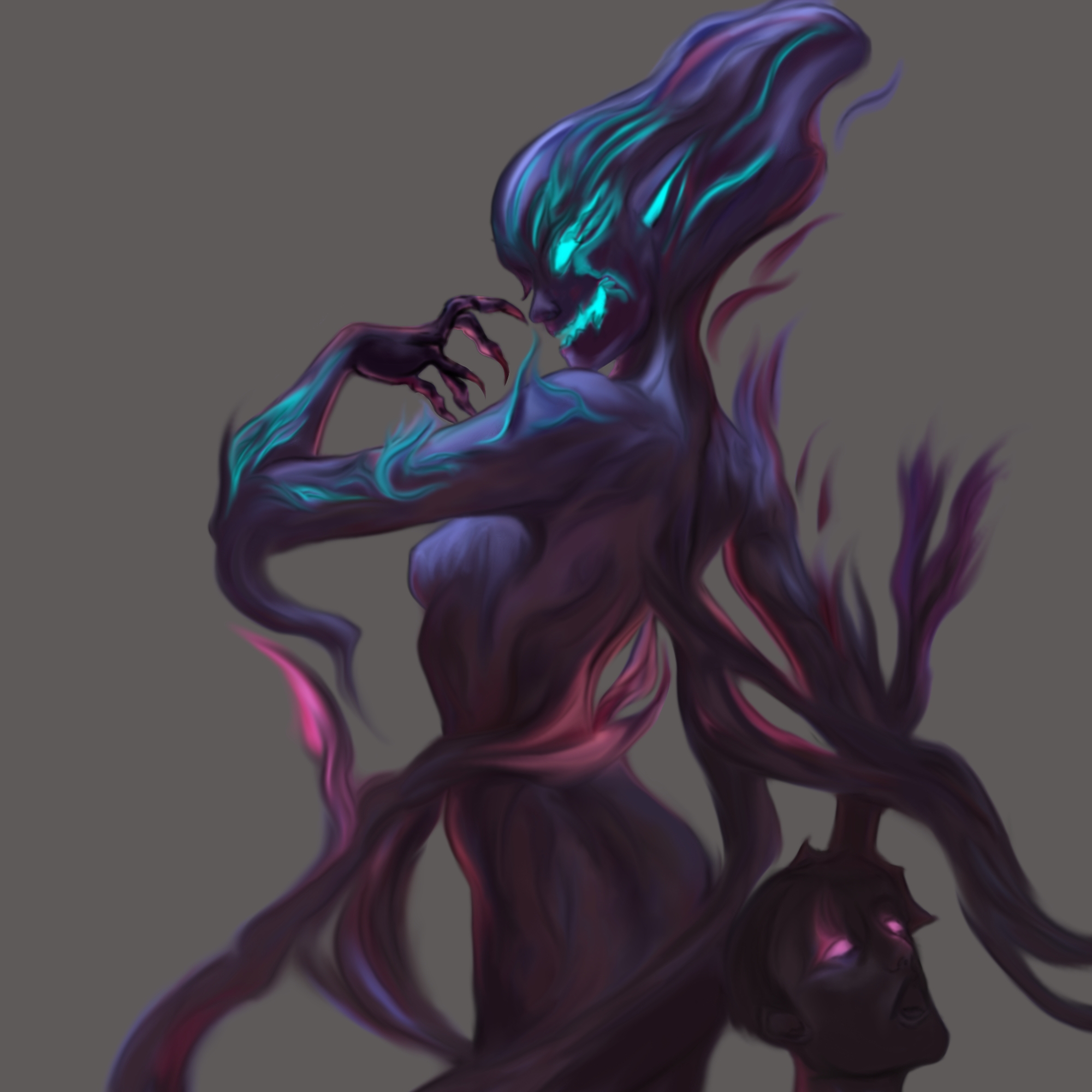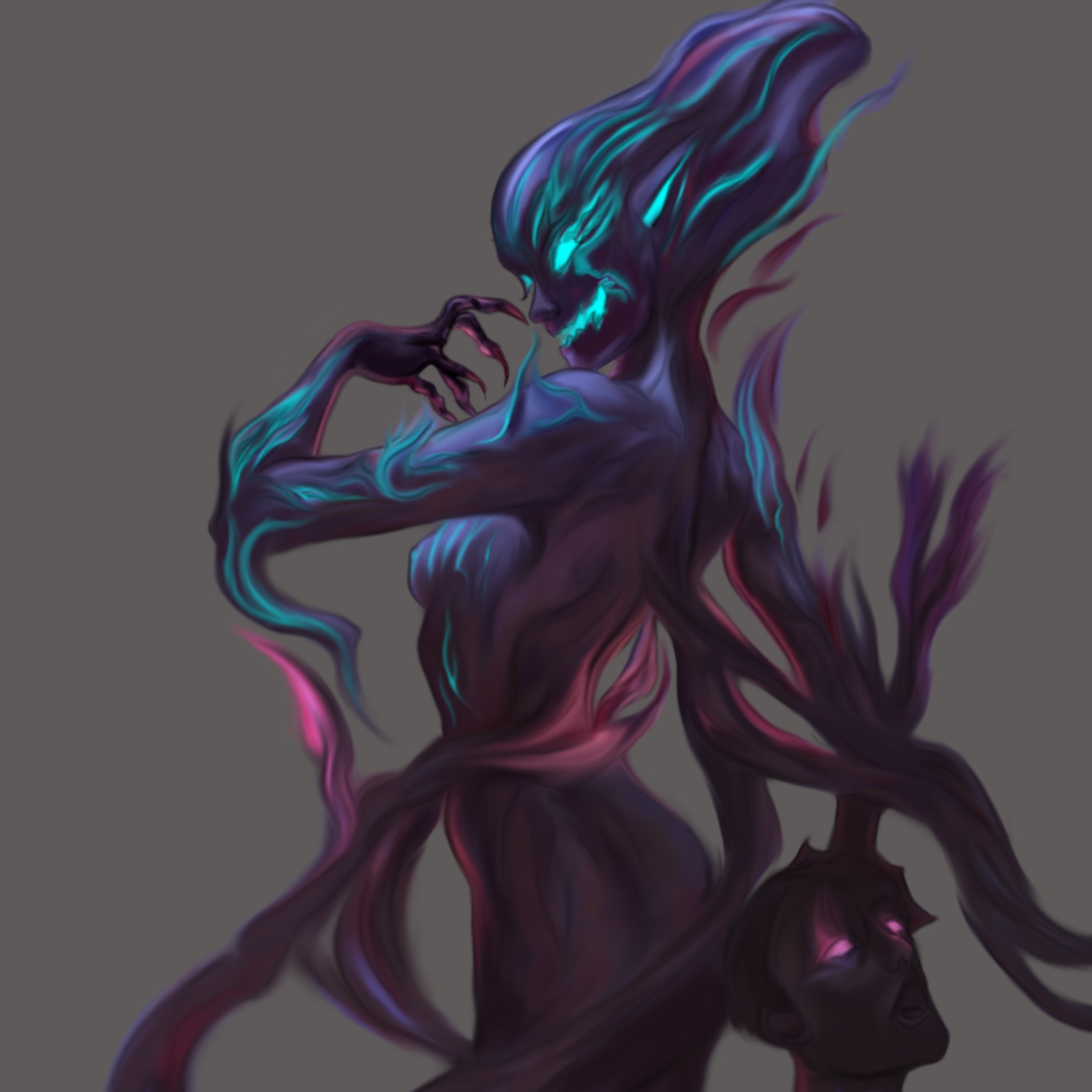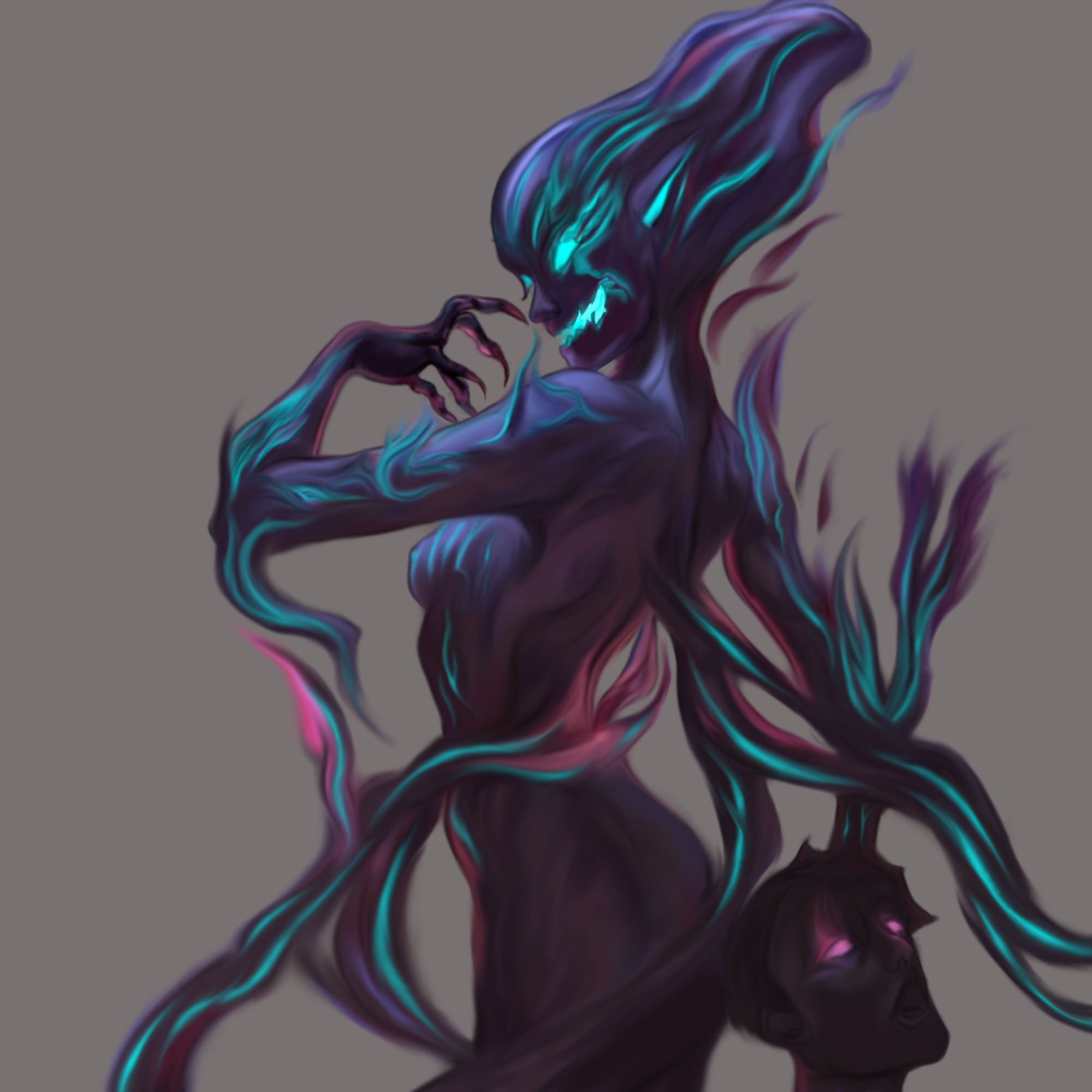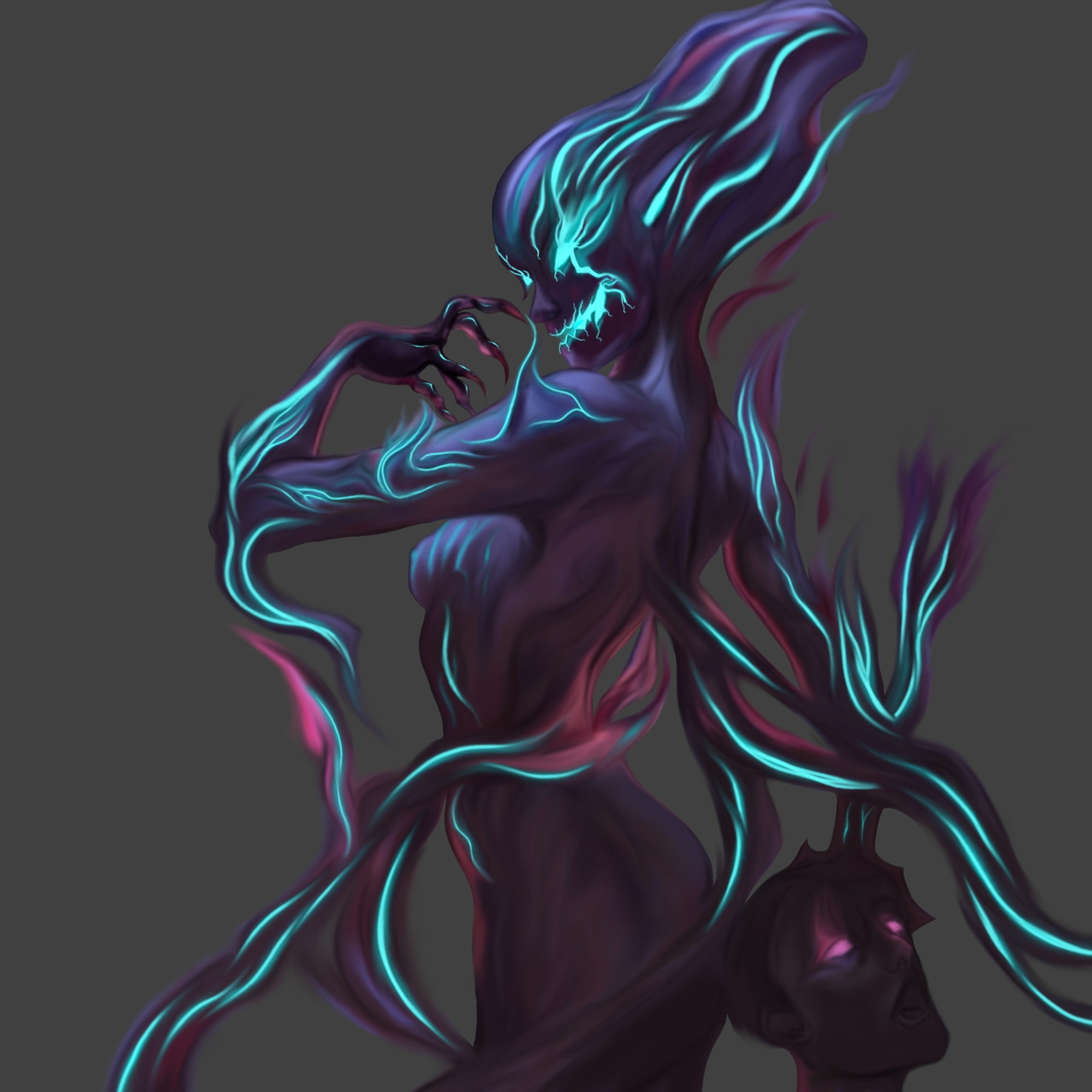 Para esta etapa final, abrí una nueva capa y utilizando una brocha tipo punto de brillo con un tamaño mínimo reforce con un poco más de brillo las grietas y ojos del espectro espiritual para darle mayor luminosidad a estos. Para el fondo, inicie con un fondo negro donde fui aplicando con aerógrafo y difuminando hacia arriba, un color azul turquesa, mismo que utilice para hacer los ojos y grietas del espectro. Agregue en la misma capa con una brocha punto de brillo, algunos brillos los cuales pase a difuminar y reforce nuevamente con otros brillos con la misma brocha y un poco más grandes. Luego agregue alrededor del espíritu algunas líneas de brillos a manera que emanara de el por ser un ser de otra dimensión y mágico, luego con una brocha tipo Puntillismo agregue destellos aún más pequeños alrededor los cuales difumine un poco, para esto use un color rosa con un método de mezcla añadir. Finalmente en una nueva capa con un método de mezcla Normal y un aerógrafo normal con una opacidad media aplique de abajo hacia arriba un lila y un rosa muy claro para recrear un poco más el entorno de este ser, agregando pequeños destellos a su alrededor con una brocha tipo punto de brillo. Y de esta forma termine esta representación de la cual me satisface el resultado que logre con esta carta, deseando de igual forma que les haya gustado y que pueda contar con sus importantes comentarios y apoyos!😌
For this final stage, I opened a new layer and using a glitter point brush with a minimum size I reinforced with a little more glitter the cracks and eyes of the spiritual spectrum to give them more light. For the background, I started with a black background where I applied with an airbrush and blending upwards, a turquoise blue color, the same that I used to make the eyes and cracks of the spectrum. Add in the same layer with a point shine brush, some shine which I proceed to blur and reinforce again with other shines with the same brush and a little larger. Then add around the spirit some lines of glitter so that it emanates from it for being a being from another dimension and magical, then with a Pointillism type brush add even smaller sparkles around which I blur a little, for this use a pink color with a mixing method add. Finally, in a new layer with a Normal blending method and a normal airbrush with a medium opacity, apply from bottom to top a lilac and a very light pink to recreate a little more the environment of this being, adding small sparkles around it with a glitter point brush. And in this way I finish this representation of which I am satisfied with the result that I achieved with this letter, wishing in the same way that you liked it and that I can count on your important comments and support!😌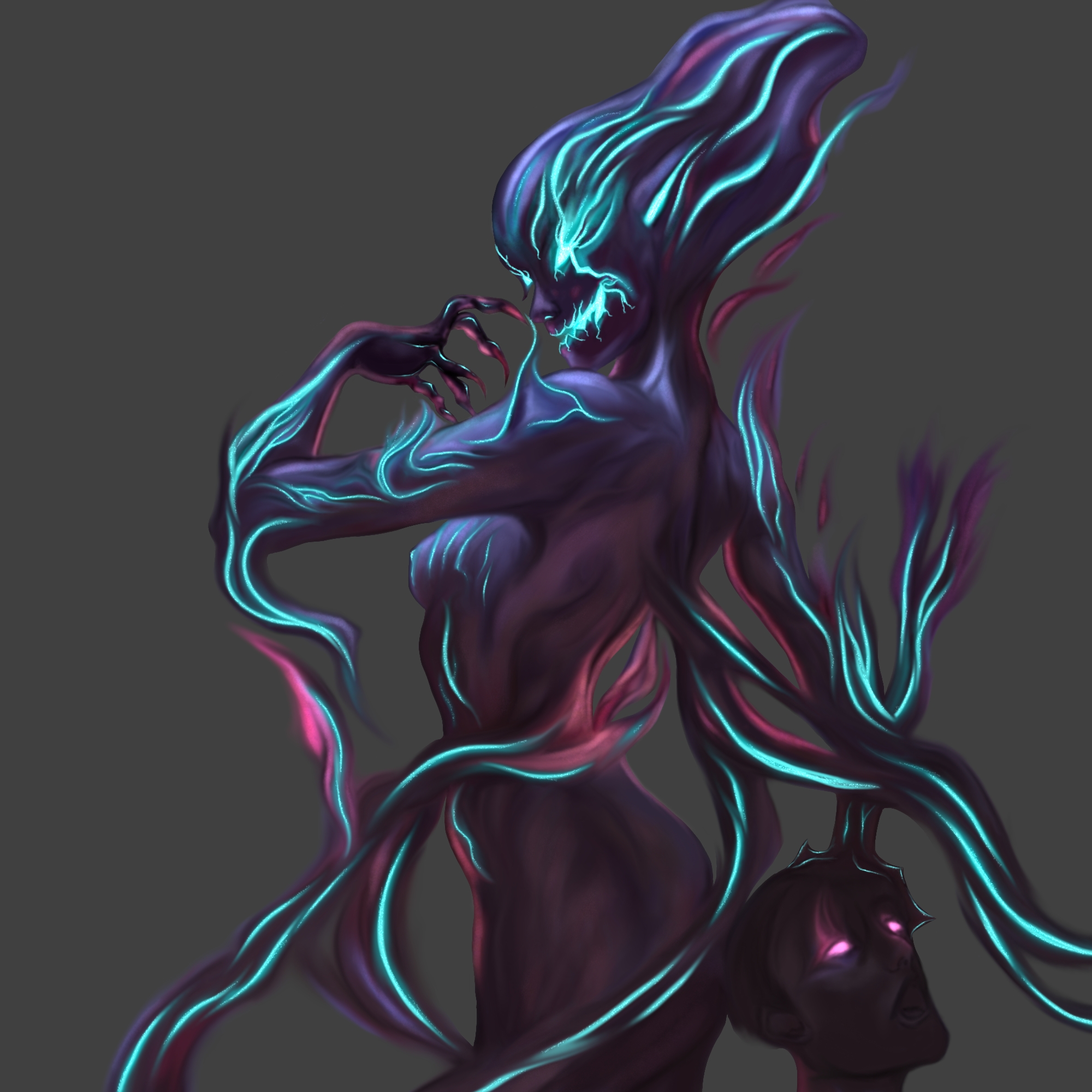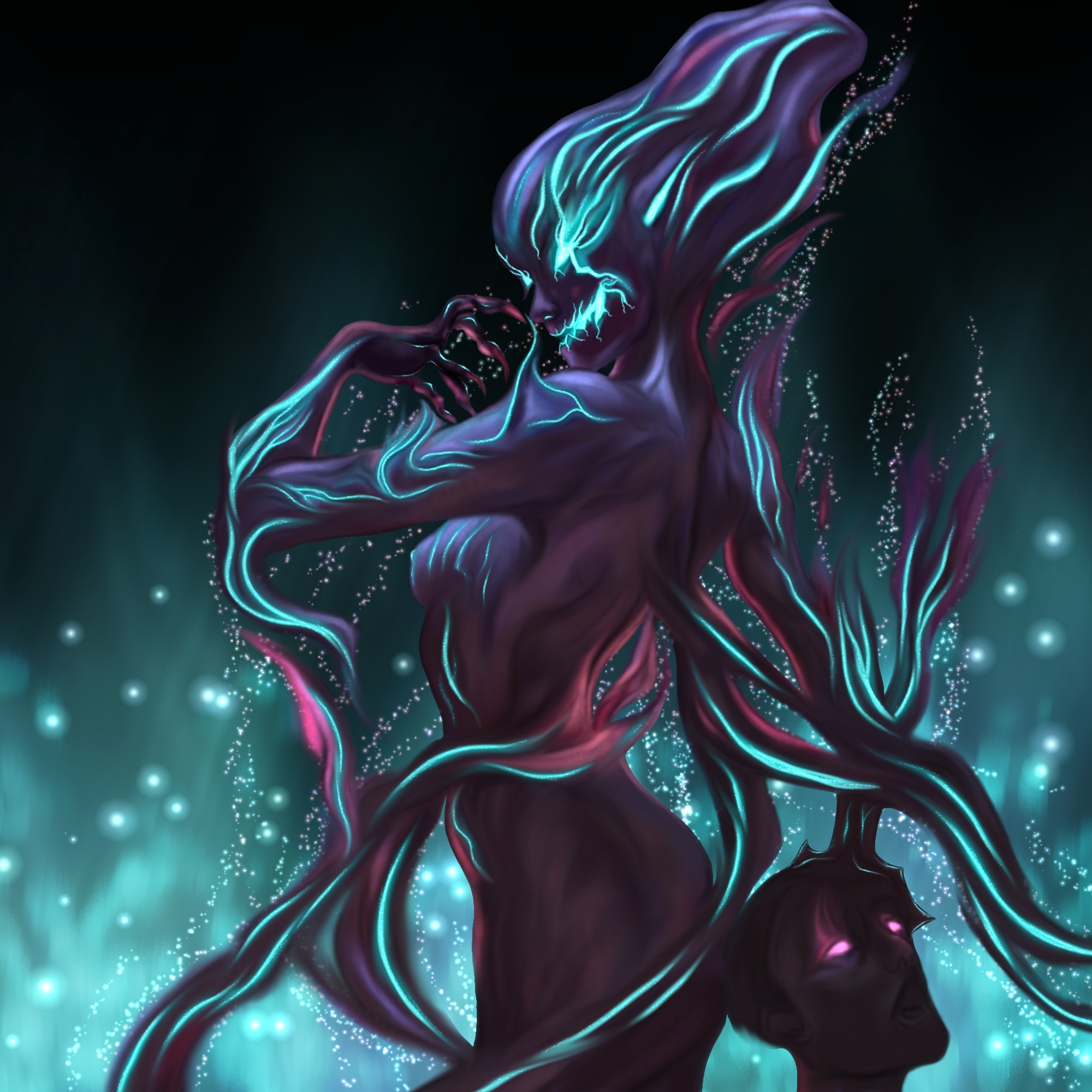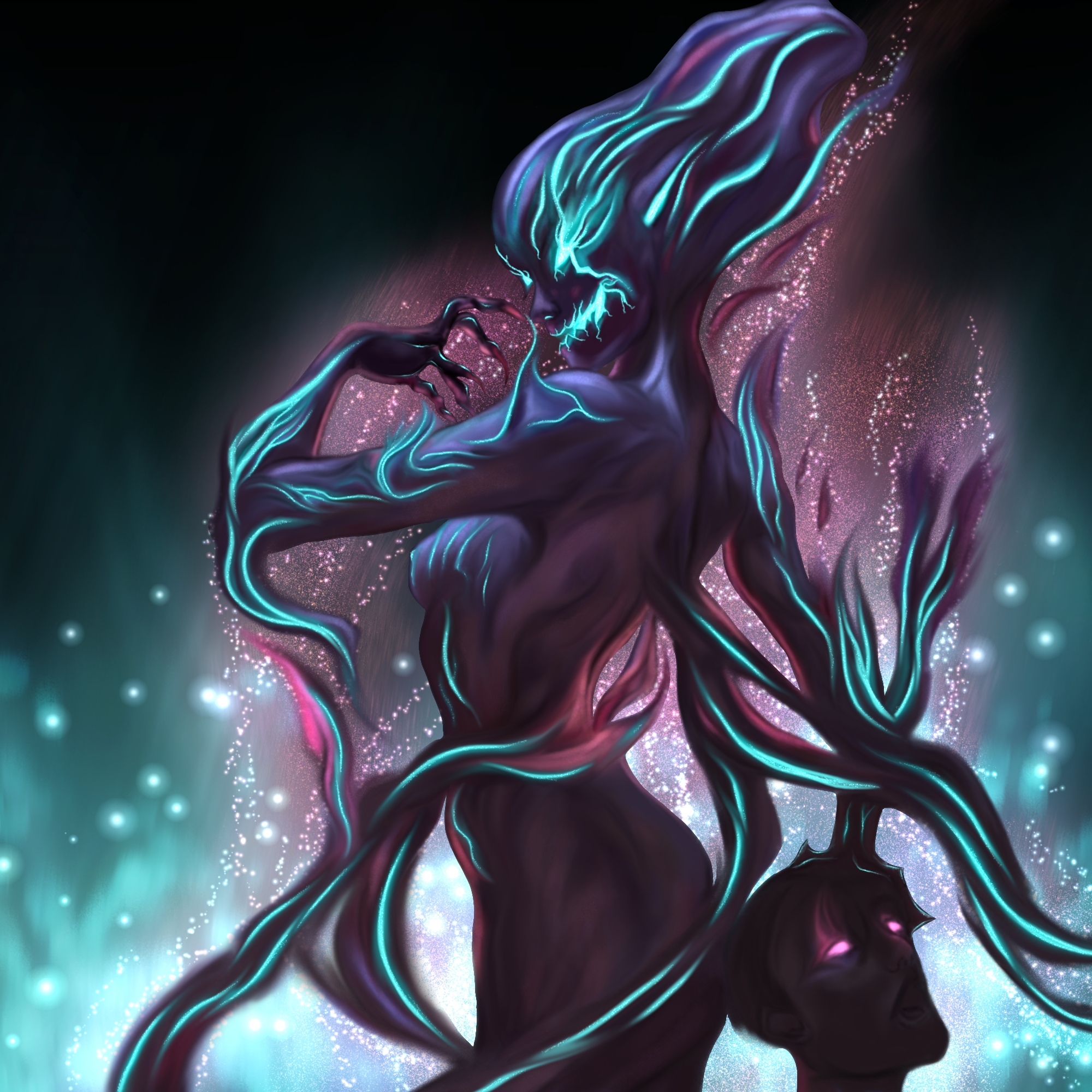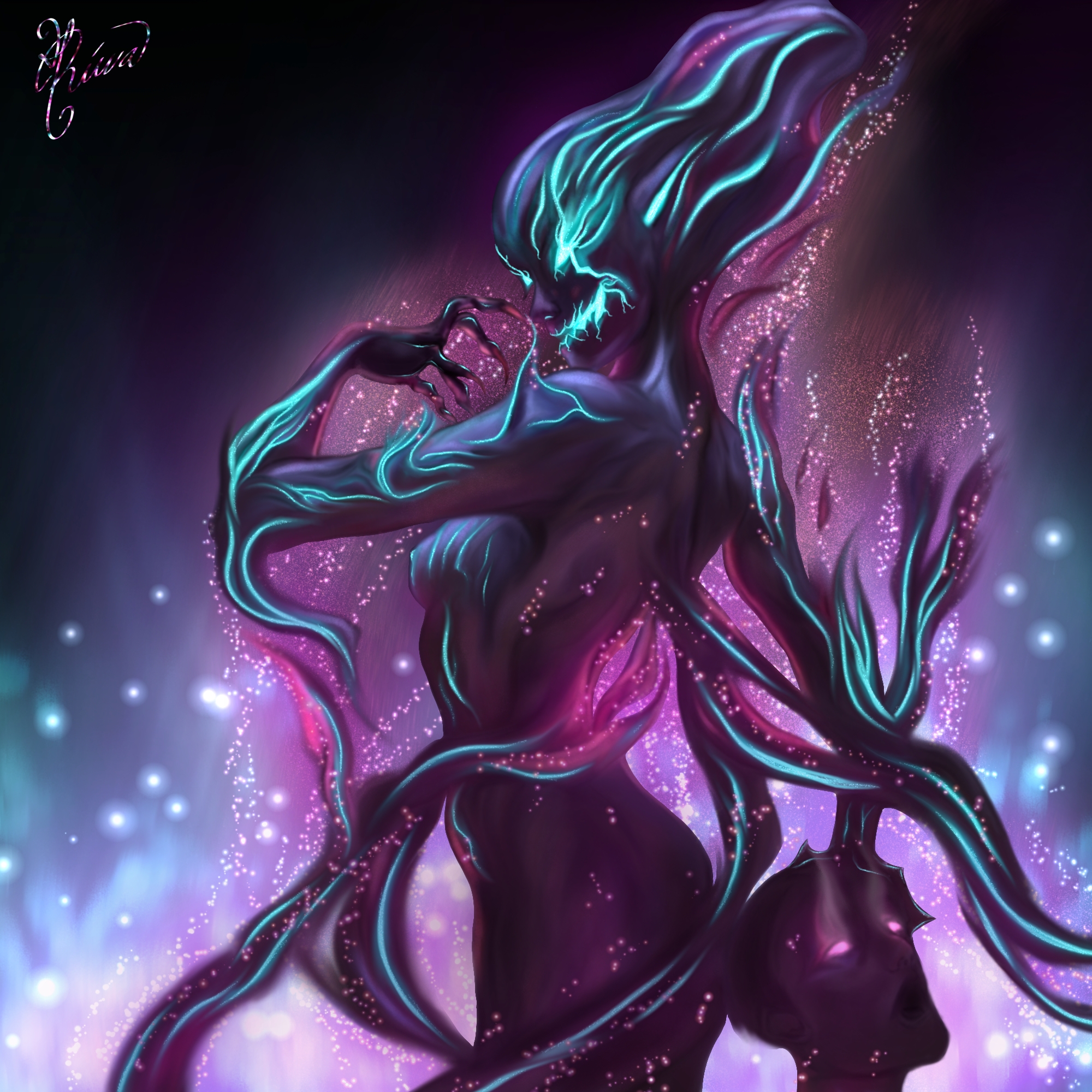 Herramientas usadas/Used tools
Tablet Android
Ibis Paint X
Traductor Deepl
Servidor de imagenes Imgbb
Dactilopintura digital


Fuente de inspiración/Source of Inspiration
https://es.idcgames.com/legends-of-runeterra/noticias/evelynn-llega-junto-a-la-versi%C3%B3n-3.11.0-2022-07-21-09-25

HASTA EL PRÓXIMO POST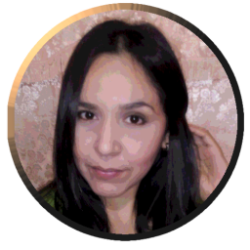 Detenerse es retroceder
To stop is to go backwards
---
---