Splinterlands; BATTLE MAGE SECRETS Weekly Challenge! AIMLESS
Hello splinterlands gaming lovers!
This is my weekly battle share challenge submission with the theme AIMLESS. This battle ruleset is also known as scattershot.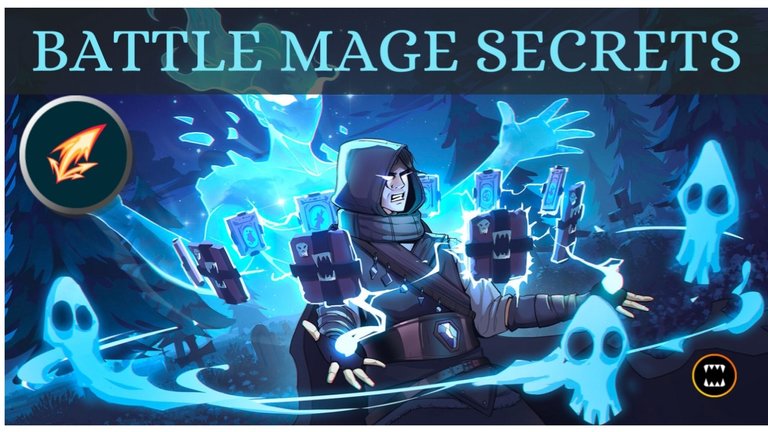 https://splinterlands.com/?p=battle&id=sl_b1ffa667f214dedcd82ef9a2ed5273ac

You must have hard about a fire summoner Conqueror the Jacek that has a similar ability. I like aimless battle ruleset very much because the role of Taunt ability Monsters fade away in this battle ruleset.
Recently I enjoyed a lot this battle ruleset by using Chaos legion* Edison Summoner Conqueror the Jacek. I always prefer this summoner in blast battle ruleset because it provides two speed along with piercing ability.
I was looking for a battle with which I can make a post but I have to wait a lot and have to play so much battle after that I get this battle rule set.
AIMLESS (scattereshot)

This is my favourite ruleset in which all Ranged and magic monster target randomly to the opponent's Monsters instead of Taunt ability Monster. Really this is a good feature that reduces the impact of Taunt Monsters. There are couple of monster that have such ability including summoner Conqueror Jacek.
MY SUMMONER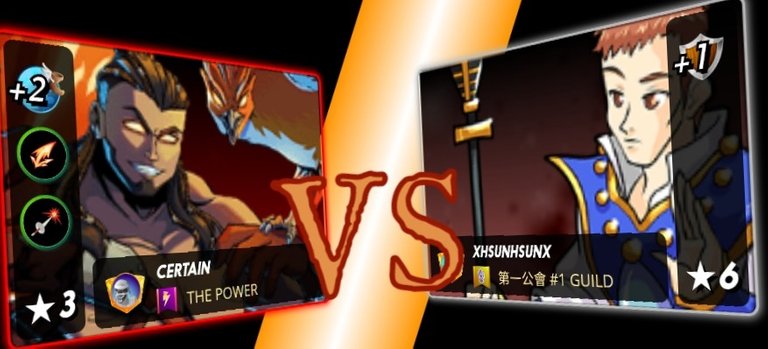 Sometimes our strong side becomes our biggest weakness. Likewise I like to use maximum Stun monster in this battle role set with the combination of Conqueror the Jacek. There is a single reason to use Conqueror the Jacek with Stun Monsters to use it's two additional speed so that my team can attack first and Stun them. Sometimes I got defeat with this combination because I use low health Monsters in such battle rule set.

BATTLE RULESET

Of course I was playing with aimless battle rule set but there were two more rules applied in this gameplay. It means 3 battle ruleset in a single game.
STAMPEDE
It means Trample ability can be Trigger multiple time in every attack if Trampled monster killed.
AIMLESS
According to this battle ruleset all Ranged and magic attack Monster gets scattershot ability in which they targets their opponent's monsters in a random way instead of their actual Stats.
FURY
This battle ruleset is also known as Ferocity battle ruleset in which all Monsters double damaged to the Taunt ability monster.

TEAM SQUAD AND CARD PLACING
It was 43 Mana battle gameplay and there were four splinter Life, Fire, water and Earth available to use. I was battling with Aimless, Fury and Stampede battle ruleset. My priority was speed and Stun. One front monster Neutral Legendary Monster without attack in the form of Lord Arianthus. Two Monsters Djinn Inferni and Technowizologist with Magic attack having Stun ability. Rest four Monsters with Range attack including single monster Lava Launcher with Stun. To support Stun I was using single card with Knockout ability in the form of Scavo Firebot. It was my team combination that I was using for this Battle against strong opponent.
LORD ARIANTHUS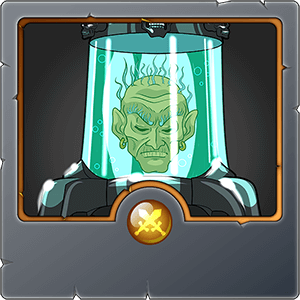 Maximum time I use this Legendary monster in any battle ruleset . I placed this Monster at first position to use it's Magic Reflect ability . This is a **Neutral Legendary** monster with **Void Shield, Void,Thorn and Magic Reflect** ability. This is a monster without attack but everyone knows that it's utility is great. This is a long lasting monster with strong resistance. No doubt this is one of the most useful Monster without attack. This is a perfect choice at first position in front of any kind of attack.
LAVA LAUNCHER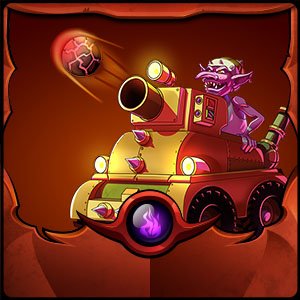 Lava Launcher is a Ranged attack monster with pretty good attack. I placed it second position because of it's **CLOSE RANGE** ability. This is an `Epic Monster` from Fire unit. I was using this Monster especially for its **STUN** ability due to WEAK Magic battle ruleset. It's pretty good armor always be extra bonus for team. At level 5 this `Epic Monster` provide **Close Range and Stun** ability. It's Mana cost is 9 and it's health is little less. In Equalizer battle ruleset this monster becomes double blessing. Whenever I have to play in high Mana battle ruleset , surely I try to seek possibility to choose it in battle squad.
DJINN INFERNI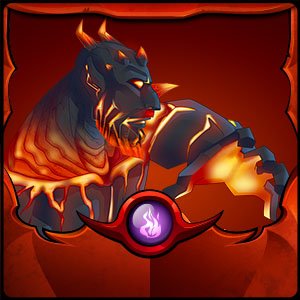 This is my favourite one **MAGIC** attack **Epic** Monster from `Fire` unit that I placed at third position. Its Mana cost is 7, attacking ability and speed is four. It's health is just 4 at level 5. It is also comes with **STUN** ability. In Aimless battle ruleset Stun ability always play an important role. **GIANT KILLER** is another specific ability of this monster. Although there always be fear with opponent's opportunity monsters due to it's 4 health. Rest of the thing is fine inside this monster. Mostly time I use this monster because of its Stun ability..
TECHNOWIZOLOGIST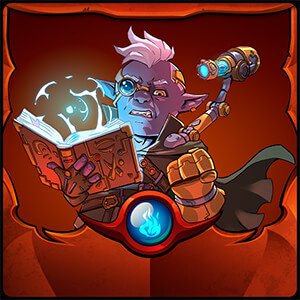 This is really an impressive `Epic` Monster from `Fire` unit. I was using this Monster because of its **STUN and FURY** ability. It was Midrange Mana Battle game ruleset so there was possibility to use Taunt ability monster in this battle by opponent.Three magic attack is like a bonus. Such Monsters always be effective in **Knockout** battle rule set.I placed this Monster at Fourth position.
SUPPLY RUNNER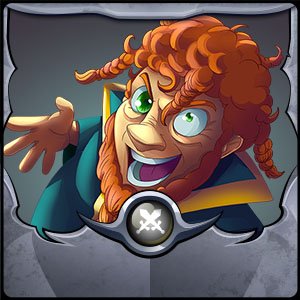 Likewise I like to play with maximum Neutral monsters. No one can imagine the existence of healthy battle without neutral Monsters. **Supply Runner** is also one of them. This is a **Neutral common** monster from **Chaos Legion** edition. There was three reason to use this monster. First I wanted to use it's sweetness so that I can get additional speed and second its pretty good Range attack and third it's 5 speed. It's Mana cost is only 6 and health is little less only 5. It is an useful monster especially in aimless ruleset that provides chance to attack first.
SCAVO FIREBOT
This is 4 Mana **Rare** monster from Fire unit. This monster comes with 3 Ranged attack and 4 speed. In four level it's health is enough that is five. I was using this Monster because of it's **Knockout** ability. I was using Three Monster with **Stun** ability so it's role was going to be important for this battle. Unfortunately this monster got a single chance for attack. In second round it got damaged by **Silvershield Assassin**. This very useful card especially in little League battle ruleset.

YOU CAN ENJOY VIDEO FOOTAGE HERE

HERE IS SOME GIF BATTLE FOOTAGE HERE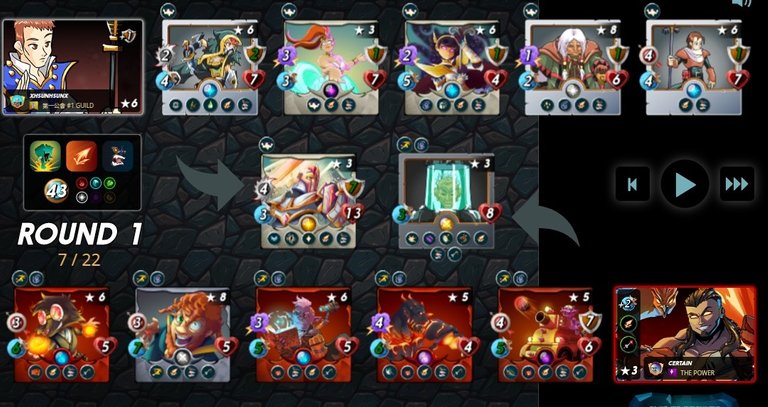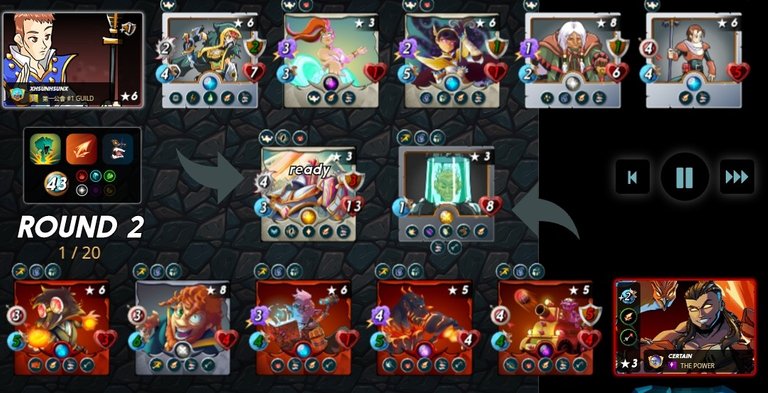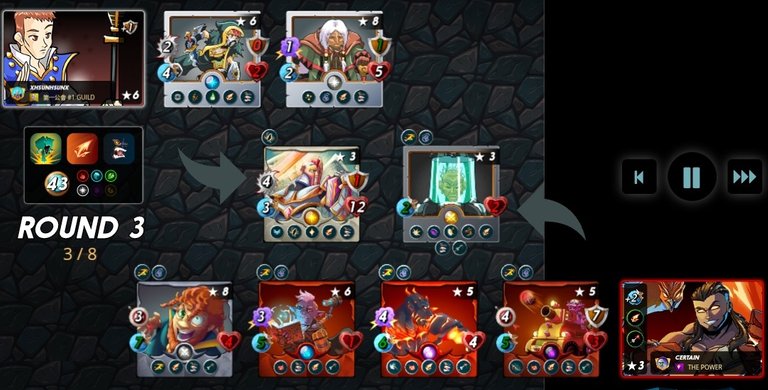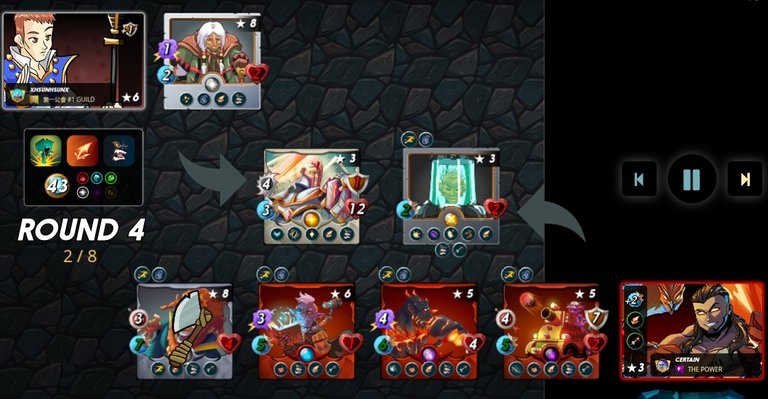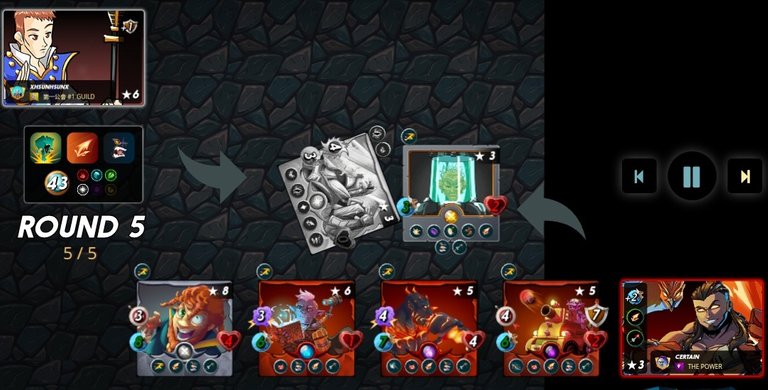 DO I LIKE TO BATTLE WITH AIMLESS? WHY OR WHY NOT?
To be honest I always like to battle with aimless battle ruleset and sometimes I use Conqueror the Jacek a fire summoner to use this ability. Mostly I use this battle setup when I have to battle against strong opponent in blast battle rule set. I have seen many players using Taunt ability legendary monster in high Mana battle rule set. With aimless ruleset Monsters with range and magic attack do not target taunt ability Monster rather than they attack in randomly.
DID MY STRATEGY WORKED WELL? WILL I TRY DIFFERENTLY IN NEXT TIME?
Needless to say it was my plan to use maximum Monsters with Stun ability by using summoner Conqueror the Jacek. I wanted that my team attack first so I chosen this summoner because this summoner provide two additional speed. Beside it I was using one more monster with additional speed ability in the form of Supply Runner. You can see it was the impact of stun that made helpless to the strong opponent and I won this battle by losing single Monster from my side. Thus I can say that my strategy and plan worked well. Yes I will made some change in next battle according to the battle ruleset and availability of the Splinter.

●LOOKING FOR OPPORTUNITY? to participate in this wonderful gaming platform, then check out the original post from splinterlands**-
https://peakd.com/hive-13323/@splinterlands/battlemagesecrets-3-15-2023
*And can also use My referral
https://splinterlands.com/?ref=certain
Join me on twitter
TWITTER
DECLAIMER
All images, gif, photographs are not mine, it is taken from creator's post and games website Here-
PS- images edited with pixelLab/vfx app
And all images are taken from Here
It is taken just for post purpose..
Thanks for your valuable time..
Keep On Battling
Have a nice day..


---
---