Dcity Marketplace: An new Perspective to Playing | With Marketplace Advantage Discovery
Dcity is probably the most realistic City Simulator out there, I say probably because I've certainly not played ALL city games that existed. It has been created so fabulously with special Cards that make a lot of sense because those are the real way the world works; no sugar coating, no unrealistic sci-fi themes (I just remembered SimCity Buildit, great game). If you don't know OR Do not Play Dcity Blockchain Game, here is your chance to learn about it;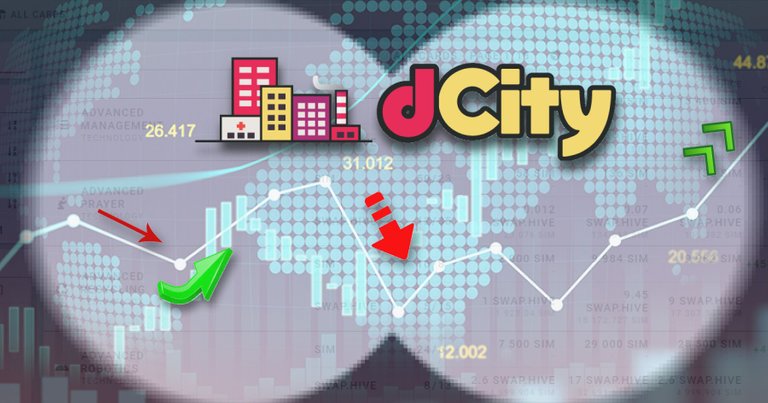 Dcity is a City Simulator game Built on the Hive Blockchain. In Dcity, players can purchase Cards that mimick real City life functions, Cards are of either Real, Abstract, and Inanimate Objects, going from People, Workers, to Building and Professions. The goal is to create a Profitable Thriving City by Balancing Elements and Generating Income from your City. The Earnings in Dcity is probably the hardest to understand because a lot of variables are constantly making it a random property. Dcity goes as far as implementing Presidency, Governance Distribution, Tax, and Shares from the Economy.
As much as the above introduction covers the summary of Dcity, it might not be able to get you fully started with the Game and that's all right because that is not the focus of this post. If you are aimed at getting started, read this post then feel free to visit my other posts which highlight some helpful points to note as a beginner, and with that said let's continue;
Why do I say such summaries cannot get you started? Because I think that Introduction Posts can be Ultimately Useless when the User cannot foresee the challenges that lay ahead in the game (Lol, this sounds like great Business Speculations for an Ordinary City Game), In our case, (Dcity) requires a lot of patience, and with a perfectly detailed introductory failing to portray just that, it can ultimately be ineffective for New Players resulting in loss of Interest as I experienced.
You Might relate to the following;
I've been greatly challenged by the mechanics of Dcity as a game, and usually, these kinds of games don't cause me many problems, out of pure curiosity, I focus time on them and work it out. But this one posed as more of a challenge, and over time I outgrew the game. It's that moment when you want to do something, but time factors and income evaluation don't make you proceed with it.
More than a month later, I'm back and ready to figure out where the obstacle impeding my growth was lying(Another advanced observation for just a City Game). Perhaps, I was looking at it from the wrong perspective all along? Applying an approach that has been successful with other games on a slightly more techno-random game?. Let me explain; Blockchain Games has introduced the Fun exercise of Players forecasting/calculating their earnings and growth by a future time, and this was no exception for me - I did the same for Dcity and I failed. It turns out you cannot properly forecast earnings/growth in this game because it isn't linear.
Cool, a game that operates just like Real Life, I'd so love to play something similar with improved UI, and 3d Graphics in a Metaverse world like Gamestate. But Let's Continue
By changing my perspective, I'm accessing other elements of the game that wasn't considered before and I've decided thoroughly to go with the flow, even if I'm not satisfied with my analysis(Because well, it's a Random world)
If you have been having a challenge with Dcity, some of the following should come in handy, so take a dive;
Dcity and the Market Advantage
The first thing that was nudging in my mind was Dcity Marketplace, Because of the Over Technical Looking Design of the Market Boards, I have tried to spend as little time as possible in the Market by just getting the cards I needed and clicking off. This is in complete contrast with (as I've noticed) Splinterlands internal Market place which is gorgeous and I can accurately access(Or so I think) what is going on.
Until recently, I hadn't noticed this awesome feature of Dcity, I'm gonna call it Market Price Indication, which shows you the relative price difference of a Card now and past/history. You can literally see how much a card has risen by or fallen by. And this is similar to a Discord channel I follow that updates you regularly with Splinterlands Card price differences that you can take advantage of. But one thing was very Clear - DCity's prices were in huge Jumps, there were ones of 5% and ones of Greater than(>) 400%? How crazy is that? This was the First Point that Ignited my interest back in the game because with this, I could shape an advantage for faster growth and investment.

Why do we need the Marketplace for Progress
Like I was briefing at the start of this Article, Patience is the Most Important Factor in Playing this Game. Unlike other Games on Hive that are more active and instantly Rewarding (Splinterlans, Rising Star), Dcity might not be the case for the majority of players. Depending on how you choose to play the Game, Because you can either Invest Right Away (Purchase lots of cards), Invest Slowly as Funds Come to You(My Initial Plans), OR Use Assets Available to Invest Stargtegically and Grow Faster (This is where the Marketplace Comes in). It has a much more long-term growth attached to it, and now I realize what adamda meant in his Dcity Post I read late last year (September I think) when he hinted that it's better to Play Dcity for the Fun and Noting Else because it's Harder to Grow otherwise.
Therefore this has become my NEW approach,
Play Dcity without Earnings in Mind for the Next Six Months.
Taking Advantage of the Marketplace, and not just Purchasing the Cards I need (at what its market price stands at),
SO I can have an advantage in growth.
Buying Low and Selling High
The Marketplace is an Advantageous Tool to watch, but how do you execute this?
By Buying Low and Selling High - This Maxim Can sure be misleading because there are a lot of questions that come along with it; For example, How do you know when is Low OR High?
In most cases, You miss the Tipping Point on the Highs and Lows!
But, a simple approach that would lessen my anxiety greatly would be to; Watch for Averages, At least 2 weeks price Averages upto 1 Month, and even as far as 2 months - But not too far back considering the Data of the game is Dynamic; For example; Increase in Players could lead to Increase in Card Prices - so waiting for a Steeper Decrease that would not surface would be plain error analysis.
This way I can more accurately tell if buying at a certain price would actually be profitable in the long run.
Roadblocks immediately Observed
When I first observed this new perspective to look at Dcity and my long-term progress in it, I was very much excited. To Plan the execution process (for example) I wanted to map out what my possible Gain(if Any) would be by doing this. And that's when I noticed the first Obstacle, In my excitement, I hadn't considered this flaw; When there's such a jump in the price of a card, many of the bidders do not buy at this price, and stand their ground on the average price that card was selling for. For instance, long-time players who know this game very well wouldn't fall for a sudden increase OR Decrease in the Price of Cards as they are very accustomed to the market and as such, the highest bidders were usually still way below the current escalated price of the card.
Like every Market that is, What goes up must eventually come down at some point. So by executing this strategy, don't expect to see immediate gains (is what I told myself).
The Plan Going Forward
What remains of my Plan? As seen above, the Market Advantage is something that anyone can make use of, One flaw is that it might not fetch you large amounts of profits to re-invest (as is my plan), but it should make me grow (all the same) faster. Because, even after a sudden increase in price, the Market still tends to bid higher than the previous price even if just slighly, In other words, there's still gains to be made by selling or buying(in an inverse situation of course) after the jumps in price, but lesser than what my initial (human instinct) observation was.
Furthermore, many bidders purchase more than one card of the same type so think of it as compounding gains. Therefore, my strategy remains;
I would buy cards, scale my Sim income, Increase my sim power, take advantage of the Marketplace, Whilst NOT think of my Earnings or Gains. I believe that this is the way to conquer Dcity( yeah still a game)
I hope you had fun reading this short post on my current Analysis, the strategy going forward with Dcity. I certainly enjoyed writing it a lot, and let me say it has rekindled my enthusiasm for Dcity. Why I also like Dcity is because it's can be played passively, I want to make it my goal to check in on my City Every 2 days and we can take it from there.
Thanks for Spending time with me once again,
Chel_
---
---