Splinterlands Art Contest Week 224 - Tenyii Striker!

Hello, Alien Art Hive!
I have been seeing posts and drawings from @maxwellmarcusart joining the Splinterlands Art Contests in his blogs. And I thanked him for that because it motivated me to try and make my own version of the amazing characters of the game.
Now, I am happy and proud to share my very first Splinterlands Fanart. The making of this artwork is a challenging one because I based it from two references. I never tried mixing up two references into one before, and I am glad and proud that I was able to make it now because of this weekly contest. Maybe, this is just beginners luck or maybe I really efforted in this one.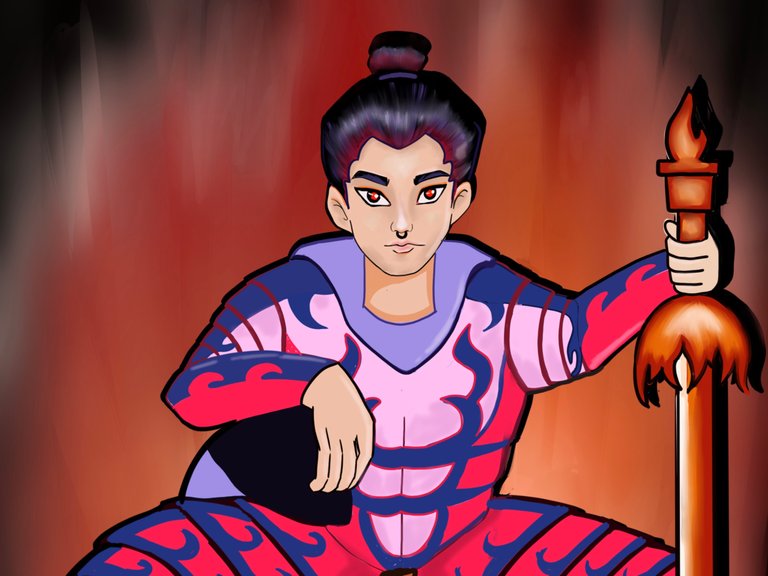 ---
Tenyii Striker
---
I chose to paint Tenyii Striker among the rest because this character caught my eyes first. I know nothing of the game but I think this character is a good performer, he looks like a deadly assasin or a good fighter. I like the angry-look on his face on the original splinterlands art because it seems like he is ready to kill anytime.
But in my painting, I want to make him look like a charming bachelor or to make him a pretty-looking fighter just like the main characters in movies.
So, without further ado, here is the process of creating this artwork! I hope you will like this art piece. If you have any thoughts about this art, or anything related, please do not hesitate to ask in the comments section. Enjoy!
---
The Process
---
If you prefer the video timelapse of the process, you may click the #3speak video.

Royaty Free Music: https://www.bensound.com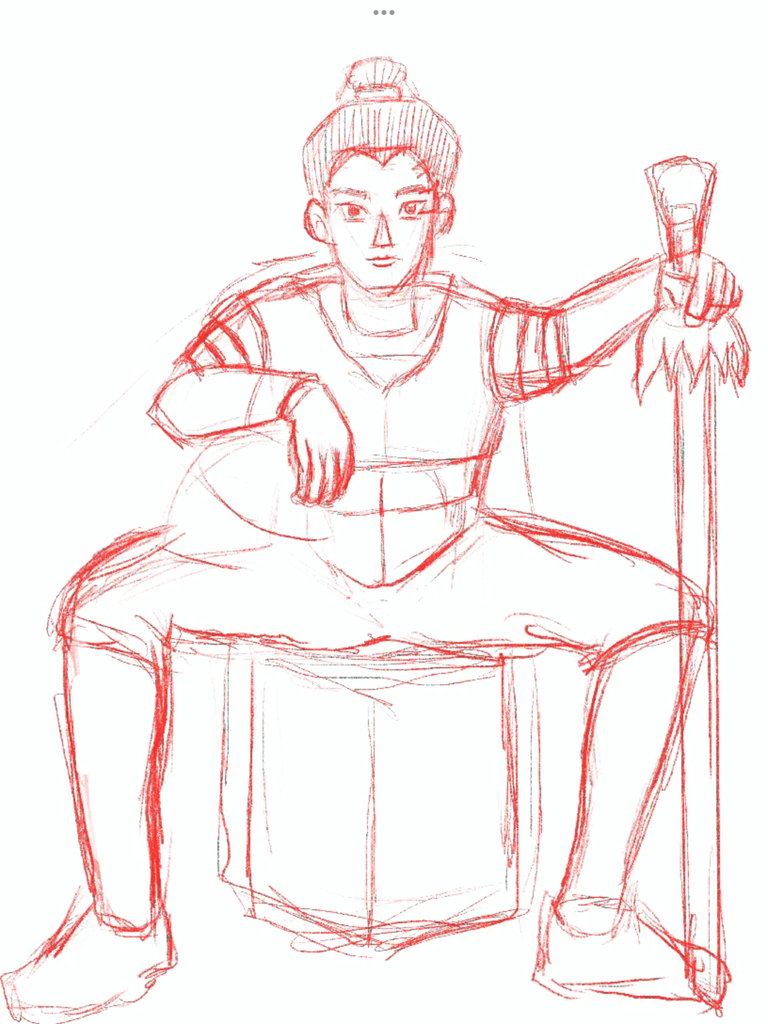 The first thing that I did was to sketch the whole subject. I used grids or drawing guides in the procreate app. In making this sketch, I used the first reference in creating the character's pose and form. I do not want him to be overly muscular because I think of him as an assassin who moves so quickly like ninjas.
---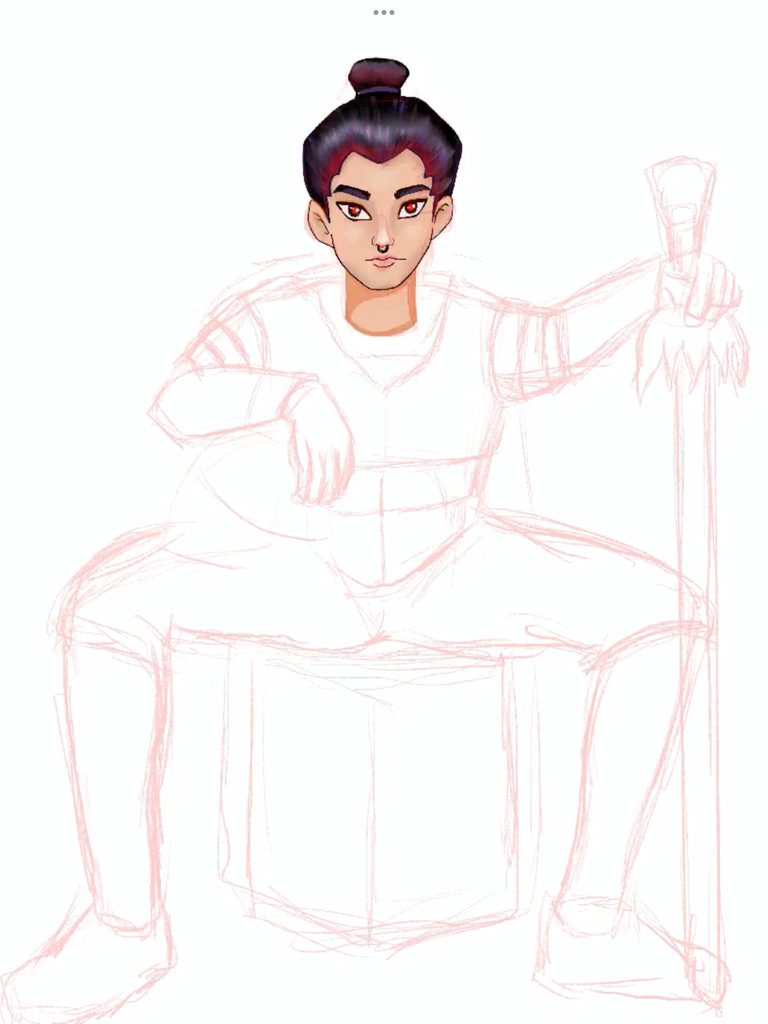 I proceeded to paint the face and hair carefully using brushes I bought online. I was happy of the results because Tenyii Striker turned out to be charming despite the fierce in his eyes. I did not forget to add the nose rings which can be seen in original cards.
---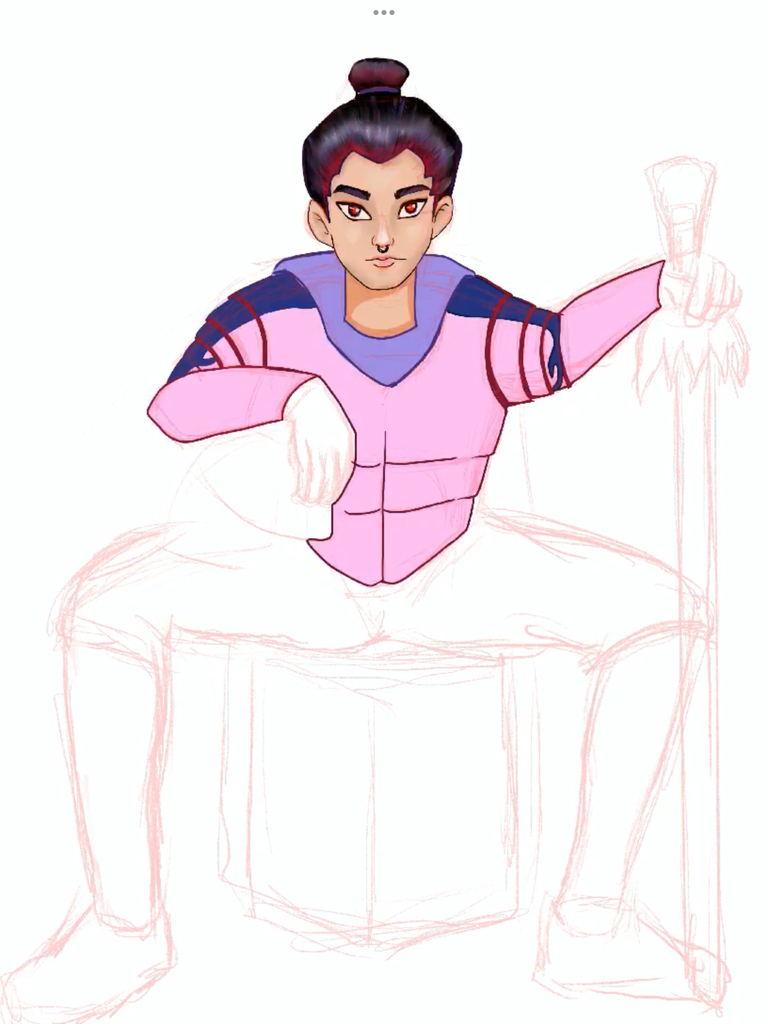 Then, I started working on his fighting suit. I think I should have worked more on the left arm to make it more realistic. I also tried my best to copy the suit of Tenyii Striker. I use the dropper tool in procreate to copy the color, but this was what I got (but I think the color combination looks cute).
---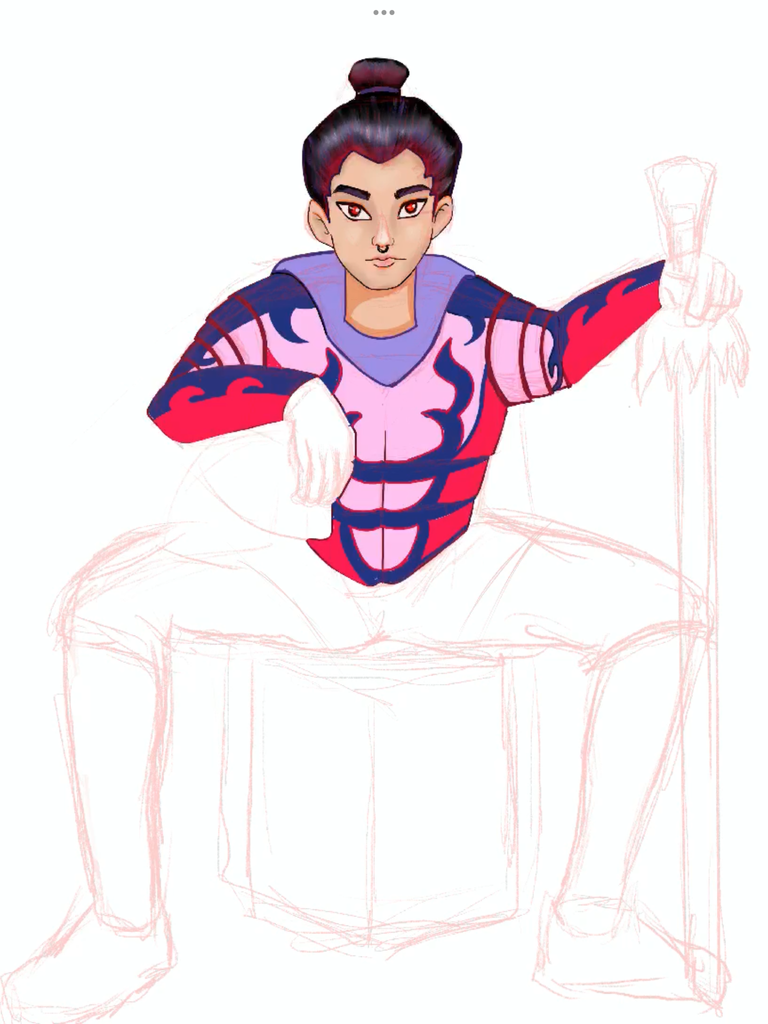 I added more elements and details on the suit to make it more beautiful and convincing. I really used my imagination to be able to come up with this.
---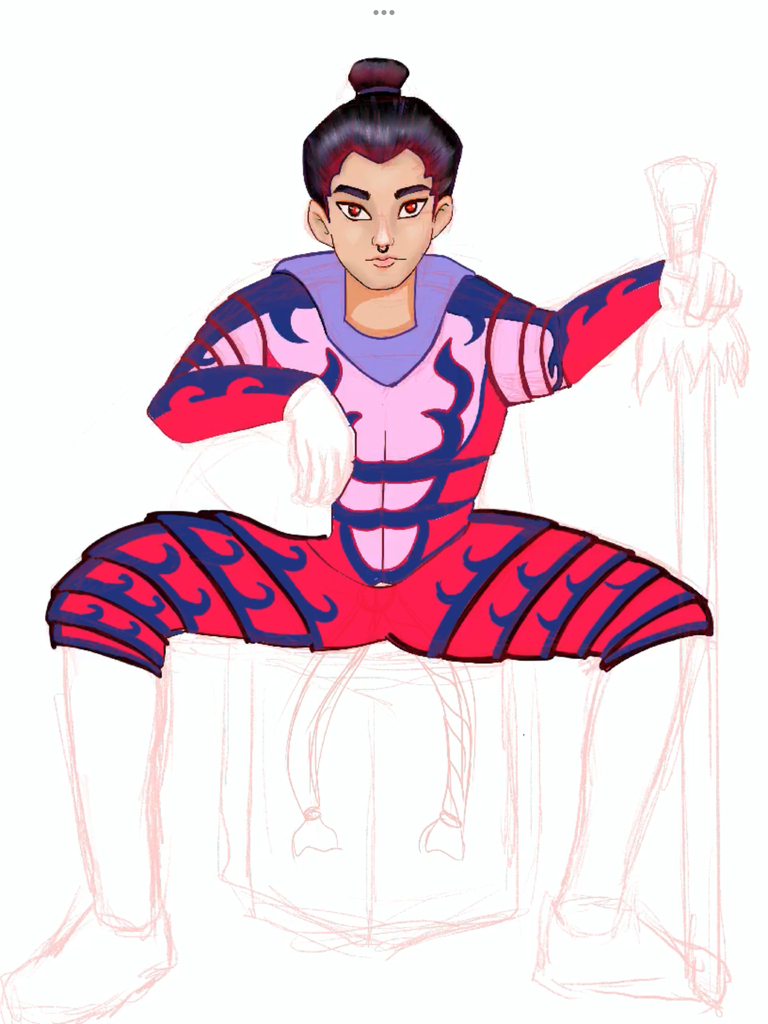 I also painted the lower part of the pants using a blue-wave design. I liked how this one turned out. It makes the whole suit look connected and one.
---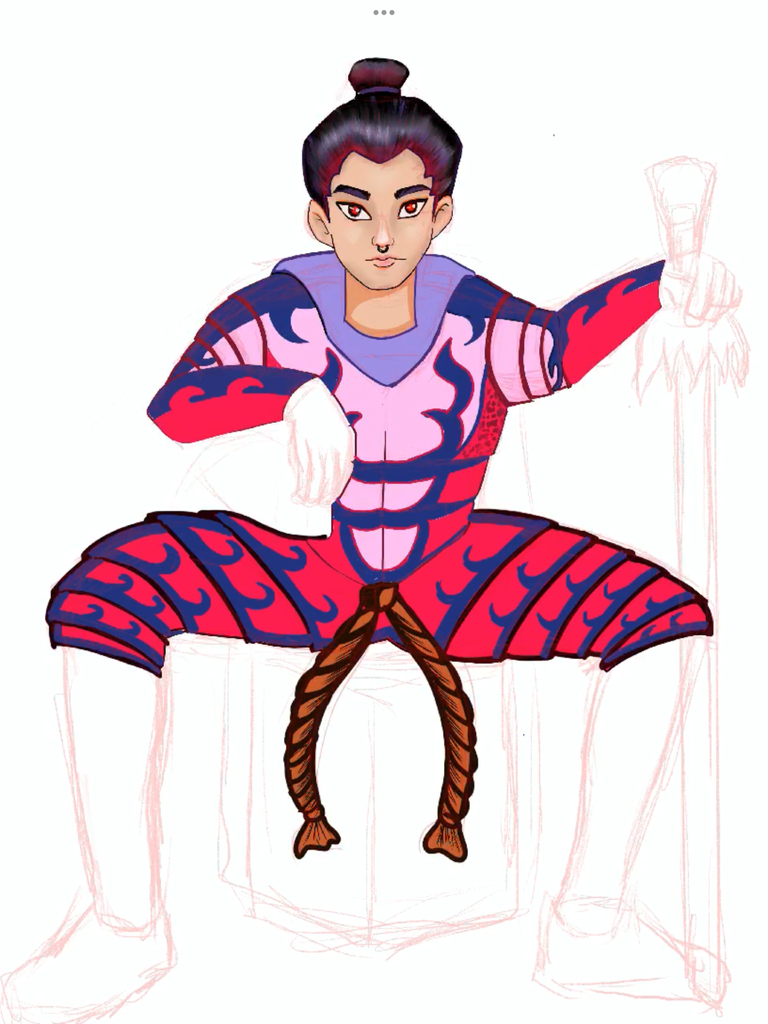 Next step was to add the belt which looks like a rope. I did not exactly want this one to be added because it looks awkward but since the original Tenyii Striker has this one. I had to put it here also.
---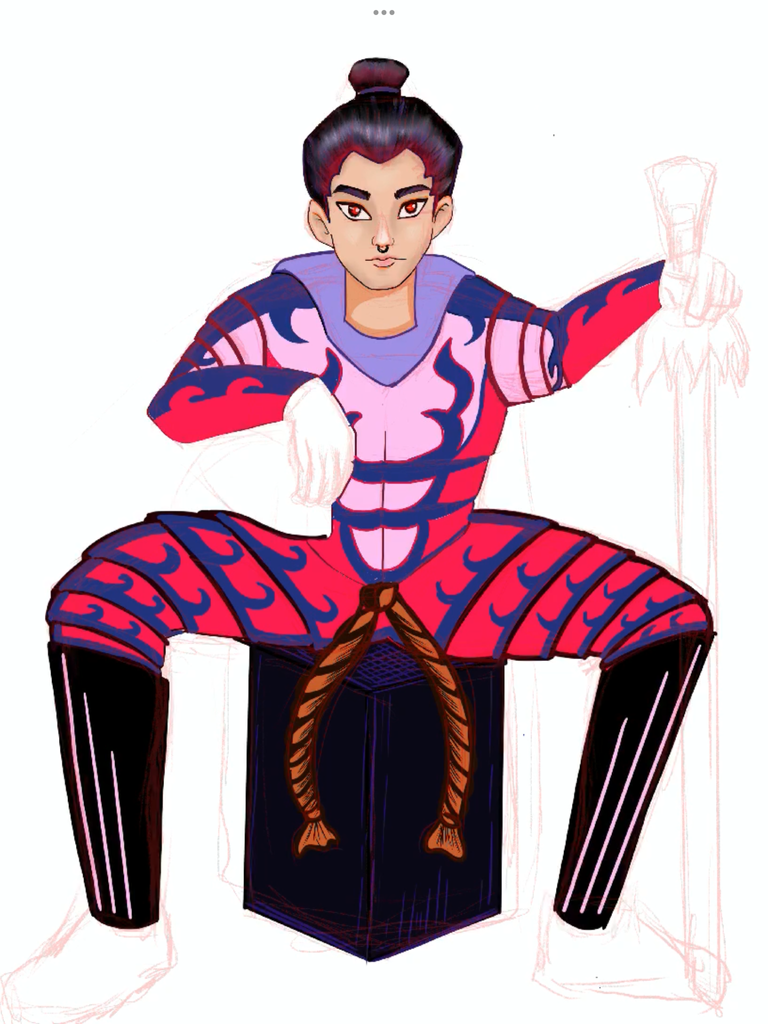 After that, I painted the bench where Tenyii Striker is seated. I originally planned to make him sit on a Prince Throne but I changed my mind and decided to keep it simple and not complicated.
---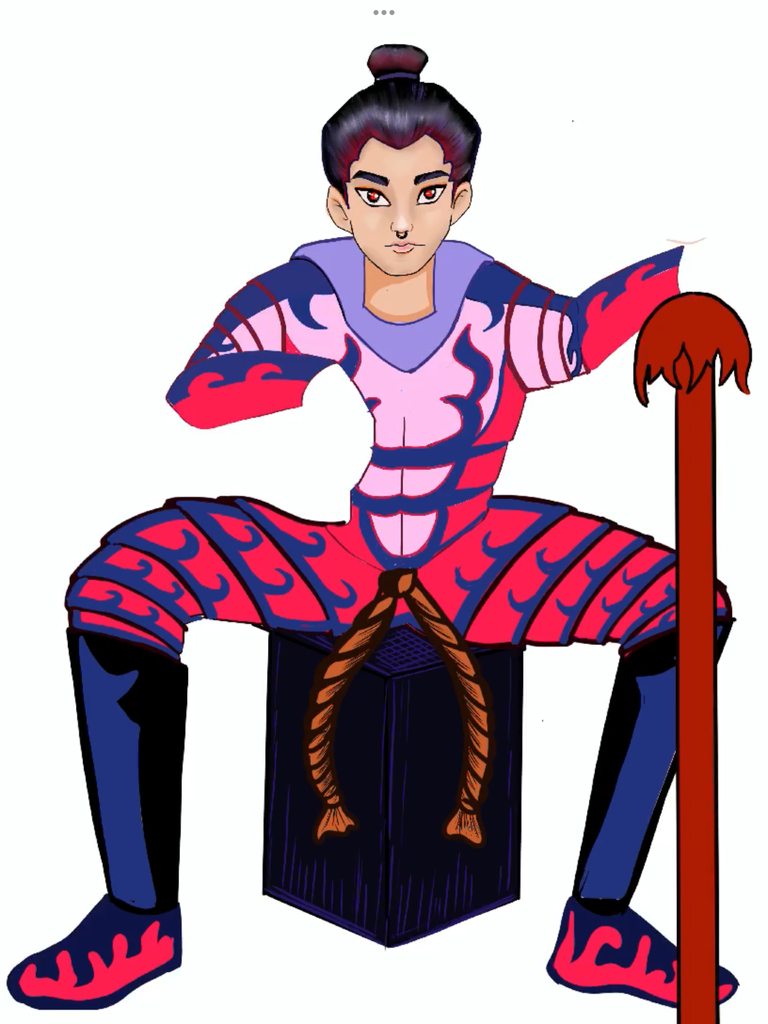 I did not like how the boots designs turned out so I changed the design. Doing this part of the painting was very challenging because this part of the body is not included in the original splinterland character. I also started adding his sword here.
---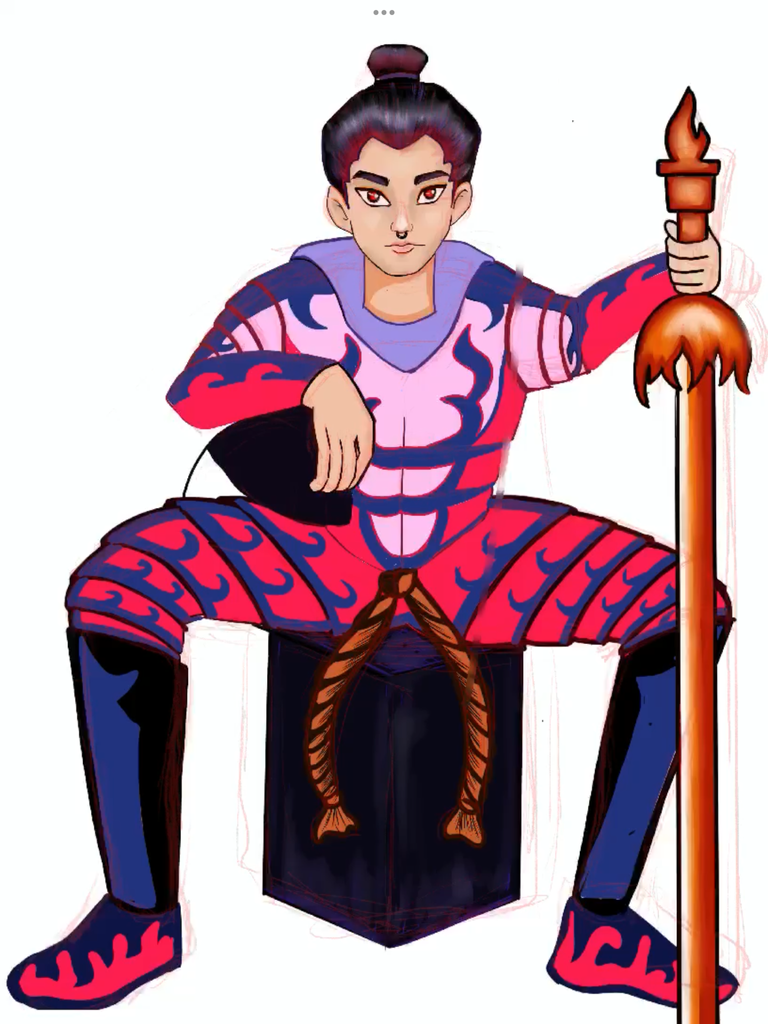 I designed his sword to be like a flame or torch in the handle. I wanted to have a personal touch in this fanart also. I also added a helmet here because that is an important gear for a warrior and since the other reference was also holding a helmet.
---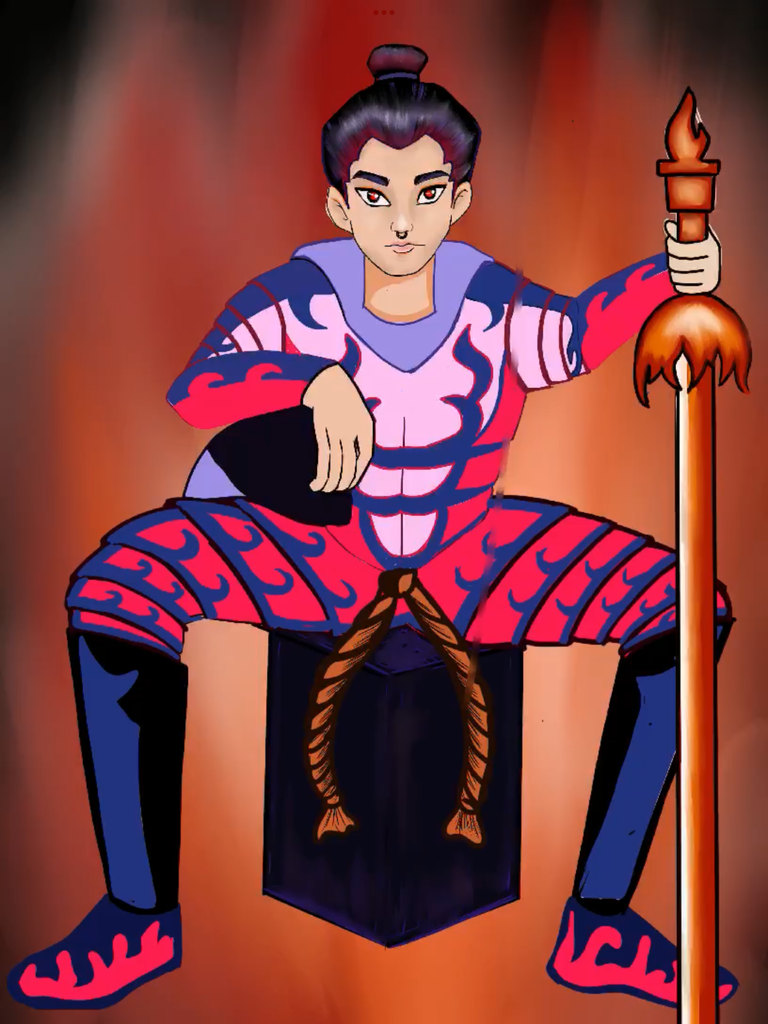 Then I added the background, I wanted to make a flame backgound because I thing that is the theme of this art. I did it by using black, red, red orange, orange, and yellow. Then I blended all of these colors.
---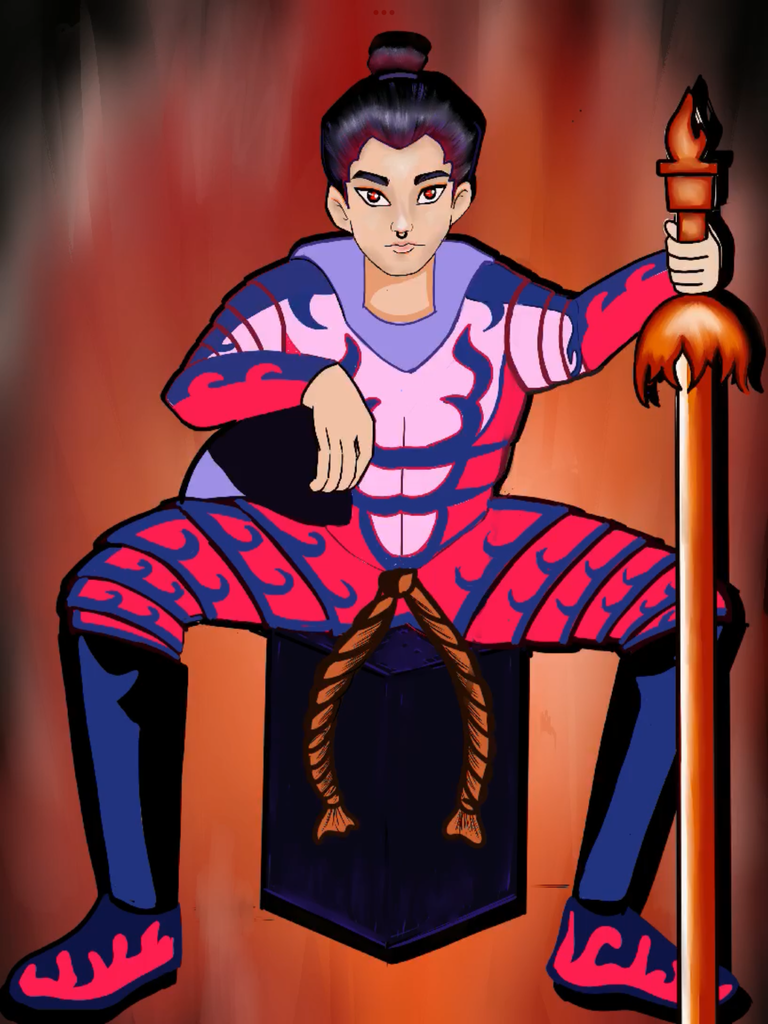 Finally, I duplicated the whole painting of the subject and turned it to a solid black to make a shadow effect. As for me, I really like how this looks at the end. Although, I had no experience in mixing up the elements in two references, I was still able to cope up with this. That is a win!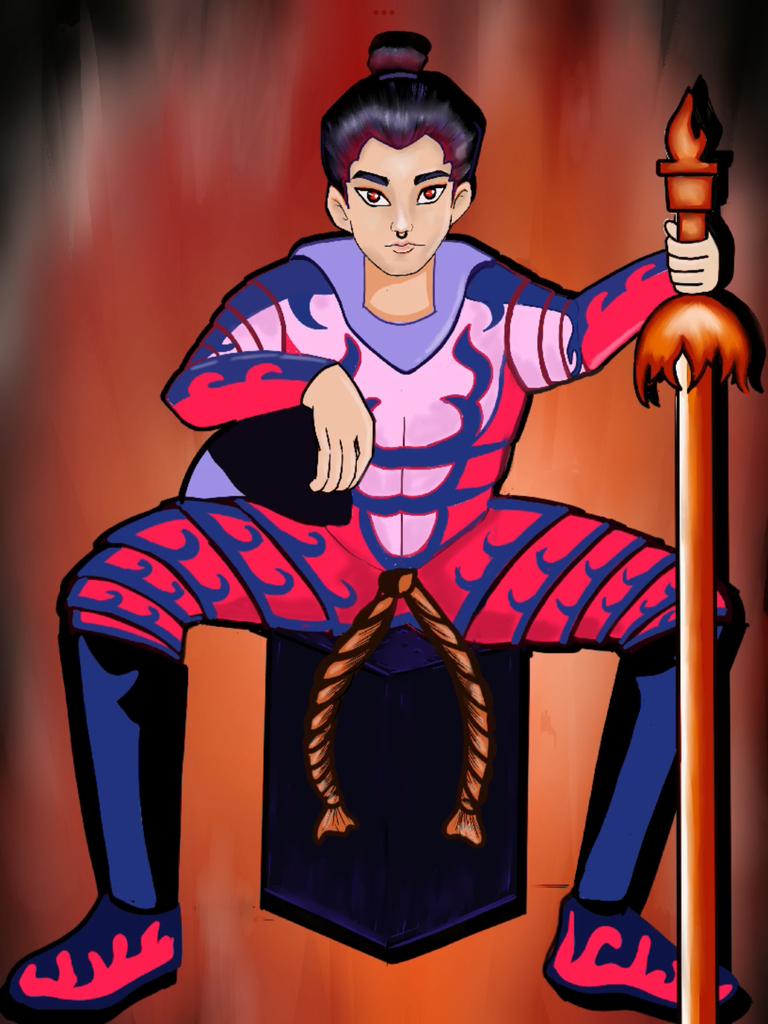 I really hope that you like this one too! Please feel free to share your thoughts! I would greatly appreciate it! Enjoy the rest of your day and thank you for dropping by. 😊
---
Final Output
---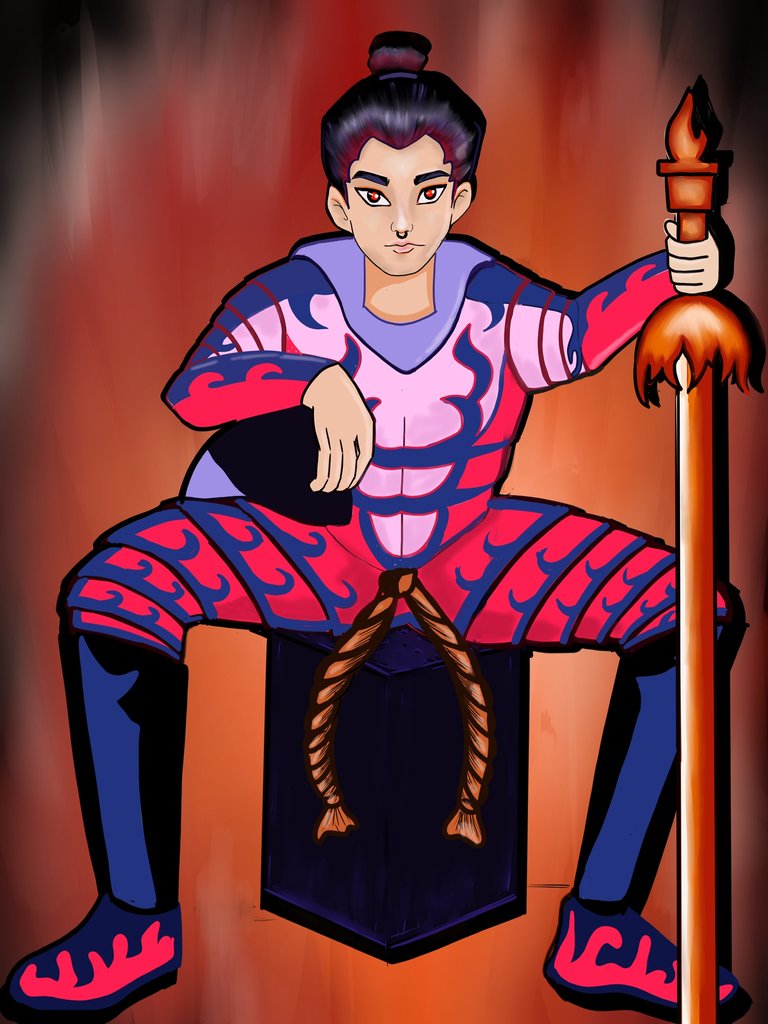 ---
---