24 Hrs Volume 1,534 HIVE ($1610.495)

In the sea of Red on the Hive-Engine there is a handful of coins taking the win, My coin is pumping nice volume in the past 24 hours.. its not a multimillion dollar project so chill, 1500 hive is decent.
With all this crazy market action Bitcoin touch 55k!! ohh heck yeah!! Altcoin follower BTC.. this also means Hive-Engine tookens and check out hive, it was booming last night. I guess it was due to some Brave ads going live.. Maybe.. Or it could well be the koreans with their unlimited $$.
Utopis is poping,

---
Utopis Dashboard got some additions to it, I made a post on it yesterday briefly wrote about it, thanks bala.
https://utopis.kanibot.com/hePayouts you can check your Hive-Engine rewards as well see them in Hive and USD..

With the tab on the left you can see the current tookens Utopis rewards in besides Hive.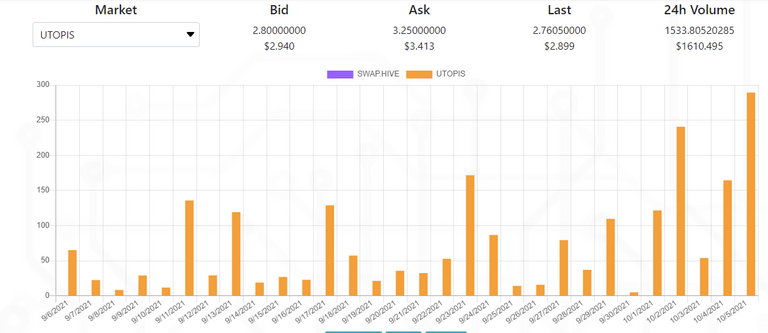 Some steady buying and selling here and there, this is being sold and bought way below the 5 Hive valuation. I suppose profits are key to growth in any portfolio, I praise the people the take profits and secure them in other assets waiting for that sweet dip to buy back in and double your holdings.. Washing crypto is the name of the game.
When the crypto world sees green Hive engine takes a beatin, which is awesome since we than get black Friday discounts even before Black Friday.
Over 1 Million* dollars in 24 hours Hive-Engine trades
Hive-Engine 24 Hour trading Volume for just tokens are way over 1 million dollars for the past 24 hours of trading... That's wild.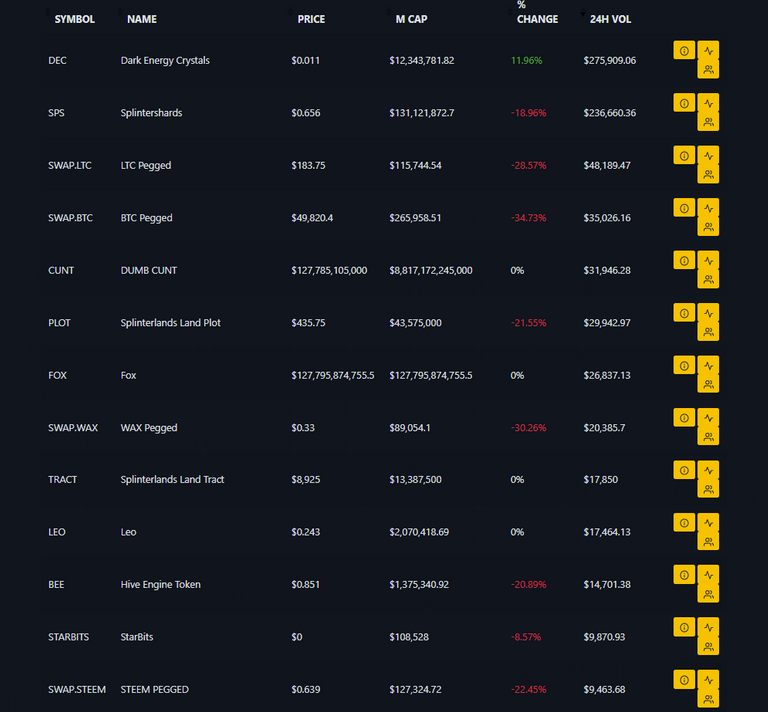 ---
Splinterlands
With all this volume it sure has to be big news for Hive. Lets hope we can get some heavy investors on board. With splinterlands killing the game with the most trading action at just over half a million dollars alone.!! That's not even the Card market... which is also an impressive number.
I pulled up the volume on it and oh man.. that is truly wild.
24H VOLUME: 68,916 sales / $215,372 that's a few sweet number considering people are buying and selling digital cards.. NFTS.. I sold a ton years back.. such a newbie move.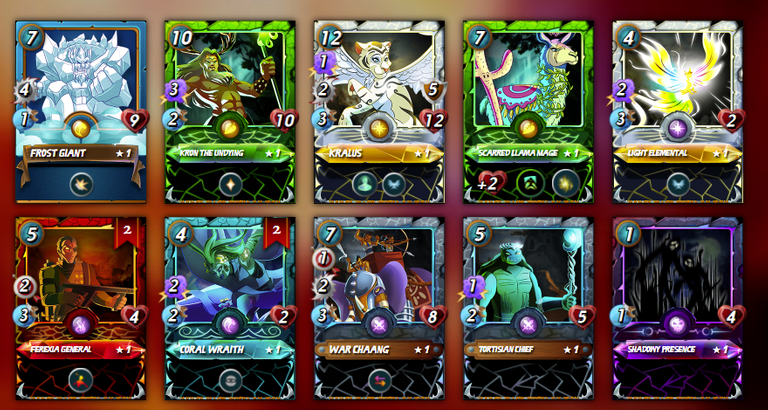 I fully purchased Kron and Lama... I bet was was ripped off but with the amount of wins and DEC I am earning and the CP for the SPS drop.. eh its a good deal in the long run. I was able to get some nice winning streaks and I am currently sitting at Silver Rank 3
Kron Purchase...

Lama Purchase...

I post about my Splinerlands goals on my SPT account @chrono.spt I post only about splinterlands on that account, with my updates and game play.
SO with all this action on the Hive Blockchain it is save to say that we can see High value numbers moving forward.. But gerber did say we can see hive back to .2 cents... Lets see take profits and when shit hits the fan buy up all the rounds.
---
Utopis Posts
Recent posts on Project Utopis
59,961 Utopis staked
Utopis Staked Bonus successful
Utopis Update
Utopis Staking Active
Utopis is valued at 5 Hive

It is hella cheap right now... no idea why it selling so cheap.... Considering Utopis is valued at 5 Hive


APR (based on most recent payout + Recent price of UTOPIS):69.27%
It's going to get extremely wild soon!
As I have always said this is only the start of what we can achieve. My first goal is to create an extremely bulky project extending to various projects all over HIVE with a competitive coin price that pays out outstanding dividends.
---
Tokenomics of Project Utopis
Total Hard Cap: 1 Million Tokens~
Total Burnt (null) 850,000
Total Minted: 150,000 and in circulation (80776.7836134) held by accounts, I currently hold 69,223.21638656
Current true* price of Utopis 5 hive, Market price is 3.5 hive
You can you buy Utopis on Tribaldex.
"Tribaldex is made by the same Hive-Engine Team"
Posted Using LeoFinance Beta
---
---