Dragon Quest to CP/DEC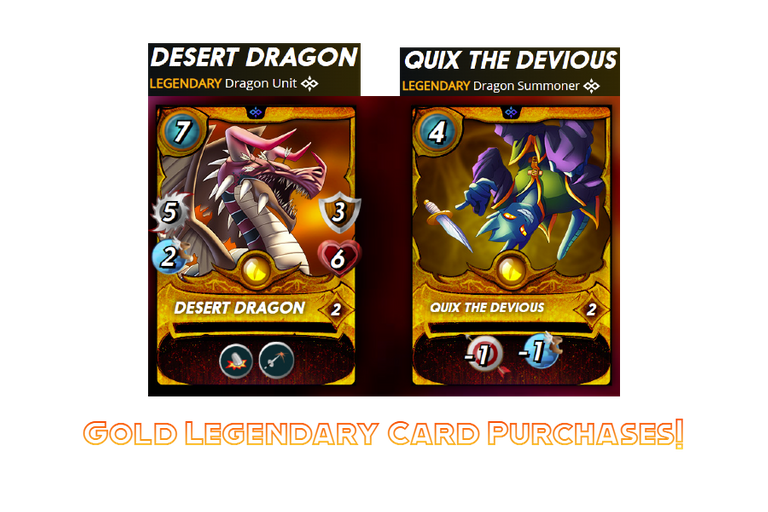 I was able to pick up some relatively cheap Gold Dragon Chaos Cards, I did a post on Dragon Collecting, Search for Chaos
I managed to pull the trigger after rounding about the idea of picking up some Dragon cards and now well now I was able to just pull the trigger and go some what balls deep err I mean aped in some cool cards and now only that put also the renting is good on these. Lets look below.


Quix the Devious
Now, The Rider of Dragons this card is also part of the Chaos Legion and this one is a good one as well, collecting this one might be difficult. What can I say but this mischievous creature has managed to control the chaos within these dragons to a certain point, until he reaches his full potential some dragons will be out of reach, but don't mistake him for a mere joker, he will turn and slit your through with that dragon Bone Dagger.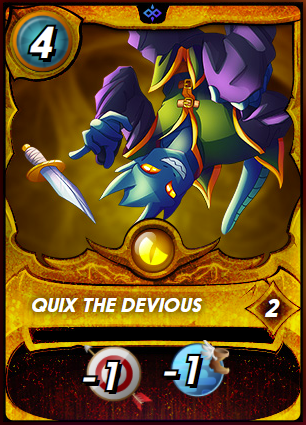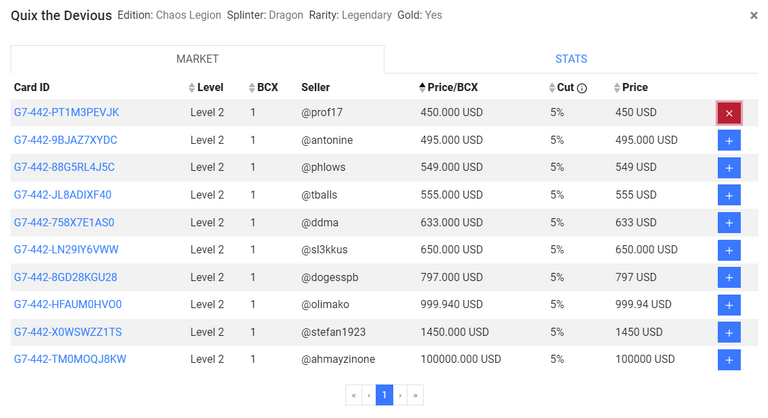 This quick post caught my attention and reason I went with the gold one as well.
Just bought a Splinterlands GFL
I was able to pick it up rather lowered priced at $450 which at the time of purchase was 79,000 DEC the rental market for gold cards are killer, Quix The Devious gives me 12.5K collection power, that's not even mentioning when Land gets activated which has it's perks of it's own, there will be a much higher demand on Gold cards.
I used Monstermarket since I get 60% of revenue instantly from them.
MonsterMarket - discord https://discord.com/invite/UFrEhhu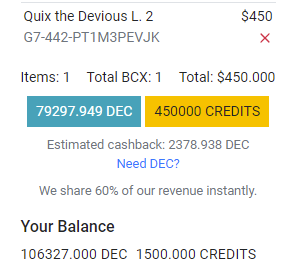 Looking at the rental market for this Gold card I can see I can rent it out for about 200 DEC a day (~$1.129) (12,500 CP = 62.500 CP/DEC) yROA-B: 83.28%

Desert Dragon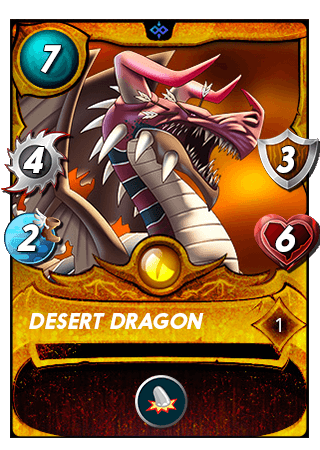 Another Gold Card I wanted tp pick up was this badboy, not as expensive as the first card, or maybe too expensive and I am just paying a juicy premium. This thing looks like a beast! Beast of a Dragon this one, not as chaotic as the Chaos Dragon though,.. much like a chaos seed. Narrow obsidian eyes sit delicately within the creature's horned, thorny skull, which gives the creature a threatening looking appearance.
Two enormous horns sit atop its head, just above its short, cat-like ears. Large fan-like skin and bone structures runs down the sides of each of its jaw lines.
Its nose is flat and has two long, rounded nostrils and there is a Sharp Horn right atop of the nostrils. Rows of large teeth poke out from the side of its mouth and show a glimpse of the terror hiding inside.

I was able to pick it up for $225 which at the time of purchase was 39628 DEC but it also gives me 12.5K collection power for a much better price.. I can see both cards booming in price though.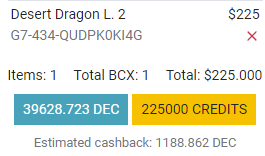 Looking at the rental market currently, is surprisingly a bit better than Quix the Devious... I can probably rent it out for 245.048 DEC (~$1.384) (12,500 CP = 51.010 CP/DEC) with a crazy yROA-B: 229.59%
The rental markets and is getting crushed and so are the price of cards people want to cash out which is fine by me.
I was able to also pick up a bonus card with the cash back I got from the two buy orders.
Thus my journey starts to collecting Dragon Cards, I know it will be a difficulty journey, one that will challenge me like never before, one prized Dragon I would not only like to own but to have it MAX level.
I will for sure work on getting more to upgrade them to have some chucky Gold Legendary cards...
---
---