NFT News Hash Kings, Beast Gardens, NFT Profit(s) review, & NFT airdrop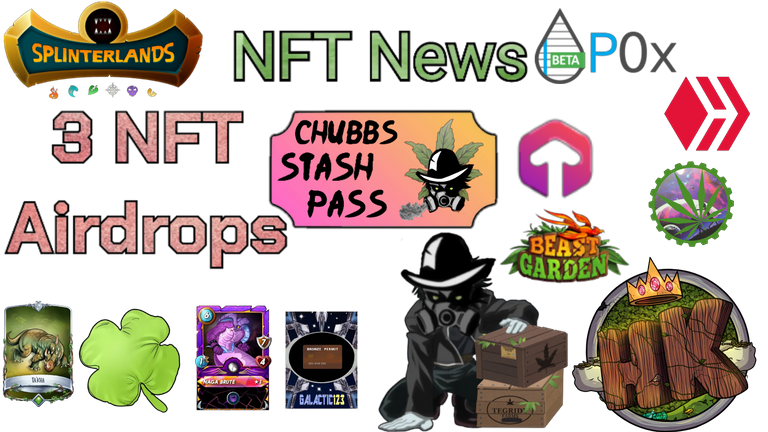 A few Game changing play to earn game updates & My recent NFT profits overview. WAX Airdrops 3 total like usual containing 4 WAX NFTs each. Finally ill go over my Weedcash NFT #stashpasses & how the #stashpass Monthly NFT Airdrop events will work.
Beast Garden
A WAX P2E TCG Beast Garden is launching a new NFT category on the 20th 3/20/2022. The new NFTs are Plants, added to the other existing categories of Beasts & Springs.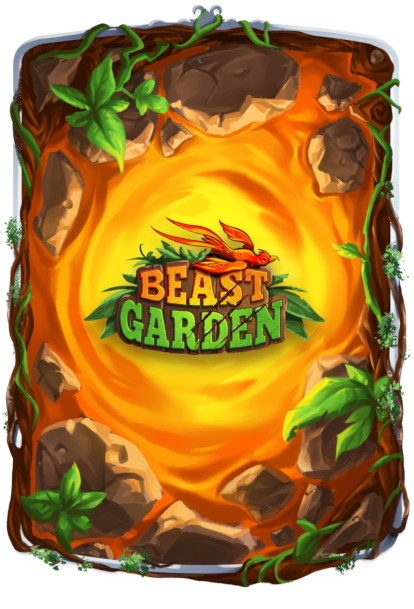 Springs more or less just generate a Beast Gardens WAX alt known as BGWATER usage of which seems to be limited game functions, which ill get to in a moment.



You own springs in your WAX wallet & played the game with that WAX wallet at least once you generate a set amount of BGWATER hourly.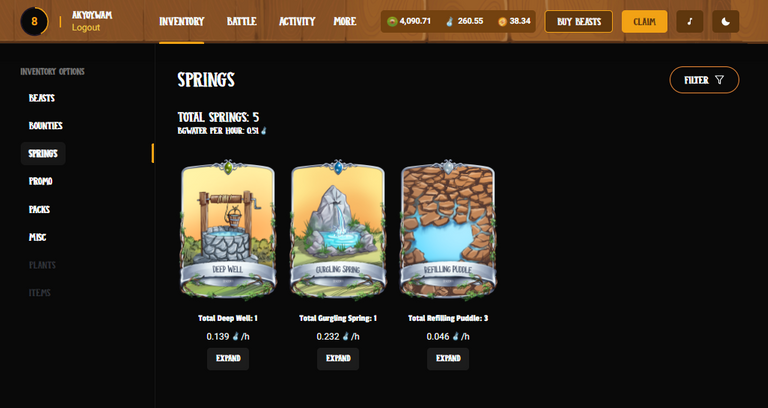 Monster NFTs can generate 2 forms of crypto either BGFOCUS passively like BGWATER.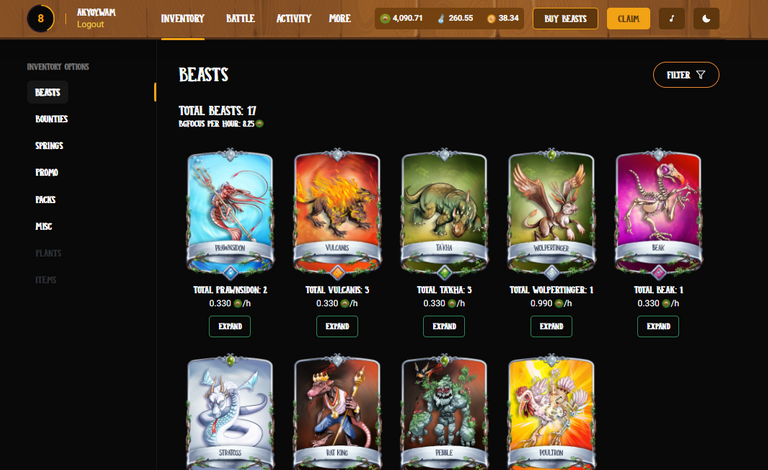 Or you can generate BGALPHA actively via 3v3 NFT battles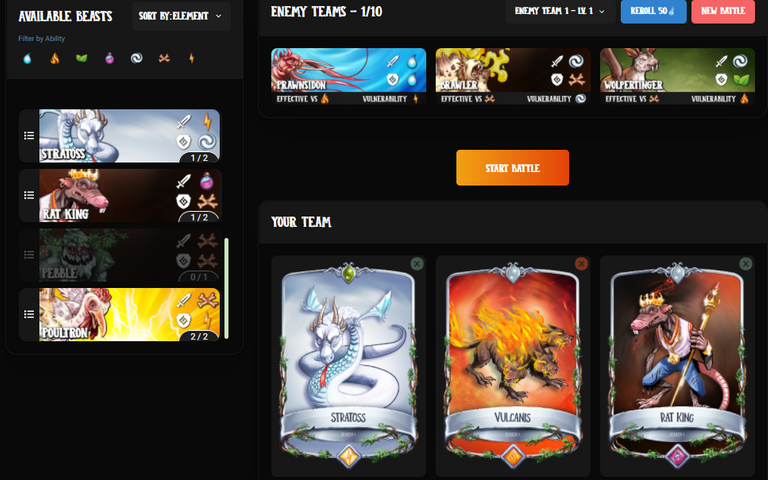 You pay 100 BGFOCUS to find a 3 v 3 match, chose your own Monster NFTs 3 of them, & start the match is you win you generate BGALPHA / XP.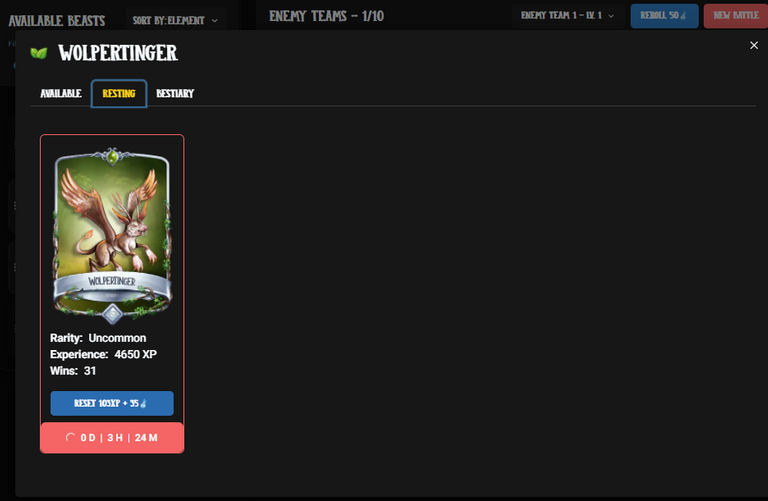 Use BGWATER on recently used monsters to use them immediately W/O waiting or to re-roll the enemy line up.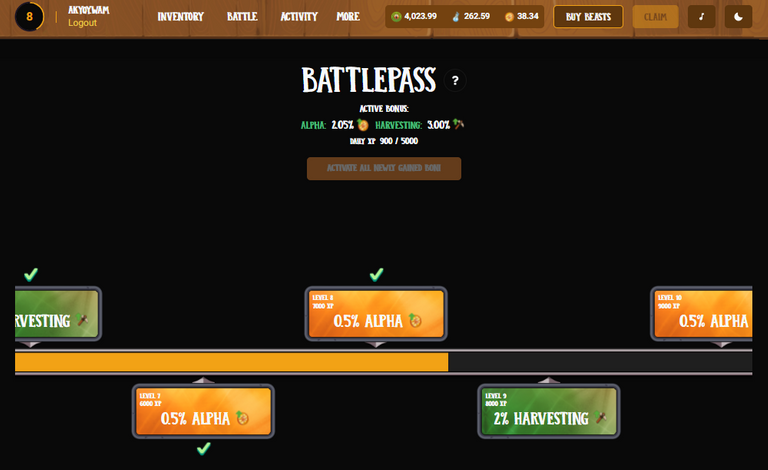 You purchase a battle pass unlock to level up your account for additional % boosts to Crypto generation. At the tale end of battle pass there are even prize NFTs.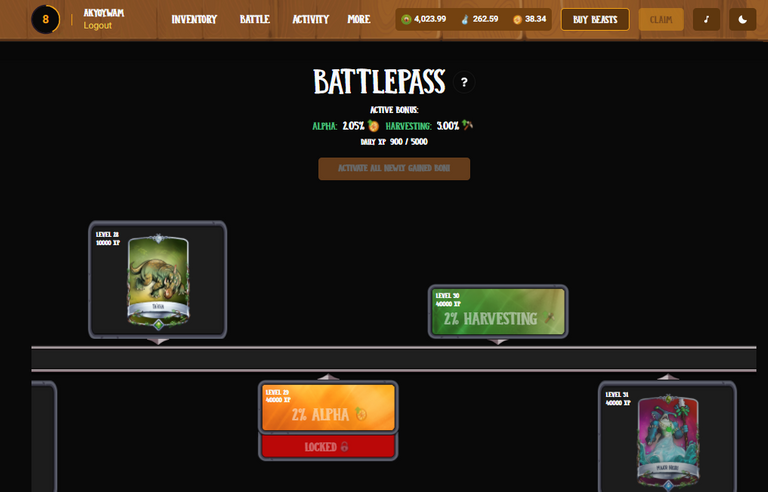 So there is plenty of incentive to pay the around 100 BGALPHA about $0.70 USD for Battle Pass.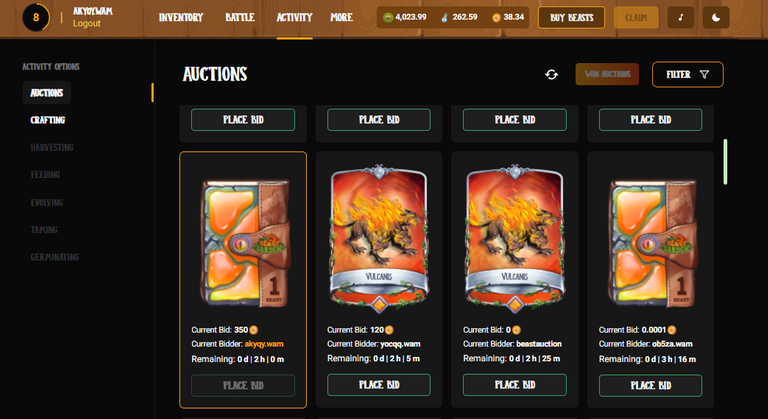 BGALPHA is great WAX profiting hack of mine as that little alt coin & some persistence you can game their auction system market. As the auctions drop hourly every day the savvy player need only spend $1 for a pack which sells for $4-$5.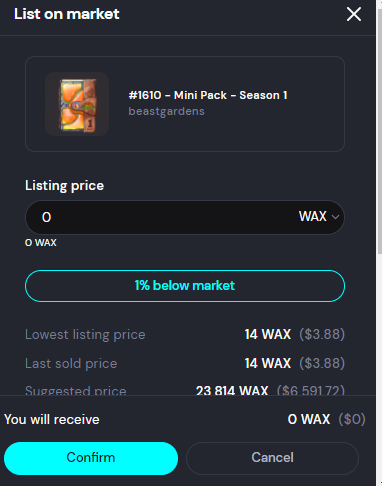 Now they drop NFTs in a few ways typically just on the in game Beast Gardens auction market or via the Crafting system.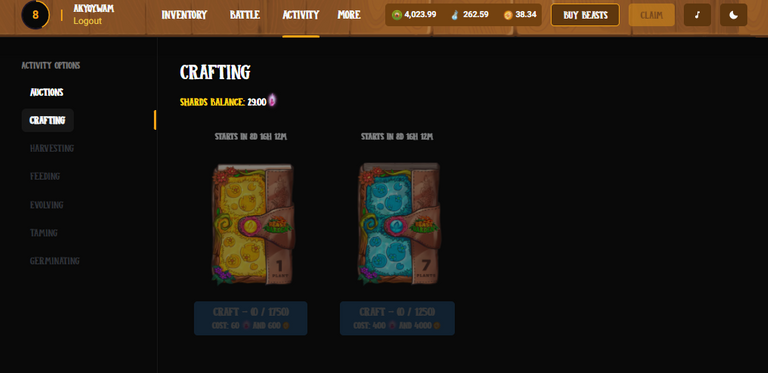 However with the new plant packs white listed accounts like mine can buy them on Nefty Blocks starting 3/20/2022.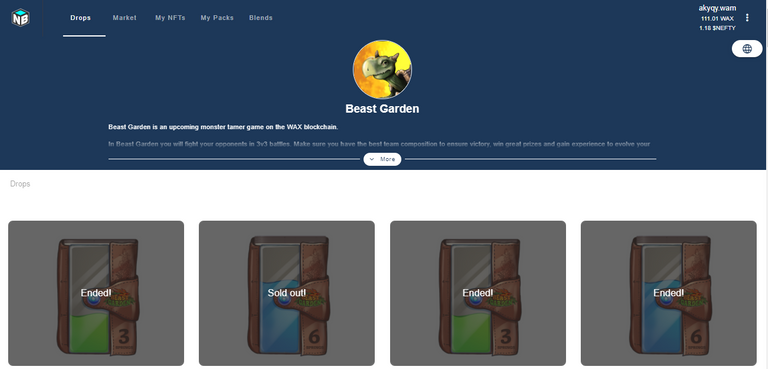 I got a free white listing NFT for being an active player.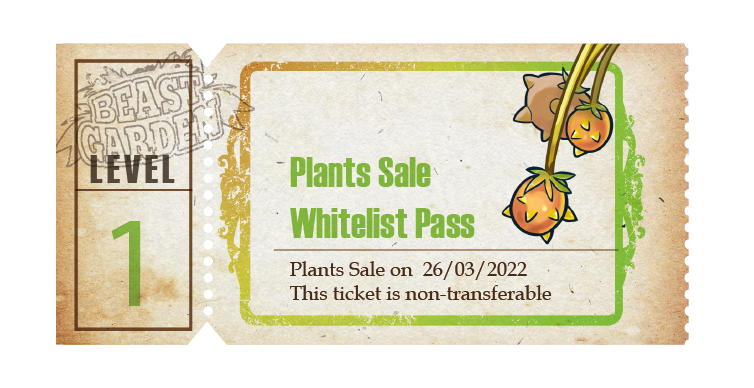 Non transferable meaning while I can sell this or buy one the White listing should be linked to the original account that received it.


Before I get to the Plant NFT Details one last fun fact concerning crafting & game design. Much like Splinterlands cards the Beast Gardens Beast Cards can be burned in their crafting system effectively giving them a burn blend use case.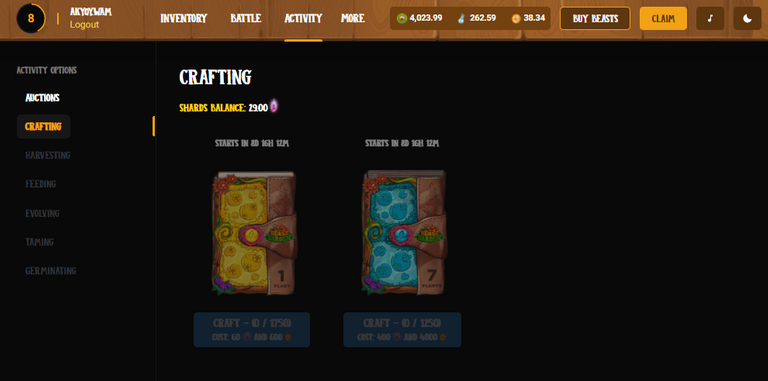 Disenchanting Beast NFTs in game burns the NFT & grants the player Shards with enough Shards & BGALPHA you can craft rare NFTs or the new plant packs right now.



Details are sparse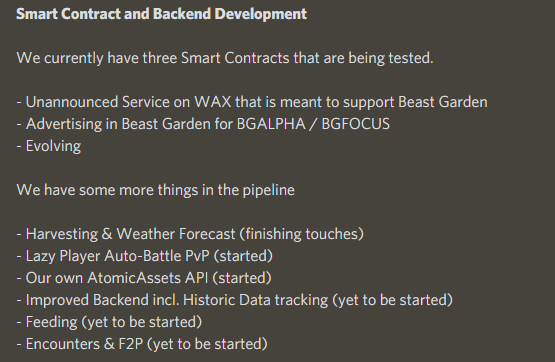 It looks as if they are adding a weather system for growing plants.


According to their White paper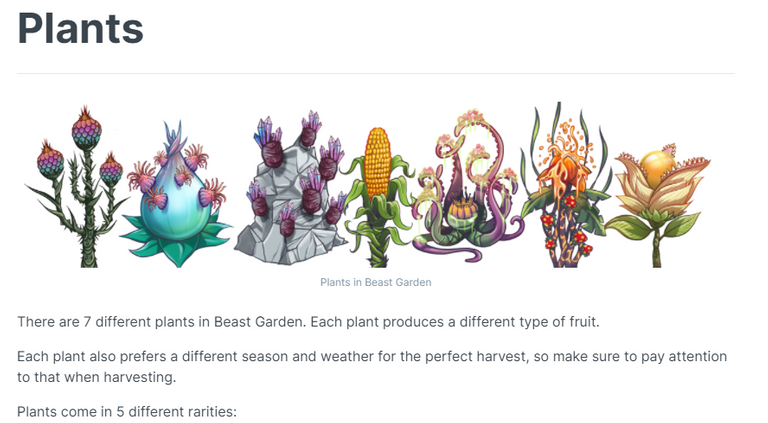 I cant say for sure but this appears to link to harvesting the plant NFTs once grown.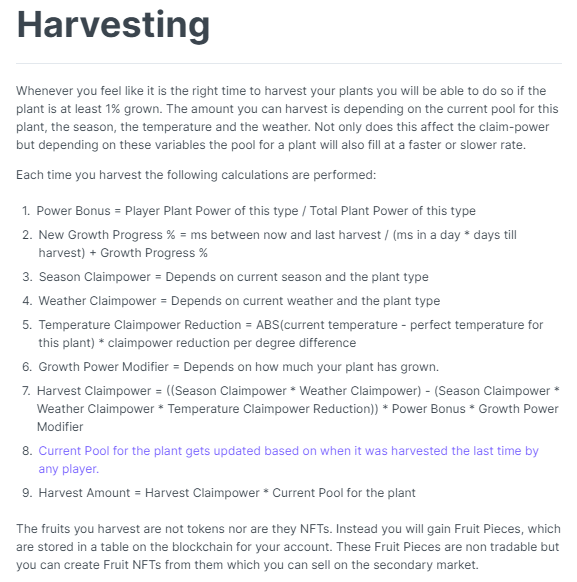 Giving you not fruit NFTs but instead fruit Pieces enough of the same type you can mint a fruit NFT.



At the end of this craziness is the ability to feed fruit NFTs to & then evolve Beast NFTs.


Meaning these plant packs are a big deal allowing players when everything is said & dont to evolve their beast NFTs to a bigger bader monster NFT.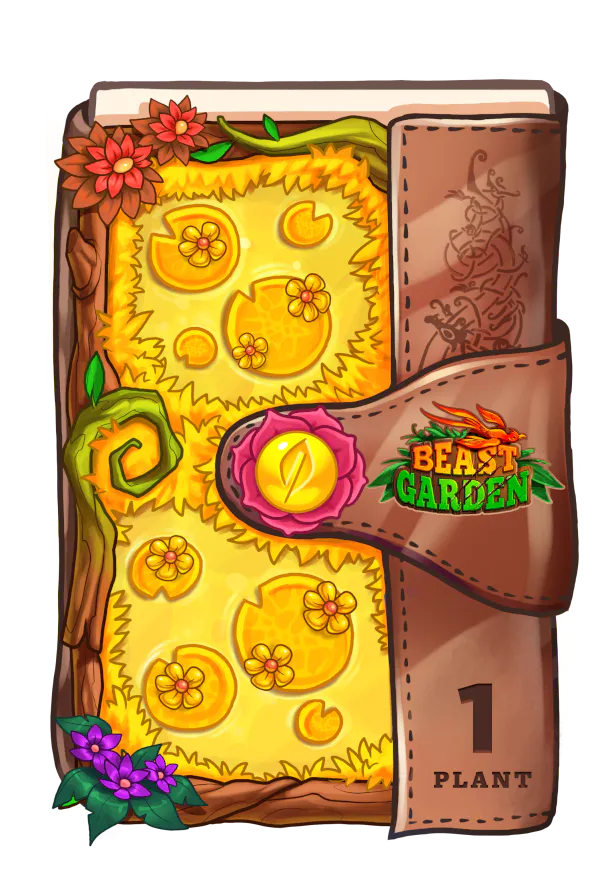 These packs here a literal definition of a game changer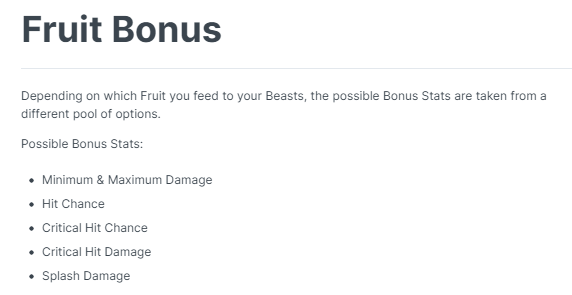 Other then evolution the Fruit NFTs have the ability to boost stats all completely a guess on my part based on what info I can find (which isn't much).
Links
Nefty Blocks Drop page
https://whitepaper.beastgarden.io/
A good move would be to stock up on BGALPHA


BGALPHA can be Found here
https://wax.alcor.exchange/swap
Recent Successes
I try my best to impart my wisdom to you readers on various play to earn titles how to make the most revenue from them. Now its one thing to say this is profitable & leave that open ended.
So I thought why not show off some results from putting my last 2 posts info into practice.
For starters a large sale went through on Splinterlands
https://ecency.com/hive-102223/@chubb149/chubbs-splinterlands-guide-3-chaos



You can check my Splinterlands guide out via the link above.
Lensmaster Gold Legendary sale proof


Another $800 Splinterlands NFT sale, that's in the current market BTW.
So from there I roll $20 into Zombie Coin Miner (WAX) using the tips I discussed here.
https://ecency.com/hive-102223/@chubb149/chubbs-zombie-coin-miner-guide



Trust me you need the guide to understand Zombie Coin Miner, but the TLDR is I put $20 into these tickets (packs).
$0.35 each 57 total packs purchased over a few days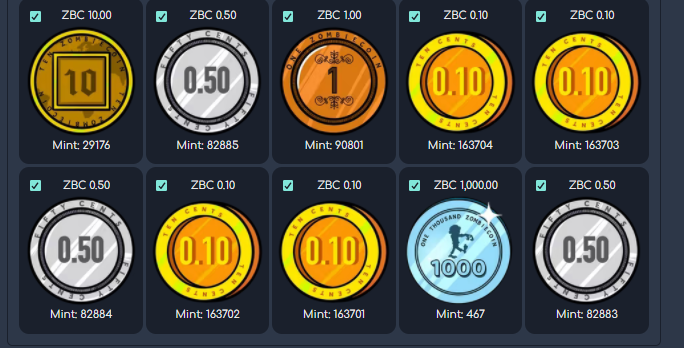 Resulting in a bunch of ZBC NFTs one of Which was valued at $20 the 1,000 ZBC NFT shown above.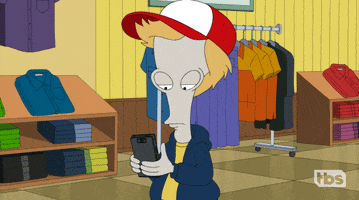 Why celebrate breaking even , first off I made $33 off the 57 packs second buying WAX alts with low market liquidity drives the price up on the exchange. Trading in NFT ZBC for FT ZBC (see Guide link above) avoids effecting the market & I have the purchases counting towards the leader board.
Finally I take my ZBC & hit the in game markets limited time sale of clover packs.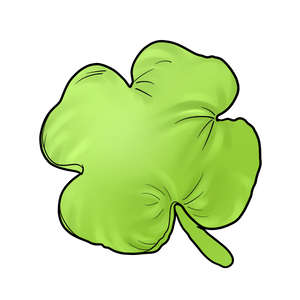 What's the big deal with the St.Patricks day pack its contents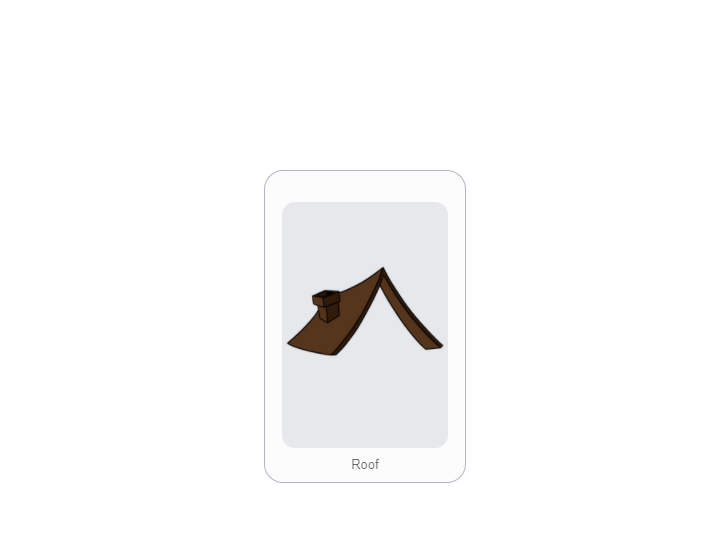 Thus far my 2 bigger scores off these clover packs is a Roof NFT & a Floor NFT.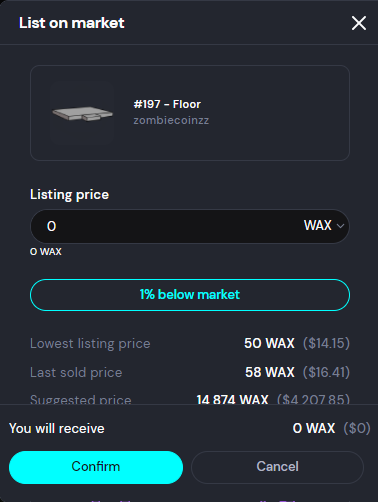 These are fairly valuable considering the state of their market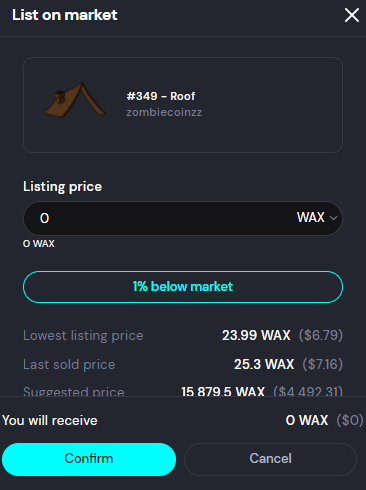 Out of the $20 I'm now up $33, $53 total minus the initial investment.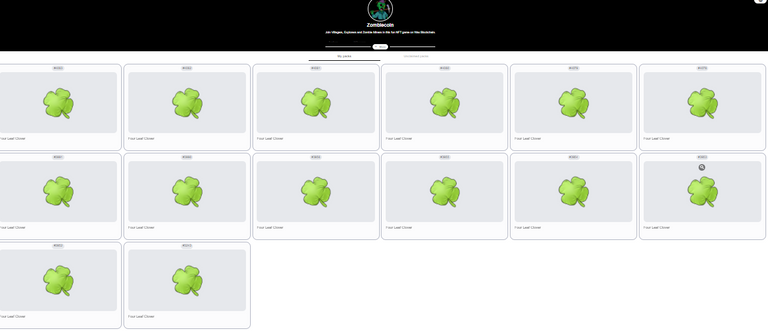 That's not counting 14 Clover packs Limited & valuable.



Or the $14 I still have left in ZBC or the fact I'm now placing on this months leader boards for Zombie Coin Miner.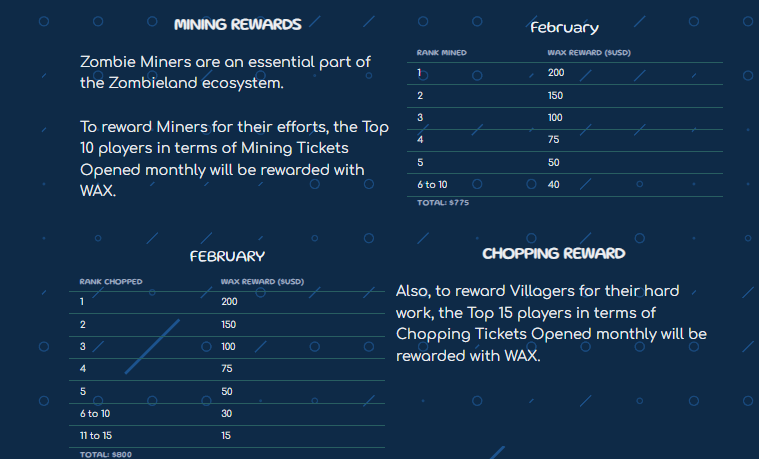 For this month on just chopping tickets & Mining Ticket Categories I'm currently ranked 1st place & 3rd place.
If I finish the month there that's 300 WAX



For details on the Zombie Coin Miner Leader board & game check my guide.
https://ecency.com/hive-102223/@chubb149/chubbs-zombie-coin-miner-guide
Never invest what you can not afford to loose these are after all games people not a solid investment does that make.



Although not a solid investment as I minimize deficits to run the Zombie Coin Miner Tickets or packs as close to $0 as possible I mitigate risk & thus Maximize profit.

For instance that Medium mine I just got in the Mega Exploration Ticket which costs $2.30.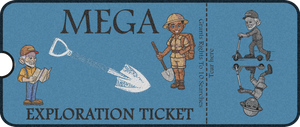 This $2.30 Ticket just netted me a Medium Mine once depleted of its resources (check my guide for details) I receive $200. No strings a bit of a wait but $200 that's a fairly solid profit margin on $2.30.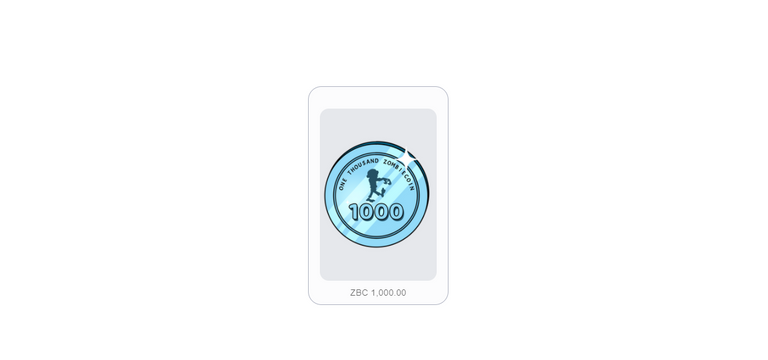 Got another score True to form if no one but a few fans are supporting a project they alone reap rewards do what you want but I cant recommend Zombie Coin Miner enough. My guide 👇
https://ecency.com/hive-102223/@chubb149/chubbs-zombie-coin-miner-guide
That being said I like NFTs & Certain Smart Contract execution's on a Blockchain (NFT packs) because they are pure odds something truly hard to come by. The gods of RNG eventually shine there light upon you the question is can you afford to put enough in to get something out.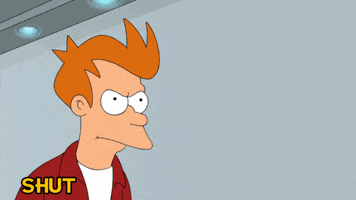 So you understand what Ill do next now that I'm up $1,100 I intend to invest in Beast Gardens the WAX game I discussed earlier.
https://beastgarden.io/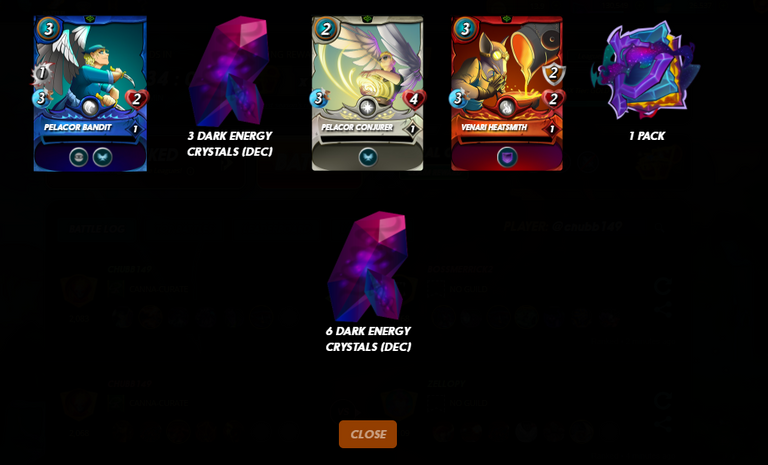 Todays reward from Splinterlands Chaos Legion packs for playing the game just got to keep persisting.
My objective with these posts & NFTs I give away is to teach the reader how to (fish) & perhaps even give them the tools.
Hash Kings
No joke the system that allows me to water every plant simultaneously with a single wallet execution is so beautiful I almost cried.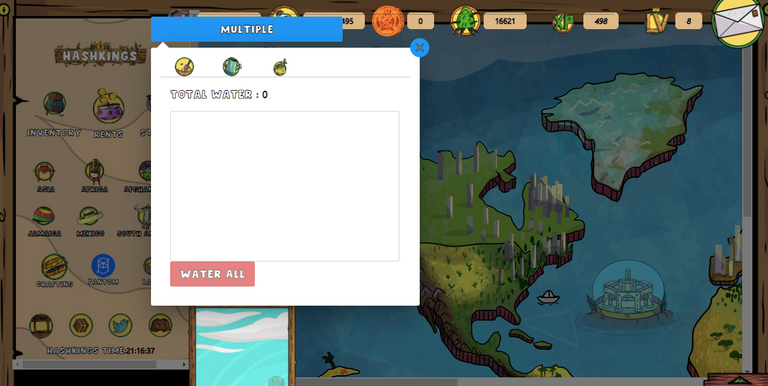 Yeah this feature is up & running I should have grabbed a screen shot I was to busy weeping with joy to remember.



https://ecency.com/hive-195708/@chubb149/new-hash-kings-nfts-pinner
Other then the Multi watering / planting / Harvesting system beginning to function since I posted my Hash Kings Guide ☝️ 2 weeks ago.
The Hash King Devs have been busy as the just recently announced a BUDS Staking system.
https://hive.blog/hashkings/@hashkings/announcing-buds-staking-system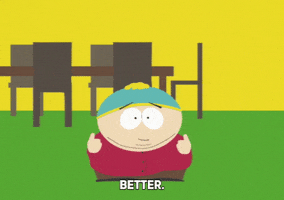 Yeah they are not done yet there has been a partnership game announced currently in development bang-defense.

https://hive.blog/hashkings/@hashkings/bang-defense-litepaper-new-hive-blockchain-game
The TLDR is
https://hive.blog/@hashkings is apparently working with https://hive.blog/@choof Bang Defense creator from the very beginning making sure the games Tokenomics are on point.
BUDS will be an award for Bang Defense unless I have misinterpreted their white paper.


Hash Kings players have a potential Bang Defense airdrop to look forward to.
I like the outlook for Bang Defense & Hash Kings future given these recent developments are fantastic signs of what's to come.



Look what I found ☝️ scrolling through Hive Engine.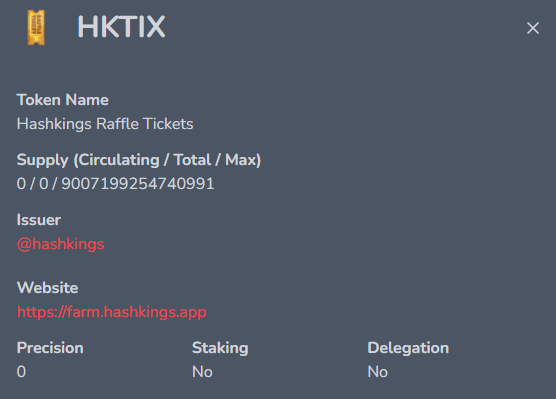 Its a legit Hash Kings asset just no news & none circulating yet more fantastic news to come I'm sure.
Not yet playing Hash Kings now's a good time to start, I have been dealing in NFTs for a while now kind of have a 6th sense for these things. The future of Hashkings to me appears to be a good one.
https://www.hashkings.app/
Chubbs Stash pass (Weedcash NFTs)
My own little pet NFT project I have been sort of designing in my part time #stashpass will be a monthly NFT give away program.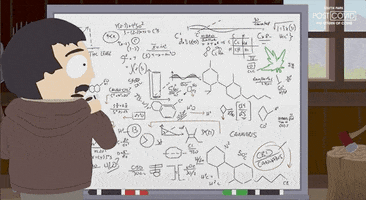 This gets a little convoluted but bear with me. In essence you own a #stashpass & 3 highlighted NFTs from the #stashpass colection on the 20th of that month to qualify for a HIVE cannabis NFT / Crypto airdrop.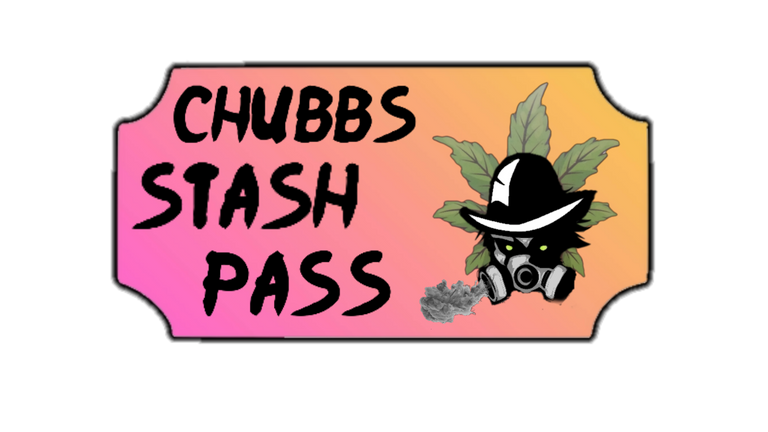 Simply owning a #stashpass isn't enough for the airdrop you will need to own 3 other #stashpass NFTs specifically chosen by myself each month.
Why do this, to keep things fair I will make some of the stash pass NFTs only obtainable through #stashpass give away events & some only available through purchase.
Creating a healthy balance so individuals cant just cheat the system by purchasing everything.
You cant just participate in every give away & expect to win lucky for you these #stashpass NFTs I do sell will be very cheap.
https://www.weedcash.network/nfts/
The #stashpass NFT price will be 10 WEED a piece from me but other users are free to set their own price once owned.



You can buy WEED for HIVE on any Hive exchange there is even the swap option thanks to people like me supporting their liquidity pool.
https://beeswap.dcity.io/swap?input=SWAP.HIVE&output=WEED
WEED prices are usually around the $0.01 mark so my #stashpass NFTs when sold in the Weedcash NFT store will run around $0.10.
You can also just earn WEED for free by posting about cannabis or curation of Weedcash posts here.
https://www.weedcash.network/
What can you expect to get from all this you may be asking. The Airdrop on the 20th for any accounts owning the right #stashpass NFTs will be NFTs / Crypto valued at roughly $2 Minimum.
As many accounts can win the $2 mark is a minimum if only one user gets selected your prize will be a greater value.
What kind of NFTs / crypto, nothing I produce will be part of the monthly airdrop rewards but instead Crypto / NFTs from various play to earn games / NFT collections on HIVE.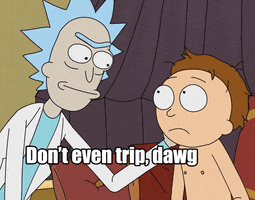 The prizes will come directly from my own HIVE NFT & Crypto Stash hence the name #stashpass.
Prizes like Hash Kings NFTs / crypto, Dcity NFTs, perhaps even Splinterlands NFTs in the mix. WEED WEEDM maybe even WEEDMM could be foreseeable prizes as well.
Mostly Cannabis themed NFTs & Crypto if at all possible as I dont wish to offend projects unaffiliated with cannabis.
Disclaimer
In No way am I officially affiliated with any NFT or crypto given away I simply own the assets in question.
While not officially affiliated with any project on HIVE I more then welcome collaboration with games or projects on HIVE ill drop my social media on which you can contact me at the end of this post.
I will do a White Paper HIVE post soon concerning the specifics of #stashpass NFTs. The first Airdrop will be on 4/20/2022.
WAX NFT News
Now the WAX NFT bridge for the WAX cloud wallet just got added in its last update currently supporting BSC NFT assets specifically the Blockchain Brawlers colection.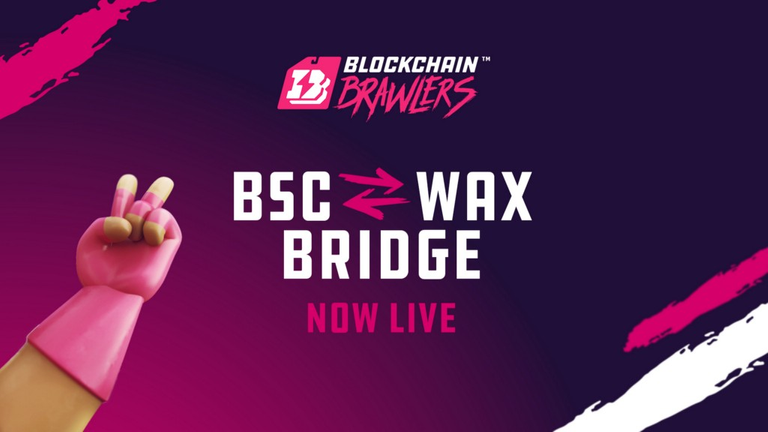 https://medium.com/blockchain-brawlers/bridge-between-wax-and-binance-smart-chain-bsc-forged-39315a947584?source=rss-e40d7875f82f------2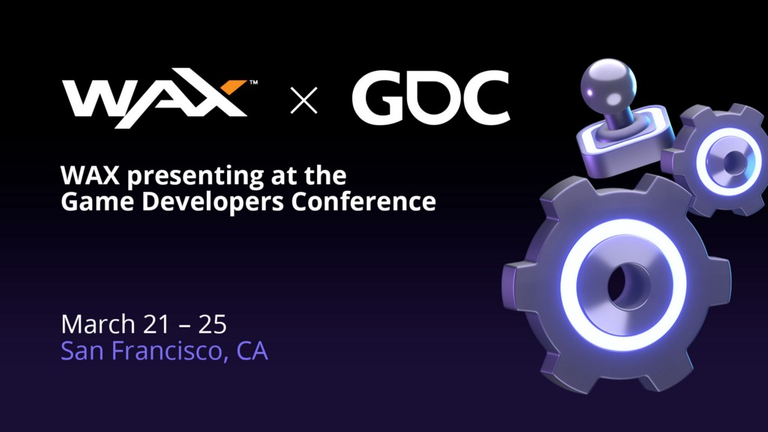 WAX is presenting at the Game Developers Conference this year March 21st-25th in San Francisco, CA



Details about the Game Developers Conference at the link below.
Funko Pop Scooby Doo NFT + Plushies launch on the 29th 3/29/2022 find the details via the link below.
https://digital.funko.com/drop/30/scooby-doo-series-1
WAX NFT airdrop tutorial
WAX NFT airdrops via URL I give out 12 NFTs with every post first on HIVE then PublishOx Finally Torum you will find the 3 airdrops easiest through HIVE I leave PublishOx & Torum links in the comments of the HIVE post.
Easy as 1 2 3
First
https://hive.blog/@chubb149
Then
https://www.publish0x.com/@Chubbie149
Finally
https://www.torum.com/u/chubb149
I keep everything random giving you the best odds all 3 are airdropped on the same day in the order specified at random.
You may join all three through these links
https://peakd.com/register?ref=chubb149
https://www.publish0x.com/?a=4QbYRK0dzq
https://www.torum.com/signup?referral_code=chubb149
WAX NFT Airdrop 1st of 3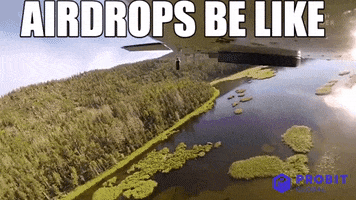 https://wax.atomichub.io/trading/link/952041?key=5KaYzz3v5dbQvT3PK3FG6yE5HLRo8TKHdemqeCADG8iZHt4Np5x
Due to technical issues I cant upload a photo but there is a NFT pack for Zombie Coin Miner, a Beast Gardens NFT, a Splinterlands NFT, & a Galactic 123 Bronze Permit NFT. All totaled each of the 3 identical airdrops should be valued at roughly $3 at market price.
Every NFT is part of a play to earn game links below
https://www.zombiecoin.io/
https://beastgarden.io/
https://splinterlands.com?ref=chubb149
Splinterlands will require $10
https://galactic123.net/splash.html?ref=2208
Every other play to earn is free
Please one airdrop claim per person lets keep things fair, & if you claim the link please let others know via comments it helps.
Stash Pass Give away
For HIVE users only.
This is how to get your hands on an exclusive #stashpass NFT which is a part of my year long monthly airdrop NFT program #stashpass to qualify to receive one simply...
Re-blog this HIVE post & comment #stashpass
Be sure & do both just a re-blog or comment alone does not count
First 5 users to do so receive an exclusive #stashpass Weedcash NFT.
Each month I will do an airdrop of cannabis NFTs / crypto from HIVE games & Dapps to HIVE accounts that own the 3 right #stashpass NFTs randomly chosen each month along with one of these👇 #stash pass NFTs which qualifies your account to participate.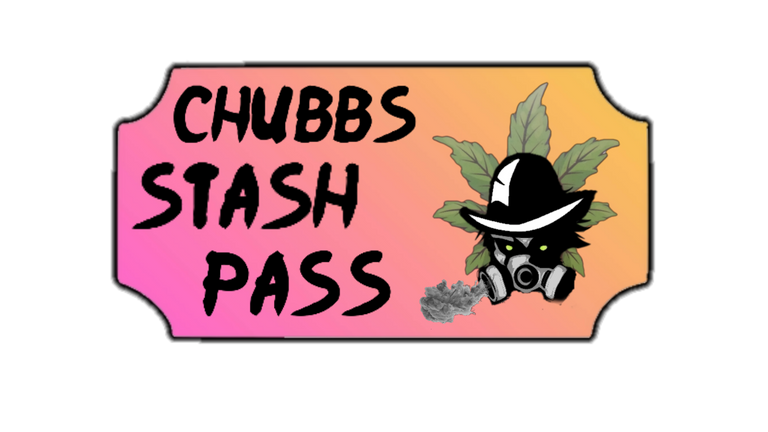 Buy or sell Weedcash NFTs like #stashpass NFTs here
https://www.weedcash.network/nfts/market
Weedcash NFTs are sold for WEED a HIVE alt available for trade here.
https://hive-engine.com/tokens
My Stash pass airdrops will take place on the 20th of each month starting this 420 4/20/2022. To qualify own the right randomly chosen 3 #stashpass NFTs & one of these Qualifying ticket NFTs.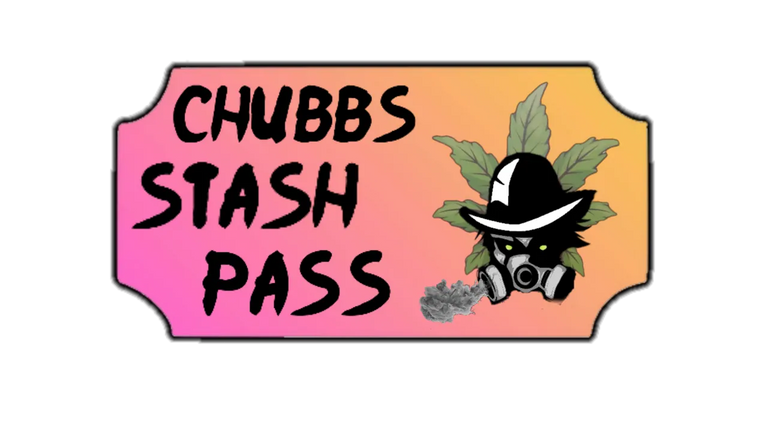 Only 100 made the qualifying tickets go on sale 4/1/2022 for 50 WEED roughly $0.50 a piece.
Those whom own a qualifying ticket be sure & check my posts as ill airdrop #stashpass NFTs as well as sell them here.
https://www.weedcash.network/nfts/market
To get one of 5 of the first #stashpass NFTs simply
Re-blog this HIVE post & comment #stashpass
Be sure & do both just a re-blog or comment alone does not count.
Links
You can find my thousands of NFTs on WAX here
https://wax.atomichub.io/profile/akyqy.wam
https://neftyblocks.com/profile/akyqy.wam/collected
You get NEFTY incentives using the NFT market above when buying any of my WAX NFTs.
My twitter
https://twitter.com/Brandon36907436
My Discord
chubbie149#8200
I try to post all airdrop links on twitter as well as HIVE if you want to help support future airdrops Re-blog
upvote subscribe please it really helps.
All my accounts below are monetized & I appreciate Crypto or NFT donations on the following
https://twitter.com/Brandon36907436
https://www.torum.com/u/chubb149
https://wax.atomichub.io/explorer/account/akyqy.wam
All donations go toward making airdrops bigger & better Thank you all your support keeps all this going.
Any HIVE projects looking to collaborate on the Stash pass or any other NFT project dont hesitate to contact me via the social media above or the comments of any HIVE post.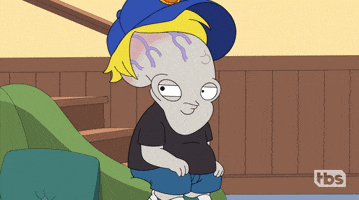 ---
---