Splinterlands | Goblin Psychic Weekly Battle Challenge - More than just a healer!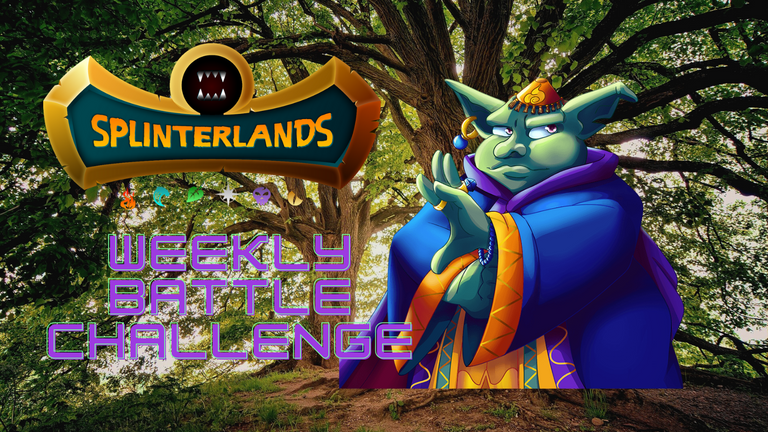 Hello to all fellow Blockchain Gamers and Splinterlands players!
I would like to share to you my entry for this Weekly Battle Challenge. The main monster for this challenge is the Goblin Psychic. An Earth monster that is known for its healing capabilities. But mind you, that is not all that it can provide for your team. Come and join me in my battle showing you how you could utilize this monster!

Goblin Psychic
A monster known for its healing prowess and its magical damage that is suiting for the new summoner Obsidian. But in this post you will know that this monster is not all about healing as it provides something more.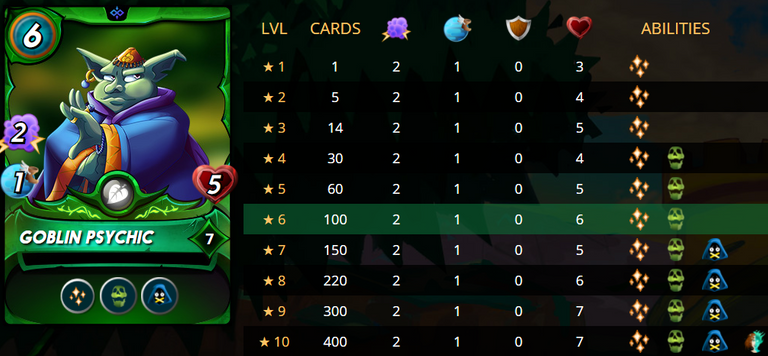 At level 4, it provides a counter ability with Affliction. Silver league peeps is not appreciating much the buff it provides as I don't see this monster much on this league. At level 7 it gains an additional ability in Silence, a very helpful one. I really rarely see this monster in action as much as other earth splinter healers, which is really surprising as it gives wonderful abilities.

Battle Start!!
For this challenge I'm at the Gold League which gives me access to use the level 7 of this card that provides a wonderful supporting ability. Here is the ruleset for my battle:

A 46 Mana Cap battle with Spreading Fury and Broken Arrows. Looking on my enemies previous battles he is keen on using magic type lineups. That is what I've prepared for setting up my lineup for this battle.
My Lineup:
| Card | Abilities | Reason |
| --- | --- | --- |
| Summoner: | -2 Armor | Wizard of Eastwood: As I've said earlier looking on his previous battles, enemy team is mostly using monster with fortify, this is the counter I thinked would help me |
| 1st Position: | Heal, Void | Flesh Golem: As a front line mosnter Flesh Golem is really great as it have self-heal. Add to that the enemy is mostly using magic lineups so this monster having void is really great counter. |
| 2nd Position: | Reach, Void Armor | Oaken Behemoth: A multiple attack monster that is literally built for 2nd position with its tanky nature and Reach ability. This is a good counter for magic lineup with its void armor ability. |
| 3rd Position: | Magic Reflect, Void | Prismatic Energy: A magic type monster that is also a magic counter. This can also be used as a second tank in a pinch because of its high HP and high speed. |
| 4th Position: | Tank Heal, Strengthen | Wood Nymph: A very common healer unit for the earth splinter. This will help me sustain my front line monsters with both heal and strengthen. Also since my enemy is not using opportunity with their previous lineup, I'm not worried it will die easily. |
| 5th Position: | Tank Heal, Affliction, Silence | Goblin Psychic: The main monster of the battle! Since my enemy is mostly using magic lineup, this monster fits the counter very much. With its silence and heal, I'm pretty confident my tank will survive. |
| 6th Position: | Return Fie, Repair | Centauri Mage: A high HP monster that I put in the backline in case the enemy decides to use sneak. With its quite high HP, it can soak up a good amount of attack before the enemy can reach my healers.It is also a fail-safe for my 2nd tank with its repair partner with Void Armor |
In this particular match, I go all out to counter the Magic lineup my enemy is mostly using. I put on multiple monsters with Void and a monster with Silence. The only adjustment I made is putting the tanky Centauri Mage so if ever they use sneak my healers will not die quickly. I used up 45 mana out of the 46 cap, I utilized every bit that I can use effectively.

Battle Link Here!!


Battle Commentary
Round 1: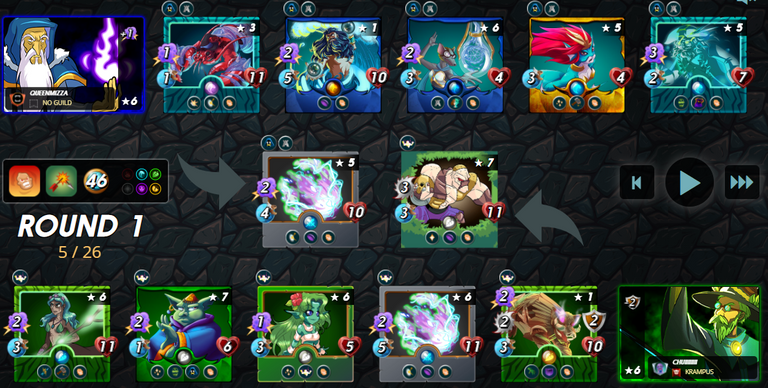 As I have predicted, they go all magic for this game which is what I prepared for. I also countered their Fortify ability my summoner.
Round 2: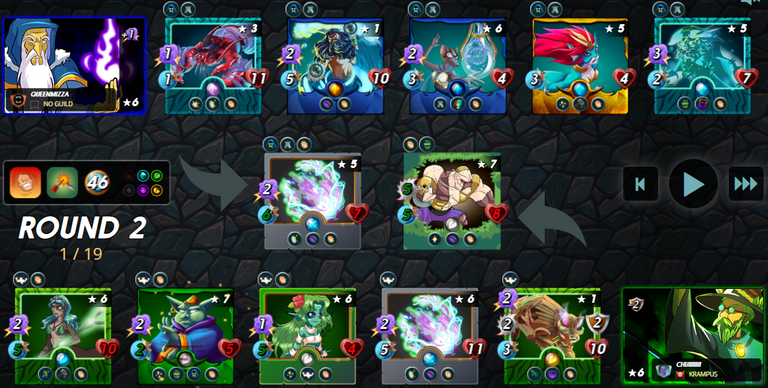 Sadly my Triple Heal tactic is hindered by affliction, but all good since they can't do much damage on my tank with void and them being debuffed with silence.
Round 3: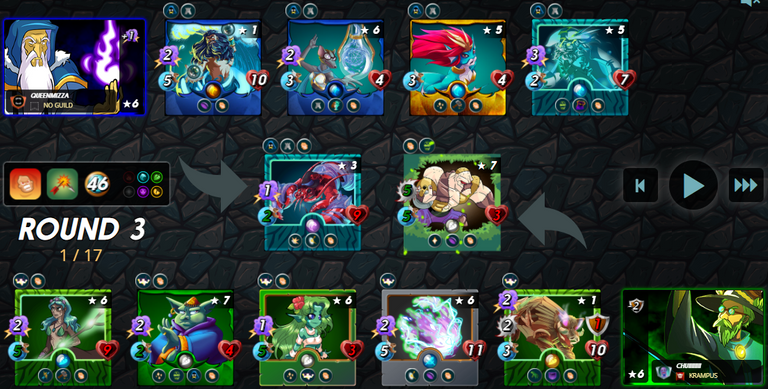 I killed their first tank with my Flesh Golem heavy smack enraged hit. All my backline took damage with reflect but its nothing to worry about.
Round 4: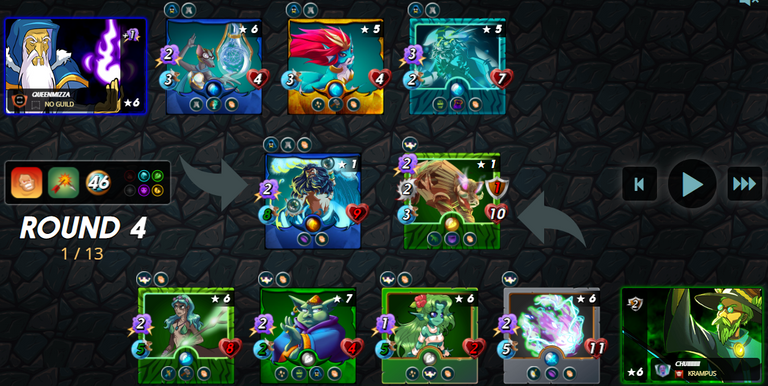 Again, I quickly killed of their second tank with a combination of magical damage from my back liners, and a heavy hit from my tank just before it died.
Round 5: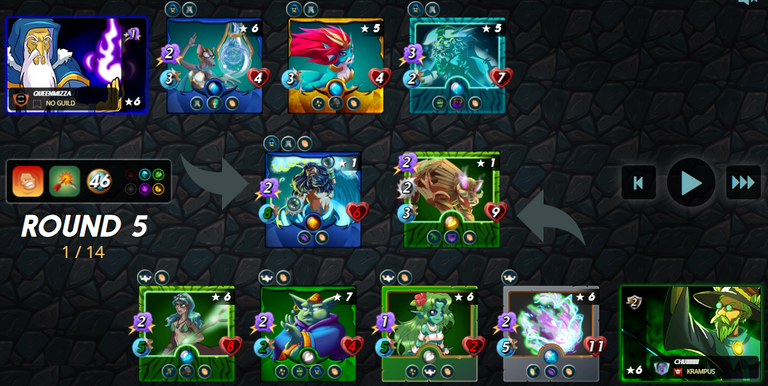 This round my tank is equipped with Void Armor and at my backline I have a repair, this two combination is a disaster for my enemy team. Even if they can apply affliction, it will not affect the repair which will make my monster alive longer.
Round 6: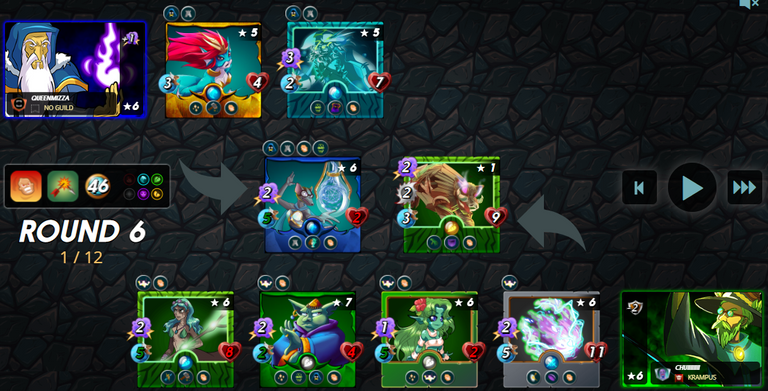 Round 6 and onwards would be the cleanup rounds for this battle. They can't deal with my heavy counter lineup.
Round 7:



The battle ended with my behemoth having full health and a complete armor. A complete devastation from my side!

Battle Conclusion
Did My Strategy Worked?
My strategy did really work. Looking at the enemies previous lineup is really a great strategy. And nailing the perfect counter for their lineup is a just the chef's kiss on it all. This battle may seem not to be about Goblin Psychic but I assure you having it inserted in the lineup really seals the deal. Without it my tanks would quickly die and the tides could have turned.
What I would try next?
I want to try to make it a heavy hitter with magical damage buff either from Obsidian or Delwyn Dragonscale. Earth is equipped with some good magic monster so I might try this soon.
Do I like Goblin Psychic?
I'm on the edge here really. It provides good abilities but it also needs 6 mana to summon, which is quite high. If healing is all you need, there are different choices for it that is low on mana. But what I like about it is its not only about healing, in high mana battles I would surely pick this monster, especially if I see it fits a counter.

I will end my battle challenge here.Thank you for reading up to here my friend! Have a beautiful day!
---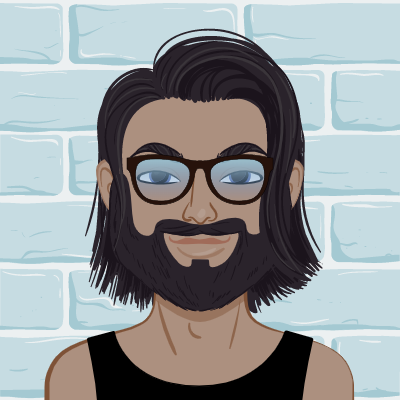 ---
---