Splinterlands | Sneak Deception with Silent Sha-vi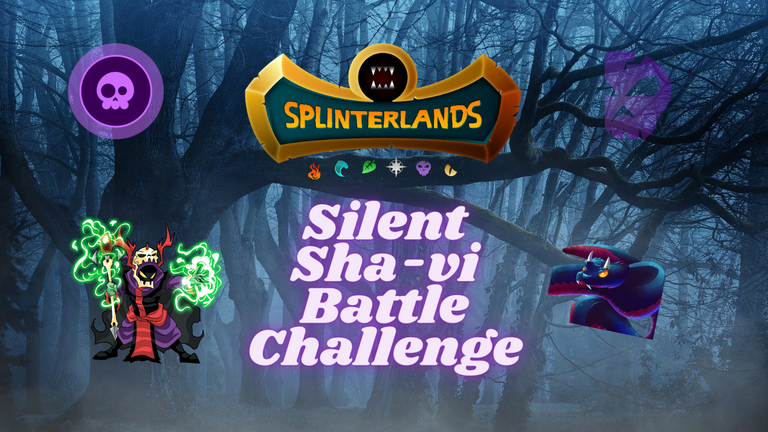 Hello to all you my wonderful gamers!
I am in here once again to share to you my battle challenge for this week. This is one of my most used death monster. A very valuable sneaky monster!

SILENT SHA-VI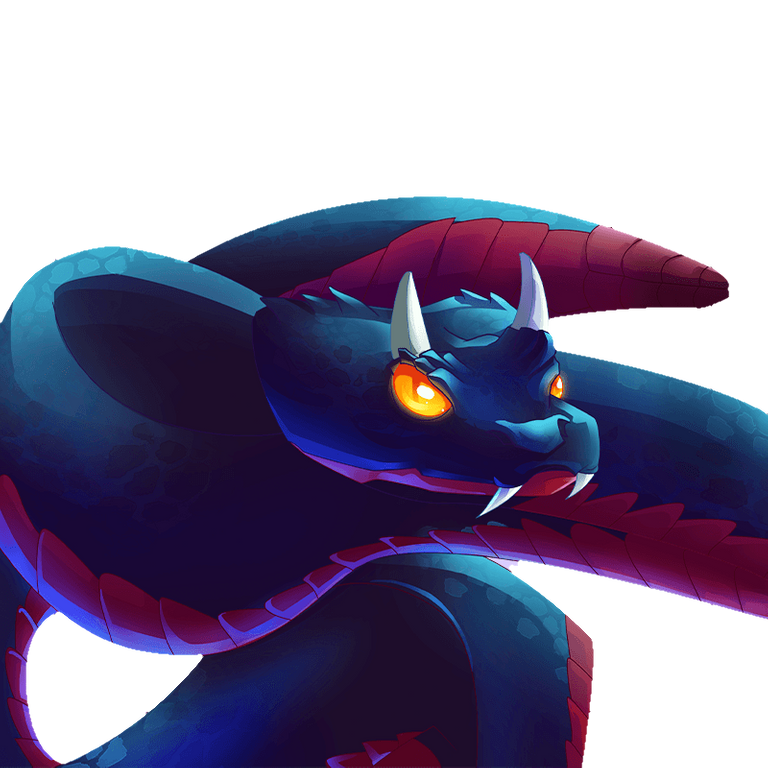 According to the lore this creature is really a sneaky bastard. This snake like looking monster is a menace everywhere the dark touches. It can go anywhere everywhere as long as there is darkness.
Feeding off someone's fear is what makes them strong. Always being around vulnerable beings, hidden in plain sight, ready to pounce on a victim be them prepared or not.
If you feel someone is silently lurking around, that may be the Silent Sha-vi, sneaking around, feeling you are being vulnerable, waiting for the perfect moment to feed on your fear and uncertainties.
Silent Sha-vi is a death melee monster more known for its sneaking abilities. Let us look at its stats here: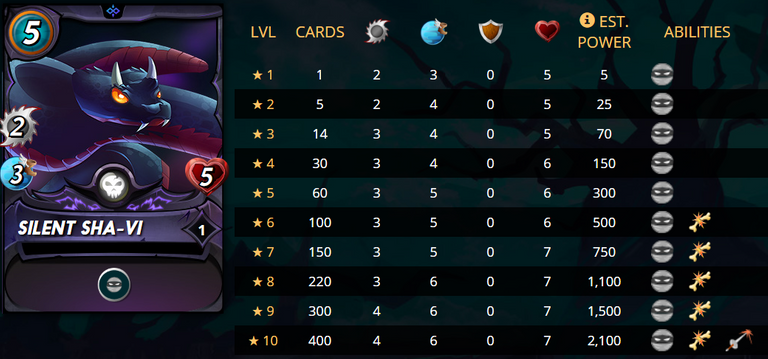 What makes Silent Sha-vi a very good unit is because it is one of the durable Sneak monster available in the game. With a relatively strong attack and a fairly great speed, this surely is a great monster to use.

BATTLE TIME
BATTLE RULESETS

MY LINEUP
| Card | Abilities | Reason |
| --- | --- | --- |
| Summoner: | -1 Melee Enemy, 3 Mana | Zintar Mortalis: I chose Zintar because I have seen on the enemy's previous battles that they like to use a sneak life lineup. |
| 1st Position: | Heal, Magic Reflect, 5 Mana | Haunted Spirit: I chose Haunted Spirit on this battle because of its healing capabilities. A self-healing tank is always a good choice. |
| 2nd Position: | Reach, Thorns, 5 Mana | Spineback Wolf: I chose Spineback wolf as my second tank for it also can attack at this position. This is the last monster I put in field and just find a monster that can fill up the mana cap. |
| 3rd Position: | Slow, Rust, 6 Mana | Boogeyman: I chose to put Boogeyman in my lineup mostly for its Rust ability. This helps with the ruleset, and also a very useful ability if you plan to use physical damages like what I plan to do. |
| 4th Position: | Sneak, Poison, 3 Mana | Skeletal Assassin: I chose skeletal assassin to partner up with my Silent Sha-vi and kill the backlines. |
| 5th Position: | Sneak, Cripple, 5 Mana | Silent Sha-vi: I chose Silent Sha-vi to kill monsters on the backlane of the enemy. Partnering it with Skeletal Assassin for a more swift action. |
| 6th Position: | 0 Mana | Corpse Fiend: I chose to put Corpse Fiend on the backmost position just to tank sneak damage. |
For this battle I decided to change my lineup from my previous battles. I decided to put in 2 sneak monsters, against my previous battles of mostly magic or range. This is because using magic on Weak Magic ruleset, as you should know, is not a great idea. I don't have any monster with a stun so I don't mind the Heavy Hitters ruleset.

BATTLE COMMENTARY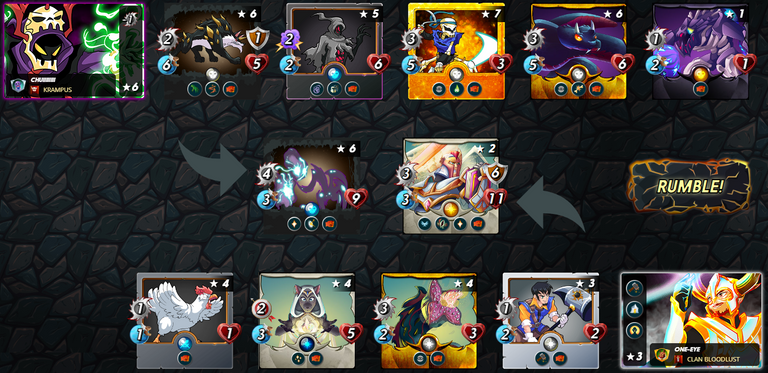 Click the Image to watch the whole battle
I think they decided to counter my usual lineup from my previous battles. Sadly I changed my focus and decided to put in sneak monsters. Looking at the lineup he is not entirely prepared for it.
Round 1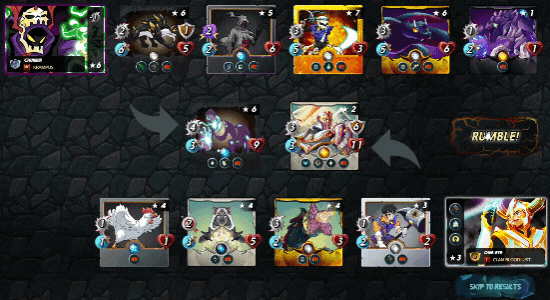 So in this round I wasted their resurrect ability on the Chicken at the back. They are totally not ready for my Sneak Deception. Also my Fiend have successfully done its job to tank a hit to protect my sneaky monsters.
Round 2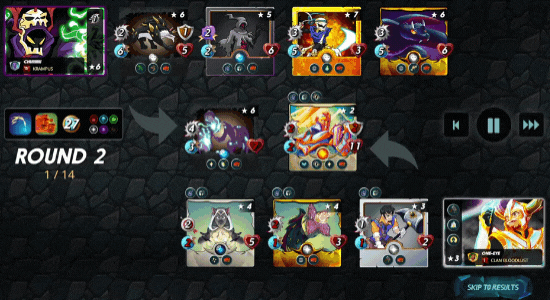 I killed their support healer at the back. Also with my Zintar debuff, their Recharged attack can't even 1 hit kill my tank. Things is going very smoothly.
Round 3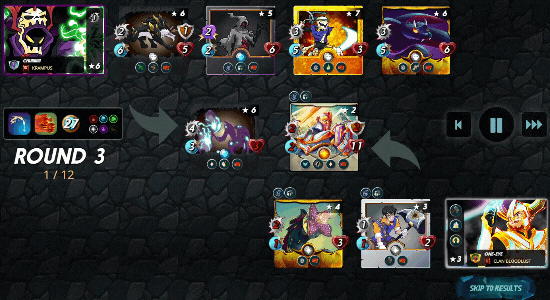 In this round I finished of every monster units at the back and just left them with their initial tank. A tanky monster but with no help is as good as a chicken.
Round 4 and 5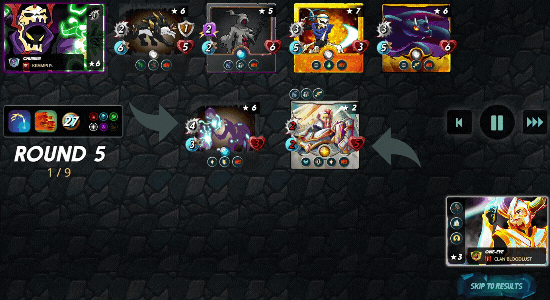 Round 4 is skipped because I don't want you to witness a very slow death. But hey round 5 is also a slow death because it took all my monster to hit before it died. A very evasive tank monster.

BATTLE CONCLUSION
Did my Strategy Worked?
My Strategy did work. Completely changing my lineup composition worked greatly on my favor. This is a great example of why having multiple lineups ready even for the same splinter is great. Throwing in a surprise sneak in the middle of magics or having a range fest on mostly melee previous battles. Everything will work accordingly if you planned ahead.
What Would I try next?
I would like to capitalize on the Heavy Hitters ruleset. There are only a handful of monsters equipped with the Stun so having them ready for the ruleset is great. Also partnering them up with the Heavy Hitter monster as well so I won't rely on the rulesets alone.
Do I like Silent Sha-vi?
As I have said earlier, Silent Sha-vi is one of my most used Death Splinter monster which spells out that I really like it. I mentioned earlier that what makes it good is that even though it is a sneak monster, it has a really high health. Not only that, it also boasts a fairly decent damage and have great speed. This is all with in 5 Mana.
Having those battle perks with just 5 Mana is absolutely ridiculous. This monster truly shines on low to medium mana cap battles. This is a staple for me on those types of battles. Although recently I rarely play a low to medium mana cap battles out in Gold League.

That is all for this weeks battle challenge. I hope you all to have a wonderful weekend!!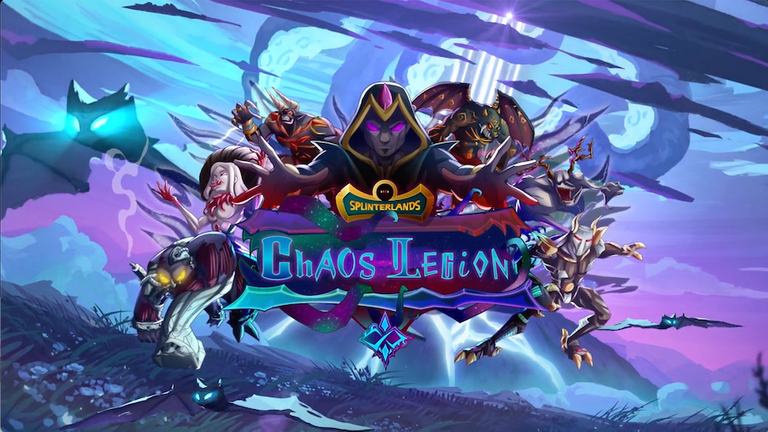 ---
---