Splinterlands - My favorite card game on the Blockchain ❤️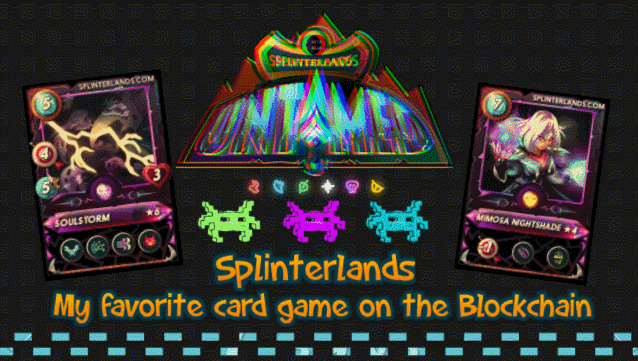 In my childhood I used to go to the game store to buy packs of cards, which allowed me to collect a number of cards of a certain edition and I could also use them to play against my friends who also collected them, giving me hours and hours of fun, I remember having hundreds and thousands of cards years ago, which of course cost my parents a lot of money and where they never had a return based on the purchase of them, so this was an expense that, although it was not very big at that time, after a few months and several years of buying them was an important consumption.
But, ¿what would you think if there was a game just as fun, and that in addition to only spend buying packs, these also bring you significant gains based on your investment? This sounds amazingly cool right! Well at this point, many in the community already know what it is just by reading the title of this post, but daily many new people enter the platform who still do not know all the decentralized applications of this ecosystem and that one of the best represents a card game called Splinterlands. In that sense, in this opportunity I will talk about "Splinterlands" and how we can earn money with this wonderful game.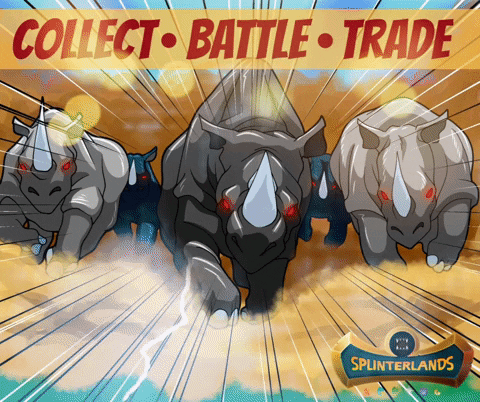 Splinterlands is an online card game based on the HIVE Blockchain, which aims to collect these cards in different editions, all in order to be able to use them to compete against other players and win significant rewards. There are perhaps many games of this type, but the particularity of Splinterlands, is that it is supported under Blockchain technology, which makes it completely decentralized, allowing the game (cards and items), can be tokenized. This gives you the opportunity to establish your own economy with a real and intrinsic value given by the players themselves through cryptocurrencies.


Games within the Blockchain reflect an important value compared to traditional games. The fact that it is supported by this technology means that there is no central entity able to control and manipulate the system. The cards are your property, the creators cannot interfere in this, additionally every action that is performed within the ecosystem, is a transaction that is signed in the HIVE Blockchain, in this way, every action, either a purchase of a card or pack, a card transfer or a sale, is fully recorded forever, so you can have a deep monitoring of everything that happens in your account and in the game in general.
The Blockchain has currently revolutionized video games as we know it, HIVE makes Splinterlands one of the cheapest games of all Blockchains, which compared to the Ethereum network, where the largest number of existing decentralized applications have been created to date, each transaction on it can incur significant costs, so this particularity makes HIVE an ideal ecosystem for building applications and makes Splinterlands the card game with the best rewards of the entire ecosystem.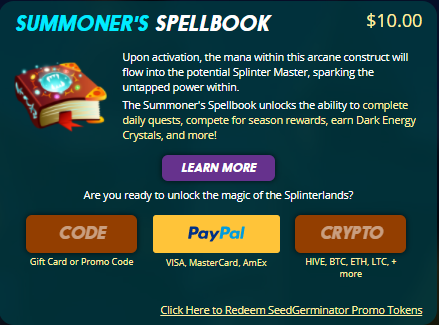 It is nothing complicated to start and begin to play to earn money, the first thing we must do is to go to the game website, you can register by clicking HERE, once registered we must pay the so-called "Spell Book" which has a cost of $ 10, this book will give us an initial set of cards level 1, with which we can begin to earn rewards. It is important to know that, to win more rewards, we must make our cards more powerful and to do this, we have to level up our cards, to be able to level up, we must collect as many of the same cards as we can and merge them, in short, go to the internal market of the game and buy them or also buy many packs, this will unlock new skills depending on the card and will make us climb faster in the leagues and therefore win much more.
The game mechanics is very simple, the idea is to face other players and win the highest score in the league ranking to get fabulous prizes at the end of each season that lasts approximately 15 days. Your cards are pitted against those of your opponent one against the other, certain battle rules are established where users must devise the best possible formation in a short period of time, to take advantage of the skills of their cards and overcome your opponent in the process. It is for this reason that I previously commented on the level of the cards, since the higher the level, the more skills you can use and unlock in each league.


---

End of season rewards: These rewards will be given to us at the end of each season and the number of chests will depend on which league we have reached according to the ranking score we have won in each battle. In the chests, as I already mentioned, can come important prizes, cards, packs or DECs.

---

Tournaments: Tournaments are a must in a card game, this way we can also compete and win important prizes if we win the tournament or at least be among the first 3 places. The rules of the tournament are of course set by the creator, and the prizes can range from DECS to legendary cards with a high monetary value.

---

Buying and/or selling in the internal market: I already mentioned that there is an internal market in which we can buy and sell at the price that best suits us, in order to generate some profitability from this exercise. In such sense we will be able to buy cards that we consider that they are really economic and later to sell them more expensive than we bought them, which will allow us to generate a difference between the price of purchase and sale that will leave us a profit. Of course, if by fulfilling our daily missions we win a very valuable card, we can place it for sale immediately in the market.

---

Buying packs: The purchase of these packs can never be seen as an expense, this is always an investment and based on this always comes a reward. In the purchase of these packs, which cost approximately 2$ to 3.5$, can bring important cards that contain a great value in the market, in this way not only we will be able to obtain our investment of purchase of packs returned, but also we will be able to generate profits as long as we get very valuable cards. In addition, this can help us to level up the cards we have.

---

Card rental: There is a platform called "Peakmonters", which is supported by the creators of the game, which allows us to rent cards that we need or that we simply have left over. By this action many users who cannot buy a really valuable card with high monetary value, can go to this market to rent them for a very low cost, however, those who rent them generate a fixed passive money for this.

---

Clan War: This is a new way to generate profits in the game, however, it is still under development, soon we will be able to get all the details about it and only then I will be able to tell you what it is about.

---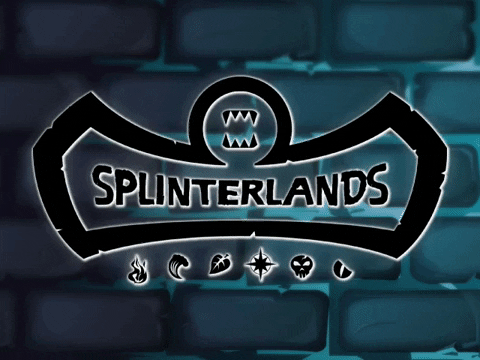 Splinterlands became my favorite Blockchain game because it was practically my beginnings on the platform, I've been here for almost a year and I do not regret having arrived, the community is very friendly and really care about their users. What I have earned, I have reinvested in the game and has brought me significant gains in all this time I've been playing it, plus I love the gameplay and easy access for anyone, the design of the cards is great and the core team of Splinterlands is very committed to the project, which will bring that it will continue to grow and bring us profits as time goes by.


We have reached the end of this publication, certainly there are many details that I could have addressed in this post, but it would have been much more extensive, in another opportunity I will be able to talk to you little by little and in detail of each aspect that makes up the game. I hope this publication motivates you to register in it and start generating rewards immediately with the best card game in the Blockchain.
---

¡I invite everyone to join Splinterlands, the best game based on chains of blocks, full of adventures, battles and strategies where you will have fun and get rewards according to your league!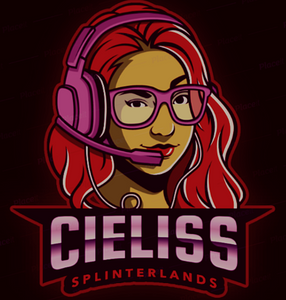 ---

---

Join the official Spanish community here Discord
---
---