Splinterlands Weekly Challenge | A backup tank and some very useful "Thorns"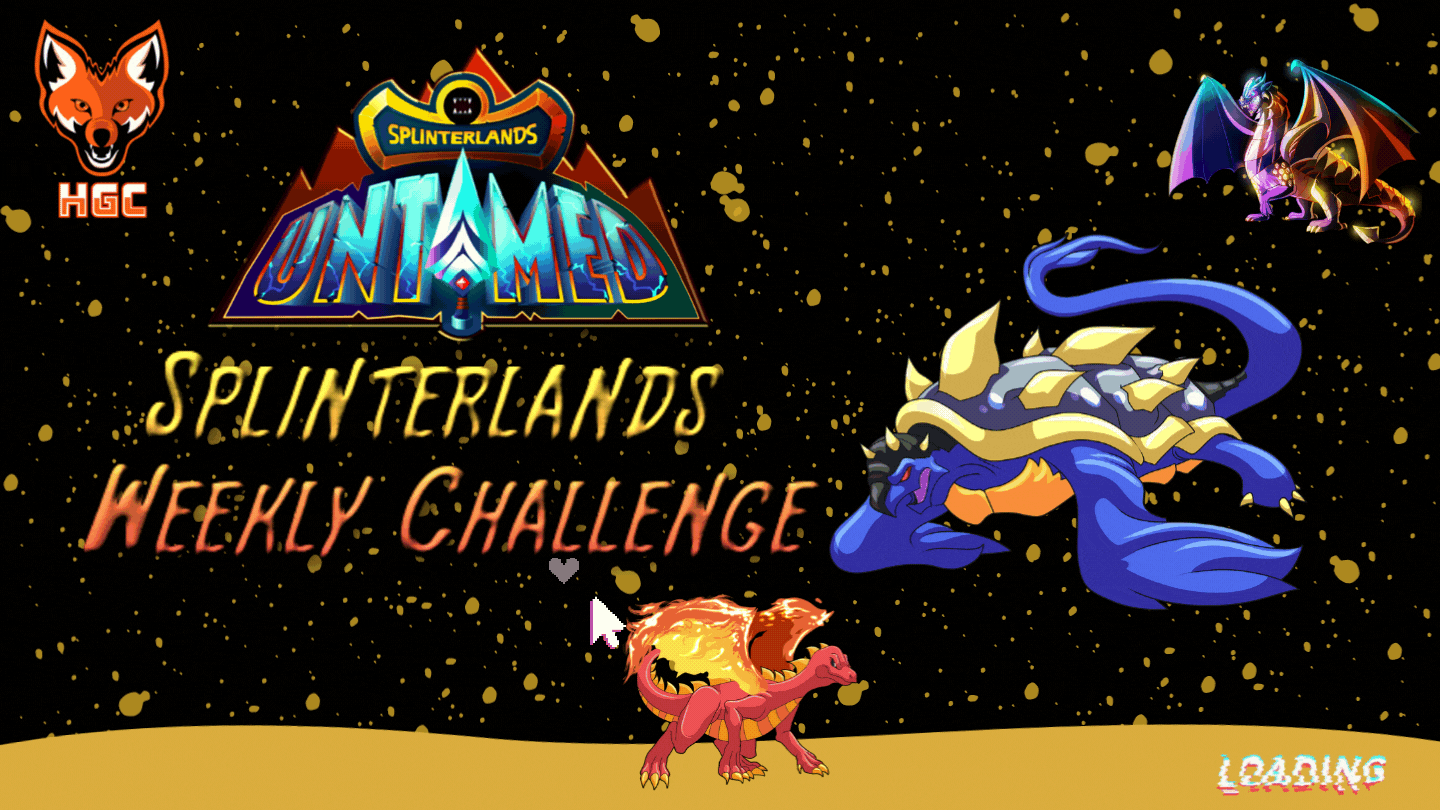 Image created in Canva

It is a pleasure and honor to introduce myself in this new year 2022 to bring content about this great game "play2earn" called "Splinterlands", where we are able to generate income doing what we love the most which are playing video games. As every week I want to thank the whole @splinterlands team and especially @carrieallen, which has supported me since I started in this game, also highlight the incredible opportunity that all players have to highlight and learn about combat strategies thanks to these weekly challenges.
In this opportunity, the challenge is about using a Splinter card of "Water", called "Spineback Turtle", a very good card from old editions (Alpha, Beta), able to withstand very good attacks acting as a main or backup tank, but with an incredible resistance, also highlighting the very low cost of mana to summon this fabulous card to the field.
Now, having said that, I will start describing how was my battle using this great skill. Join me...


As usual, I will highlight the most important aspects that this card has, I already mentioned that it is a card of the oldest editions of the game, I mean "Alpha and Beta", it is a card of the "Common" type, but it can not be underestimated, because at certain levels it is really strong and can cause significant damage to the enemy who dares to attack it head-on with a "melee" type of attack. I have my card at level 5, something quite acceptable and although at level 1 it does not have very impressive intrinsic stats, it can also be useful, at least to withstand a few attacks, this if the attacks are of the magical type, since, if they are melee and ranged, it can have a little more resistance and advantage.
Now at the level where I own it, this card has an ability that is acquired from level 4, called "Spines", this ability allows me to cause direct damage to my opponent's cards that dare to face my "Spineback Turtle" because when it is attacked, the "Spines" are able to tear a couple of points of life or shield in case the attacking monster possesses the same, this is really great because it is as if it reflected in a certain way this type of attacks. Finally, mainly at level 5, it has 6 points of life, 2 points of attack, one point of speed, and 3 points of shield.
This is undoubtedly a very good card capable of giving them resistance in several battles, as long as we can determine exactly in which rule to use it, as it is not adaptable to any rule.


My battle and/or strategy was very well structured, also as in one of my past battles, the mana available to summon my cards was a total of 99, which gave me a good margin of choice as to which cards to use and what strategy to focus on. With this amount of mana available I like to use really powerful cards and it is a special opportunity to be able to use my "Dragon" team together as my "Water Splinter", where I was able to use precisely the challenge card my "Spineback Turtle", which, due to the rules of my battle, was very good to use this card, which served me as a great backup tank.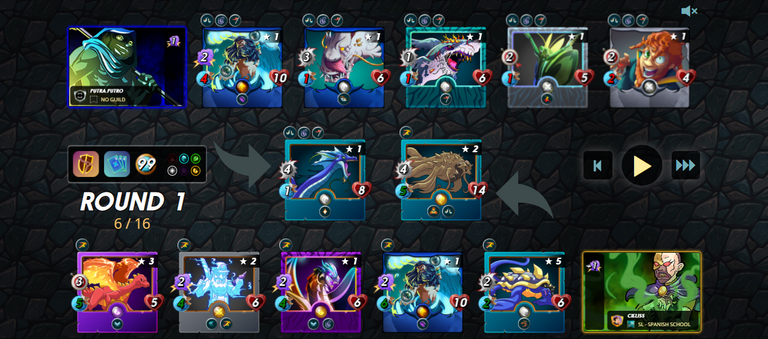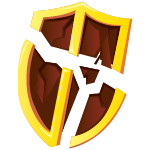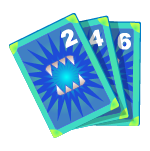 Rule of my Battle
Unprotected & Even Stevens with 99 Mana.

• Mana: 99
• Unprotected: Monsters do not have any armor and do not get armor from Abilities or Summoner Buffs
• Even Stevens: Only Monsters with even Mana costs may be used in battles



---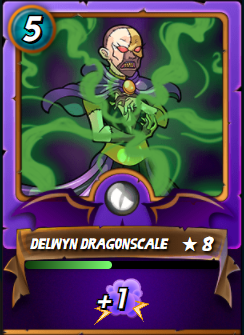 Delwyn Dragonscale
Once again one of my favorite Dragon Splinter summoners is without a doubt my Delwyn. Since I really like the magic attack, I wanted to take advantage of using my Dragons in conjunction with my Water Splinter again, in order to further increase my main magic attack against my opponent. This is what I thought when I thought of my strategy with the amount of mana we were offered to fight in this battle.

---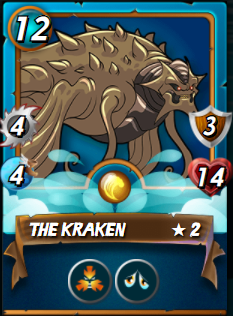 The Kraken
This is a born tank par excellence of my water team, "The Kraken", is splendidly strong and resistant to a large number of attacks and more at level 2 that I possess, its large amount of life points amounting to 14, a huge speed of 4 points and a deadly melee attack of 4 points, makes this card the most powerful of the field. To top it off, my "Kraken" comes with two intrinsic abilities, one is "Demoralize", which is able to decrease by -1 point the melee attack of all my opponent's cards, the other is "Taunt", which allows me to attract to this specific card, any type of attack that my opponent has, something really cool.
---

---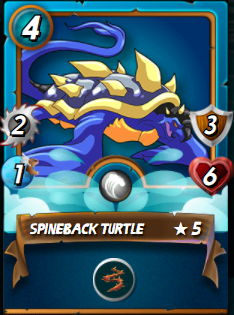 Spineback Turtle
This card is very good, the best of all is that it does not consume much mana to be able to summon it to the field, even so, my strategy using this card, was to place it in the second position, so that it could act as a backup tank in case my big "Kraken" fell in battle, which was a bit likely, but possible, because even though I could read my opponent's play a bit, I wanted to make sure I had a very good frontal resistance, like my Kraken in front and my "Spineback Turtle" replacing it in the second position. Even so, his intervention was not necessary, since my "Kraken" was able to withstand practically all the attacks of my opponent remaining with only 1 point of life.
---

---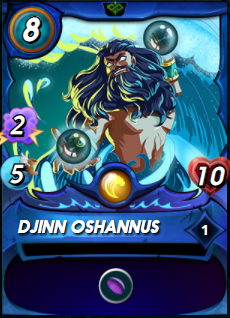 Djinn Oshannus
A really powerful card that can serve as a tank, but this time I wanted to leave it as a purely offensive card, since its speed and attack points are very good, I did not really focus on the skills that this card has, which is only to reduce the magic attack that can propel him, I was only interested in his great speed of 5 points +1 and a magic attack of 2 points, all thanks to a great card that I use and that I will describe later.
---

---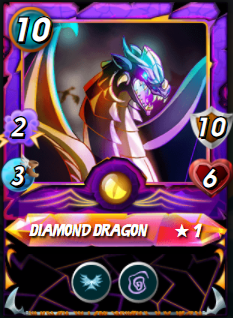 Diamond Dragon
This card can't be missing in my "Dragon" attack formation, since its abilities at only level 1 are really useful on the battlefield. In addition to this, its very good life points of 6 points and a very good attack of 2 points, allowed me to have available a great magical destructive power that made my opponent's tank fall without being able to hit his first attack. On the other hand, his "Slow" ability allowed me to slow down the speed of all enemy cards by -1 points, something that very quickly gave me the advantage in attack, which gave a serious blow to the strategy used by my opponent.
---

---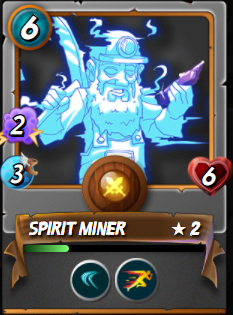 Spirit Miner
This is another of my main attack cards, although it is much more than that, as it has really good and effective intrinsic abilities that can give a final blow to anyone if we know how to use it correctly. With a very good 6 points of life, 2 points of attack, and 3 +1 points of speed, it is a really dangerous card, plus it has an ability that is the counterpart of "Slow", this is called "Swiftness", able to increase the speed of all my cards in +1 points, which complements my strategy of making my opponent much slower and my team much faster.
---

---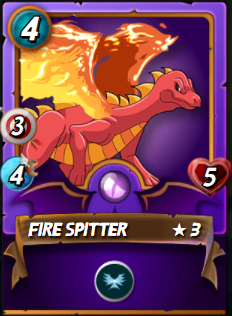 Fire Spitter
This is a really powerful card and with very low mana points to summon it, the reason to place it in the last position is because of its ability to "Fly", which would allow it to dodge a large number of attacks in case my opponent used a card with the ability to "Sneak" to attack my last position card, in addition to that, its great speed would increase the chances of failure of these sneak attacks to my team. So my strategy with this card was focused on providing defense and protection and my main attacking cards and at the same time an offensive card with 3 big ranged attack points that were deadly for my opponent.
---


My strategy worked perfectly since from the beginning of the battle I was able to neutralize my opponent, decreasing his speed and increasing mine at the same time. Besides, his idea of taking away a -1 magic attack point was good, but it was useless thanks to my Delwyn Dragonscale that was able to counteract this effect in a way, leaving the original attack of my main attack cards and attacking in basically every round with a huge offensive attack
---

This is not a card that I use very often, but for certain battles, it is really very useful, for example, in my battle, it was a very good backup tank, because, if my main tank "The Kraken" was defeated, it would be difficult for his "Sea Monster" to continue in the battle thanks to the "Spines of my turtle", not to mention the consecutive attack of my cards towards the tank in the first position. Otherwise, it can adapt to rules where mana is very low, this is where the full potential of "Spineback Turtle" can be seen.
---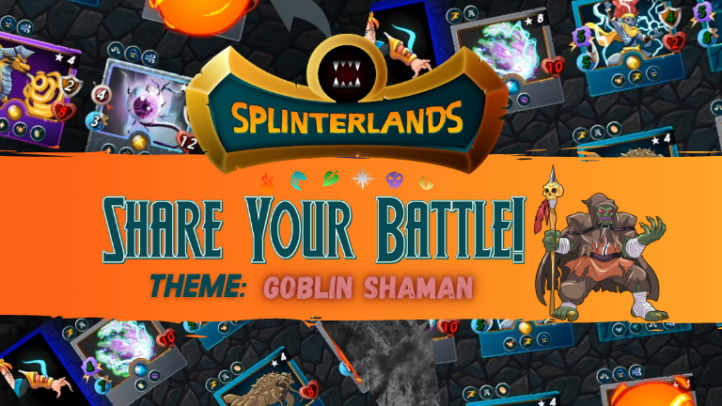 ¡I invite everyone to join Splinterlands, the best game based on chains of blocks, full of adventures, battles and strategies where you will have fun and get rewards according to your league!
---

---

Join the official Spanish community here Discord
---
---