Rank Reward Changes, the next episode what rank to play in and for which chest?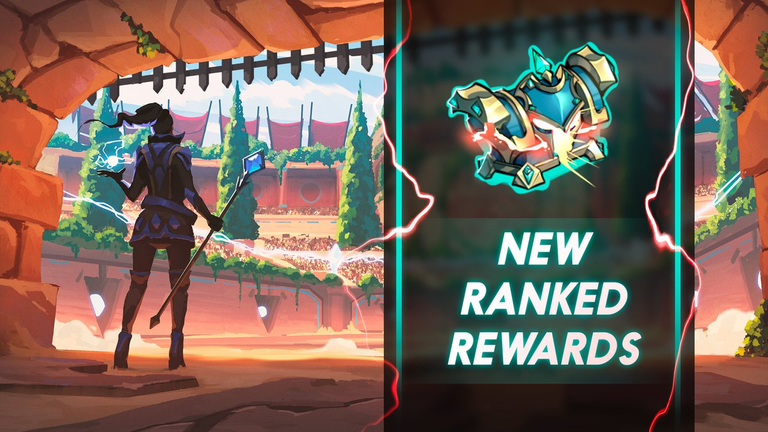 Where do I play and for which chests?
One of the main question when rank rewards can out many players had was which league do I play in and which league chests do I get?
Before rank rewards I played in silver 2 where my CP allowed. I a decent deck largely bronze level cards though not max bronze with some silver level cards. When ranked rewards came out I had the idea for myself and DBOffical125 as we both had very similar CP and deck; to do one season in silver 2, one season in silver 1 with one of us ranking up to gold at the end of that season.
After a couple days it was evident that there was no reason not to rent up to silver 1. So we both went ahead and rented up to silver 1. I normally enter the bronze tournament after the season reset but now I will be unable to enter though which is a draw back to renting up to silver 1.
The first week of the season was good climbed up and started to earn daily 12 - 13 chest with renting card for my focus splinter. As more and more people did this 12 - 13 daily chest turned into 8 - 10 occasionally a few more as the top of silver 1 is pretty cut throat.
So I started to question whether moving up to gold was going to be a good idea or not. As of right now I don't think it is and we both plan to stay in silver 1. While yes the chest are worth more RNG is RNG when you take the number of chests you'll get down to 3 - 4 daily it mean there is the chance for very bad pulls and right now I'm not sure it is warranted. Especially as the rental market keeps increasing. When the season started CP was around 1800 - 1900 CP per DEC now it around 800 - 900 maybe 1000 CP for CP. This mean I'd be spending more with the very real chance at bad chest openings.
To further help me make this decision and hopefully other, I was able to get the chest values for Bronze, Silver, and Gold. (If anyone is willing to get the Diamond and Champion value please let me know) I created a spreadsheet where you can enter you season reward shares and focus reward share and it will tell you how many chest for any given league.
This can help you decide if it' worth renting up a league. So for Silver near the end of the season I'm getting ~10 chest a day this only equals 4 gold chest. On top of that the first couple days of the new season I may not make 1 chest as get my rating back. So with this information I decided not to rent up to gold 3 at the end of this season.
Season and Focus chest for each league based on your reward shares.
Chest by league spreadsheet
Start by making a copy of the google sheets so you can edit it.
Pictured below is an image of the spreadsheet. The box highlighted in yellow allows you to enter the number of reward shares for you got for the season and what you get for the focus (I'd go with an average so here I used 10).
Then enter your values in the spreadsheet replacing the two values in white inside the "yellow" box in the picture. This will not be highlighted in the spreadsheet.
Then as you can see it highlights the number of chest you would have gotten in each league.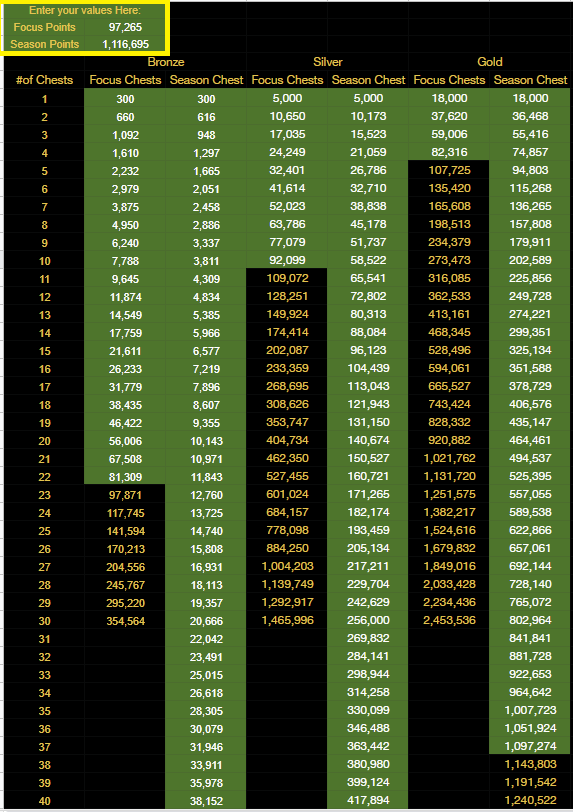 Conclusion
I hope this helps some people make the decision on which league they should play in and which league they should or want to get chests.
Also as previously mention if you have a diamond or champion account and would like to help me get those number please let me know.

Signing off
Come join the Splinterlands community.
---
---