SHARE YOUR BATTLE Weekly Challenge! CRYPT BEETLE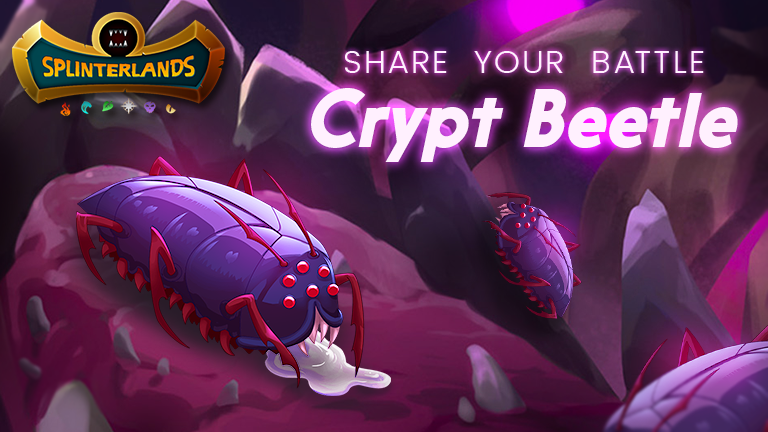 This week's battle challenge is the CRYPT BEETLE.

Lets start by examining the card.
This card is a three mana death common melee card from the chaos edition. The Crypt Beetle has shield ability. The shield ability is nice as it can take more damage from melee and range cards. This ability makes the Crypt Beetle more tank than he looks. The Crypt Beetle does not get any more abilities as the card levels up. The down side to the Crypt Beetle is it will die easily to magic damage so you have to be care when choosing to use the Crypt Beetle.
Card: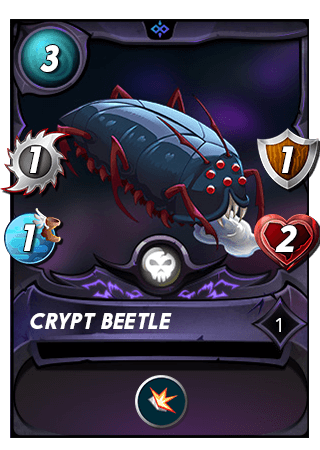 Usage:
| Ruleset | Explanation |
| --- | --- |
| Overall | This card is best used in low mana battles, little league, or equalizer battles. |
| Equalizer | Equalizer battles are very good for this card especially if you pair it with a high health card or your opponent plays a high mana high health card. It brings the viability of this card way up. |
| Weak Magic | In weak magic rule set this allows your crypt beetle to use it's shield against magic the one thing it is weak against giving it a little more viability. |
| Little League | At there mana and with the shield ability the Crypt Beetle can survive a long time because a lot of the little league cards will not do enough damage to get past it's shield ability. |

Battle
For this battle it was a 17 mana battle with Equalizer with only the death and earth splinter open. Since death counters earth pretty well I decided to use the death splinter.
The line up I have here this battle:
My tank is the Crypt Beetle with it's shield and health equalization from the Equalizer ruleset he'll make a sturdy tank then with using Thaddus to reduce the magic damage of my opponent to help the crypt beetle with magic attacks..
I have the Corpse Fiend in second position to eat up a hit after my Crypt Beetle goes down and feed a scavenge to my Riftwing.
I have the Riftwing in the third position to keep taking for my magic damage dealers behind it.
I have the Life Sapper to life leach up some health in the case my Riftwing goes down.
I have the Death Elemental in the last position it's job is to hit a Life Sapper on the other side and / or snipe who he can.
Round 1
My opponent had the same idea as I did but instead of the Crypt Beetle and Riftwing he played three other melee cards and the chaos agent..
The first my opponents undead badger starts to work on my death element My death elements works on his chaos agent. My opponents Death elements starts to work on my riftwing. My opponents Cursed slimball can't do any damage to my crypt beetle so that just my opponent's life Sapper working on it while my Life Sapper and Crypt Beetle work on my opponents Cursed slimball.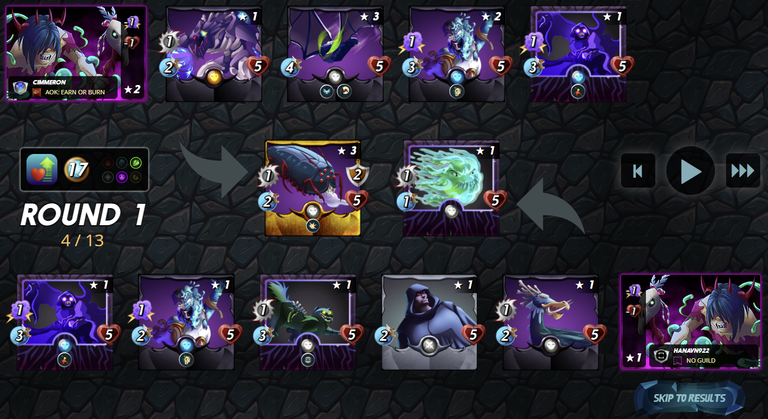 Round 2
As we start the round as you can see the damage has been stread all over the place by my opponent and I have split my damage between the tank and my snipe target.
Unfortunately this is where I start to see my mistake. I have left my death elemental open to his undead badger's attacks.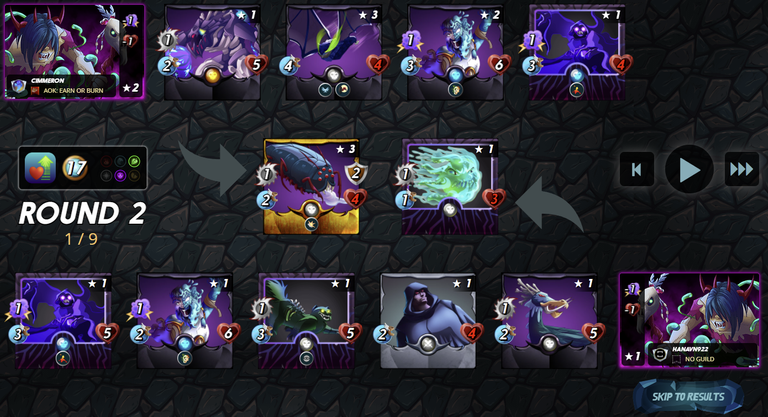 Round 3
In this round the cursed slimball goes down for my opponent. My Crypt Beetle is holding in there with 3 health because the Slimball couldn't do damage to my Crypt Beetle and my opponent spreading out it's damage.
From here I show the next 6 round this battle goes to fatigue and I eventually lose because once my Crypt Beetle, Corpse Fiend, and Death Elemental go down I just didn't have the damage any more.
Round 4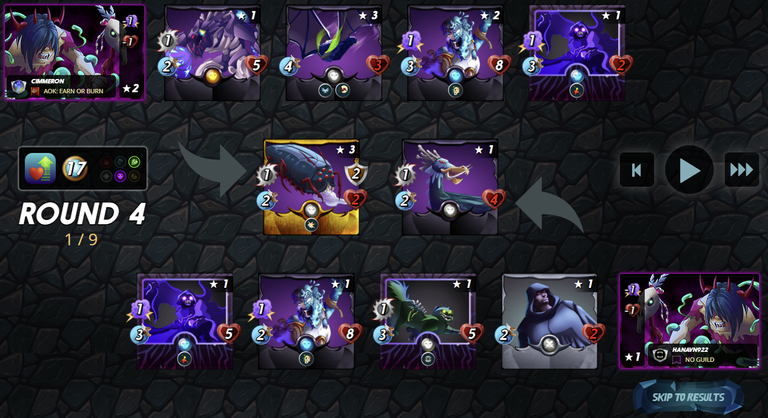 Round 5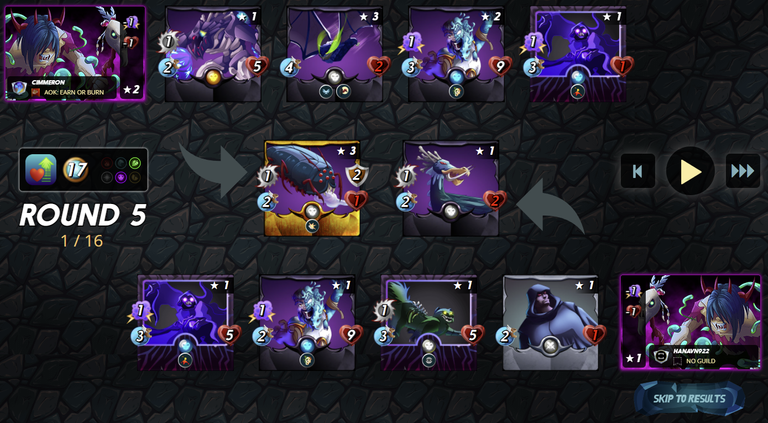 Round 6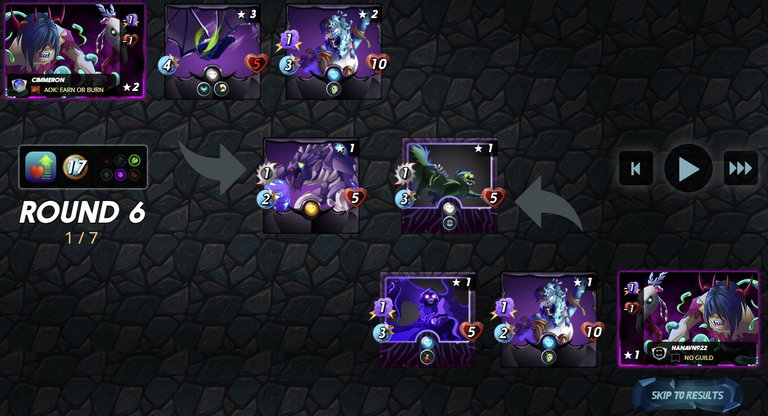 Round 7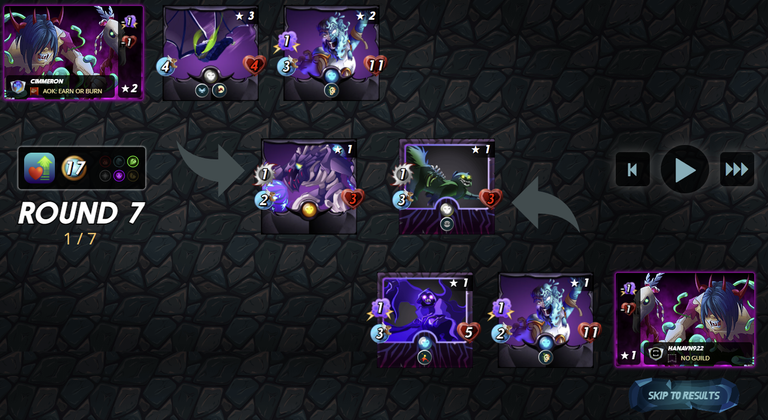 Round 8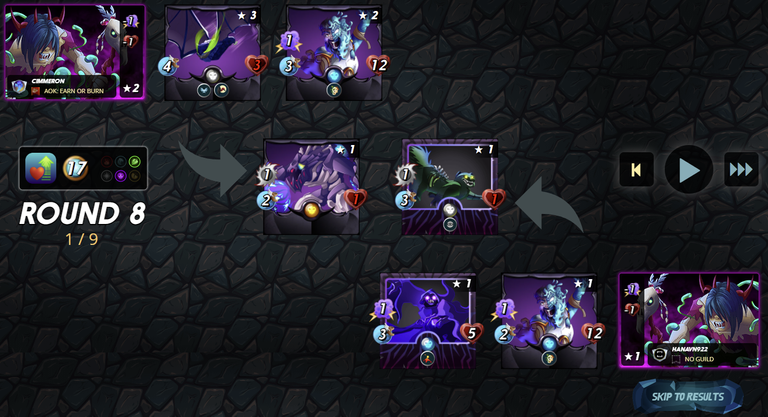 Round 9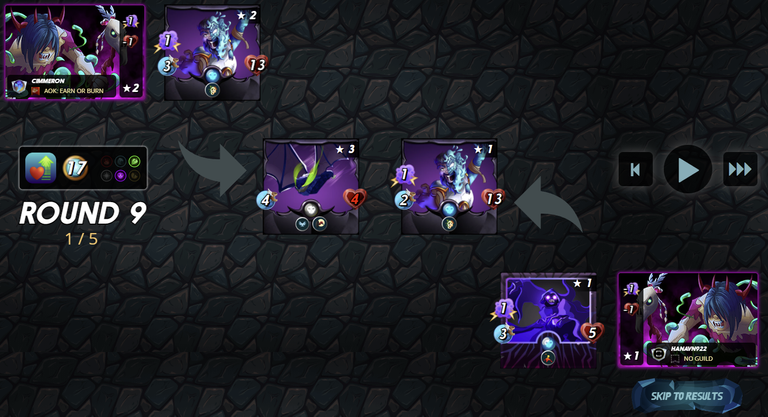 Conclusion:
The Crypt Beetle was the perfect choice here for this battle but my arrangement of my other cards ultimately cost me this battle. If I had swapped my Life Sapper and Death Elemental I would have won this battle because of the Crypt Beetle not being able to be damaged by my opponent's melee cards. The Life Sapper would have healed the damage the undead badger was doing. My Riftwing was contently getting health from scavenge and with my Death Elemental alive I would have killed my opponent's Death Elemental
Come join me in Splinterlands.
---
---