SHARE YOUR BATTLE Weekly Challenge! MYCELIC MORPHOID
This week's battle challenge is the Mycelic Morphoid.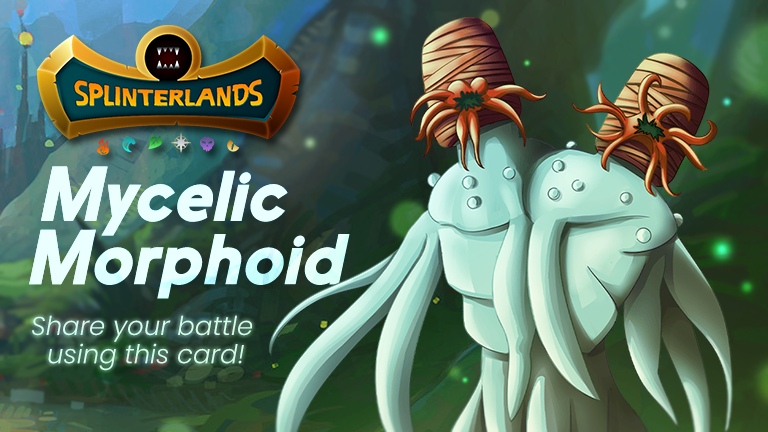 ---
Lets start by examining the card.
This card is a one mana earth common melee card from the chaos edition. This a great cheap tank to take a hit allowing you protect your other cards. It is also great for low mana battles.
Usage:
| Ruleset | Explanation |
| --- | --- |
| Overall | The Morphoid is a cheap tank to take the first hit in the front line, from sneak, or opportunity attacks. |
| Health Equalizer | Turn your one mana card into a strong tank allowing you to add more cards then using a higher level melee card as a tank |
| Super Sneak | This allows you to add some more damage or you can place this Morphoid in the back to eat the first sneak attack. |
| Armored Up | The extra armor allows your Morphoid to take an extra hit from melee or range. |
| Mylor | While not a rule set Morphoid pairs well with Mylor prior to level three to take a hit and return the thorns damage. At level three Morphoid gets throns on his owns. |
---
Card: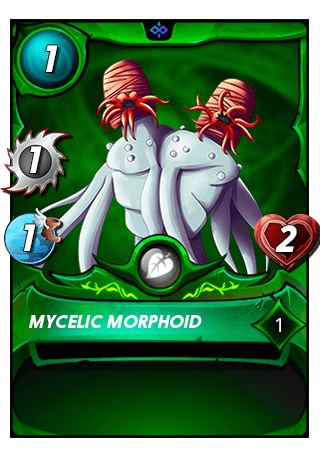 The Morphoid gain thorns at level 3.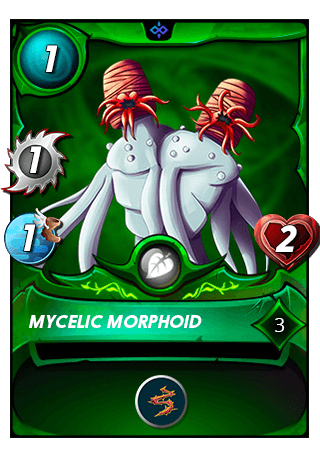 ---
Battle
For this battle it was a 23 mana melee only battle where trample would trigger more than once. Life and Death were inactive with all the other splinter active.
I decided to use Mylor since it was melee only.
I used Mycelic Infantry as my front line tank to reduce the damage coming in.
I used Uraeus and the Battering Ram.
I used the Fiend and Morphoid to protect my back line. Though I did make a mistake here since Uraeus, the Fiend, and Morphoid all had the same health I need to put the Fiend or Morphoid in front of Uraeus to protect him.
I had a second tank with the Xenith Monk
Round 1
My opponent had the Xenith Monk on the back line and had a high enough level summoner for his heal to be active where my heal was not active.
My Battering ram get taken out turn one by the Deep Lurker but the thorns removes Deep Lurker's armor.
My Uraeus will remove the shield from my opponents Xenith Monk.
My opponents Sea Monster removes some of the armor from my Infantry, the thorns removes the Sea Monster's armor and my Infantry misses the Sea Monster.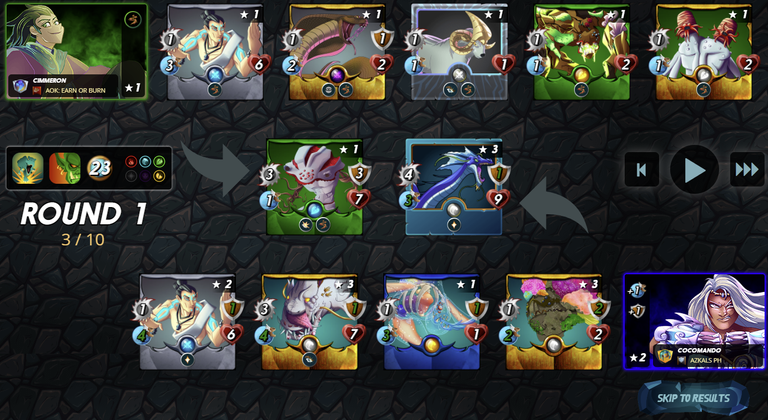 ---
Round 2
Deep Lurker take my Uraeus' armor taking thorns damage to 5 health.
Sea Monster removes the armor from my Infantry taking thorns damage to 7 health.
Uraeus hits the Xenith Monk taking him to he health.
My Infantry hits the Sea Monster taking it to 4 health.

---
Round 3
My opponent's Xenith Monk heals back to full.
Deep lurker kills my Uraeus taking thorns damage down to 3 health.
Sea Monster heals then hit my Infantry taking my Infantry to 5 health while taking thorns damage to 5 damage.
My Infantry hits the Sea Monster taking it to 2 health.

---
Round 4
Deep Lurker kills my Fiend taking thorns damage to 1 health.
Sea Monster heals hitting my Infantry down to 3 health and taking thorns damage to 2 health.
My Infantry kills the Sea Monster

---
Round 5
Deep Lurker hits and kills Morphoid killing itself with the thorns damage.
From here on out none of the remaining characters can do damage to my Infantry and after several rounds my Infantry kills everyone for the victory

---
Conclusion:
Mylor was the right call for this battle. The Morphoid as well as the other cards we have provided targets for the Deep Lurker to kill it's self on. While the MVP of this battle was the Infantry the Morphoid provided some utility. The take away from this battle is my Xenith Monk was wasted mana but my opponent had been able to get through my Infantry he would have been there to jump to the front.
---
---