Tips and Tricks for getting started with PeakMonsters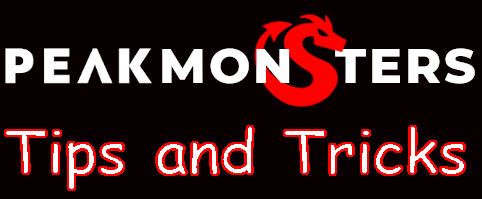 So you've started playing Splinterlands and feel like you are getting the hang of it so now what do you do??? There are a lot of feature inside the Splinterlands web site that are made just a bit better by a lot of 3rd party web sites. One of these web sites is peakmonsters.com, where you can manage your collect, rent cards, buy cards, and see a variety of information about Splinterlands and your account for Splinterlands .
Splinterlands and PeakMonsters are on the Hive block chain, what does that mean for you? It means that once you've created your Hive account you are simply logging into both locations with the same account. There are tons of pieces on the Hive block change that all use the same Hive account information including PeakD where I am posting this blog.
Login
When you go to peakmonsters.com you'll see a page that looks like this.

From here you'll click the "Login" at the top right to begin. Which will pop up a page for you to enter you Hive account name.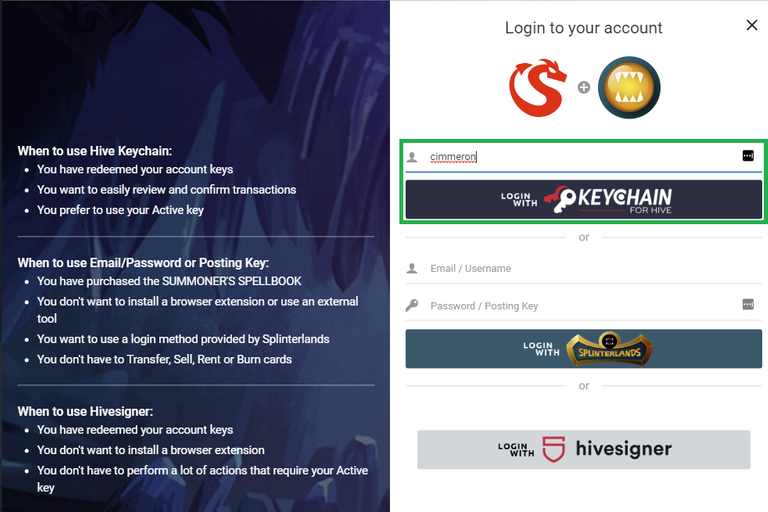 Once you've entered your name and hit enter or clicker "Login with Keychain For Hive". You can also log in with your splinterlands username / password, though I have only ever used the keychain. Once you are logged in the screen will look very similar but now it will display some of your information at the top. It shows your credits, dec, and resource credits for the account.
Exploring the PeakMonsters.com home page.
Now that you are logged in lets look at the items of interest on this page.

The top left has "My Cards", "Buy", "Rent", "Explore", and "More". The top right as you can see I've clicked on my account to expand the options there. So with so many options where do we begin.
We'll we're going to begin with the thing I least understood when I started trying to do transactions for Splinterlands and PeakMonsters which is Resource Credits (RC) which you see under my name I have 99% RC.
In between the links on the left and your account name on the right you'll see a couple icons.

So I call this the action hub there is where a lot of your actions will take place. You have an icon that looks like letter box that would sit on your desk, the action queue. Any action you do will briefly show in the this area while it is being processed. Unless there is a delay on the block chain or an issue you'll almost never see anything here unless you are watching it as everything happens so fast.

Next you have the what I just call the queue, this is where all cards will go as you select them until you select what action you want to preform.

Finally you have the cart, this is where you will pay to buy, rent, and renew rentals.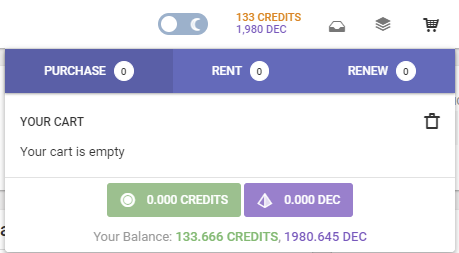 Resource Credits (RC)
You said we were going to start with Resource Credits (RC) what does this have to do with RC? We'll this is where all the actions you perform will happen and when you perform an action on the block chain it takes RC to complete. Your RC on the block chain is based on your Hive Power and there is a couple ways to check that. We'll start with the way you can see it from PeakMonsters. Click on your account name which brings up the menu I showed previously. From there click on "PeakD (Hive) Wallet" which will take you to your wallet page on PeakD.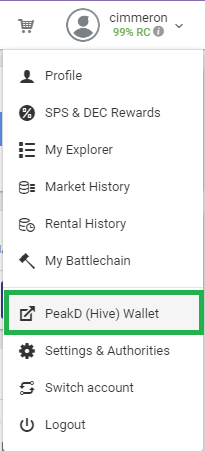 This is the part of the PeakD wallet page that shows your Hive Power (HP). As you can see I have 104 HP with about half delegated out to my account that rents my cards. Here you can see about how many transfers you have left and about how long it will take to recharge.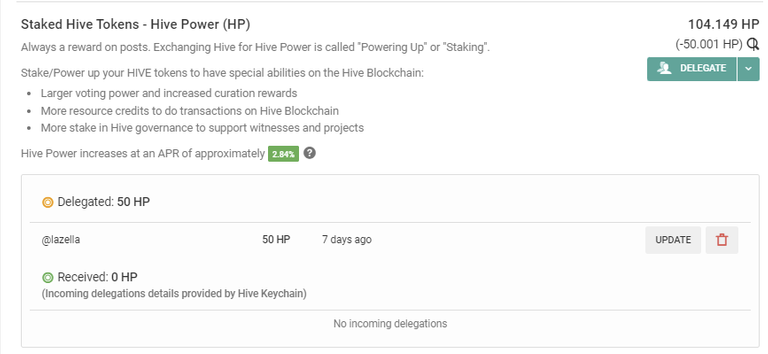 You can also see information about your RC here on hiveblocks.com which is hiveblocks.com/@accountname where account name is your hive account so in the link I show it says cimmeron as that is my hive account name.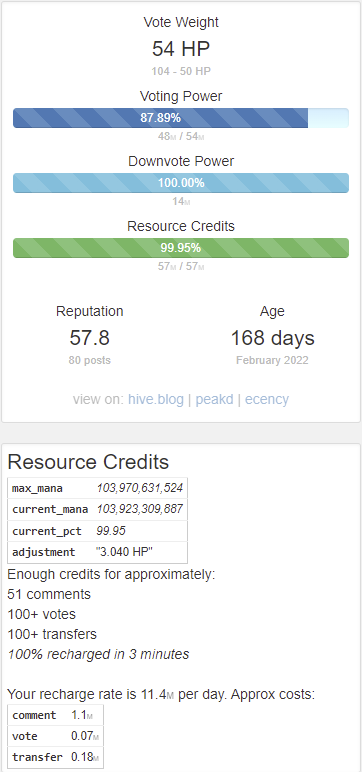 So now that we know it takes RC to do anything on the Hive block chain and that RC is based on your HP how do you get HP? There are a couple ways to get HP and thus RC. The first and easiest is through Splinterland. Use the RC you have until it reaches 0. Once it reaches 0 and you have need to do a transaction try to rent a card worth .001 DEC through Splinterlands, this is the key it must be through Splinterland. When it failed because of lack of RC Splinterlands will delegate you up to 10 HP across several hours. This will get you started. If you know someone they can also delegate you HP the same way I have delegate HP to my alt account. When I first started my buddy @dbofficial125 delegated me some so I could buy cards, this was before I knew about the Splinterland delegation and how to get the splinterlands delegation. I did take 5K DEC and convert it to Hive to power up to get HP which is another way to get HP. The final way is blogging each week Splinterlands posts a social media challenge and weekly battle challenge on their blog. Entering these post if they get curated by the Splinterlands team after 7 days you will receive a reward that can be used to power up and get HP or will be rewards as HP already.
Setting
So the last thing I want to cover is the Settings page. There are a couple of key settings for PeakMonster which you can get to from clicking on your account name and then clicking on "Settings & Authorities".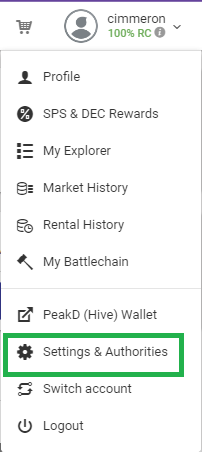 Below you will see two Setting pages, the first is the default and the 2nd is my settings. You do not need to set these until you are ready to use them but overall you will want to set "All CREDITS for Bids" to your preference on when you want PeakMonster to use credits. As you can see I have it set to use "CREDITS FIRST". Then second is grant authority to PeakMonsters to allow it to place bids for buying and renting cards. My Suggestion is when you start is to set these setting this way. If you never plan to use credits then you don't need to set that one but credits is also the easiest and least costly way to get money into Splinterlands.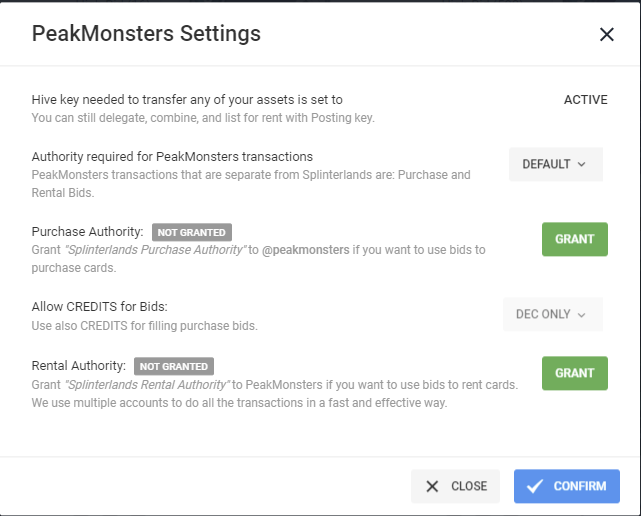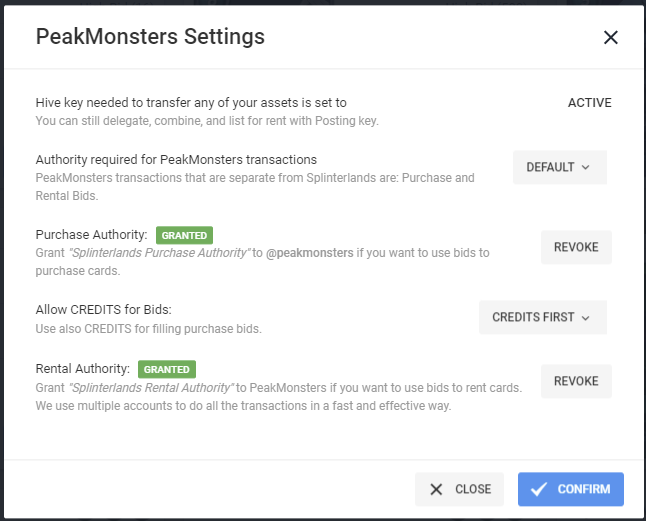 I was planning on covering a bit more in this post but it's already a fairly large post already. I plan to create a bunch of posts which I will ultimately tie them together in a PeakMonster Tutorials in one post. I am going to stop here but please let me know if the amount of information in one post is good, if it can have more information or less.
In this post we've covered logging into PeakMonsters with the Hive key chain, we took a look at the PeakMonster's home page, we reviewed RC which drives the Hive block chain, and the settings for PeakMonsters.
Please be on the lookout for more post on how to use PeakMonsters and tips and tricks for using it.

Signing off
Come join the Splinterlands community.
---
---