[ENG] A good snake // Una buena serpiente [ESP]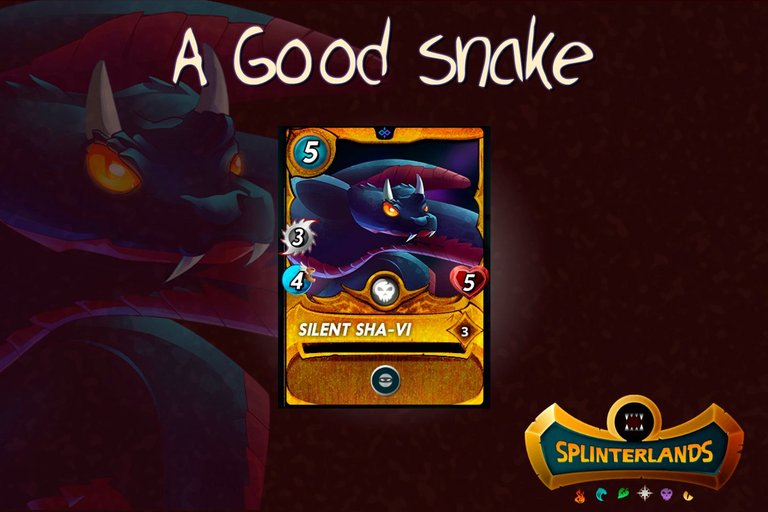 I'm not a snake lover, I don't even like them, but this one in particular I really like, maybe because it's on my side, the truth is that since I saw it I was delighted with its price and decided to buy it. I'm talking about Silent Sha-Vi, one of the jewels of the Chaos Legion edition, I already had it at level 1, but it didn't seem like a big deal, however at level 3 this card becomes a beast, very useful in Bronze and also in Silver, although in the latter it can be used at level 5 at most, where it increases its speed and life.
The main ability of this card is one of the basic and best known skills of the game, "sneak", with it attacks the monster that is located in the last position of the opponent's row, only when facing "Taunt" does not work, but otherwise it is an ability that can be used to great advantage. Silent Sha-Vi is very useful at level 3, it increases its speed to +4 and increases its attack to +3, these are spectacular numbers for a support monster, so I did not hesitate to make it part of my team when I was analyzing the market. Besides that, with 5 points of mana and 5 points of life is a very good card, a jewel as I said at the beginning.
No soy amante de las serpientes, ni siquiera me gustan, pero esta en particular me ha caído muy bien, quizás porque esta de mi lado, lo cierto es que desde que la vi quede encantado con su precio y decidí adquirirla. Estoy hablando de Silent Sha-Vi, una de las joyas de la edición Chaos Legión, ya la tenía en level 1, pero no me parecía la gran cosa, sin embargo en nivel 3 esta carta se vuelve una bestia, muy útil en Bronce y también en Plata, aunque en este último se puede usar en level 5 como máximo, donde aumenta su velocidad y vida.

La habilidad principal de esta carta es una de las habilidades básicas y más conocidas del juego, "escabullirse", con ella ataca al monstruo que este ubicado en la última posición de la fila rival, solo cuando se enfrenta a "Taunt" no funciona, pero del resto es una habilidad que se le puede sacar mucho provecho. Silent Sha- Vi es muy útil en level 3, sube su velocidad a +4 y aumenta su ataque a +3, son cifras espectaculares para un monstruo de apoyo, por lo que no dude en hacerla parte de mi equipo cuando estuve analizando el mercado. Además de eso, con 5 puntos de mana y 5 puntos de vida es una muy buena carta, una joya como dije al principio.
---

---
Now then, what good does it do me to talk so much and not show it in action? Not much really, because of that I'm going to show you two battles where you can see its great power. The first one was against the fire splinter, a 99 mana points fight, and with the ruleset that weakens magic. Based on that I decided to use Owster as summoner and two tanks in the first positions with enough armor points, the idea was to take advantage of the ruleset to the maximum, but as my enemy did not use magic, I immediately found myself at a disadvantage, apart from that, my opponent lowered my attack -1, and used two tanks just like me. If I hadn't had Silent Sha-Vi on my side I'm sure I would have lost the fight, his attack was +2 and that was enough to defeat the opponents in the second row while our tanks collided with each other. Next I will leave you the link so you can evaluate his performance in this battle.
Ahora bien, ¿de qué me sirve hablar tanto y no mostrarla en acción? No mucho la verdad, debido a eso te voy a enseñar dos batallas donde podrás ver su gran poder. La primera de ellas fue contra el splinter de fuego, un combate de 99 puntos de mana, y con la ruleset que debilita la magia. En base a eso decidí usar a Owster como invocador y dos tanques en las primeras posiciones con bastantes puntos de armadura, la idea era aprovechar la ruleset al máximo, pero como mi enemigo no uso magia, inmediatamente me encontré en desventaja, aparte de eso, mi rival me bajo el ataque -1, y uso dos tanques al igual que yo. Si no hubiera tenido a Silent Sha-Vi de mi lado estoy seguro que habría perdido la pelea, su ataque quedo en +2 y eso fue suficiente para ir derrotando a los rivales en la segunda fila mientras nuestros tanques colisionaban entre sí. A continuación te dejare el link para que evalúes su desempeño en esta batalla.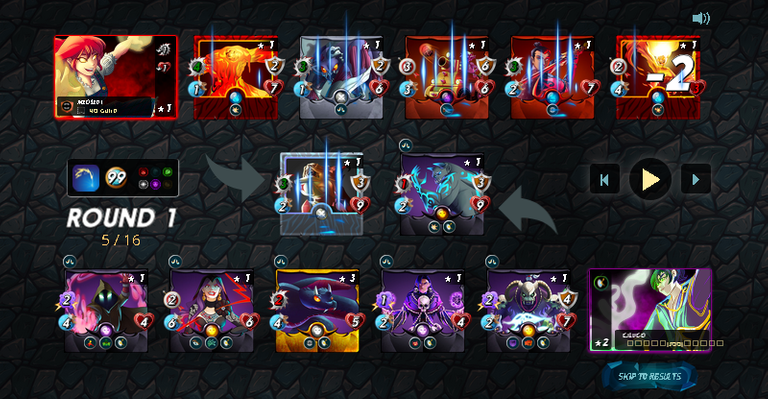 ---
The second fight was a little easier than the previous one and I will explain why, the ruleset gave us divine shield to all monsters, but the amount of mana to use was only 21 points. Because of that I went with the dragon splinter, specifically with Daria Dragonscale, one of my favorite summoners, with her power I could increase my snake's attack by +4, that allowed me to attack second in the duel, and in this type of ruleset where monsters with low health are used, attacking faster gives more advantage, and although my opponent increased the armor of his monsters that was not enough, because I combined my snake with Dhampir infiltrator that attacks twice per turn, so, in one turn I removed the armor and in the other I weakened my opponents so that my Silent Sha - Vi could deliver the final blow. I must say that it was an excellent strategy, my opponent could do nothing, and defeating his monsters was a piece of cake with the power of my snake. Like the previous battle, I will leave you the link to see it yourself.
La segunda pelea fue un poco más fácil que la anterior y te voy a explicar porque, la ruleset nos otorgaba escudo divino a todos los monstruos, pero la cantidad de mana a utilizar era solo de 21 puntos. Debido a eso me fui con el splinter tipo dragón, específicamente con Daria Dragonscale, una de mis invocadoras favoritas, con su poder le pude subir a mi serpiente el ataque en +4, eso me permitió atacar de segundo en el duelo, y en este tipo de ruleset donde se usan monstruos con baja vida atacar más rápido da mayor ventaja, y a pesar de que mi rival aumento la armadura de sus monstruos eso no fue suficiente, pues combine mi serpiente con Dhampir infiltrator que ataca dos veces por turno, asi que, en uno quitaba la armadura y en el otro debilitaba a mis rivales para que mi Silent Sha – Vi asestara el golpe final. Debo decir que fue una excelente estrategia, mi rival nada pudo hacer, y derrotar a sus monstruos fue pan comido con el poder de mi serpiente. De igual forma que la batalla anterior, te dejare el link para la veas tú mismo.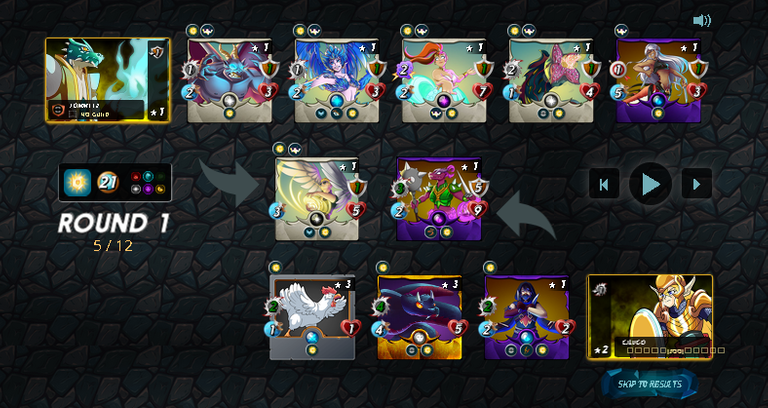 ---
To conclude, playing with cards at the maximum level that the league allows is a real wonder, only this way you can compete in the rankings. And besides that it's more fun, because you can make better use of your cards. If you liked Silent Sha - Vi in level 3, but you don't have it, I encourage you to buy it, it's super cheap, go to the market and see for yourself. Thanks for reading, see you next time.
Para concluir, jugar con cartas en el máximo level que la liga lo permite es una verdadera maravilla, solo asi se puede competir en los rankings. Y además de eso es más divertido, porque le puedes dar un uso mejor a tus cartas. Si te ha gustado Silent Sha – Vi en nivel 3, pero no la tienes, te animo a comprarla, esta súper económica, ve al mercado y date cuenta por ti mismo. Gracias por leer, hasta una próxima oportunidad.
---
Splinterlands is the best #play2earn game out there.
The images have been edited in Adobe Photoshop using elements from the game.
If you want to start playing, you can do it from here:
---
---