[ENG] The one who gets it sucks! Chaos Dragon on the attack // ¡Al que le caiga le chupa! Chaos Dragón al ataque [ESP]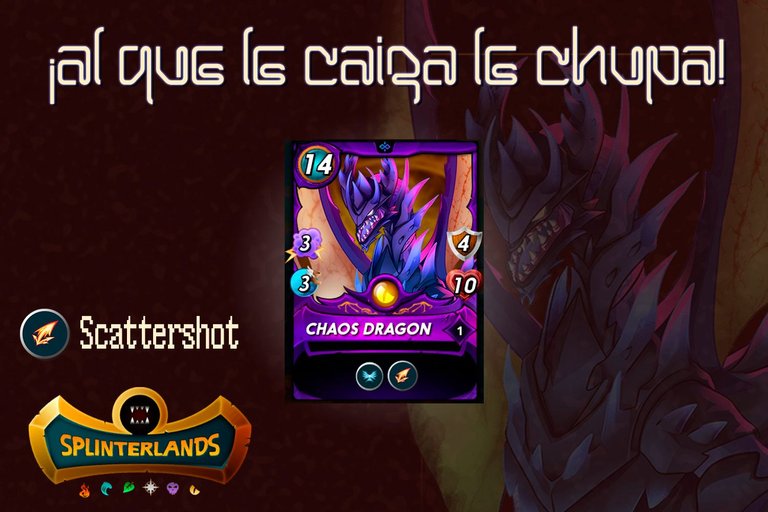 This week I have had some of the new focus in Splinterlands, which have allowed me to play with cards that I had not used before, plus it opens the possibility to play with Dragon type cards as many times as I want, and we all know how imposing dragons are, so I have enjoyed it quite a lot. However, among the new abilities that were included with the Chaos legion edition, there is one that really did not call my attention at all, and it is "Scattershot", as soon as I saw it I said to myself "how crazy is this", without knowing where our monster is going to shoot, how can you make a good strategy? But in the middle of that as I was using dragons I decided to rent Chaos Dragon and I was delighted with its power, reason why I will show a battle where I used it and it was quite impressive, but before that let's take a look at the card and its abilities.
Esta semana he tenido algunos de los nuevos focus en Splinterlands, los cuales me han permitido jugar con cartas que no había usado anteriormente, además de que me abre la posibilidad de jugar con las cartas tipo Dragón las veces que quiera, y todos sabemos lo imponente que son los dragones, por lo que he disfrutado bastante. Sin embargo, entre las nuevas habilidades que se incluyeron con la edición Chaos legión, hay una que de verdad no me llamaba para nada la atención, y es "Scattershot", apenas la vi me dije entre sí "que locura es esta", sin saber dónde va a disparar nuestro monstruo, ¿cómo se puede hacer una buena estrategia? , pero en medio de eso como estaba usando dragones decidí alquilar Chaos Dragón y quede encantado con su poder, razón por la cual mostrare una batalla donde la use y fue bastante impresionante, pero antes de eso vamos a dar un vistazo a la carta y sus habilidades.
Chaos Dragon is a legendary card, as its name suggests it is a total chaos, just to use it you need 14 points of mana, the highest of the whole game, hence one of its limitations, in bronze this card is of little use, it can be used from Silver where there are battles with more than 40 mana in its ruleset, so that is the first point to consider. But speaking of its performance, it comes with 3 points of speed, 4 points of armor, 10 life and 3 powerful magic attack points; very good stats considering the amount of mana it requires to be used. All this at level 1, there comes equipped with the following two skills:
Chaos Dragón es una carta legendaria, como su nombre lo indica es un total caos, nada más para utilizarla se necesitan 14 puntos de mana, la más alta del todo el juego, de allí una de sus limitantes, en bronce esta carta poco sirve, se puede utilizar a partir de Plata donde hay batallas con más de 40 mana en su ruleset, asi que ese es el primer punto a considerar. Pero hablando de sus prestaciones, viene con 3 puntos de velocidad, 4 puntos de armadura, 10 de vida y 3 poderosos puntos de ataque mágico; son estadísticas muy buenas teniendo en cuenta la cantidad de mana que requiere para ser utilizada. Todo esto en nivel 1, allí viene equipada con las dos siguientes habilidades: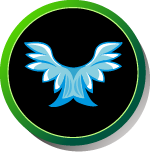 Flying, this one is very well known, the flying ability allows several things, among them increase the evasion capacity of the card to physical or ranged attacks from rivals, and the second thing that allows us is to avoid the damage produced by the earthquake. It is also very advantageous when you have good speed.
Volador, esta es muy conocida, la habilidad de volador permite varias cosas, entre ellas aumentar la capacidad de evasión de la carta a los ataques físicos o a distancia de los rivales, y la segunda cosa que nos permite es evitar el daño producido por el terremoto. Además es muy ventajosa cuando se tiene buena velocidad.
---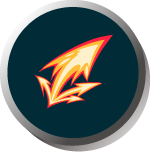 Scattershot, one of the most underrated skills in the entire Splinterian universe, and it is understandable, we do not even have a description of it on the game page, but seeing how it works, it is a skill that attacks any target, although it seems to follow a sequence in choosing the target, first the one in the second position, then the one in the third and so on. The striking thing about all this is that well combined with the rest of the team is very useful, but I say this only with Chaos Dragon, the other four cards that have this ability have ranged attack, and I think they are more difficult to use.
Scattershot, una de las habilidades más infravaloradas de todo el universo splinteriano, y es de entenderse, ni siquiera tenemos una descripción de la misma en la página del juego, pero viendo su funcionamiento, es una habilidad que ataca a cualquier blanco, aunque pareciera seguir una secuencia en la elección del objetivo, primero al que está en la segunda posición, luego al que está en la tercera y asi sucesivamente. Lo llamativo de todo esto es que bien combinada con el resto del equipo es muy útil, pero esto lo digo solo con Chaos Dragón, las otras cuatro cartas que poseen esta habilidad tienen ataque a distancia, y pienso que son más difíciles de usar.
---

---
---

This battle was a good test, because my enemy had in one of his monsters the "taunt" ability, at times I thought that Chaos Dragon could evade the provocation but it was not so, if it had done it would be spectacular because it would end the opponent's strategy from the first turn, and it would be quite balanced, because sometimes that "taunt" ability becomes impossible to defeat.
Esta batalla fue una buena prueba, ya que mi enemigo tenía en uno de sus monstruos la habilidad de "taunt", por momentos pensé que Chaos Dragón podría evadir la provocación pero no fue asi, de haberlo hecho seria espectacular porque acabaría con la estrategia rival desde el primer turno, y sería bastante equilibrado, porque en ocasiones esa habilidad de "taunt" se vuelve imposible de derrotar.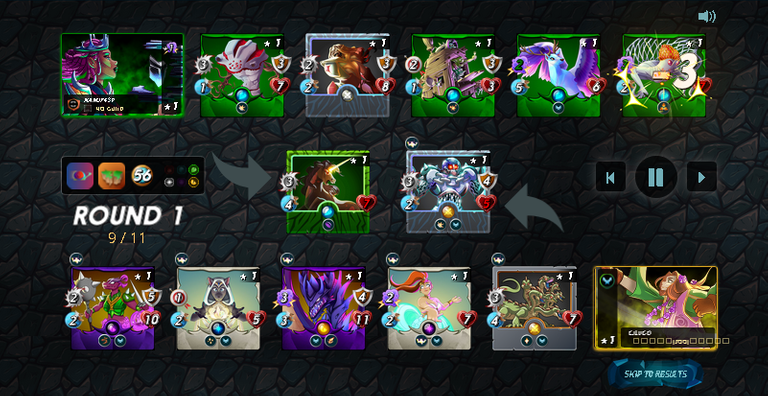 In the second turn, Chaos Dragon's attack was directed towards Mycelic Infantry, the enemy monster that was in the second position of the rival team, I didn't defeat him in one shot but I suppose that my enemy's strategy was to keep him intact until he reached the first position.
En el segundo turno, el ataque de Chaos Dragón fue dirigido hacia Mycelic Infantry, el monstruo enemigo que se encontraba en la segunda posición del equipo rival, no lo derroto de una pero le resto vida, y supongo que la estrategia de mi enemigo era tenerlo intacto hasta que llegara a la primera posición.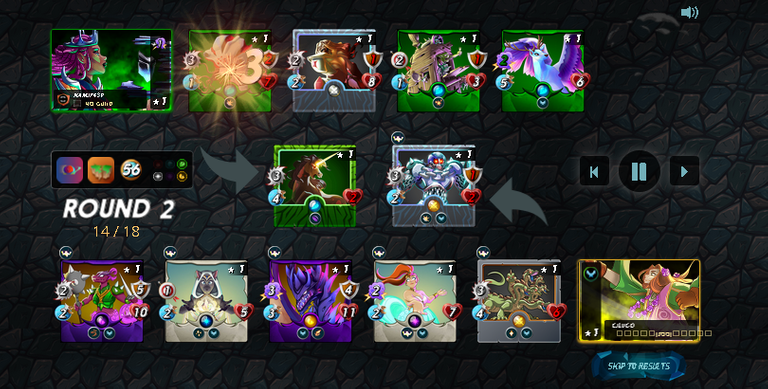 In the third round the attack went to the monster that was in the third position, and as he had little life I finished him quickly.
En la tercera ronda el ataque fue hacia el monstruo que se encontraba en la tercera posición, y como tenía poca vida lo acabo rápidamente.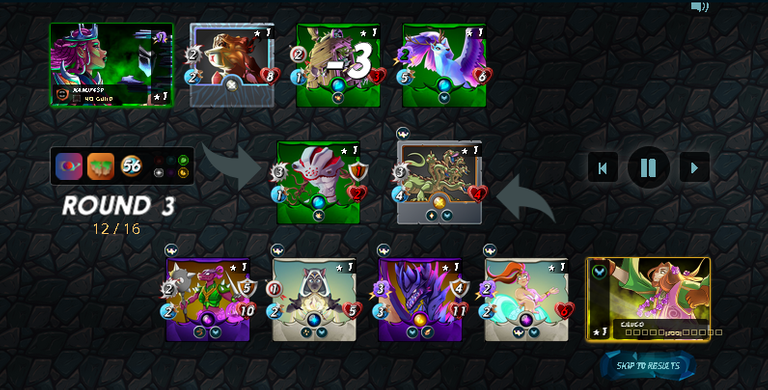 Already for the fourth attack his target was the enemy monster that was in the first position, skipping the last one which was Regal Peryton, to whom he gave the final blow in the fifth turn.
Ya para el cuarto ataque su objetivo fue el monstruo enemigo que estaba en la primera posición, saltándose el ultimo que era Regal Peryton, a quien dio el golpe definitivo en el quinto turno.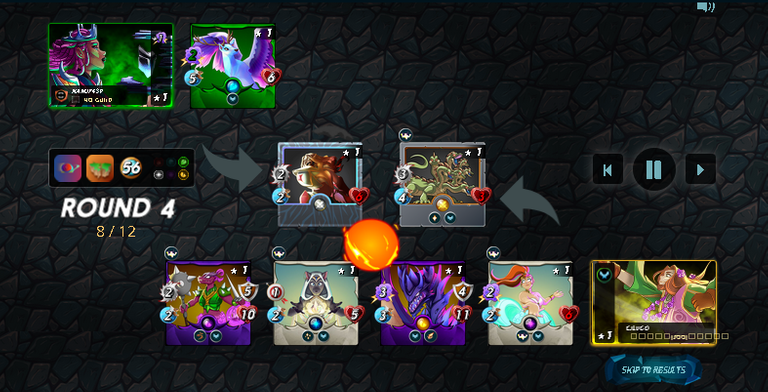 ---
---
As you may have noticed it's a pretty powerful card, I think that his magic attack "a la ventura" is a considerable damage to any monster, so I consider it a very usable card. So far I have not faced her, I think it is very undervalued, maybe after seeing this post will be encouraged to use it. In my case I will try to get it, I liked it a lot, and if I remember correctly, I did not lose in any of the battles where I used it. Now to conclude, if you have not started playing I will leave you a link below where you can start doing it.
Como has podido notar es una carta bastante poderosa, creo que su ataque mágico a la "ventura" es un daño considerable a cualquier monstruo, por lo que considero que es una carta bastante aprovechable. Hasta los momentos no me he enfrentado a ella, pienso que es muy infravalorada, quizás luego de ver este post se animen a usarla. En mi caso procurare obtenerla, me agrado bastante, y si mal no recuerdo, no perdí en ninguna de las batallas donde la utilice. Ahora para concluir, si no haz comenzado a jugar te dejare un link a continuación donde podrás comenzar a hacerlo.
---
---
Thanks for reading
---
All images and separators have been edited by me in Adobe Photoshop, using original images from the game.
---
---