I face Danielvehe for the leadership of the legendary routers [ENG/ESP]

"Reigns do not last forever and there are governments where others rise up against the king to take the throne from him, at other times the ability of the members of a clan are so high to the leadership that they rise up against him, and in the greatest of cases conquest is part of all warriors and emperors. The clan of the legendary routers was affected by an external crisis where the power of someone else took place, their leader @danielvehe was in unexplored lands when he met the general cjlugo of the enemy side, in such a situation and without someone to help him I try to negotiate to avoid mortal combat, however so that there was no bloodshed the guarantee was the leadership of his clan "the legendary routers"; the conquest is part of the history of the general so I could not miss this opportunity."
"Los reinados no duran para siempre y hay gobiernos donde otros se levantan contra el rey para quitarle el trono, en otras oportunidades la capacidad de los miembros de un clan son tan altos al liderazgo que se sublevan contra él, y en el mayor de los casos la conquista es parte de todos los guerreros y emperadores. El clan de los ruteros legendarios se vio afectado por una crisis externa donde el poder de alguien más tuvo lugar, su líder @danielvehe se encontraba en tierras inexploradas cuando se encontró con el general cjlugo del bando enemigo, ante tal situación y sin alguien para ayudarle trato de negociar para evitar el combate mortal, sin embargo para que no hubiera derramamiento de sangre la garantía fue el liderazgo de su clan "los ruteros legendarios"; la conquista es parte de la historia del general por lo que no podría dejar pasar esta oportunidad."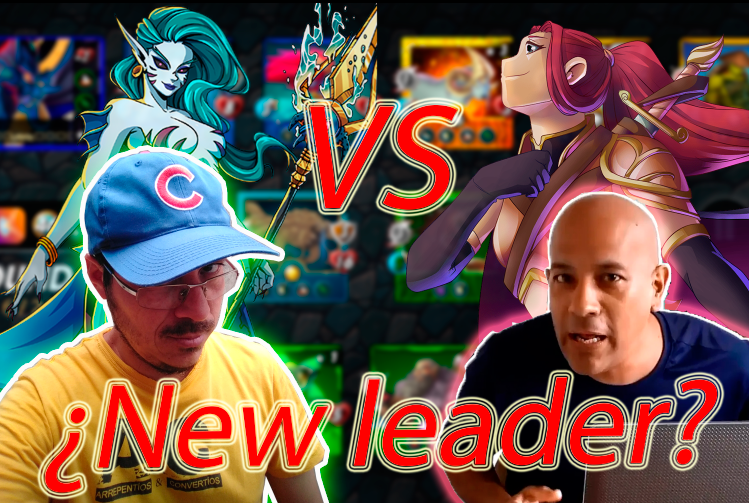 With this little introduction I begin my post today, and I take this opportunity to clarify that this fight between Daniel and I had it in the battles hobbled, the introduction? A little joke for us to laugh for a while and also to enjoy (I can already imagine the comments on the networks that we both manage), now to get into the matter, this battle was quite exciting and that's what I like about Splinterlands, we fight against real people, people who make life in this ecosystem every day, one more reason to remove the bots from the game, and not only in modern mode but also in the wild, that way the user experience is an aspect to take into account will be much better.
In combat there are several things I want to highlight, and this by way of strategy which is an important aspect in the formulation of each battle, in fact it is vital to succeed in splinterlands, there are players who do not take advantage of the rulesets to give an example and this is a fatal error, although there are others who have managed to become excellent strategists and are very difficult to defeat whatever the condition, this is something I have seen in tournaments, there are definitely very good players who participate there, so if you have not entered any tournament I encourage you to do so, beyond the prize the fun is guaranteed.
Returning to the point in question, lately I have been exploiting the benefits that Possibilus has, it is a brutal summoner and I really loved it, there are many ways to take advantage of it and many battle conditions, of course you have to have a good team that accompanies him for this to be so, which is why I have as a bastion to use Coastal Sentry, this card is a jewel, It is a mermaid that has very good stats, I usually use it at level 3 where it offers +3 melee points and +4 speed, it has +2 armor and +6 life, but in addition to that it has the ability to double attack, which as its name suggests attacks twice, so when activating the Possibilus trample you can imagine the damage it produces to the opposing team, a barbarity really.
Con esta pequeña introducción comienzo mi post del día de hoy, y aprovecho para aclarar que este combate entre Daniel y mi persona lo tuvimos en las batallas renqueadas, ¿la introducción? Una pequeña broma para que nos riamos un rato y también para disfrutar (ya me imagino los comentarios en las redes que ambos manejamos), ahora bien para entrar en materia, esta batalla fue bastante emocionante y eso es lo que me gusta de Splinterlands, que combatimos contra personas reales, personas que hacemos vida en este ecosistema cada día, una razón más para eliminar los bots del juego, y no solo del modo modern sino también del wild, de esa forma la experiencia del usuario que es un aspecto a tener en cuenta será muchísimo mejor.

En el combate hay varias cosas que quiero resaltar, y esto a modo de estrategia lo cual es un aspecto importante en la formulación de cada batalla, de hecho es vital para tener éxito en splinterlands, hay jugadores que no aprovechan las rulesets por dar un ejemplo y esto es un error fatal, aunque hay otros que han logrado convertirse en excelentes estrategas y son muy difíciles de derrotar sea cual sea la condición, esto es algo que he podido comprobar en torneos, definitivamente existen muy buenos jugadores que participan allí, así que si no has entrado en ningún torneo te animo a hacerlo, más allá del premio la diversión está asegurada.

Volviendo al punto en cuestión, últimamente he estado explotando las prestaciones que Possibilus posee, es un invocador brutal y realmente me ha encantado, hay muchas formas de aprovecharlo y muchas condiciones de batalla, claro está que hay que tener un buen equipo que le acompañe para que esto sea así, razón por la cual tengo como bastión usar a Coastal Sentry, esta carta es una joya, de las más útiles que he visto en el equipo de agua últimamente, es una sirena que posee muy buenos stats, suelo usarla en nivel 3 donde ofrece +3 puntos de melee y +4 de velocidad, tiene +2 de armadura y +6 de vida, pero sumado a eso posee la habilidad de ataque doble, que como su nombre lo indica ataca dos veces, así que al activar el trample de Possibilus te podrás imaginar el daño que produce al equipo rival, una barbaridad realmente.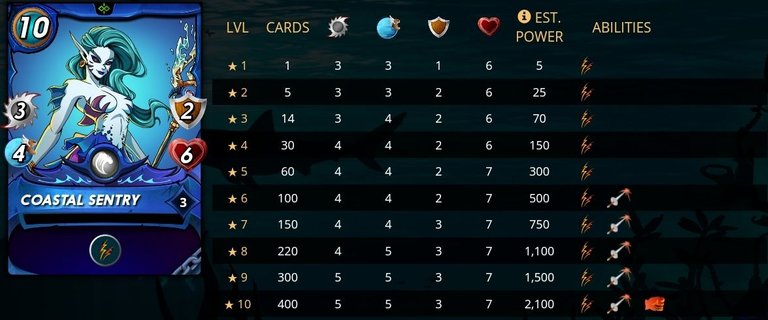 The battle for the leadership of the routers was resolved in only three rounds, it was a short battle but the power that was within it could not have another outcome, Daniel used the most powerful card in the game and I decided to use my strategies to counter it, the winner? You can see for yourself in the link below.
La batalla por el liderazgo de los ruteros se resolvió en solamente tres rounds, fue una batalla corta pero el poder que había dentro de ella no podía tener otro desenlace, Daniel uso la carta más poderosa del juego y yo decidí valerme por mis estrategias para contrarrestarla, ¿el vencedor? Puedes verlo por ti mismo en el link que te dejare a continuación.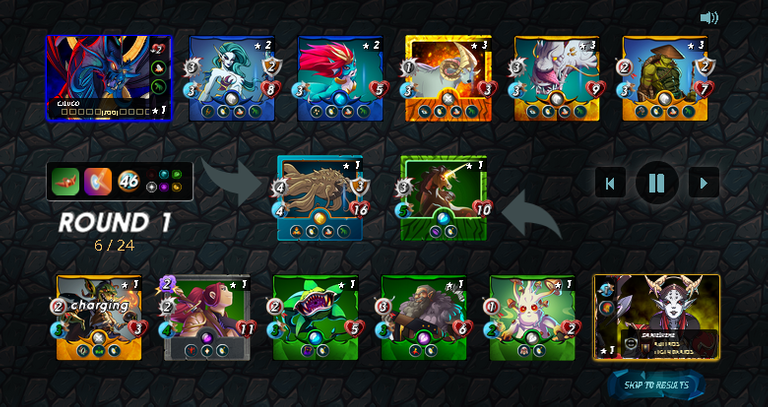 Finally and to conclude I hope you liked today's post, thank you for coming this far, I'll read you in the comments.
Por último y para concluir espero te haya gustado el post del día de hoy, gracias por llegar hasta aquí, te leo en los comentarios.
---
The images and separators have been edited in Adobe Photoshop using elements from the game.
If you want to start playing, you can do it from here:
---
---