Unexpected resistance...original writing [ENG/ESP]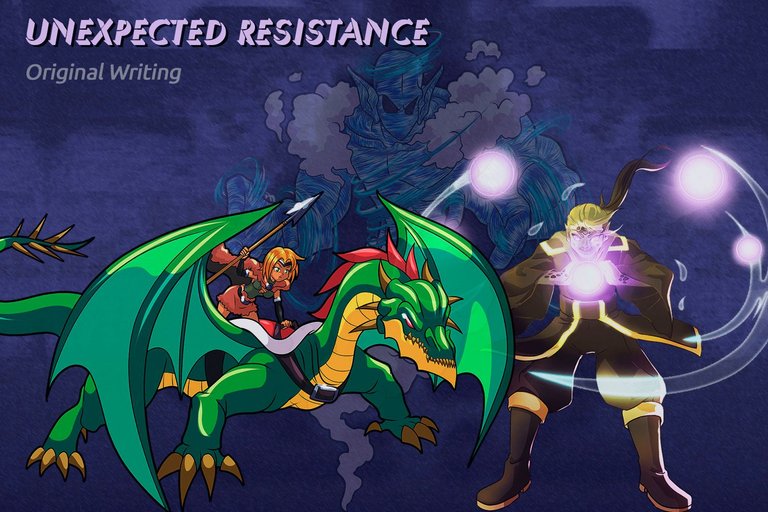 Selena Sky decided that the first place they would attack would be the kingdom of light, Gloridax Magus agreed, for that they would use the dragon archers. Having a multitude of them they flew towards the place ruled by Peakrider, Paladium and the other judges; while they were on their way the magician suggested a strategy for the attack, in it he wanted to evade the surprise and mediate a surrender, however Selena did not agree, she was in charge of leading the troops, in her mind and knowledge of the battles the surprise attack played an important role for the mission that had been entrusted to them.
After we attack the 5 kingdoms we will leave a clear message, those are the orders of Arius and Julian, we cannot do things otherwise, although we are free to execute the order as we wish, a mediation could lead to them preparing against us, and although we are many, we are depleted, since most of the army stayed in the empire.
With these words Selena persuaded Gloridax of her strategy. She knew that she could not leave a space for division of thought, that is something that would cause their ruin in the mission, it could even bring them death.
Dragons adorned the skies and the location of the first attack could be glimpsed on the horizon, so they cheered and flew quickly. Selena told the archers that she was in front, they were to follow her and attack with a hail of arrows along the path that was laid out for them, and for nothing in the world could they leave the formation.
The kingdom of light was not as peaceful as many thought, Peakrider is a great warrior who loves battles, he is also a very good strategist, in the previous war against Lord of Darkness his way of fighting brought great problems to the master of darkness, so much so that the latter recognized him as a rival of his level. Peakrider's thought of always being ready for war would pay off in this dragon intrusion, for they had many guards and warriors who were vigilant against any attack.
The night was cold and suddenly it became unusually dark, when the watchmen raised their eyes to the sky they observed a huge horde of dragons approaching, some of them felt fear and amazement but they were not dominated by those emotions, so they sent to give notice in the palace.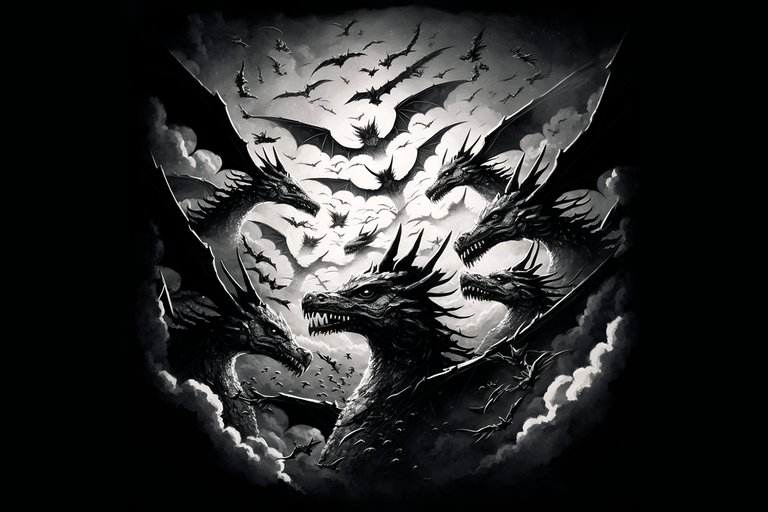 When the soldier brought the news, the attack began, and many arrows fell from the sky as if it were a rainy night, the screams and the fright of the inhabitants of the kingdom could be heard everywhere, and much of the territory received damage, farmland, houses, everything was being affected by the fire of the dragons, however all was not lost, the magical power of the warriors of light began to deflect the attacks and also to counteract them.
Air Elemental was the first to come out to meet Selena, his ability to dominate the air at will brought confusion to many dragons who were falling to the ground or colliding with each other.
"What is happening?" asked Selena, Gloridax indicated that the air was being manipulated by someone else, however she could not see who was doing it, in such a situation the commander told her troops to climb to the top to regroup, when they did so she noticed from the skies that several dragons were being attacked on the ground and also their archer riders. In his mind reigned the astonishment, he did not think he would find resistance of this type, even so he continued his attack from that distance, the archers fired but the arrows did not reach their destination, they were deflected.
No way! exclaimed some of his archers, but Selena gave them the order to shoot again, when they did the arrows were stopped in the air, although not all of them, but most of them, after that Air Elemental returned them with great force, be careful! They shouted while protecting themselves.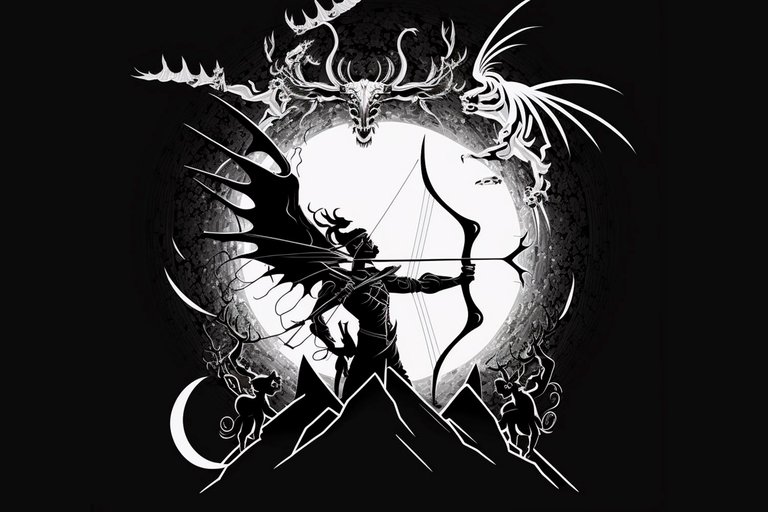 Gloridax said the following: "Who is there?" Show yourself! but received no answer.
Selena decided it was time to leave, so she gave the order to retreat, many archers wounded by their own arrows had to take to the skies, while others were left on the battlefield.
When they started to flee, a strong attack in the form of a whirlwind was launched towards Selena, but Gloridax noticed it and was able to evade it with his magical power, even so some of the archers that came after them in the formation received damage.
After this they managed to leave at great speed, it was very surprising for them to find this kind of resistance, many riders were wounded and Selena was furious, as she could not conceive that her surprise attack did not work as she expected it to.
Magus was a bit more composed, so he could think more clearly. "We should return to the empire" were his words, he said nothing more.
An immense silence arose around them as their minds wandered over what had happened. Meanwhile they were in the air, in the kingdom of light some riders had been captured and taken to the palace, there stood before them one who would not shake his pulse to give his verdict, the winged warrior Peakrider, who was preparing to interrogate and judge his prisoners.
To be continued...
---
Splinterlands is the best #play2earn game out there.
The cover image has been edited in Adobe Photoshop using elements from the game.
The story images have been created with artificial intelligence and edited in Adobe Photoshop
If you want to start playing, you can do it from here:
https://splinterlands.com/?ref=cjlugo
---
Español
---
Resistencia inesperada
Selena Sky decidió que el primer lugar que atacarían seria el reino de la luz, Gloridax Magus estuvo de acuerdo, para ello utilizarían a los dragones arqueros. Teniendo una multitud de ellos volaron hacia el lugar gobernado por Peakrider, Paladium y los demás jueces; mientras iban en camino el mago sugirió una estrategia para el ataque, en ella quería evadir la sorpresa y mediar una rendición, sin embargo Selena no accedió, ella era la encargada de dirigir las tropas, en su mente y conocimiento de las batallas el ataque sorpresa jugaba un papel importante para la misión que se les había encomendado.
Luego que ataquemos los 5 reinos le dejaremos un mensaje claro, esas son las ordenes de Arius y Julián, no podemos hacer las cosas de otro modo, aunque tenemos libertad para ejecutar la orden como queramos, una mediación podría dar lugar a que se preparen contra nosotros, y aunque somos muchos, estamos mermados, pues la mayoría del ejército se quedó en el imperio.
Con estas palabras Selena persuadió a Gloridax de su estrategia. Ella sabía que no podía dejar un espacio a la división de pensamiento, eso es algo que causaría su ruina en la misión, inclusive les podría traer la muerte.
Los dragones adornaban los cielos y se podía vislumbrar en el horizonte el lugar del primer ataque, asi que se alegraron y volaron rápidamente. Selena les dijo a los arqueros que ella iba al frente, ellos debían seguirla y atacar con una lluvia de flechas por el camino que se les trazara, y por nada del mundo podían abandonar la formación.
El reino de la luz no era tan pacifico como muchos pensaban, Peakrider es un gran guerrero que ama las batallas, además es muy buen estratega, en la anterior guerra contra Lord of Darkness su forma de luchar trajo grandes problemas al amo de las tinieblas, tanto asi que este último lo reconoció como un rival de su nivel. El pensamiento de Peakrider de estar siempre listos para la guerra les daría frutos en esta intromisión de los dragones, pues tenían muchos guardias y guerreros que estaban vigilantes ante cualquier ataque.
La noche estaba fría y de pronto se oscureció de forma inusual, cuando los vigilantes levantaron su mirada al cielo observaron una horda inmensa de dragones que se acercaba, algunos de ellos sintieron temor y asombro pero no se dejaron dominar por esas emociones, asi que enviaron a dar aviso en el palacio.
Cuando el soldado traía las nuevas, el ataque comenzó, y muchas flechas caían del cielo como si fuera una noche lluviosa, los gritos y el espanto de los habitantes del reino se oían por todo lugar, y gran parte del territorio recibía daño, los terrenos de cultivo, las casas, todo estaba siendo afectado por el fuego de los dragones, sin embargo no todo estaba perdido, el poder mágico de los guerreros de la luz comenzó a desviar los ataques y también a contrarrestarlos.
Air Elemental fue el primero en salir al encuentro de Selena, su habilidad de dominar el aire a su voluntad trajo confusión a muchos dragones quienes caían al suelo o chocaban entre sí.
"¿Qué está pasando?" Pregunto Selena, Gloridax le indico que el aire estaba siendo manipulado por alguien más, sin embargo no lograba ver quien lo estaba haciendo, ante tal situación la comandante indico a sus tropas que subieran a lo más alto para reagruparse, cuando lo hicieron noto desde los cielos que varios dragones estaban siendo atacados en tierra y también sus jinetes arqueros. En su mente reinaba el asombro, no pensó que encontraría resistencia de este tipo, aun asi continuo su ataque desde esa distancia, los arqueros dispararon pero las flechas no llegaron a su destino, fueron desviadas.
¡No puede ser! Exclamaron algunos de sus arqueros, pero Selena les dio la orden de volver a disparar, cuando lo hicieron las flechas fueron detenidas en el aire, aunque no todas, pero si la mayoría, luego de eso Air Elemental se las devolvió con mucha fuerza, ¡cuidado! Gritaron mientras se protegían.
Gloridax dijo lo siguiente: "¿Quién está allí?" ¡Muéstrate! , pero no recibió respuesta
Selena decidió que era hora de marcharse, por lo que dio la orden de retirada, muchos arqueros heridos por sus propias flechas tuvieron que surcar los cielos, mientras otros quedaron abatidos en el campo de batalla.
Cuando emprendieron la huida, un fuerte ataque en forma de remolino fue lanzado hacia Selena, pero Gloridax se percató y pudo evadirlo con su poder mágico, aun asi recibieron daño algunos de los arqueros que venían tras ellos en la formación.
Luego de esto lograron marcharse a gran velocidad, fue muy sorpresivo para ellos encontrar este tipo de resistencia, muchos jinetes estaban heridos y Selena estaba furiosa, pues no podía concebir que su ataque sorpresa no funcionara como se esperaba que lo hiciera.
Magus era un poco más sereno, por lo que podía pensar más claramente. "Deberíamos regresar al imperio" fueron sus palabras, no dijo nada más.
Un inmenso silencio surgió alrededor mientras sus mentes divagaban en lo que había pasado. Entretanto ellos estaban en el aire, en el reino de luz algunos jinetes habían sido capturados y llevados al palacio, allí estaba frente a ellos uno que no le temblaría el pulso para dar su veredicto, el guerrero alado Peakrider, quien se preparaba para interrogar y juzgar a sus prisioneros.
Continuará...
---
Splinterlands es el mejor juego #play2earn que existe.
La imagen de la portada ha sido editada en Adobe Photoshop usando elementos del juego.
Las imágenes de la historia han sido creadas con inteligencia artificial y editadas en Adobe Photoshop
Si quieres empezar a jugar, puedes hacerlo desde aquí:
https://splinterlands.com/?ref=cjlugo
---
Thanks for reading
---
---