BATTLE Weekly Challenge: WAVE RUNNER

Hi all Splinterlands friends,
this week's contest has as its theme WAVE RUNNER, a common monster of the water element, very useful in battles for its ability and attack strength. Usually I use all monsters with magic attack when the Water element is available, taking advantage of the +1 magic attack bonus of the summoner ALRIC STORMBRINGER but Wave Runner is almost always present as the only exception in my game formation.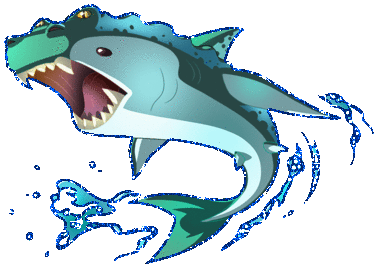 ---
I was very lucky to get two golden cards that I upgraded and now I have a nice powerful monster to deploy with a +3 attack that does a lot of damage and a good speed of +4 points, allowing me to often anticipate the opponents. Weaker is ka defense with 5 health points and no armor points but they can be enough for victory, as evidenced by my battle that you can see at the link below.
The Reach ability is really very useful and allows the monster to attack even from the second position, and this justifies the low defense, not being a card to be deployed in the first position. At the moment WAVE RUNNER is available for purchase in the Splinterlands market at a cost of $ 0.56 or 99 DEC for a standard level 1 card while it is necessary to spend $ 11 or 1927 DEC to purchase a level 3 gold card that also offers a full 500 DEC value. POWER, useful for the ranking.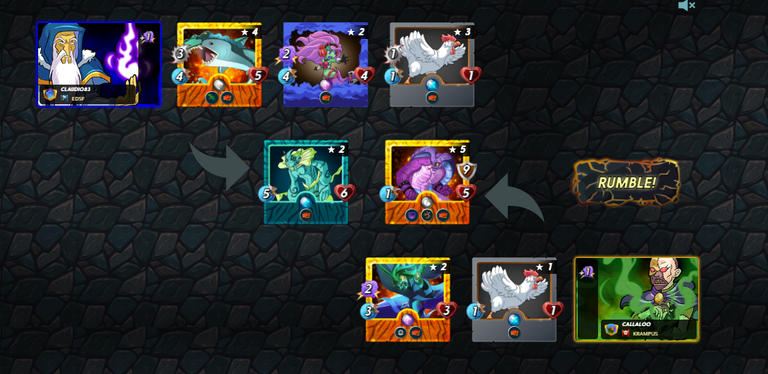 FORMATION
KELP INITIATE
The combat rules required the exclusion of almost all monsters deployed in the first position so I preferred, also being the mana reduced, to use KELP INITIATE as a barrier to allow allied monsters to launch attacks from behind. The strategy proved successful!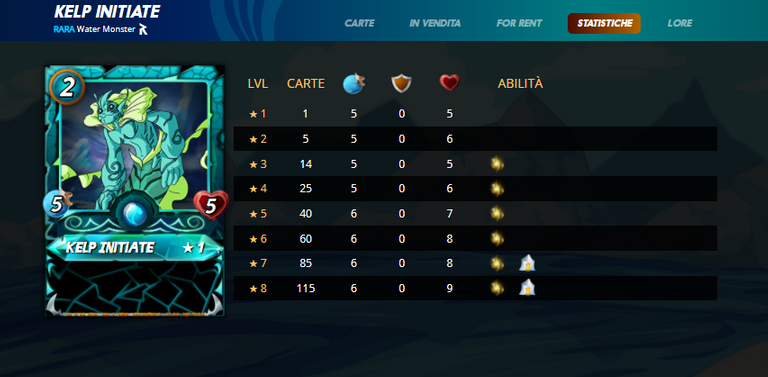 ---
WAVE RUNNER
The card object of the contest does its job perfectly, deployed in second position the monster launches deadly attacks on the opponents and, despite dying (it only remains with 1 health points) manages to conclude the battle, contributing significantly to the victory!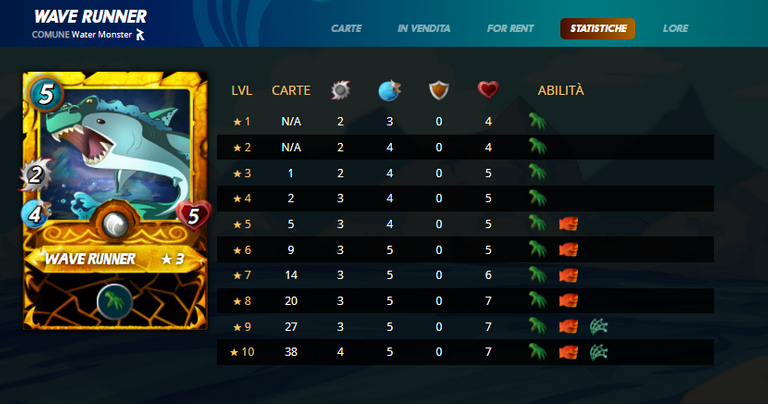 ---
MISCHIEVOUS MERMAID
Card that I am particularly fond of, I like it so much that I bought it in Alpha edition, it has excellent offensive characteristics at level 2 with a magic attack + 2, to which the +1 bonus of the summoner is added, and is fundamental for the victory in this battle. The monster is omnipresent in my formations, even having a mana content of 5 points.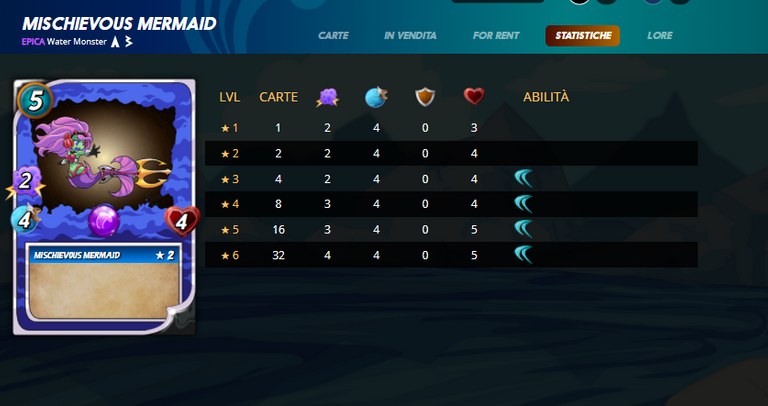 ---
FURIOUS CHICKEN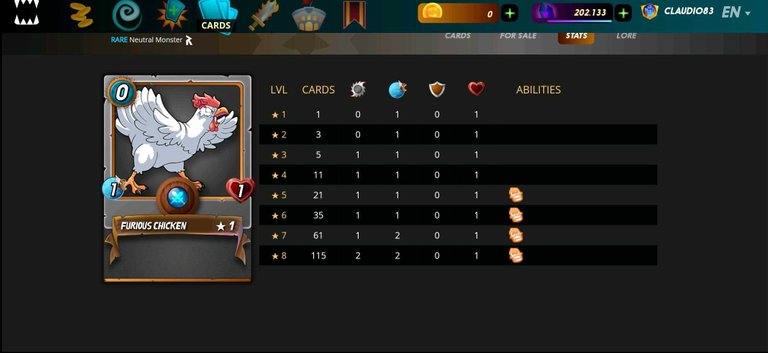 Finally, my beloved hen who fearless and contemptuous of the enemy, attacks like a fury from afar. Small attacks that still cause damage to opposing monsters. I remember FURIOUS CHICKEN has 0 😍 of mana
Thank you for taking the time to read this post
If you have not yet signed up for Splinterlands, I invite you to try. You can use my referreal link
---
ITA
Ciao a tutti amici di Splinterlands,
il contest di questa settimana ha come tema WAVE RUNNER, un mostro comune dell'elemento dell'acqua, molto utile nelle battaglie per la sue abilità e per la sua forza d'attacco. Solitamente io utilizzo tutti i mostri con attacco magico quando è disponibile l'elemento Water, sfruttando il bonus +1 attacco magico del summoner ALRIC STORMBRINGER ma Wave Runner è quasi sempre presente come unica eccezione nella mia formazione di gioco.
Sono stato molto fortunato ad ottenere due carte dorate che ho potenziato ed ora ho un bel mostro potente da schierare con un attacco +3 che fa davvero molti danni ed una buona velocità di +4 punti, permettendomi di anticipare spesso gli avversari. Più debole è ka difesa con 5 punti salute e nessun punto armatura ma possono essere sufficienti per la vittoria, come dimostra la mia battaglia che potete visionare al link in basso.
L'abilità Reach è davvero molto utile e consente al mostro di attaccare anche dalla seconda posizione, e ciò giustifica la difesa bassa, non essendo una carta da schierare in prima posizione. AL momento WAVE RUNNER è acquistabile nel mercato di Splinterlands al costo di 0.56 $ o 99 DEC per una carta di 1 livello standard mentre è necessario spendere 11 $ o 1927 DEC per acquistare una carta dorata di livello 3 che offre anche ben 500 DEC come valore POWER, utile per la classifica.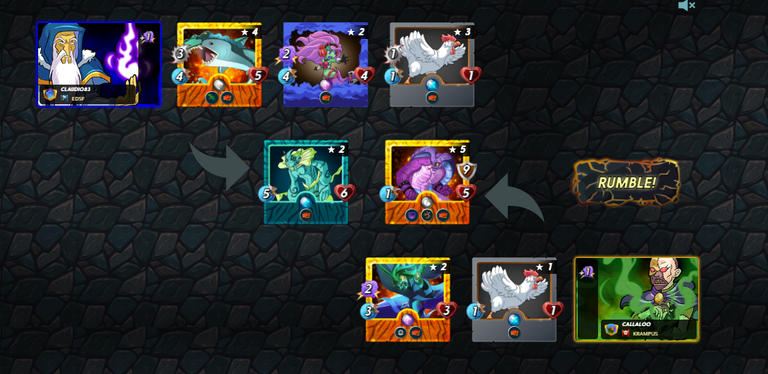 FORMAZIONE
KELP INITIATE
Le regole di combattimento imponevano l'esclusione di quasi tutti i mostri schierati in prima posizione per cui ho preferito, essendo anche il mana ridotto, utilizzare KELP INITIATE come barriera per permettere ai mostri alleati di lanciare attacchi alle spalle. La strategia si è dimostrata vincente!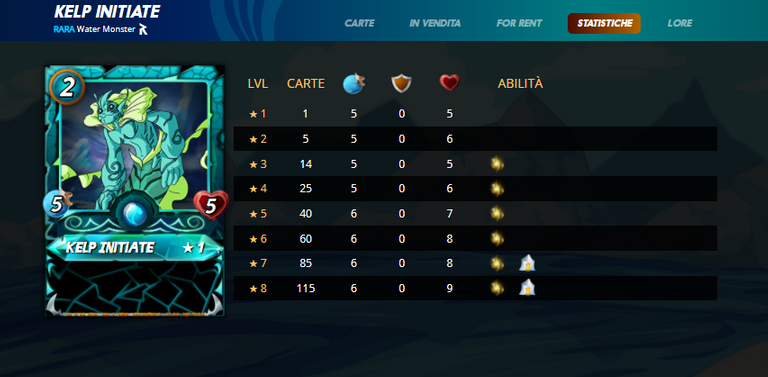 ---
WAVE RUNNER
La carta oggetto del contest svolge il suo lavoro perfettamente, schierato in seconda posizione il mostro lancia attacchi micidiali agli avversari e, nonostante in fin di vita (resta solo con 1 punti salute) riesce a concludere la battaglia, contribuendo in modo significativo alla vittoria!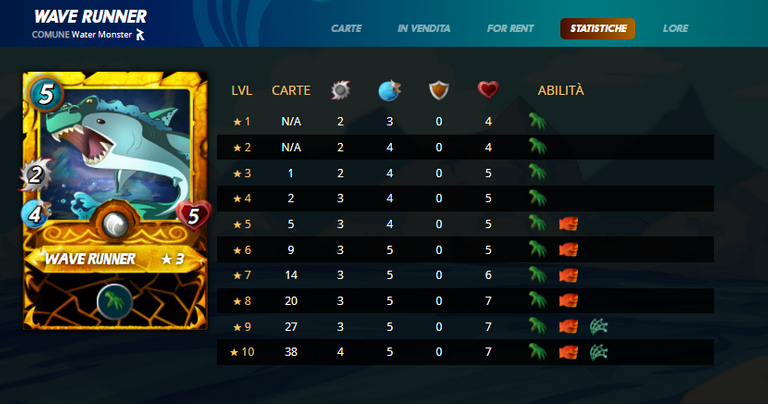 ---
MISCHIEVOUS MERMAID
Carta a cui sono particolarmente affezionato, mi piace tanto da averlo acquistata in edizione Alpha, ha ottime caratteristiche offensive a livello 2 con un attacco magico +2,a cui si aggiunge il +1 bonus del summoner, ed è fondamentale per la vittoria in questa battaglia. Il mostro è onnipresente nelle mie formazioni, avendo anche un mana contenuto di 5 punti.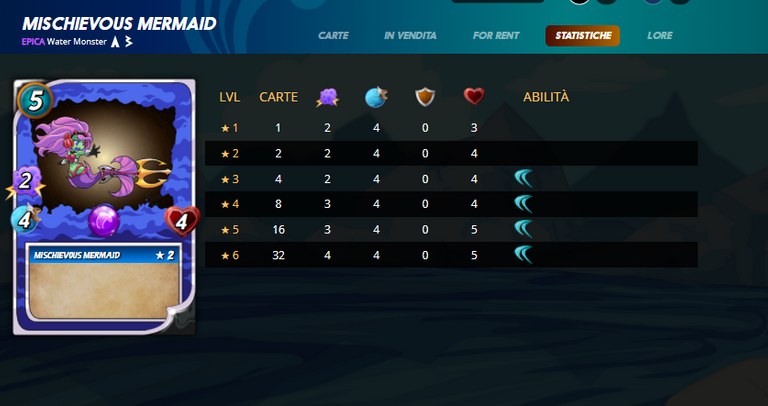 ---
FURIOUS CHICKEN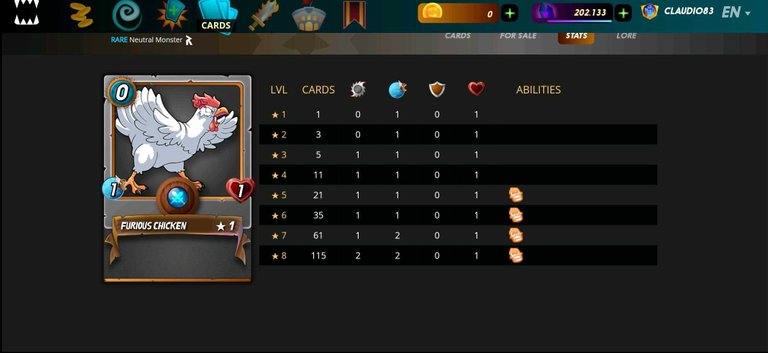 Infine, la mia amata gallina che impavida e sprezzante del nemico, attacca come una furia da lontano. Piccoli attacchi che causano comunque danni ai mostri avversari. Ricordo che FURIOUS CHICKEN ha 0 😍 di mana
Grazie per aver dedicato del tempo per leggere questo post
If you have not yet signed up for Splinterlands, I invite you to try. You can use my referreal link
---
---