Chaos Legion SOLD OUT - LAND 1.5 is here
The sale of CL packs SOLD OUT, ahead of schedule during the presentation of the daily burn of CL packs, thanks to both the final sale with prizes arranged by the team and the exclusion of 500k CL packs for the Academy NFTs (the decks of cards will be available free of charge to new players for a 30-day test) and another 300k packs to guarantee rewards until the next edition of Rebellion cards, probably scheduled for September 2023.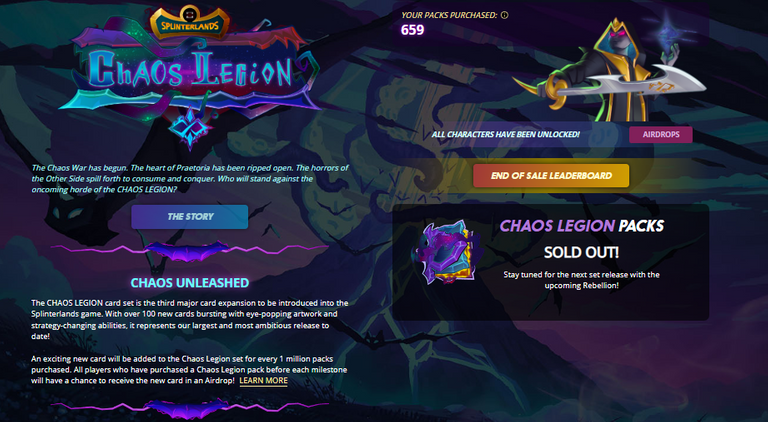 There has been much discussion of the number of CL packs considered excessive by many users but the burning mechanism offers a balanced solution to allow packs to be purchased in time, or in any case before the next edition. What I personally would avoid from the next edition, is the overlapping of the main edition like Chaos Legion with the mini editions Riftwatchers. Not all players are able to make massive purchases and a more gradual dilution of the cards would be more sustainable for the game itself.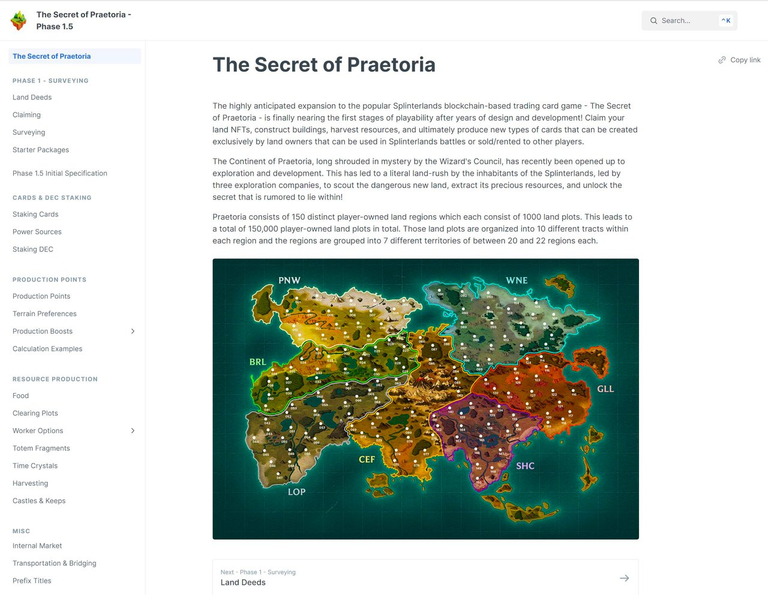 The game will increasingly need maxed out cards to be competitive, LAND will be a bit of a vacuum cleaner of everything that so far abounds in Splinterlands: cards, DEC and SPS. I personally am quite willing in the escorts, I will never be competitive with the big names, but I like to be competitive and I will continue to compete with enthusiasm. I'm sorry at the moment I don't have at least 1 Runi available, I hope the price of SPS can grow in the future and sooner or later I'd like to buy some. Also Runi will offer great advantages in LAND, as announced by Aggroed. I'm eager to read the WP which should be available these days!
Conclusion
The @splinterlands contests are not only meant to get us generous upvotes but above all to help us discover new cards that can be very useful in our battles and stimulate us to new strategies and more options in battle.
The low card prices, also caused by the large number of prints and availability of Chaos Legion cards, are a great entry point for new players. In fact, it is possible to build an excellent deck of cards by spending little, compared to the cards of previous editions. It will also be interesting to observe the upcoming airdrops of CL cards in order to better determine which Summoner to upgrade and consequently which cards to buy on the market!
Furthermore, the strategy that each player sets himself can undergo natural variations, in order to improve his deck of cards and climb the ranking of the best players, also obtaining higher rewards!
Good game

Thank you for taking the time to read this post. If you haven't signed up for Splinterlands yet, I invite you to try it. You can use my referreal link

La vendita dei pacchi CL è andata SOLD OUT, in anticipo ai tempi previsti durante la presentazione del burning giornaliero dei pacchi CL, e ciò è merito sia della vendita finale con premi disposto dal team e sia dall'esclusione di 500k pacchi CL per l'Academy NFTs (i mazzi di carte saranno a disposizione gratuita dei nuovi giocatori per un test della durata di 30 giorni) e altri 300k pacchi per garantire le rewards fino alla prossima edizione di carte Rebellion, previsto probabilmente per Settembre 2023.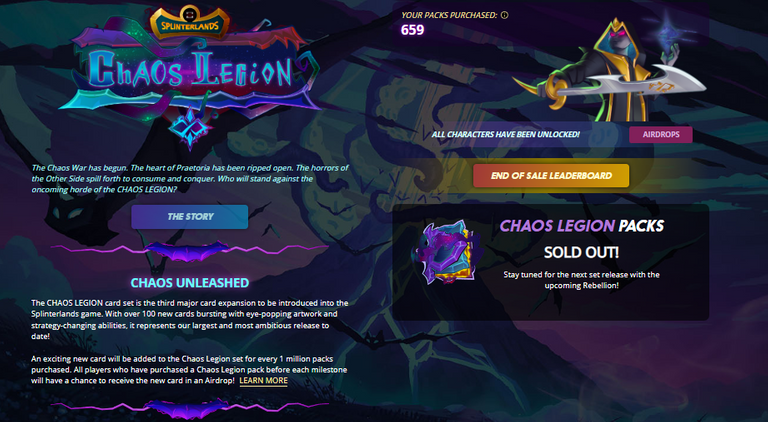 Si è molto discusso del numero di pacchi CL reputati eccessivi da molti utenti ma il meccanismo di burning offre una soluzione equilibrata per consentire ai pacchi di essere acquistati per tempo, o comunque prima dell'edizione successiva. Ciò che personalmente eviterei dalla prossima edizione, è la sovrapposizione dell'edizione principale come Chaos Legion con la mini edizioni Riftwatchers. Non tutti i giocatori sono in grado di procedere ad acquisti massicci ed una diluizione più graduale delle carte sarebbe più sostenibile per il gioco stesso.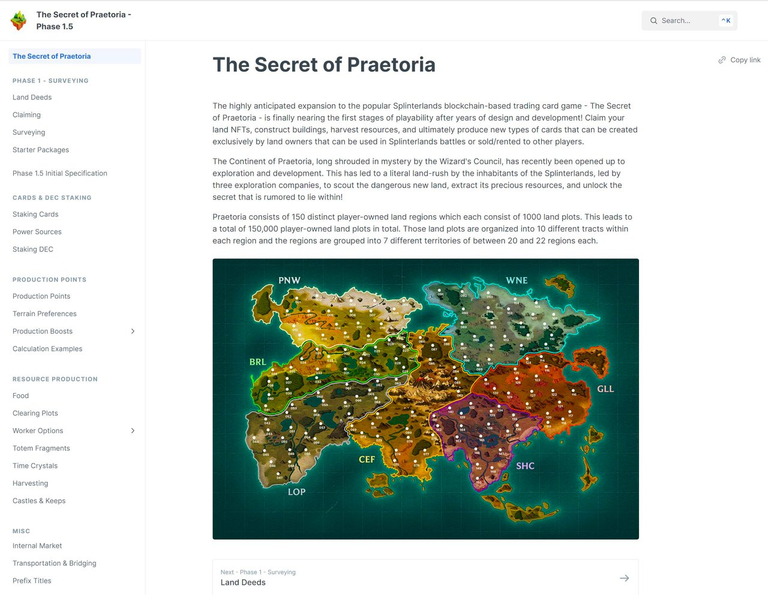 Il gioco avrà sempre più bisogno di carte maxate per essere competitivi, LAND sarà un po' l'aspirapolvere di tutto ciò che abbonda sinora in Splinterlands: carte, DEC e SPS. Io personalmente sono abbastanza ben disposto nelle scorte, non sarò mai competitivo con i big, ma mi piace essere competitivo ed continuerò a gareggiare con entusiasmo. Mi dispiace al momento non avere almeno 1 Runi a disposizione, spero che il prezzo di SPS possa crescere in futuro e prima o poi mi piacerebbe acquistarne qualcuno. Inoltre Runi offrirà grandi vantaggi in LAND, comme annunciato da Aggroed. Sono ansioso di leggere il WP che dovrebbe essere disponibile in questi giorni!
Conclusione
I contest di @splinterlands non hanno solo lo scopo di farci ottenere generosi upvotes ma sono soprattutto di aiutarci a scoprire nuove carte che possono essere davvero molto utili nelle nostre battaglie e stimolarci a nuove strategie e più opzioni in battaglia.
I prezzi bassi delle carte, causati anche dal gran numero di stampe e disponibilità delle carte di Chaos Legion, sono un ottimo punto di ingresso per i nuovi giocatori. Infatti è possibile costruire un ottimo mazzo di carte spendendo poco, rispetto alle carte delle precedenti edizioni. Sarà anche interessante osservare i prossimi airdrops delle carte CL in modo da determinare meglio quale Evocatore potenziare e di conseguenza le carte da acquistare sul mercato!
Inoltre, la strategia che ogni giocatore si imposta, può subire variazioni naturali, in modo da migliorare il proprio mazzo di carte e scalare la classifica dei migliori giocatori, ottenendo anche ricompense più elevate!
Buon gioco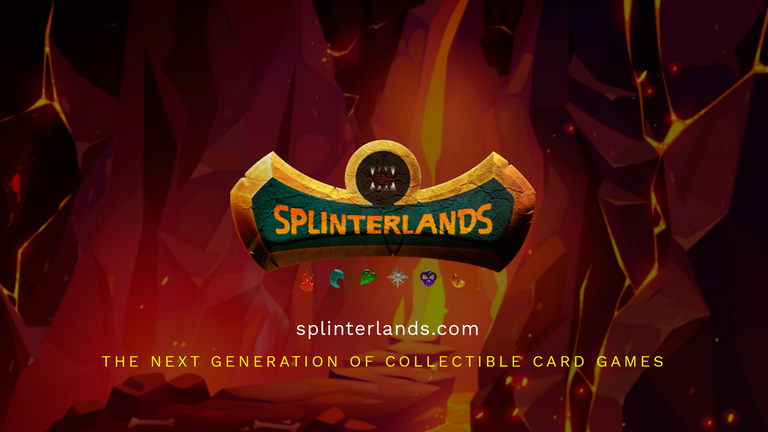 Thank you for taking the time to read this post. If you have not yet signed up for Splinterlands, I invite you to try. You can use my referreal link

---
---