More SPS staked, More Rewards
In the latest Splinterlands TownHall, the long-awaited SPS ranking required to enter the category rewards was announced, providing an important new utility for token governance. The table below indicates the amount of staked SPS needed to access the respective League and thus obtain the due prizes.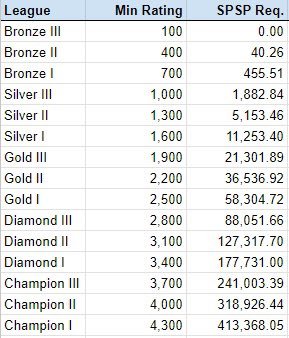 ---
Obviously, the lower the League, the lower the prizes will be in terms of value. This is an essential change to the game that I'm sure will bring benefits for users (fewer bots at high levels) and more rewards for high level leagues. The SPS received in delegation will be counted and considered valid, another tool to be tested to try to move up the league.
The changes won't be imminent, it will still take a few weeks before integration into the game but the goal is clear: if you want to earn, you have to invest in SPS!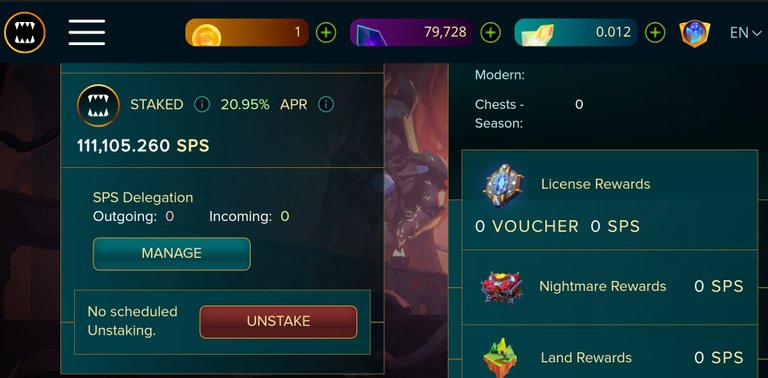 ---
At the moment with my share of staked SPS I will be able to compete and get prizes up to the Diamond III league. On average, however, I'm constantly in Diamond I so I'll have to buy another 65k SPS to reach the desired league. Those who want to reach the Champions League, on the other hand, must have a minimum of 241k SPS.
Will this update be enough to relaunch $SPS? Probably not, but I think we are in the right direction!
Conclusion
The @splinterlands contests are not only meant to get us generous upvotes but above all to help us discover new cards that can be very useful in our battles and stimulate us to new strategies and more options in battle.
The low card prices, also caused by the large number of prints and availability of Chaos Legion cards, are a great entry point for new players. In fact, it is possible to build an excellent deck of cards by spending little, compared to the cards of previous editions. It will also be interesting to observe the upcoming airdrops of CL cards in order to better determine which Summoner to upgrade and consequently which cards to buy on the market!
Furthermore, the strategy that each player sets himself can undergo natural variations, in order to improve his deck of cards and climb the ranking of the best players, also obtaining higher rewards!
Good game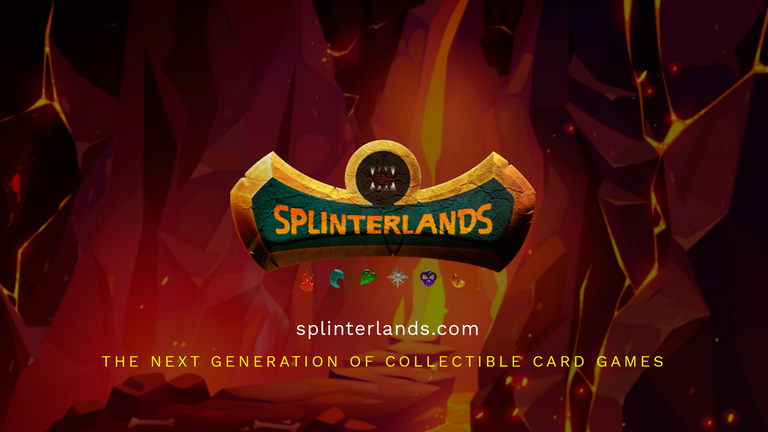 Thank you for taking the time to read this post. If you haven't signed up for Splinterlands yet, I invite you to try it. You can use my refer real link

ITA
Nell'ultimo TownHall di Splinterlands è stato annunciato il tanto atteso ranking SPS necessario per accedere ai premi di categoria, fornendo una nuova e importante utilità per il token governance. La tabella in basso indica la quantità di SPS in staking necessario per accedere alla rispettiva League ed ottenere quindi i premi spettanti.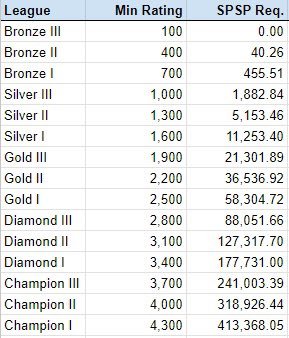 ---
Ovviamente più basso è la League e minori saranno i premi in termini di valore. Questa è una modifica essenziale al gioco che sono certo porterà vantaggi per gli utenti (meno bots a livelli alti) e più rewards per le League di alto livello. Saranno conteggiati e ritenuti validi gli SPS ricevuti in delega, altro strumento da sperimentare per cercare di salire di lega.
Le modifiche non saranno imminenti, ci vorrà ancora qualche settimana prima dell'integrazione nel gioco ma l'obiettivo è ben chiaro: se vuoi guadagnare, devi investire in SPS!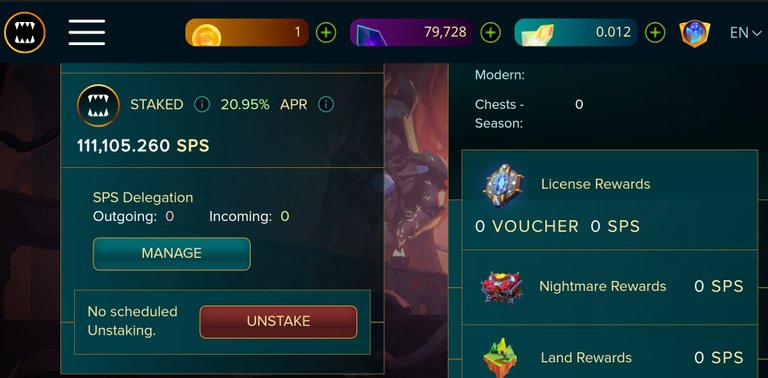 ---
Al momento con la mia quota di SPS in staking potrò gareggiare e ottenere premi sino alla lega Diamond III. Mediamente però sono costantemente in Diamond I per cui io dovrò acquistare altri 65k SPS per raggiungere la lega desiderata. Chi invece vorrà raggiungere la lega Champions dovrà possedere un minimo di 241k SPS.
Sarà sufficiente questo aggiornamento per rilanciare $SPS? Probabilmente no, ma io ritengo siamo nella giusta direzione!
Conclusione
I contest di @splinterlands non hanno solo lo scopo di farci ottenere generosi upvotes ma sono soprattutto di aiutarci a scoprire nuove carte che possono essere davvero molto utili nelle nostre battaglie e stimolarci a nuove strategie e più opzioni in battaglia.
I prezzi bassi delle carte, causati anche dal gran numero di stampe e disponibilità delle carte di Chaos Legion, sono un ottimo punto di ingresso per i nuovi giocatori. Infatti è possibile costruire un ottimo mazzo di carte spendendo poco, rispetto alle carte delle precedenti edizioni. Sarà anche interessante osservare i prossimi airdrops delle carte CL in modo da determinare meglio quale Evocatore potenziare e di conseguenza le carte da acquistare sul mercato!
Inoltre, la strategia che ogni giocatore si imposta, può subire variazioni naturali, in modo da migliorare il proprio mazzo di carte e scalare la classifica dei migliori giocatori, ottenendo anche ricompense più elevate!
Buon gioco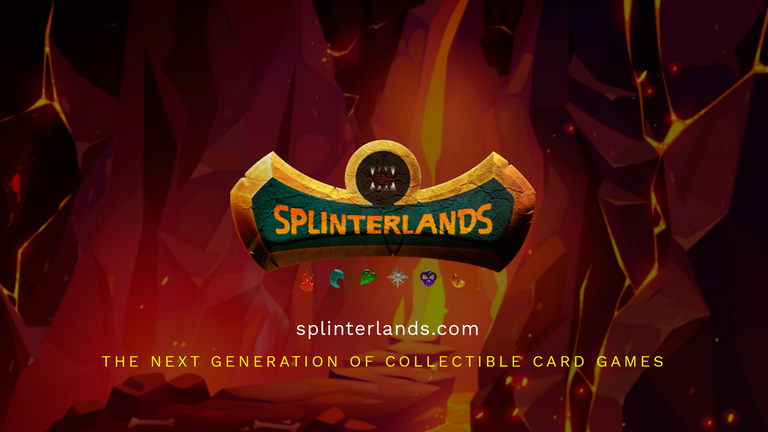 Thank you for taking the time to read this post. If you have not yet signed up for Splinterlands, I invite you to try. You can use my referreal link

---
---