Splinterlands Battle Challenge: FERAL SPIRIT

Hi all Splinterlands friends,
here we are at a new appointment Weekly Battle Challenge, this week's theme is FERAL SPIRIT, very much reminds me of the cat from Alice In Wonderland, with a slightly more wicked smile 😁.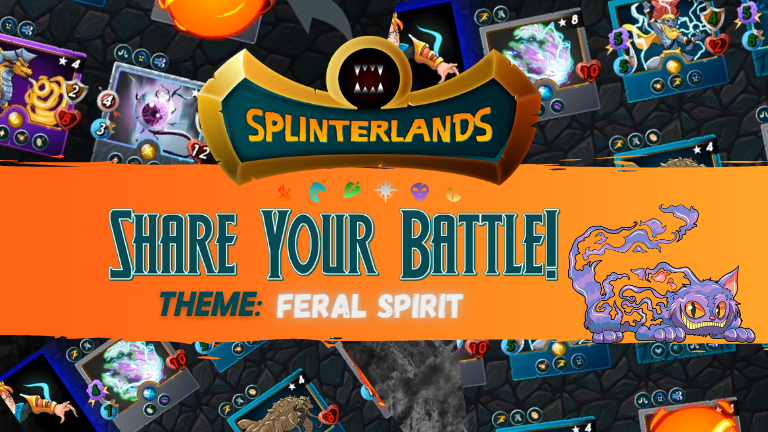 ---
Common card of the Life element, available in Alpha and Beta versions, one of my first purchases of Alpha cards and I would really like to buy a pack of Alpha cards to experience the emotion, as to date it is the only type of decks that does not i never opened.

FERAL SPIRIT in the Alpha version can be purchased on the market at the average price of $ 8.40 or 2280 DEC, the rarest and most precious golden version instead has a cost of almost $ 200 or 52k DEC. A truly exclusive collector's item!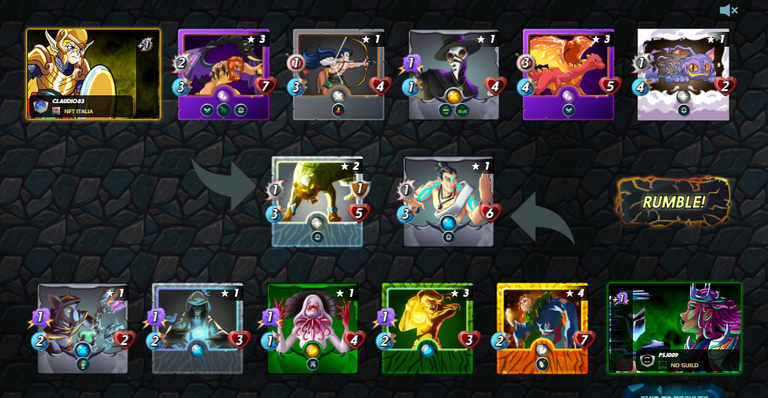 ---
FERAL SPIRIT has the ability * Sneak * and therefore will attack opponents who are in last position, has a base attack of +1 but can be upgraded up to +4 at level 10, a good base speed of 4 points, none armor point and 2 health points. It is a fairly weak card if not enhanced and therefore very fragile to opponent attacks so it is necessary to place it far from the first positions to obtain a lasting life
CRYSTAL JAGUAR
The battle imposed monsters with mana not exceeding 4 in the first position I decided to deploy my jaguar, card belonging to the Life element, bone defensive characteristics, less offensive, but thanks to the Dragon summoner he got a precious point in attack and made him much more fearful.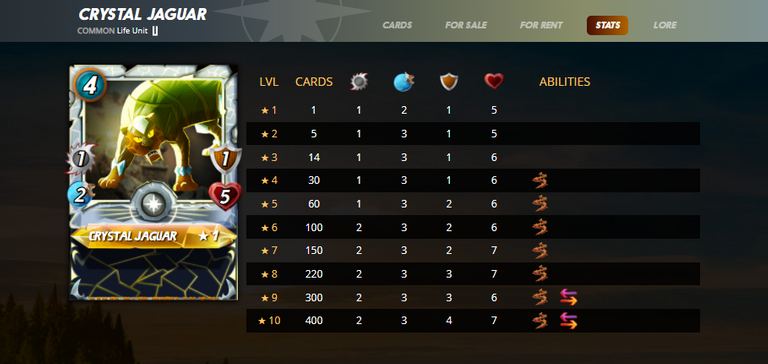 ---
MANTICORE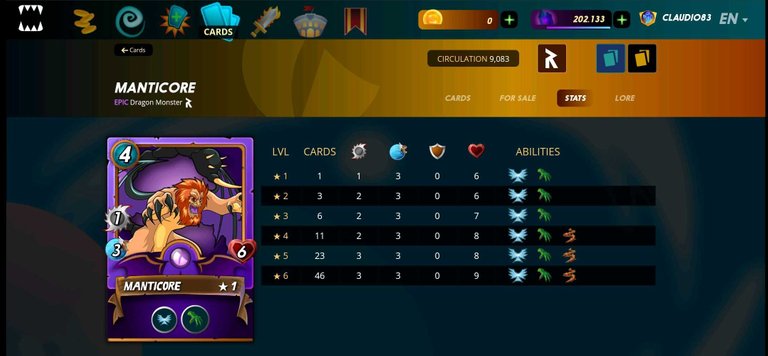 Truly remarkable card, especially if we consider the Mana of 4 points! Currently at level 3 he has an excellent attack (2 + 1 bonus) and hits from distance with tranquility, well defended with his 7 life points. He is currently level 3 but I will continue to upgrade him! A warranty!
FIRE SPITTER
Small, tender but very strong dragon with his melee attack of 3 points and a very good speed of 4, among the first to attack in my team. It is currently upgraded to level 3 and the low mana allows me to use it a little in all battles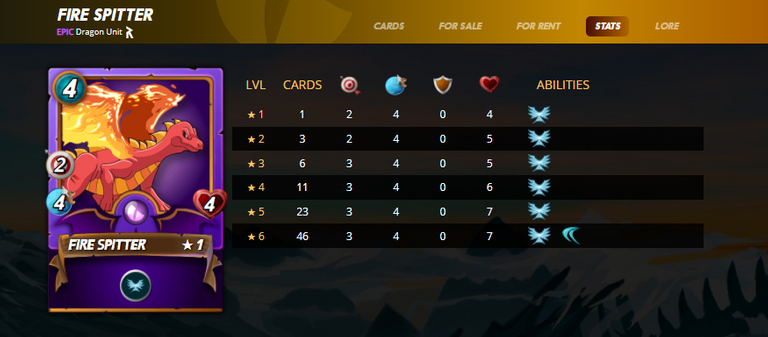 ---
DOCTOR BLIGHT
The mystical Doctor Blight, a card with a moderate magical attack but with numerous abilities that transform it into an exceptional frightening monster! Upgraded to maximum level, he has magic attack +2, speed +1, and health +4. But now I want to analyze the many abilities that the monster offers.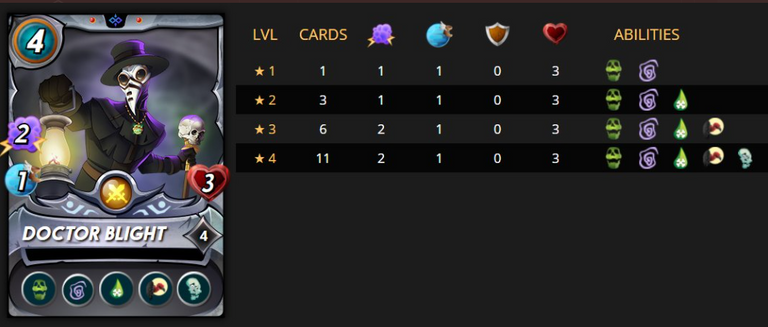 ---
CENTAUR
Contest level object card, despite its base level 1, proves to be a fighting monster of the game not allowed, incredible if leveled at the points level of the incredible 10 game. that the rules of the game exclude it.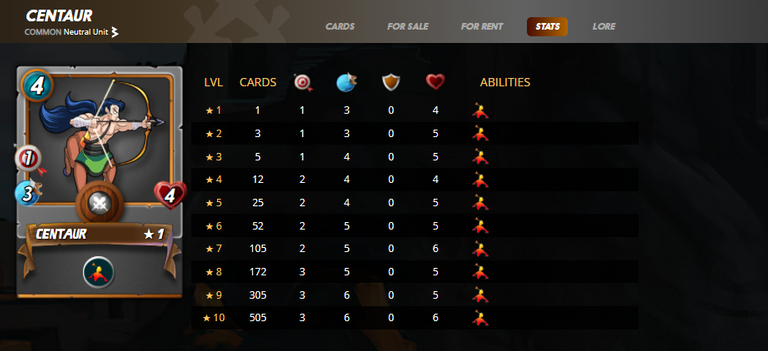 ---
FERAL SPIRIT
The warrior cat was absolutely the protagonist of the battle and decisive for the final victory. In last place, I was lucky not to get enough attacks to immediately defeat him due to the 2 health points. The use of the Dragon summoner gave +1 in attack and FERAL SPIRIT was exceptional in hitting his opponents after the turn, resulting in total defeat! A little gem!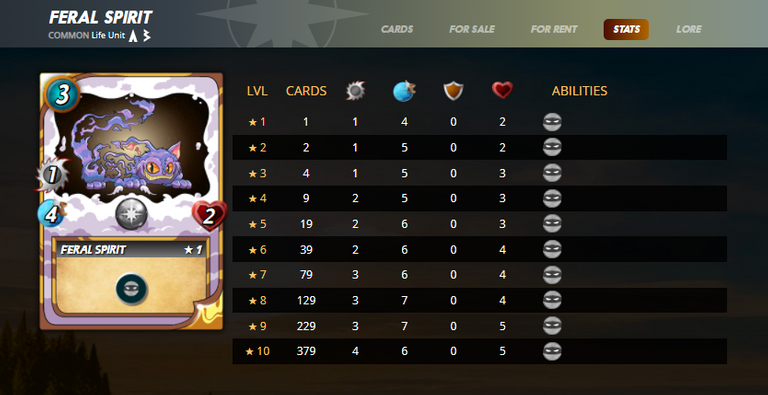 ---
Thank you for taking the time to read this post
If you haven't signed up for Splinterlands yet, I invite you to give it a try. You can use my referral link
ITA
Ciao a tutti amici di Splinterlands,
eccoci ad un nuovo appuntamento Weekly Battle Challenge, il tema di questa settimana è FERAL SPIRIT, molto mi ricorda il gatto di Alice In Wonderland, con un sorriso un pò più perfido 😁.
Carta comune dell'elemento Life, disponibile in versione Alpha e Beta, uno dei miei primi acquisti di carte Alpha e mi piacerebbe davvero comprare un pacco di carte Alpha per provare l'emozione, poichè ad oggi è l'unica tipologia di mazzi che non ho mai aperto.

FERAL SPIRIT in versione Alpha è acquistabile sul mercato al prezzo medio di 8,40 $ o 2280 DEC, la versione dorata più rara e preziosa invece ha un costo di quasi 200$ o 52k DEC. Un pezzo da collezione davvero esclusivo!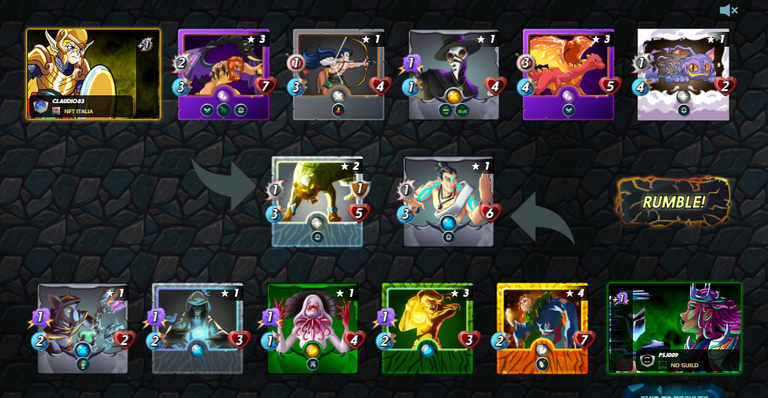 ---
FERAL SPIRIT ha l'abilità Sneak e quindi attaccherà gli avversari che si trovano in ultima posizione, ha un attacco basi di +1 che però può essere potenziato fino a +4 a livello 10, una buona velocità base di 4 punti, nessun punto armatura e 2 punti salute. E' una carta abbastanza debole se non potenziata e quindi potenzialmente molto fragile agli attacchi avversari per cui è necessaria posizionarla lontana dalle prime posizioni per ottenere una vita duratura
CRYSTAL JAGUAR
La battaglia ha imposto mostri con mana non superiore a 4 punti ed in prima posizione ho deciso di schierare il mio giaguaro, carta eppartenente all'elemento Life, con bone caratteristiche difensive, meno invece offensive, ma grazie al summoner Dragon ha guadagnato un prezioso punto in attacco e lo ha reso decisamente più temibile.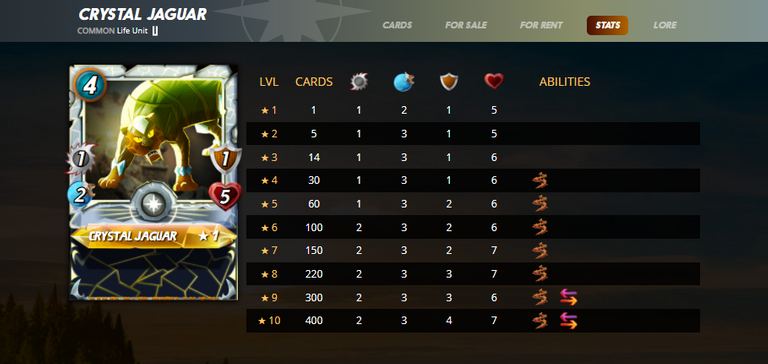 ---
MANTICORE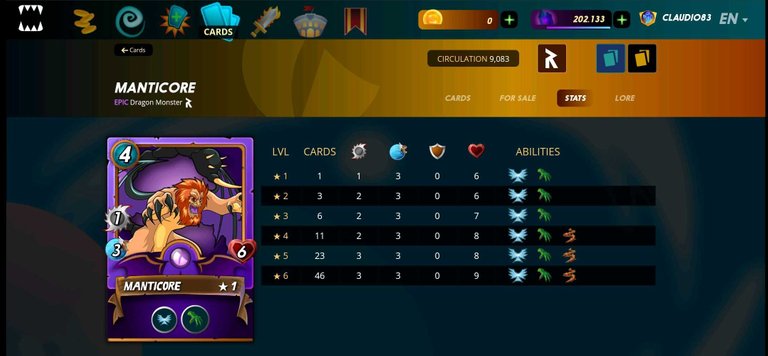 Carta davvero notevole, soprattutto se consideriamo il Mana di 4 punti! Attualmente a livello 3 ha un ottimo attacco (2+1bonus) e colpisce dalla distanza con tranquillità, ben difeso con i suoi 7 punti vita. Al momento è a livello 3 ma continuerò a potenziarlo! Una garanzia!
FIRE SPITTER
Drago piccolo, tenero ma molto forte con il suo attacco da mischia di ben 3 punti e un'ottima velocità pari a 4, tra i primi ad attaccare nella mia squadra. Attualmente è potenziato a livello 3 ed il mana basso mi consente di utilizzarla un pò in tutte le battaglie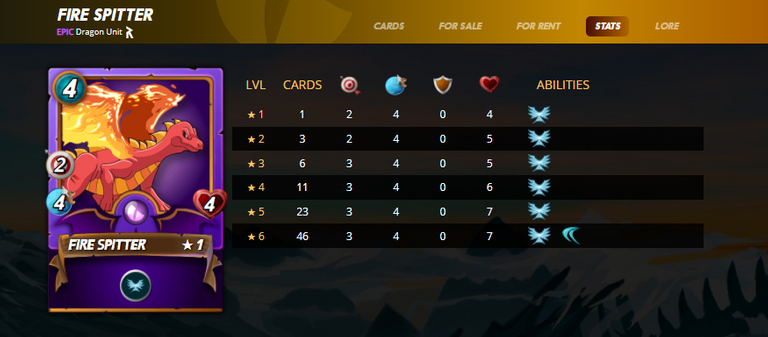 ---
DOCTOR BLIGHT
Il mistica Doctor Blight, una carta con un discreto attacco magico ma con numerose abilità che la trasformano in un eccezionale mostro da paura! Potenziato al livello massimo, ha attacco magico +2, velocità +1 e salute +4. Ma ora voglio analizzare le molte abilità che il mostro offre.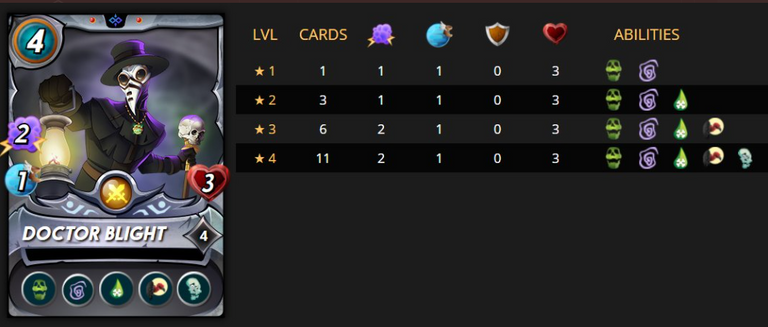 ---
CENTAUR
Carta oggetto del contest, nonostante il suo livello base 1, dimostra di essere un mostro combattivo, potenzialmente incredibile se livellato a livello 10. Il mana di 4 punti consente ai giocatori di schierarlo praticamente in qualsiasi battaglia, a patto che le regole del gioco non lo escludano.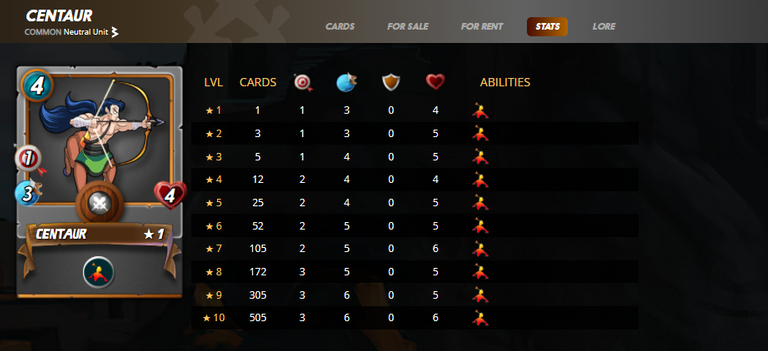 ---
FERAL SPIRIT
Il gatto guerriero è stato assolutamente protagonista della battaglia e determinante per la vittoria finale. Posto in ultima posizione, sono stato fortunato a non ricevere attacchi tali da sconfiggerlo immediatamente a causa dei 2 punti salute. L'utilizzo del summoner Dragon ha inoltre conferito +1 in attacco e FERAL SPIRIT è stato eccezionale nel colpire turno dopo turno i suoi avversari, determinandone la sconfitta totale! Un piccolo gioiello!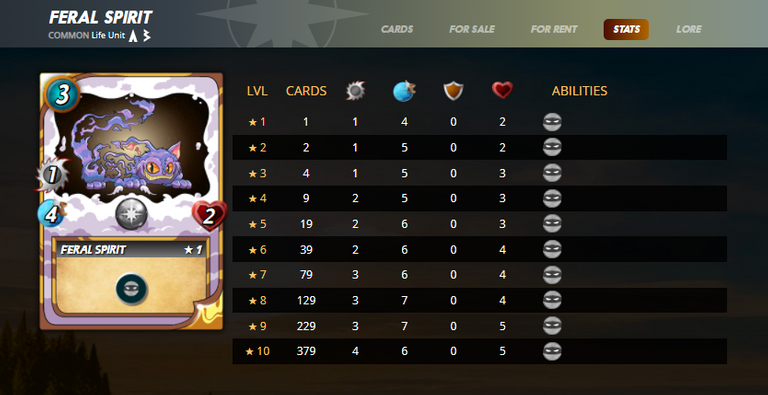 ---
Thank you for taking the time to read this post
If you have not yet signed up for Splinterlands, I invite you to try. You can use my referreal link
---
---