Splinterlands Battle Challenge: SOUL STRANGLER
Hi all Splinterlands friends,
here we are at the new weekly Battle Challenge event organized to deepen the cards and game strategies. This week's theme is SOUL STRANGLER, a rare card of the Death element, belonging to the new edition of the Chaos Legion card. Dark card, I really like the character and there was no vampire in the big Splinterlands family!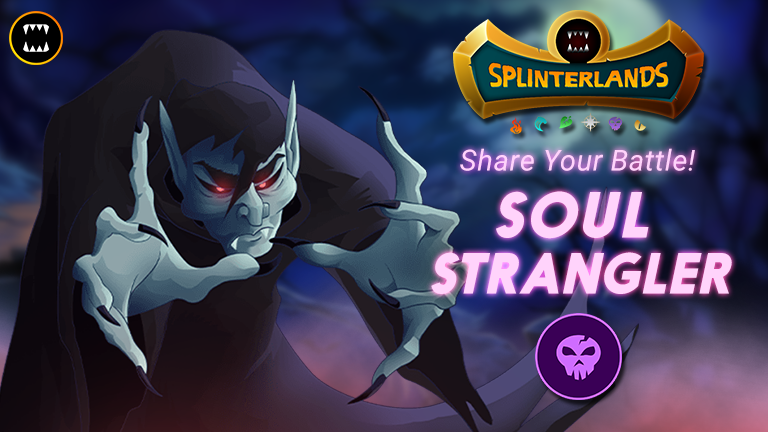 ---
Since opening the CL packs, I have upgraded the card up to level 4 at the moment and, considering the mana of only 3 points, it offers excellent deployment solutions and strategic offensive abilities. The card is very useful especially in battles with a low mana limit, but also in large battles, it certainly offers a lot of quality cues.
The monster has no innate ability, only at the last achievable level, that is 8, it acquires the precious Poison ability, getting a good chance of poisoning the opponent with each attack. At level 4, SOUL STRANGLER has a ranged attack of 3 points, not bad for a monster with reduced mana, on the other hand it suffers in defense with only 2 points of health.
It is a good time to create and enhance your decks of cards, the cards are really discounted and our vampire is no exception, available on the market at an average price of $ 0.11 or about 187 DEC at the moment.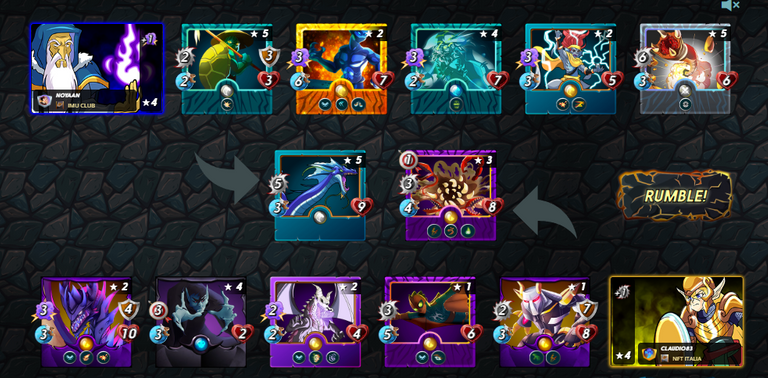 THE VIGILATOR
As previously written, I consider this card to be among the strongest in the game. Its offensive power is truly impressive and is crucial in the many races in which the monster fights. In the first position she is an unstoppable war machine, very difficult to defeat without taking substantial damage. I would like to get the gold version someday, it would really be the top for me!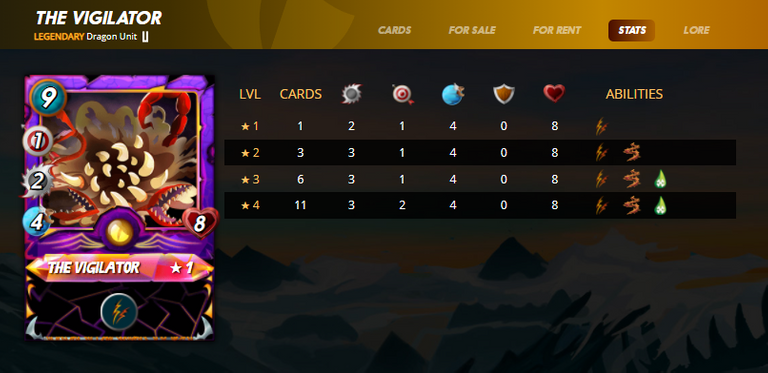 ---
CARNAGE TITAN
Carnage Titan has very good Ranged attack +2 at level 1 up to +4 level 4 (to which is added bonus +1 if you use for example summoner Daria), a strong defense with 7 armor points and 8 health points. A card to be deployed necessarily in the first position and will cause heavy damage to the enemy but above all it will be difficult to defeat, while allowing allied monsters to launch attacks from the rear!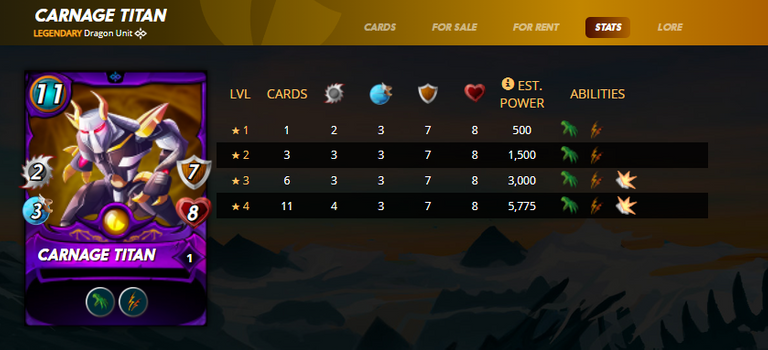 ---
DRAGON JUMPER
Another card with incredible offensive abilities, although I only own it at the basic level. His +3 attack, which is always added to +1 from the summoner, is enhanced by the Opportunity ability targeting enemy monsters with lower health from whatever position he is! Truly a hostile and dangerous monster for opponents! Glad I bought it!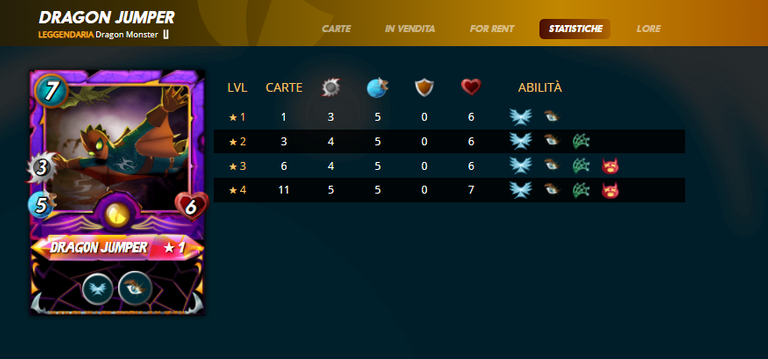 ---
BLACK DRAGON
A very powerful dragon both for the efficient magic attack +2 and for the skills that always prove very useful such as Slow that slows down the speed of enemies. The dragon always helps me in the most difficult battles and hits hard by penetrating the armor of the opponents! A great card to own and use in battle.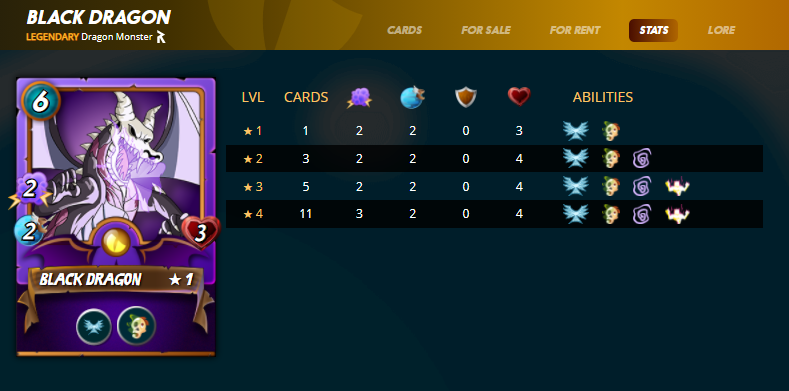 ---
SOUL STRANGLER
Very useful card in battle, but it has a limit in its defense so it is necessary to deploy it as far as possible from the first positions. SOUL STRANGLER's attacks are very hard on opponents and cause major damage, knocking down enemy defenses and letting allies in first position destroy them permanently.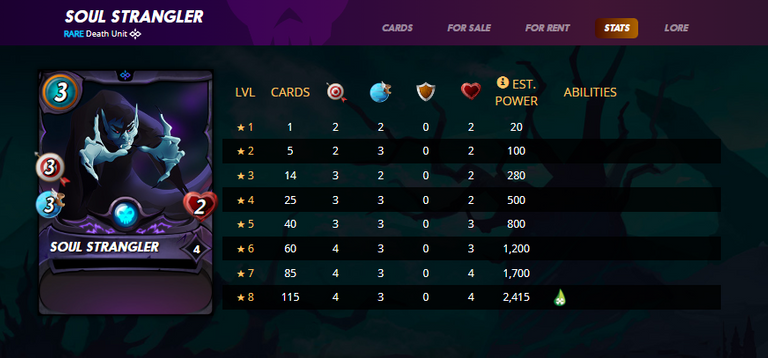 ---
DIAMOND DRAGON
Diamond Dragon is one of my favorite magic cards, powerful and powerful both in attack and in the defensive phase. Upgrading it to the maximum would allow me to have a +3 magic attack and fully enjoy all abilities. A true force of nature!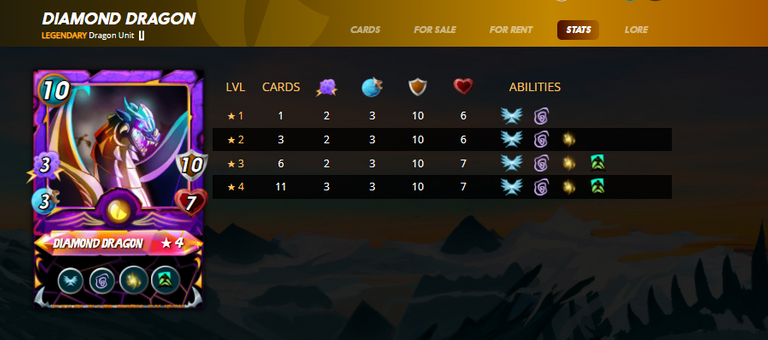 ---
Conclusion
The @splinterlands contests are not only aimed at making us get generous upvotes but it is above all to help us discover new cards that can really be very useful in our battles and stimulate us to new strategies and more options in battle.
The low prices of the cards, also caused from the large number of printing and availability of Chaos Legion cards, it is an excellent entry point for new players. In fact, it is possible to build an excellent deck of cards by spending little, compared to the cards of previous editions. It will also be interesting to observe the next airdrops CL cards in order to better determine which Summoner to upgrade and consequently the cards to buy on the market!
Furthermore, the strategy that each player sets himself, can undergo natural variations, in order to improve his deck of cards and climb the ranking of the best players, also obtaining higher rewards!
Happy Game
Thank you for taking the time to read this post
If you have not yet signed up for Splinterlands, I invite you to try. You can use my referreal link
Ciao a tutti amici di Splinterlands,
eccoci al nuovo appuntamento settimanale Battle Challenge organizzato per approfondire le carte e le strategie di gioco. Il tema di questa settimana è SOUL STRANGLER, carta rara dell'elemento Death, appartenente alla nuova edizione di carta Chaos Legion. Carta tenebrosa, il personaggio mi piace tanto e mancava un vampiro nelle grande famiglia di Splinterlands!
Dall'apertura dei pack CL, ho potenziato la carta fino a livello 4 al momento e, considerando il mana di soli 3 punti, offre ottime soluzioni di schieramento e abilità offensive strategiche. La carta è molto utile soprattutto nella battaglie con un limite mana basso, ma anche nelle grandi battaglie, certamente offre molti spunti di qualità.
Il mostro non ha alcuna abilità innata, solo all'ultimo livello raggiungibile, ossia 8, acquista la preziosa abilità Poison, ottenendo buone chance di avvelenare l'avversario ad ogni suo attacco. A livello 4, SOUL STRANGLER ha un attacco ranged di 3 punti, niente male per essere un mostro con mana ridotto, d'altra parte soffre in difesa con soli 2 punti salute.
E' un periodo favorevole per creare e potenziare i propri mazzi di carte, le carte sono davvero scontate e non fa eccezione il nostro vampiro, acquistabile sul mercato ad un prezzo medio di 0.11 $ o circa 187 DEC al momento.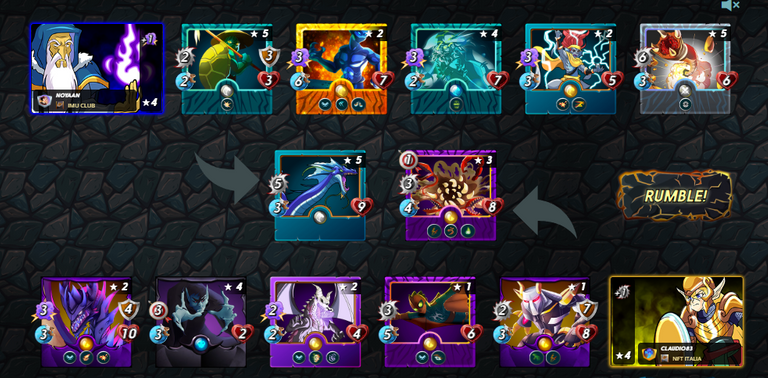 THE VIGILATOR
Come scritto in precedenza, io ritengo questa carta tra le più forti del gioco. La sua potenza offensiva è davvero impressionante ed è determinante nelle tante gare in cui il mostro combatte. In prima posizione è una macchina da guerra inarrestabile, davvero difficile sconfiggerla senza subire danni consistenti. Mi piacerebbe un giorno ottenere la versione dorata, sarebbe davvero il top per me!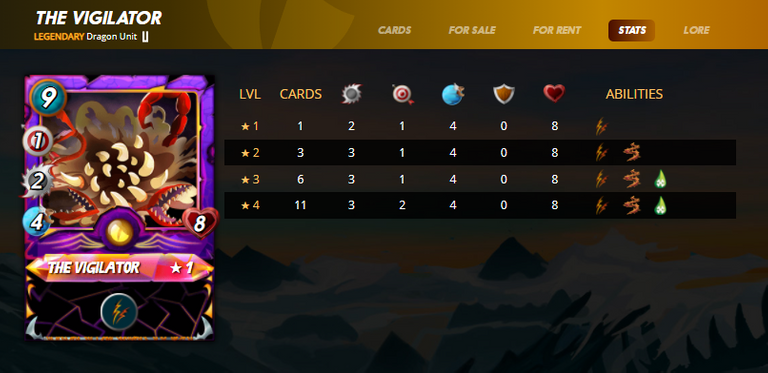 ---
CARNAGE TITAN
Carnage Titan ha attacco Ranged molto buono +2 a livello 1 fino a +4 livello 4 (a cui si aggiunge bonus +1 se utilizzate ad esempio evocatore Daria), una forte difesa con 7 punti armatura e 8 punti salute. Una carta da schierare necessariamente in prima posizione e causerà danni pesanti al nemico ma soprattutto sarà difficile da sconfiggere, consentendo intanto ai mostri alleati di lanciare attacchi dalle retrovie!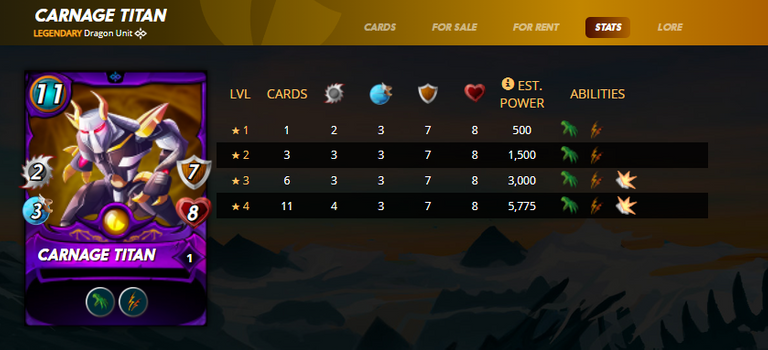 ---
DRAGON JUMPER
Altra carta dalle abilità offensive incredibili, nonostante io la possiedo solo al livello base. Il sua attacco +3, a cui si somma sempre +1 dell'evocatore, è valorizzato dall'abilità Opportunity bersagliando i mostri avversari con salute minore da qualsiasi posizione si trovi! Davvero un mostro ostile e pericoloso per gli avversari! Sono contento di averlo comprato!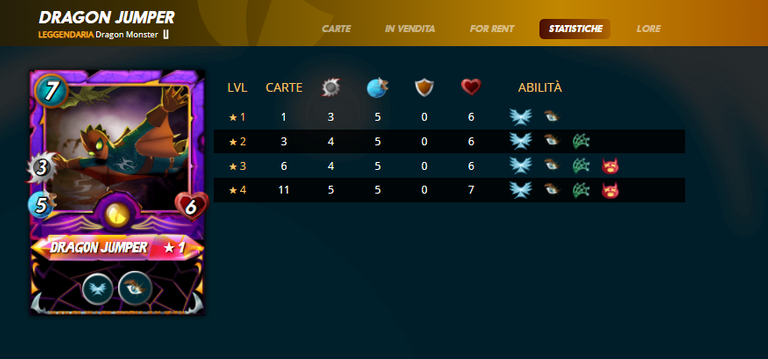 ---
BLACK DRAGON
Un drago molto potente sia per l'attacco magico efficiente +2 e sia per le abilità che si dimostrano sempre molto utili come Slow che rallenta la velocità dei nemici. Il dragone mi aiuta sempre nelle battaglie più difficili e colpisce duramente penetrando le armature degli avversari! Un'ottima carta da possedere ed utilizzare in battaglia.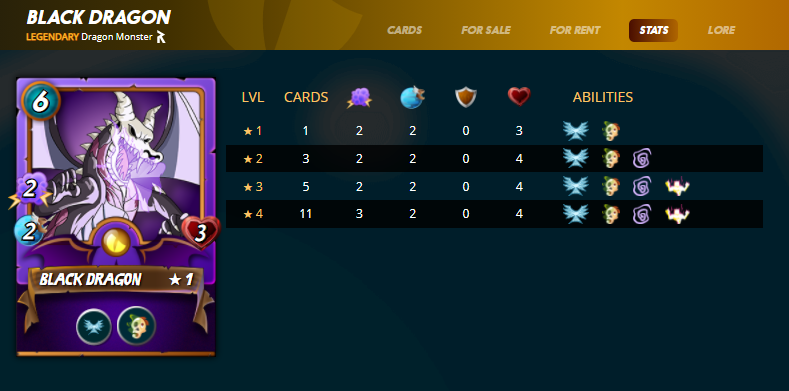 ---
SOUL STRANGLER
Carta davvero molto utile in battaglia, ma ha un limite nella sua difesa per cui è necessario schierarlo possibilmente lontano dalle primo posizioni. Gli attacchi di SOUL STRANGLER sono molto duri per gli avversari e causa danni importanti, abbattendo le difese nemiche e lasciando che gli alleati in prima posizione possano distruggerli definitivamente.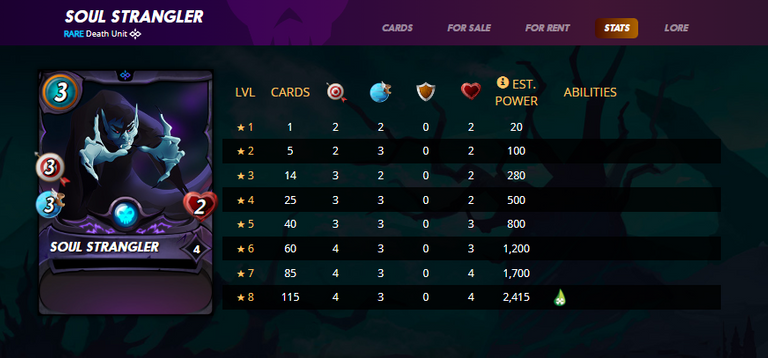 ---
DIAMOND DRAGON
Diamond Dragon è tra le mie carte magiche preferite, potente e possente sia in attacco che nella fase difensiva. Potenziarla al massimo mi permetterebbe di avere un attacco magico +3 e godere appieno di tutte le abilità. Una vera forza della natura!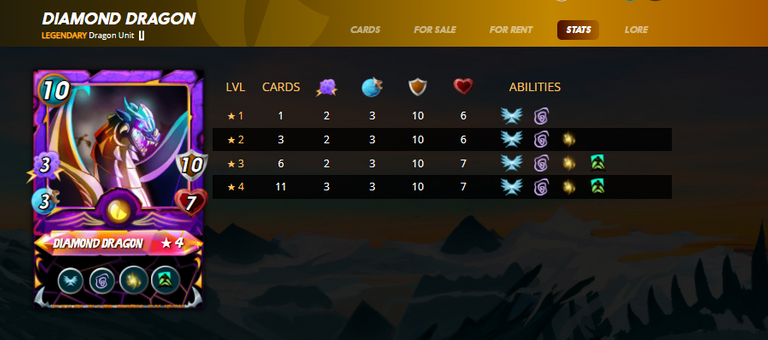 ---
Conclusione
I contest di @splinterlands non hanno solo l'obiettivo di farci ottenere upvotes generosi ma è soprattutto quello di aiutarci a scoprire nuove carte che possono essere davvero molto utili alle nostre battaglie e stimolarci a nuove strategie e maggiori opzioni in battaglia
I prezzi contenuti delle carte, causato anche dal grande numero di stampa e disponibilità delle carte Chaos Legion, è un ottimi punto d'ingresso per i nuovi players. E' possibile infatti costruire un ottimo mazzo di carte spendendo poco, rispetto alle carte delle edizioni precedenti. Sarà interessante osservare anche le prossime carte airdrops CL per poter meglio stabilire quali Summoner potenziare e di conseguenza le carte da acquistare sul mercato!
Inoltre la strategia che ogni giocatore si prefissa, può subire delle naturali variazioni, al fine di migliorare il proprio mazzo di carte e scalare la classifica dei migliori giocatori, ottenendo anche ricompense più alte!
Buon Game
Grazie per aver dedicato del tempo per leggere questo post
If you have not yet signed up for Splinterlands, I invite you to try. You can use my referreal link
---
---