Splinterlands BATTLE Weekly Challenge: GRUMPY DWARF
Hi all Splinterlands friends,
Here we are at the new Battle Weekly Challenge which has as its theme GRUMPY DWARF, a rare neutral community card from the Beta version, the second edition of the Splinterlands cards! At the beginning of my adventure in the game I used this card very often in my fights and over time I have somewhat overlooked it. But I have seen some videos with the monster upgraded to the maximum level and it is really a killing spree that makes the legs tremble!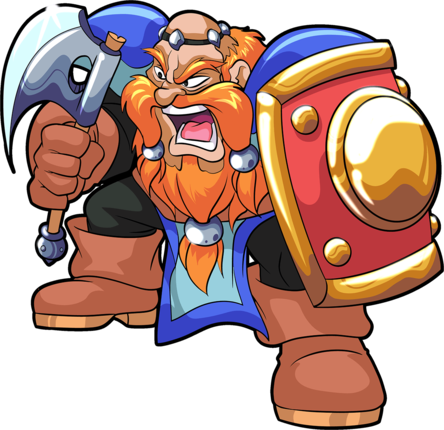 ---
At level 1, GRUMPY DWARF has +1 attack damage, 2 speed, and only 2 health. He is a rather precarious warrior and need to exploit him as quickly as possible, the Reach ability allows you to take advantage of the offensive capabilities even from the second position and this is the best possible solution, in this way he is initially protected by the allied monster in first position. It is advisable to use it with the fire or dragon element to take advantage of the summoner's +1 offensive ability and thus increasing the attack to +2.
The card is available for purchase in the market and still has a cheap price, currently $ 1.14 or about 150 DEC. I remember that until a few months ago the sale price was really a few cents, a sign that the Splinterlands market is experiencing an absolutely flourishing and positive moment! If you are lucky owners of the gold card the value is increased, at the moment it settles at around $ 40!
Here is my battle where you can see GRUMPY DWARF in action!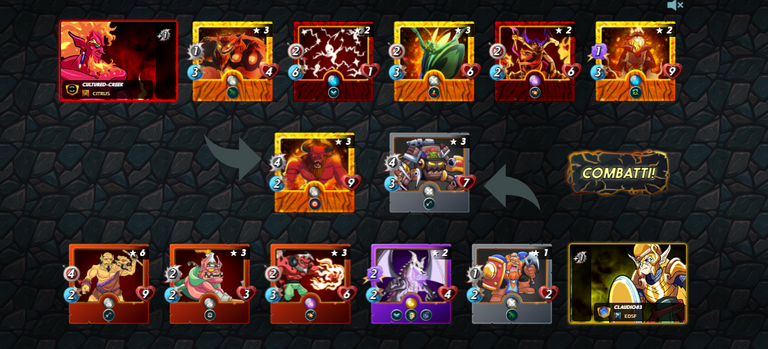 ---
Formation
GOBLIN MECH
Excellent card from the top position, it has an attack strength at level 3 of 4 points, a speed of 3 and an excellent defense with 5 points of armor and 6 points of health! A war machine that is difficult to defend against and one of the most balanced cards I have!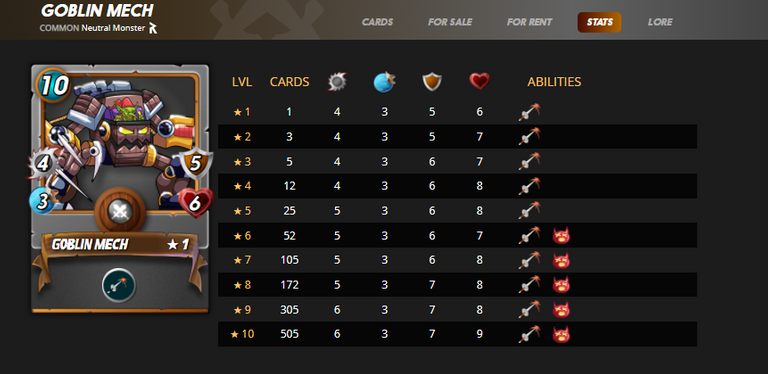 ---
GRUMPY DWARF
The second position is certainly the most suitable, from here the monster can launch treacherous and dangerous attacks, well protected by the ally in the first position. The +1 summoner bonus is certainly an excellent opportunity to inflict greater damage on opponents.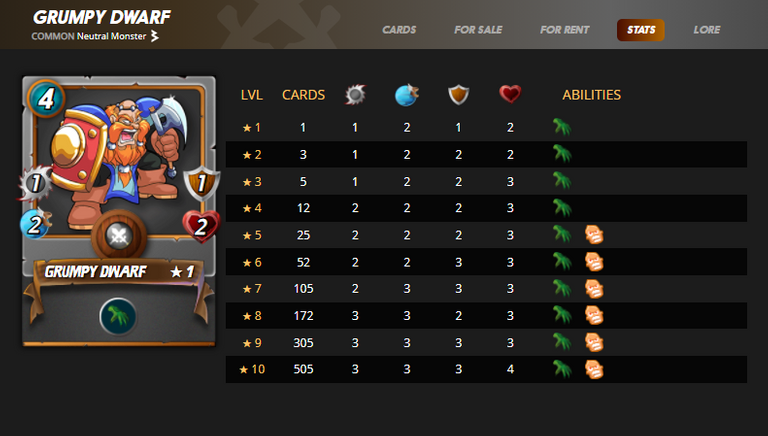 ---
BLACK DRAGON
Excellent card to place in the center of the deck, away from the top positions. The +2 magic attack pierces the opponents' armor and the Slow ability, among others, also reduces the speed of the opponents. A precious ally to always have on your team!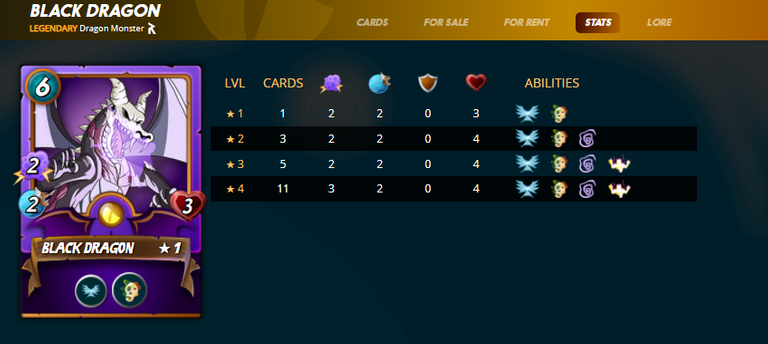 FIRE DEMON
One of the first Alpha cards that I bought over a year and a half ago and now yields a good loot! Very useful monster with +2 ranged attacks and decent speed. Very good health points with 6 points!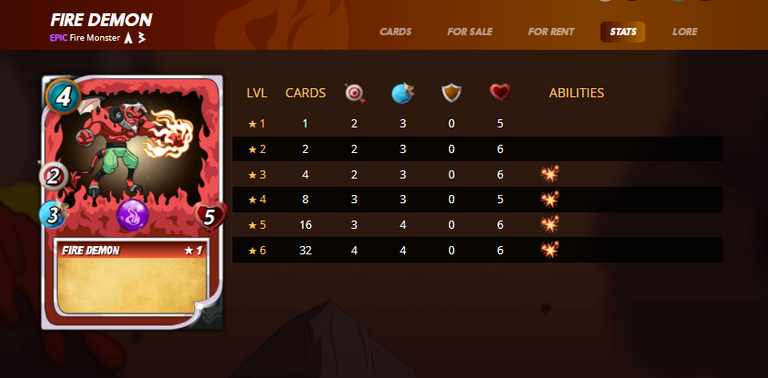 ---
KOBOLD MINER
Another alpha card from my collection, very useful monster for attacking opponents in the queue and with his attack +3 it is certainly an excellent ally to deploy in formation, his mana is just 2 points!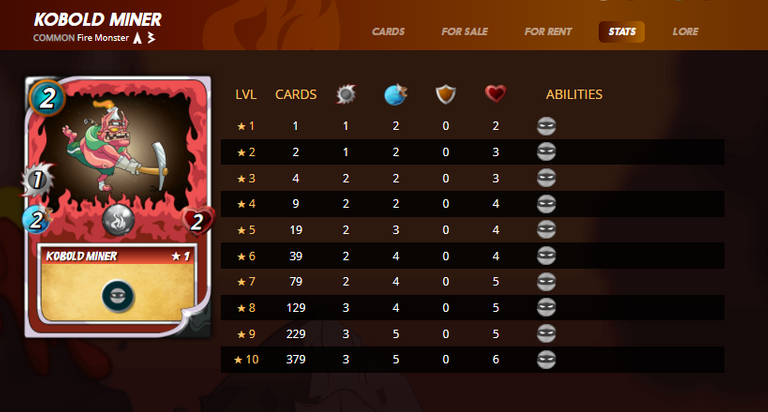 ---
ETTIN SPEARMAN
At the end of the group, Ettin Spearman is a guarantee for the attack power from a distance of +4 and for the very good defense of 9 health points. I use the card mainly in battles with high mana, the card has a cost of 8 mana points. Guarantee however is the brutal strength of him!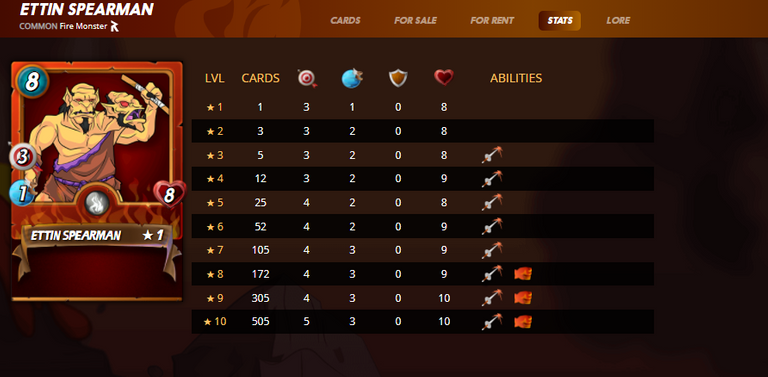 Thank you for taking the time to read this post
If you have not yet signed up for Splinterlands, I invite you to try. You can use my referreal link
---
ITA
Ciao a tutti amici di Splinterlands,
eccoci al nuovo Battle Weekly Challenge che ha come tema GRUMPY DWARF, una rara carta comune neutrale della versione Beta, la seconda edizione delle carte di Splinterlands! All'inizio della mia avventura nel gioco ho utilizzato molto spesso questa carta nei miei combattimenti e nel corso del tempo l'ho un pò tralasciata. Ho visto però alcuni video con il mostro potenziato al massimo livello ed è davvero una furia omicida che fa tremare le gambe!
A livello 1, GRUMPY DWARF possiede un attacco fisico di +1, una velocità 2 e solo 2 salute. E' un guerriero piuttosto precario e bisogno sfruttarlo il più velocemente possibile, l'abilità Reach consente di sfruttare le capacità offensive anche dalla seconda posizione e questa è la migliore soluzione possibile, in questo modo inizialmente è protetto dal mostro alleato in prima posizione. E' consigliabile utilizzarlo con l'elemento fuoco o dragon per sfruttare l'abilità offensiva +1 dell'evocatore e aumentando quindi l'attacco a +2.
La carta è acquistabile nel market ed ha ancora un prezzo economico, attualmente di 1,14 $ o circa 150 DEC. Ricordo che fino a qualche mese fa il prezzo di vendita era davvero di poche centesimi, segno che il mercato di Splinterlands sta conoscendo un momento assolutamente fiorente e positivo! Se siete fortunati possessori della carta gold il valore è maggiorato, al momento si assesta a circa 40 $!
Ecco qui la mia battaglia in cui potrete vedere GRUMPY DWARF in azione!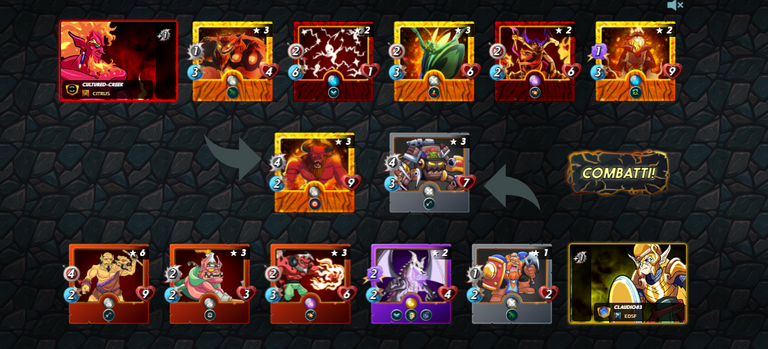 ---
Formazione
GOBLIN MECH
Ottima carta da prima posizione, ha una forza d'attacco al livello 3 di ben 4 punti, una velocità di 3 e un'ottima difesa con 5 punti armatura e 6 punti salute! Una macchina da guerra da cui è difficile difendersi ed una delle carte più equilibrate che io possieda!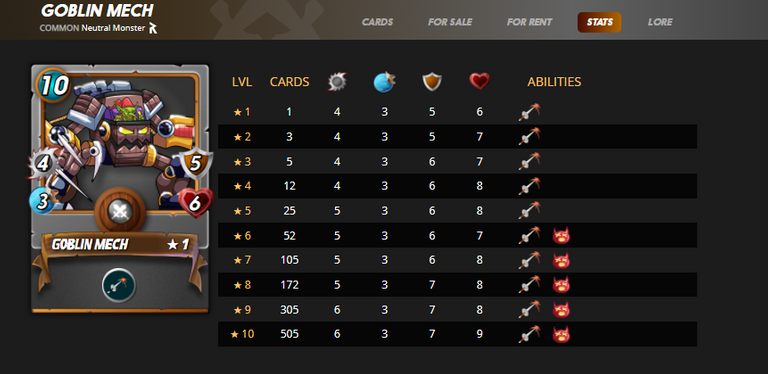 ---
GRUMPY DWARF
La seconda posizione è sicuramente la più indicata, da qui il mostro può lanciare attacchi infidi e pericolosi, ben protetto dall'alleato in prima posizione. Il bonus +1 dell'evocatore è sicuramente un'ottima occasione per provocare danni maggiori agli avversari.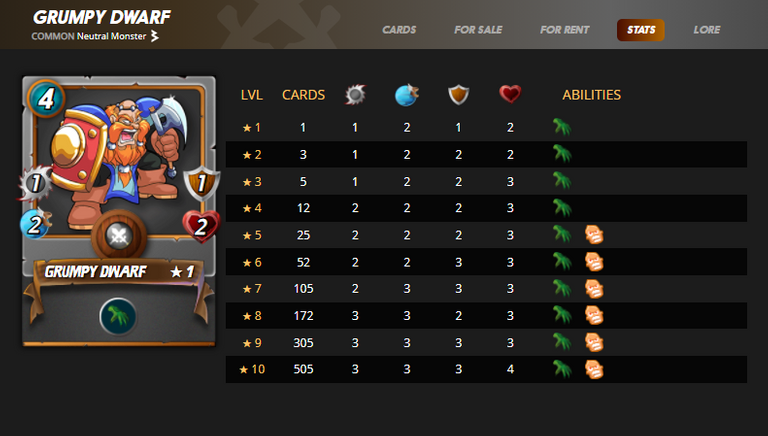 ---
BLACK DRAGON
Ottima carta da posizionare nel centro del mazzo, lontano dalle prime posizioni. L'attacco magico +2 perfora le armature degli avversari e l'abilità Slow, tra le altre, riduce anche la velocità degli avversari. Un prezioso alleato da avere sempre in squadra!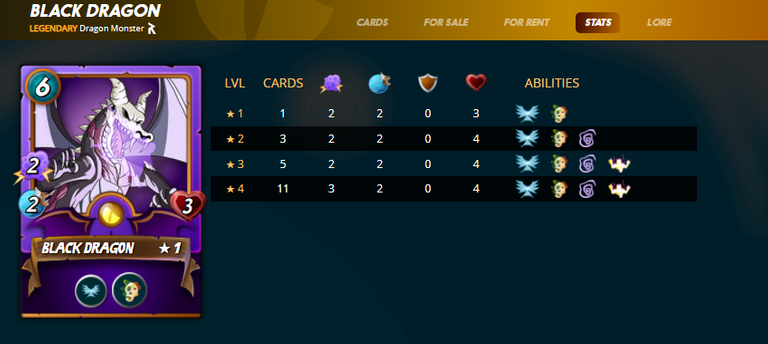 FIRE DEMON
Tra le prime carta Alpha che ho comprato oltre un anno e mezzo fa e che ora frutta un buon bottino! Mostro molto utile con gli attacchi dalla distanza +2 ed una discreta velocità. Molto bene i punti salute con ben 6 punti!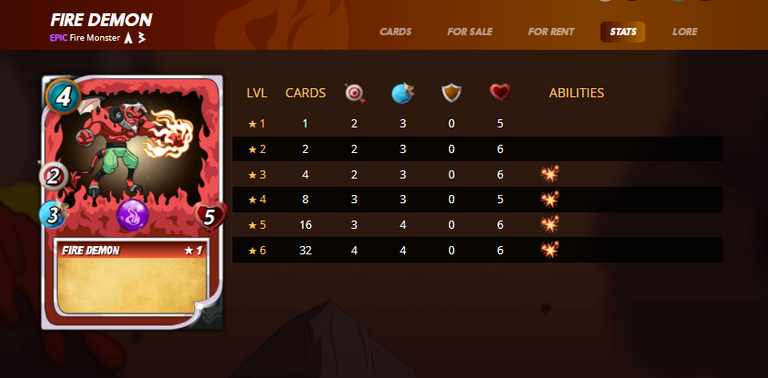 ---
KOBOLD MINER
Altra carta alpha della mia collezione, mostro molto utile per attaccare gli avversari in coda e con il suo attacco +3 sicuramente è un ottimo alleato da schierare in formazione, il suo mana è appena di 2 punti!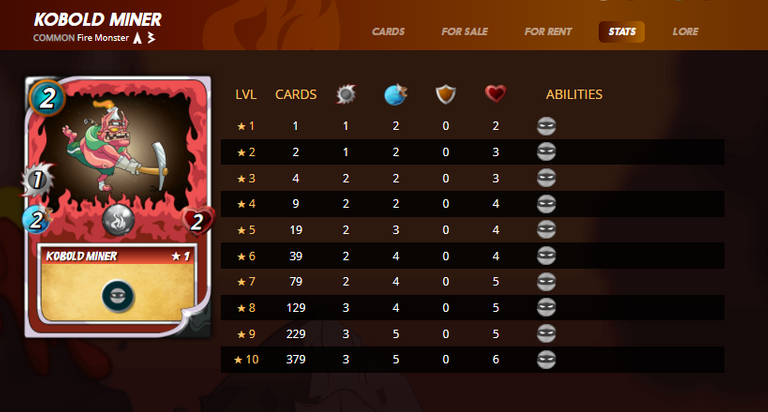 ---
ETTIN SPEARMAN
In coda la gruppo, Ettin Spearman è una garanzia per la potenza d'attacco dalla distanza +4 e per la difesa molta buona di ben 9 punti salute. Utilizzo la carta soprattutto nella battaglia con un mana elevato, la carta ha un costo di 8 punti mana. Garanzia però è la sua forza brutale!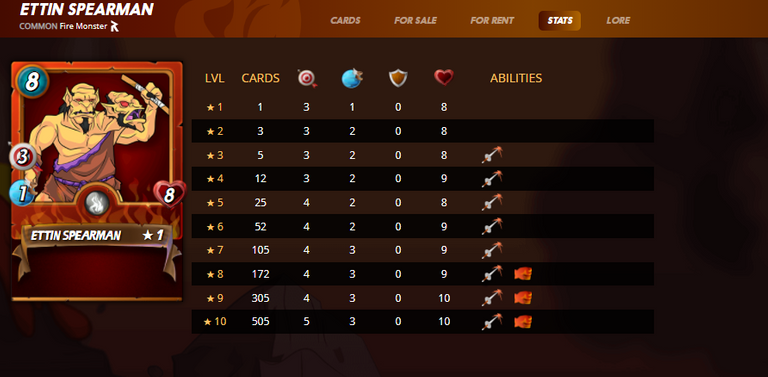 Grazie per aver dedicato del tempo per leggere questo post
If you have not yet signed up for Splinterlands, I invite you to try. You can use my referreal link
---
---