Splinterlands: beware of Hill Giant!
Hi all Splinterlands friends,
the object card of the weekly Battle Challenge count is Hill Giant, a common monster of the Earth element, belonging to the recent Chaos Legion edition. The monster has such offensive characteristics that it is deployed in the first position to face opponents, and even scare them with its brute appearance.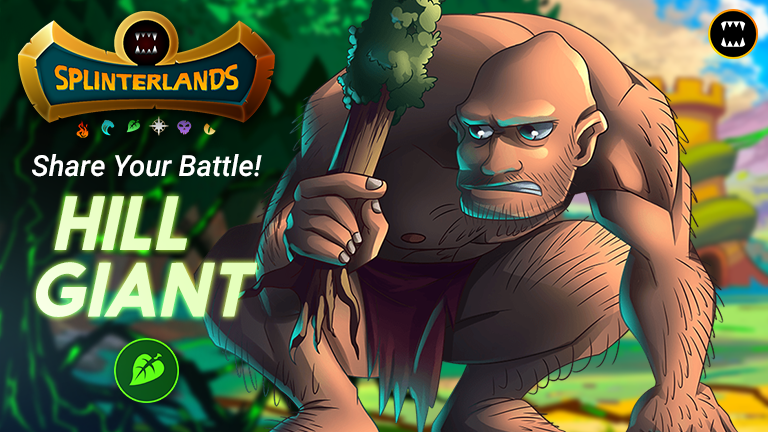 ---
Hill Giant is upgraded to level 5 and has a decent attack with 2 points, identification number at his speed but 8 health points. Like all giants, they are a bit slow and that could be a bad point in battle, especially in first position. The must has no skill, the first, Stun, will only be acquired at level 6 but at the moment I am not interested in further enhancing it.
I preferred to deploy him in first position as his characteristics are more suitable here rather than in other positions. I am not very satisfied with his performance, in battle he behaved fairly but his characteristics are quite limited. The very cheap cost of the card, around $ 0.03, however, could be an interesting starting point for new players who can buy a decent card with a good chance of growth with a few cents.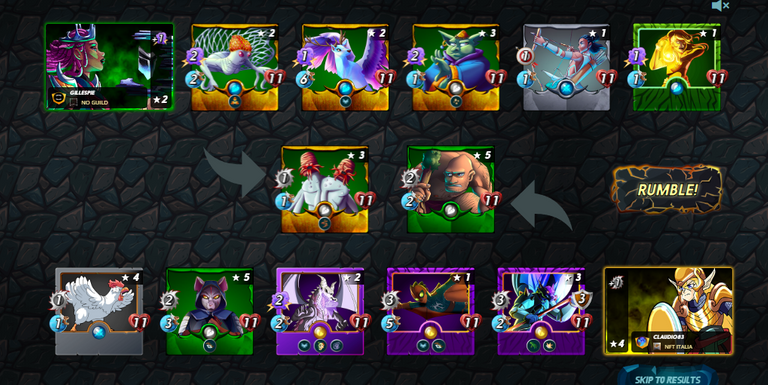 GIANT OF THE HILL
Deployed in first, the monster carries out its position: it causes no damage to the opponents and resists the attacks suffered, allowing the attacks to the rear, which in the end led the team to victory!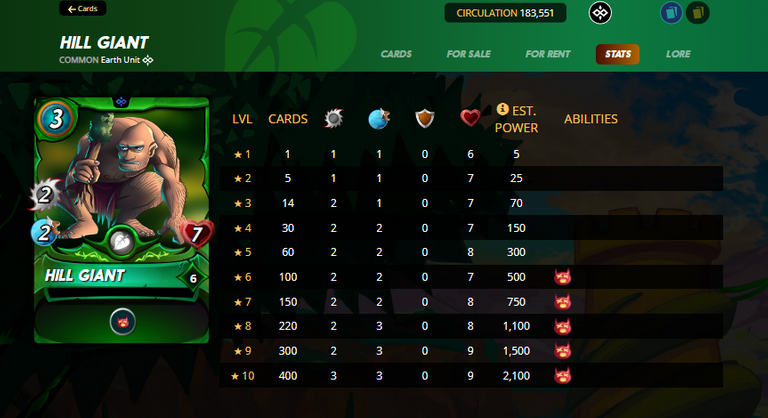 ---
GUARD GLORIDAX
Monster of the Dragon element, I exploit its offensive ability to attack from the second position, a very important ally that with its attack +3 and the bonus +1 has a very good chance of annihilating the enemy. A very valuable monster that I use daily in my battles.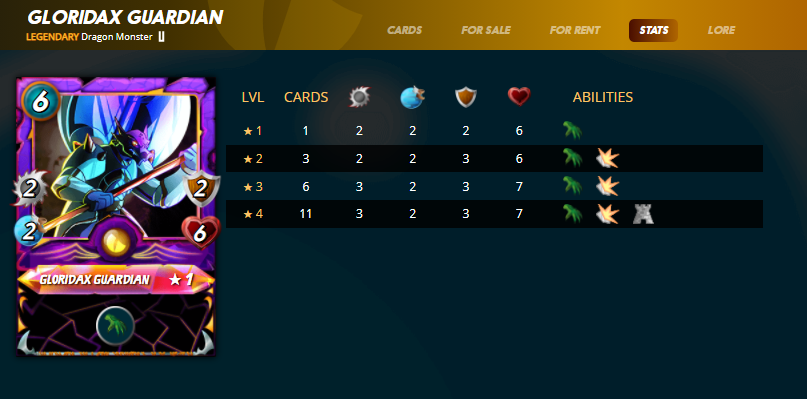 ---
DRAGON SWEATER
Another card with incredible offensive abilities, although I only own it at the basic level. His +3 attack, to which the summoner +1 is always added, is enhanced by the Opportunity ability targeting enemy monsters with lower health from whatever position he is! Truly a hostile and dangerous monster for opponents! Glad I bought!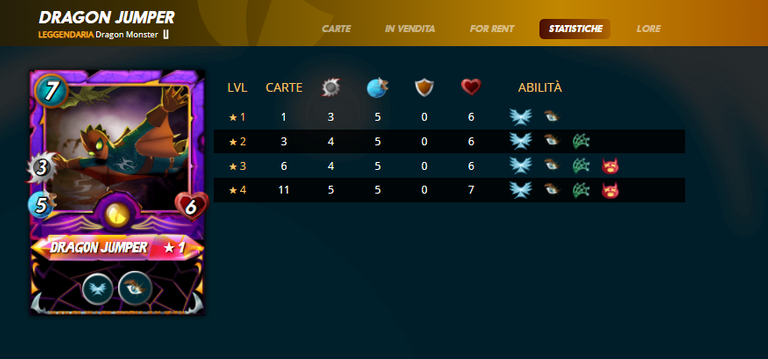 ---
BLACK DRAGON
A very powerful dragon both for the efficient magic attack +2 and for the skills that always prove very useful such as Slow that slows down the speed of enemies. The dragon always helps me in the most difficult battles and hits hard by penetrating the armor of the opponents! A great card to own and use in battle.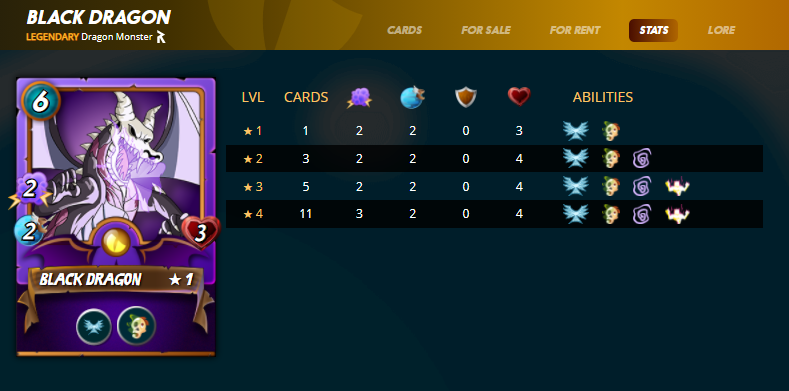 ---
FURIOUS CHICKEN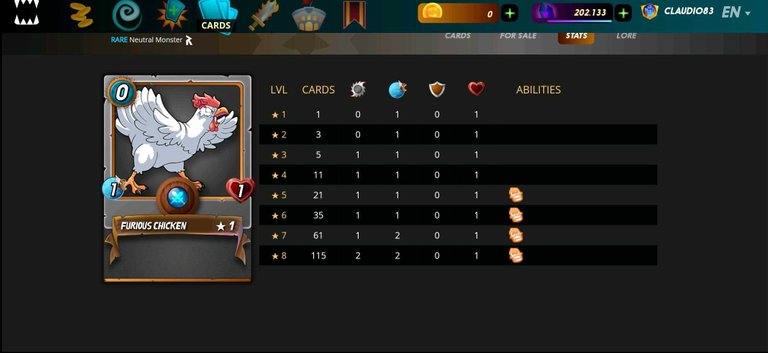 Finally, my beloved hen who fearless and contemptuous of the enemy, attacks like a fury from afar. Small attacks that still cause damage to opposing monsters. I remember that FURIOUS CHICKEN has 0 😍 of mana
Conclusion
The @splinterlands contests are not only aimed at making us get generous votes but it is to help us discover above all new cards that can really be very useful in our battles and stimulate us to new strategies and more options in battle.
The low card prices, also caused by the large number of printing and availability of Chaos Legion cards, is a great entry point for new players. In fact, it is possible to build an excellent deck of cards by spending little, compared to the cards of previous editions. It will also be interesting to observe the airdrops CL papers in order to better define which Summoner and consequently the papers to buy on the market!
In addition, the strategy that each player sets for himself, can undergo natural variations, in order to improve his deck of cards and climb the ranking of the best players, also obtaining higher rewards!
Good game
Thank you for taking the time to read this post
If you haven't signed up for Splinterlands yet, I invite you to give it a try. You can use my referral link
##ITA
Ciao a tutti amici di Splinterlands,
la carta oggetto del conte settimanale Battle Challenge è Hill Giant, mostro comune dell'elemento Earth, appartenente alla recente edizione Chaos Legion. Il mostro ha caratteristiche offensive tali da essere schierato in prima posizione per affrontare faccia a faccia gli avversari, e spaventarli anche con il suo aspetto bruto.
Hill Giant è potenziato a livello 5 e ha un discreto attacco con 2 punti, numero identico alla sua velocità ma ben 8 punti salute. Come tutti i giganti, sono un pò lenti e ciò potrebbe essere un punto negativo in battaglia, soprattutto in prima posizione. Il mosto non ha alcuna skill, la prima, Stun, sarà acquisita solo a livello 6 ma al momento non sono interessato a potenziarlo ulteriormente.
Ho preferito schierarlo in prima posizione poichè le sue caratteristiche sono più idonee qui piuttosto che in altre posizioni. Non sono molto soddisfatto della sue resa, in battaglia si è comportato discretamente ma le sue caratteristiche sono abbastanza limitate. Il costo molto economico della carta, circa 0.03 $, però potrebbe essere un interessante punto d'avvio per i nuovo players che con pochi centesimi possono acquistare una carta discreta e con buone possibilità di crescita.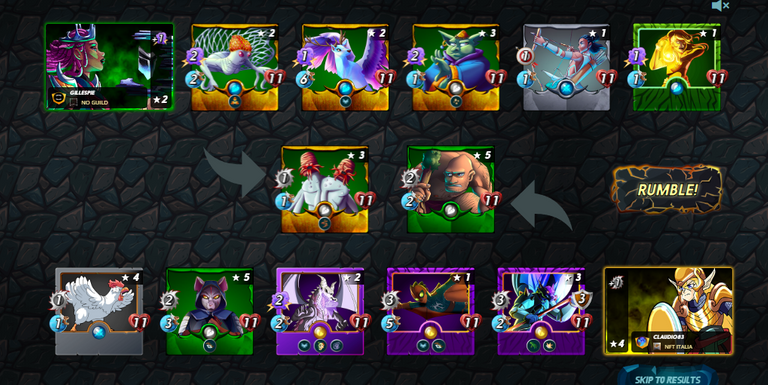 HILL GIANT
Schierato in prima posizione, il mostro svolge sufficientemente il suo lavoro: procura alcuna danni agli avversari e resiste agli attacchi subiti, permettendo agli alleate di lanciare attacchi dalle retrovie, strategia che alla fine ha condotto il team alla vittoria!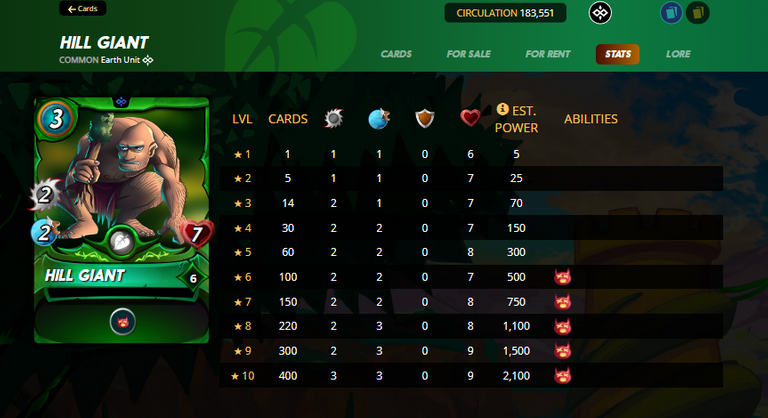 ---
GLORIDAX GUARDIAN
Mostro dell'elemento del Dragon, sfrutto la sua abilità offensiva di attaccare dalla seconda posizione, un alleato molto importante che con il suo attacco +3 ed il bonus +1 ha davvero ottime possibilità di annientare il nemico. Un mostro molto prezioso che utilizzo frequentemente nelle mie battaglia giornaliere.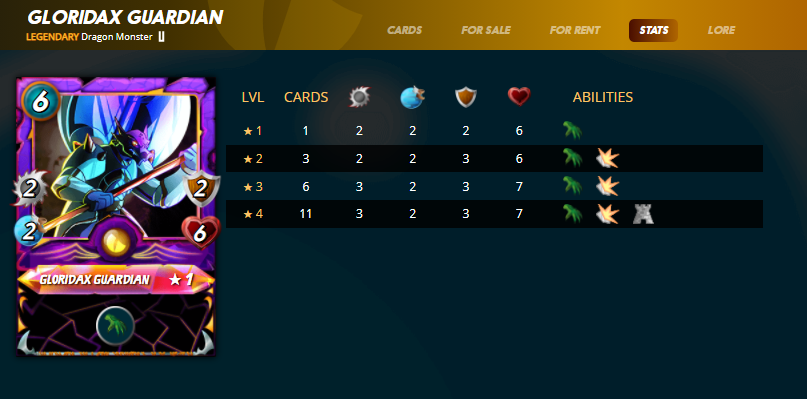 ---
DRAGON JUMPER
Altra carta dalle abilità offensive incredibili, nonostante io la possiedo solo al livello base. Il sua attacco +3, a cui si somma sempre +1 dell'evocatore, è valorizzato dall'abilità Opportunity bersagliando i mostri avversari con salute minore da qualsiasi posizione si trovi! Davvero un mostro ostile e pericoloso per gli avversari! Sono contento di averlo comprato!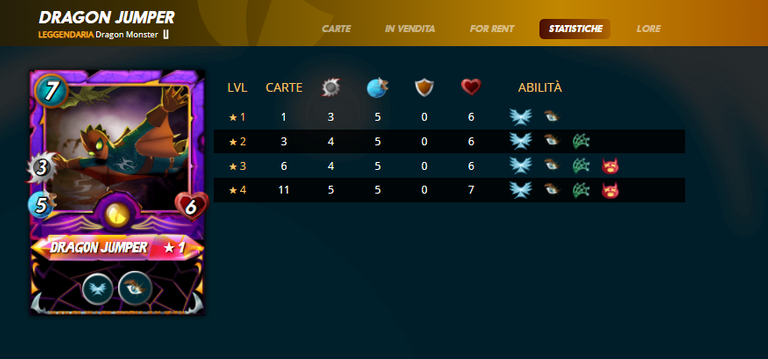 ---
BLACK DRAGON
Un drago molto potente sia per l'attacco magico efficiente +2 e sia per le abilità che si dimostrano sempre molto utili come Slow che rallenta la velocità dei nemici. Il dragone mi aiuta sempre nelle battaglie più difficili e colpisce duramente penetrando le armature degli avversari! Un'ottima carta da possedere ed utilizzare in battaglia.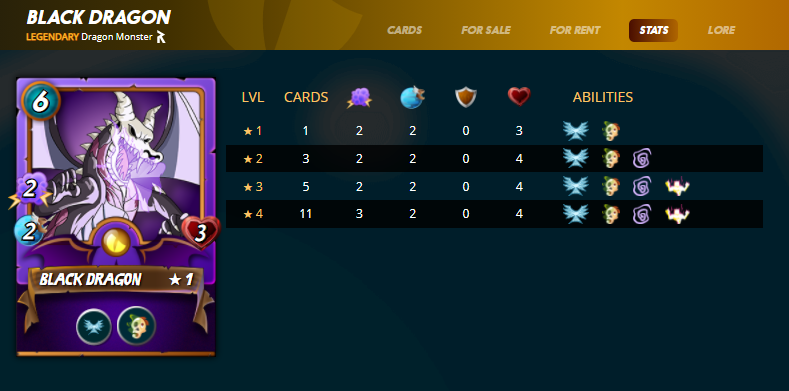 ---
FURIOUS CHICKEN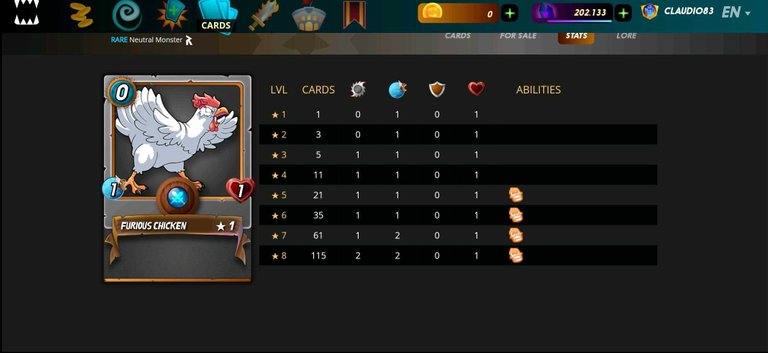 Infine, la mia amata gallina che impavida e sprezzante del nemico, attacca come una furia da lontano. Piccoli attacchi che causano comunque danni ai mostri avversari. Ricordo che FURIOUS CHICKEN ha 0 😍 di mana
Conclusione
I contest di @splinterlands non hanno solo l'obiettivo di farci ottenere upvotes generosi ma è soprattutto quello di aiutarci a scoprire nuove carte che possono essere davvero molto utili alle nostre battaglie e stimolarci a nuove strategie e maggiori opzioni in battaglia
I prezzi contenuti delle carte, causato anche dal grande numero di stampa e disponibilità delle carte Chaos Legion, è un ottimi punto d'ingresso per i nuovi players. E' possibile infatti costruire un ottimo mazzo di carte spendendo poco, rispetto alle carte delle edizioni precedenti. Sarà interessante osservare anche le prossime carte airdrops CL per poter meglio stabilire quali Summoner potenziare e di conseguenza le carte da acquistare sul mercato!
Inoltre la strategia che ogni giocatore si prefissa, può subire delle naturali variazioni, al fine di migliorare il proprio mazzo di carte e scalare la classifica dei migliori giocatori, ottenendo anche ricompense più alte!
Buon Game
Grazie per aver dedicato del tempo per leggere questo post
If you have not yet signed up for Splinterlands, I invite you to try. You can use my referreal link
---
---